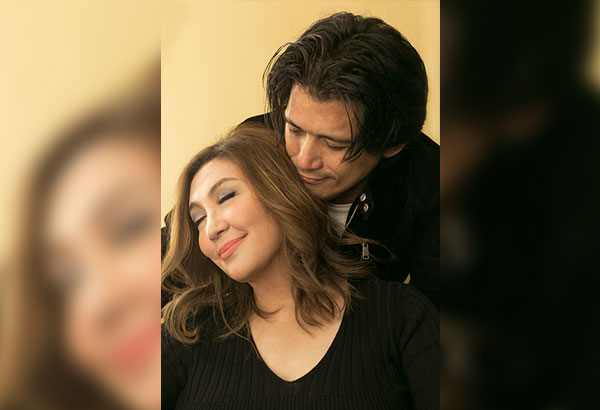 Sharon Cuneta and Robin Padilla reunite in Unexpectedly Yours.
MANILA, Philippines — They say you can't be tethered to the past if you want to move forward. But in the case of luminaries Sharon Cuneta and Robin Padilla, to fully appreciate their present stature and projects (we'll talk about their new film Unexpectedly Yours in a bit) necessitates a clear-eyed look into their past.
And that is exactly what is happening this Sunday afternoon inside a rather warm dressing room at ABS CBN's Dolphy Theater. (The air conditioner is no match for the number of people listening in to the interview: managers, assistants, stylists, etc.) You don't become an icon by shooting from the hip; so these two veterans are sitting side by side, helping this millennial journalist understand how they came to be who they are.
"Mega": an adjective that means, "of highest level of rank, excellence or importance. Sharon Cuneta was not given the moniker "Megastar" for nothing — she earned it. Her early films like Dear Heart, P.S. I Love You, Friends in Love — all glossy romantic movies vis-a-vis good-looking partners, one of whom she would end up marrying — endeared her to the naturally romantic Filipino public. But you can only go so far with that genre and the poor little rich girl shtick. Her then-manager wanted her triple-threat ward to go the whole nine yards. (You can say Sharon is what Sarah G is to our generation: singer/actress/dancer in one winsome package.) And to do that, Sharon had to win the hearts of the masa — the real cash cow — with stories that are less whimsical and more relatable: tales of poverty and systemic mistreatment that always ended with retribution and victory. Despite Sharon's wealthy background, she had an uncanny empathy that allowed her to convincingly mirror struggles she had not personally experienced. The young actress didn't simply rely on the strength of the material, though. To win the hearts of the audience, you must know them and they must know you. So Sharon went where they were: the barangays, the palengkes, the stand-alone theaters of the past. This was the pre-social media age and face-to-face interaction was the gold standard. "It was part of the plan, to help me get closer to the masses. But in the end, it's really your movies eh," she ruminates. "It's either they like you or they don't. It's either they accept you in your role or they don't. And by God's grace, I was able to pull it off so it worked for me." "Pull it off" is putting it lightly. Movies like Bukas Luluhod ang mga Tala resonated with real-life underdogs hungry for payback, and translated to serious box office returns. By the time 1986 rolled around, with a string of blockbuster hits under her belt, Sharon Cuneta had become a veritable star.
Unbeknownst to Sharon, an upstart actor was adoringly observing her rise to the top from the sidelines. As a teenager, Robin Padilla eagerly watched Sharon-starrers like P.S. I Love You and found his Girl-On-TV in her. (Trivia: Robin brought his first date ever to the movies to watch Dear Heart. "Sa Delta Theater, nung buhay pa 'yung Delta Theater," he recalls with a smile. Sharon has heard tales of fanboy Robin attending her premiere nights and going up to Baguio to get a glimpse of her as she was shooting Friends In Love, but this is the first time the actress is hearing this detail and the surprise on her face is genuine.) Eventually, Robin's own star would rise and he would receive top billing in his own movies. One of those is Eagle Squad, where he first came on her radar. "What I noticed was the way he moved," she says. "When he does an action sequence, it's like dancing. He's very graceful and quick and sexy." In those days, action films were all the rage, and Robin was the action star of his generation. At 21, his manager gave him the gift of all gifts: a film alongside his dream girl Sharon Cuneta. On their first shooting day on Jan. 2, 1991, FPJ, Sharon's first-ever action star leading man, visited the set of Maging Sino Ka Man, and had a litany of reminders for Robin: "'Si ma'am,' sabi niya, 'Pagsisilbihan mo yan. Pag magsi-CR yan linisin mo. Pag tatayo yan, tatayo ka rin." He took these to heart and then some. Sharon shares, "The attention he gave me was 100 percent. He refused to let the utility men make my coffee. Sometimes I would ask for coffee and it would take forever. And I would go, 'Kuya, bakit po wala pa yung kape ko?' And they'd go, 'Ma'am, kasi ho bilin ni sir (Robin).'" Maging Sino Ka Man wasn't just a blockbuster hit; it's common knowledge that as their characters Carding and Monique/Digna fell in love, Sharon and Robin also fell in love on set. But because life is not like the movies, they fell out of love and their paths — both personal and career — diverged. The two made a total of three films, and the last one came out 16 years ago, in 2001. Out of curiosity, I asked an insider from the company that produced all three how those did at the box office. His reply was quick: "Blockbuster naman po lahat ng films (together) nina sir Robin and Ma'am Sharon."
People say you can't be tethered to the past if you want to move forward. But in the case of luminaries Sharon Cuneta and Robin Padilla, to fully appreciate their new film Unexpectedly Yours, necessitates a clear-eyed look at their past. And the clear-eyed look reveals the past for what it is: the past. The Sharon who sits in front of us now is no longer a princess-ingénue, but a formidable politician's wife and mom of four who has gone through very public breakdowns and breakthroughs. This Robin, with his head cocked to one side, still has that bad boy appeal, but is no longer the reckless rebel he once was. This Robin is a family man, now with a grandson(!). The past — Sharon and Robin could use the past. They could mine their romantic history to hook the audience into watching. They could invent drama to get the press going. But this is not how legends work. Legends sell their work on the merit of the work. Sharon and Robin say the film Unexpectedly Yours is a project they can be proud of, something they wouldn't want struck out from their filmography. "Ako masasabi ko, umarte ako dito. Kasi sa ibang pelikula ako lang yun eh," Robin admits. "Mahaba magsalita si Cocoy. Sa mga pelikulang ginagawa ko, mga short (lines) lang. 'Papatayin kita!' Mga ganun. Ito ang hahaba. Apat na page."
On the surface, it's a lighthearted romcom about Patty (a menopausal woman whose personal and professional life are both in shambles) and Cocoy (a bachelor for life who finally gets a shot at winning over Patty, his high school crush). But it's not just about finding romance when you're at the end of your rope: it's about domineering mothers in a patriarchal society, the web of lies in the interwebs, our culture of ageism and the reality of being eased out of the picture by somebody younger (and cheaper). The film reportedly earned P14 million on its first day and P100 million in less than a week — figures that these days only young love teams with huge fan bases rake in. For sure, some would dismiss those numbers as "padding" the earning, but for what it's worth, the 7:10 p.m. screening of Unexpectedly Yours at an upscale mall in Mandaluyong was packed, the audience a very responsive mix of millennials and Titas and Titos of Manila. "Ang gwapo ni Robin," the Tita next to me giggled. "Nakakahawa yung tawa ni Sharon," somebody behind me quips. Nobody left the cinema until the finale scene ended.
It's been 26 years since Sharon and Robin first lit up the screen together. And the box office turnout of their new film is an indication that we're still not over them as a tandem, and more importantly, as individuals. No need to call them #ShaBin or #RobSha or #ShaRob. Just Sharon. Just Robin. They come from the old school, and the old school didn't need portmanteaus to thrive.
Sharon posits a theory as to why the fickle public still wants them: "Because we have a history with our audience. When they met us, we were who we really were. Let's just say we didn't have all these workshops preparing us. We were just who we were. Kasi sabi nila no matter how nicely you package a gift kung yung loob naman bulok, itatapon lang yun. And we really owe it to the audience because they fell in love with us."
Robin, who is only happy to let his storyteller of a screen partner and ex-lover regale us with anecdotes, flips the question back to us: "Meron bang taong makaka-get over kay Sharon Cuneta?"
A good question — and we could say the same of him, too.
* * *
Tweet the author @IrishDDizon.
Photo by REGINE DAVID
Produced by DAVID MILAN