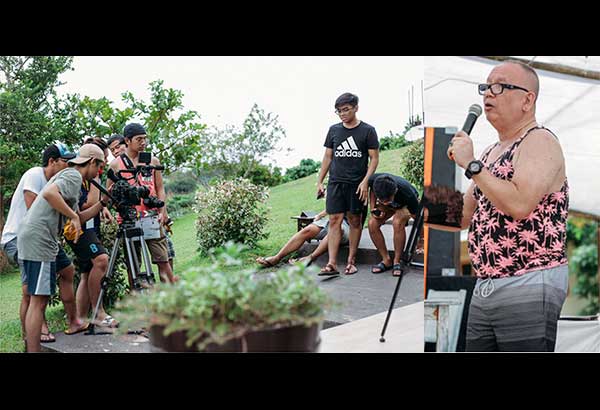 The only way to learn is to do. Students had seven hours to create a short film that the mentors and the author judged on the last night on the island.
When the Rebelde team sat down with me months ago to convince me to join their fourth five-day film camp as a guest judge, my first question was: "Why me?" I asked because: I'm not a filmmaker and I'm not a professional film critic. I don't identify as a cineaste either. (I have yet to watch classic Filipino films like Oro, Plata, Mata, Insiang, and Himala. I know, I know.) Getting me to judge the works of aspiring filmmakers is like asking an avid Grey's Anatomy viewer to make a medical diagnosis. The passion for movies is there, but the technical know-how isn't — how am I supposed to judge with authority? Their marketing guy (at the time), Dennis Boc, told me they weren't getting me for my cinematic expertise. I was chosen because I'm a "noisy supporter of Philippine cinema." (I really hope "noisy" wasn't a shade, Dennis.) I couldn't argue with that — it's true.
My watershed moment happened in September 2015. I watched Heneral Luna, then on its second day and this close to being pulled out from cinemas, and realized, hey, we're actually capable of producing good movies! And when I say good, I don't just mean something that entertains. Luna was entertaining for sure, but more importantly, it was edifying. (I resolved to become a registered voter after feeling personally attacked by the line, "Bayan o sarili?") That film made me fall in love with Philippine cinema and its possibilities — and I have been watching at least one Pinoy flick a month since then. I almost always write reviews after, too. But my critique is just based on my preferences, not on a solid understanding of the elements of film, like the screenplay, cinematography, direction, actor's performance, etc. As we talked, I began to see joining the Rebelde Film Camp 4 as a chance to learn the rudiments of moviemaking. (The lineup of mentors was impressive: Cherie Gil for acting, Jose Javier Reyes for screenwriting, Lee Briones-Meily for cinematography, and Adolf Alix for directing — all ace veterans in their respective fields.) Knowing the basics could help me explain exactly why I think a film is good or bad. I'll be of better service to the people who look to me for movie recommendations, as well as the filmmakers who are open to — and benefit from — honest feedback. So I said yes. (Full disclosure: That they were holding it in the beautiful Caramoan islands was one of the reasons I took the bait.)
Lights
"Nag-aral ka sa elementary for six years, tapos sa high school four years, and then college four years again: sa loob ng pader, in a classroom," J.E. Tiglao, Rebelde's president, the brainchild of the country's pioneer film camp, and a self-taught director on hiatus, began. "I thought, 'We need to put filmmaking outside of that box. Put it outside, outdoors.' Kasi filmmaking is all about energy eh. You need to be one with the energy. Kailangan mong kumawala." J.E decided to call the country's pioneer film camp "Rebelde" as a nod to his hero and life peg, the late, great maverick Steve Jobs. "I have his biography books and I believe in the art of doing something different. Kasi dun nagkakaroon ng revolution eh. Kapag lagi ka lang nakikisabay kung anong uso, kung ano yung ginagawa ng iba, walang mangyayaring bago." His lightning moment happened the day he was searching for affordable film workshops and found none. "May music camp, di ba? Merong iba't ibang camp. Pero walang film camp. Bakit walang film camp? Yun yung parang pinaka idea ng Rebelde."
During the 12-hour bus ride and three-hour boat ride en route to Tugawe Cove where the film camp was being held, I had fantasies about sitting at the feet of these first-rate minds one at a time and learning everything I could, then flitting to the next class. I was ready and open and excited.
Naturally, as with most things in my life, things did not go according to plan.
On our first day in Tugawe Cove in the Caramoan Islands, I had a migraine attack that left me bedridden. Good thing there were no official classes that day yet. The facilitators gave the 90 diverse campers a chance to get to know each other. On the second day, three classes were scheduled to happen simultaneously — and the resort's geography did not allow flitting about.
Cherie Gil was teaching 16 aspiring actors at the restaurant function room atop the hill. Lee Briones-Meily was training cinematographers-in-the-making two landings below Cherie's turf. Joey Reyes was down the hill, at the beachfront, instructing some 40 campers how to craft a screenplay. It was impossible to cover all three completely. I had a choice: pick one class and stay there for the entire duration or spend two hours in each. The working writer in me wanted to go to Joey Reyes' class (Who wouldn't want to learn from the man who wrote the screenplay of Oro, Plata, Mata?), but on that island, away from the familiar, my feet had a life of their own. I found myself ascending the 100-plus-step staircase to go to Cherie Gil's acting class. Full disclosure: Before I was a corporate serf-turned-journalist, I was an aspiring theater actress. But unlike the Emma Stones of the world, I didn't have unshakable self-confidence and the gumption to create a why-you-should-let-me-pursue-my-dream PowerPoint presentation for my mom. My mother thought it was an impractical path, and that was the final word on the matter. After stumbling through one unrelated job to another, my need to tell stories finally found an avenue in print… and online. But you never forget your first love. On that island, it was my heart pointing the way, not my mind.
When I got there, the students were all lying down on the floor with their eyes closed. Cherie, in denim cutoffs and a blue boho top, wearing zero makeup, was telling the campers under her watch to "get in touch with yourself." The exercise was straight out of director Peque Gallaga's acting bible — something he gave Cherie many moons back because he believes she has what it takes to teach this difficult-to-teach craft. It is finally of use to the veteran actress. This was her first teaching stint — but you wouldn't know it from her confident demeanor. Cherie told her kids to sit up. A few of them had fallen asleep. "That's okay," she said. "That's happened to me, too." She is the iconic Lavinia Arguelles, but in this room, you could tell she wanted to make these novices feel like they were on equal footing. "We work on trust," Cherie stressed, and asked them introduce themselves and explain why they were there. One was a poet who dreamed of acting but didn't think she was "pretty enough" to actually be an actress. Another was there because her friend, at the last minute, couldn't go on the trip. A guy in blue took the words straight from my heart: "Acting is a dream forgotten." But of all of them, it was Tita Beth whose story stood out. She's a widow who lived abroad for 30 years, then came back home in 2005. Her three kids now have lives of their own, and at age 69, she wants to give acting, her secret passion, a try. Nobody in this room laughed at her dream. At least not out loud. Cherie declared, "In acting, there's no age, there's no clock, there's no sex." Perhaps that was for the benefit of those who were belittling Tita Beth's attempt in their minds. Cherie gave the room a five-minute break, and I took it as my cue to move to the other class.
Camera
These Rebelde Film Camp 4 mentors reminded me of the four elements. Joey Reyes, eloquent and cackling with energy, was fire. Cherie Gil, sensual and magnetic, was earth. Adolf Alix, inherently chill, was water. Lee Briones-Meily, a cinematographer with multiple trophies under her belt, the teacher of the next class I observed, was air — a gentle breeze, but also a hurricane of a talent. She didn't have a PowerPoint presentation — she prefers to jot things down on the fun-size white board. Lee, in a white long-sleeved polo, her salt-and-pepper hair in a casual ponytail, radiated maternal warmth, often addressing her students as "anak." Cinematography may be all about visuals, but Lee told her 30 or so silent students, "The art of seeing doesn't mean seeing with your eyes." To illustrate, she recalled an instruction once given to her by a director: "Can you make the face of the talent feel like a petal?" She took this to mean direk wanted good skin and so to achieve this, Lee collaborated with the makeup artist, and then discussed camera and lighting decisions with her team. The point of this anecdote was to illustrate one of the most important things about filmmaking: "It's not an auteur thing. Connectivity is important." The job of the cinematographer is to visually interpret a good script as envisioned by a director. Emphasis on good script. "If you're a good cinematographer and you have a bad script, then you have a bad movie." With that, I stood up and made my way down the hill. Over on the big tent by the beachfront, Joey Reyes was teaching would-be wordsmiths how to create the foundation of a fantastic film: a solid script.
Action
I had already missed half of the screenplay class. Joey Reyes, wearing a pink sando and Bermuda shorts, was fanning himself as he waited for his flock to return from their brief break. As soon as they were gathered again, Joey asked them to submit letters they wrote anonymously. Every letter had been accounted for save one. Technically, as guest judge, I wasn't allowed to participate in the activities. But I asked for that letter anyway. I was curious about its contents. The letter I got began with "P***** ina mo." The letter was angry, the contempt bleeding through via ink. The anonymous letter sender was evidently fuming mad at somebody who seemed like the very definition of an a-hole: self-centered, selfish, cruel. It sounded like a letter I would write to myself. (I would find out later that the one who wrote it wrote the letter for himself.) After giving us time to read the letters, Joey's instruction was "Think film": to use these raw emotions as a springboard for possible cinematic stories. This girl, Yang, curvy and candid, exhibited a funny streak during her turn in front. (Weeks after the camp, she would admit to me that this funny streak was also her bane: Nobody wanted her on their team, for fear that she was just a happy-go-lucky girl, good for laughs but not for a film. In the end, Yang won the FDCP award for her short film Bahala Na, as well as the Tugawe Cove Award, which is equivalent to P120,000.) Unlike Lee, Joey had a PowerPoint detailing the structure of a script. But of the many, many words he uttered that day, this line stuck: "Don't just say it, show it. In film, images speak harder than words."
The following day, I briefly observed the class of director Adolf Alix. I loved that he began by asking his students what their favorite films were. The answers ranged from Almodovar's Wild Pills to Ano Ang Kulay Ng Mukha Ng Diyos? Despite the diversity of the movies mentioned, the common thread was: everybody loved the films they mentioned because of the story. Adolf, echoing Lee Briones-Meily, said, "The story is king. Form is shaped by content." Adolf's first important piece of advice that day was for any aspiring director "to know your film history." He observed, "They know everything Hollywood, pero they don't know anything about our own cinema, which is sad. I think your best tool is to know your cinema. Kasi you'd know the traditions… para alam mo rin yung identity mo." But he cautions against a common trap: looking up to the ones that came before you so much, you start to duplicate their styles. "Dapat may uniqueness ka, yung singular voice mo nga as a filmmaker, kasi yun yung magdadala sa'yo to be able to do more work. You have to find your own voice." As Adolf said those words, I thought about J.E., the guy who made this camp happen and wondered why he stopped making movies. I stood up to look for answers.
Raison d'etre
Up on the hill, in the restaurant, I spotted J.E. Tiglao, founder of the Rebelde Film Camp. He was holding a beer can, tapping away on his laptop. I strode over to talk to him and discovered RFC4 was actually not just for the campers but also for him. See, J.E., who showed so much potential after winning Best Director for his short film Onang in Cinemalaya 2013; J.E., whose Gamu-gamo sa Takipsilim was the Philippines' chosen entry for Tropfest 2014 (the largest short film festival in the world), was once like these campers. The self-declared probinsyano first fell in love with movies when he was a young boy, after watching Titanic in Dagupan.
For years, that dream was at the back of his mind, and it would take a movie screening in 2012 for him to find the impetus to make it happen. J.E., then fresh out of college and the proprietor of a video company his parents financed, went to Manila to watch Cinemalaya 2012 shorts. He still remembers his seat number — E-17 — at one of TriNoma's theaters. By the time the final credits rolled, J.E. was moved and teary-eyed and right then and there, he made a bold declaration: "Gagawa ako ng pelikula. At mapapanood ko, dito rin sa screen na to. Tinaga ko yun sa bato." He mobilized his friends who were all game and supportive. The following year, Cinemalaya 2013, his statement came true. He watched his short film in the same seat, inside the same cinema. Some months later, the seed of an idea began to form in his head. He would create a camp for people like him, people who wanted to make films but didn't know how. "Nagmatapang lang talaga ako sa universe and I declared. Pero hindi naman lahat kayang gawin yun eh."
People scoffed — and still scoff — at the Rebelde film camp because they say it's impossible to learn techniques in just two to five days. But that's not the point of the camp, J.E. stresses. The point is to allow these campers to delve within and find the fire to go: "Takot siya eh. Paano siya de-derecho dun? Marami akong kakilalang ka-batch ko dati na hanggang nagyon hindi pa rin sila nakakagawa ng pelikula kasi alam nila lahat ng techniques pero walang drive," J.E. explained. "And for the past four years, I am proud to say na ang dami ng nakapasok na short (films) sa Cinemalaya na pini-pitch lang nila dati sa Rebelde Film Camp." (One of which was Wawa by former camper Anj Macalanda. It won the Special Jury Prize, and was screened at the Cannes Film Festival's Short Film Corner.) Last year, J.E. was supposed to join Cinemalaya again, this time with a full-length film, but due to time and budget constraints, the story was shelved. To make matters worse, his former friends turned on him, accusing him of using RFC money to fund the botched film. This is an accusation he denies vehemently. J.E., depressed by the double whammy of seeing a dream project go down the drain and experiencing the betrayal of former comrades, left filmmaking, left Facebook and Twitter, and left Manila. He's slowly picking up the pieces and has been working at a small ad agency for 11 months now. In this film camp, it's not just the campers learning to find their way — even its creator is finding himself and the courage to create again. "This will be the bridge. Ginawa ko tong film camp for other people, and now this year four is for me. It's working," he said with a smile. "Hanggang 5 a. m. kanina, kausap ko mga campers. May lumapit sa akin, umiiyak. Umiiyak rin ako kasi nag re-reflect sa akin these souls… Baka may pag-asa pa na makagawa ulit ako ng full length film…"
I joined the film camp in hopes of learning the basics of acting, cinematography, screenwriting and directing. I left the island just as clueless about those things as when I arrived. But I did see what movies are made of. I saw a determined young director fall from grace and then slowly try to rise back up. I saw a happy-go-lucky girl underestimated by her peers win two major awards at the awarding ceremony. I saw a 69-year-old aspiring actress give everything for her role and strip onscreen in the most tasteful way. I saw the many faces of hope in 90 campers. I saw a ragtag bunch of passionate millennials put together a film camp for little or no pay — only for the love. I saw 90 people take that brave first step to making a secret dream, an accidentally discovered passion, happen. Life is cruel. Only a handful of them will make it — and as J.E.'s tale proves, even if you make it, you can still lose everything in a flash. But if my story is any comfort for them, sometimes, the dreams that don't come true find other avenues to bloom.
During his talk, Joey Reyes said, "A great script does not necessarily say anything new. But it pricks a certain part of the heart, for the audience to realize that 'this is me, and this is an experience that I know.' And you become part of the whole filmmaking experience." I didn't learn anything new from the camp, technically speaking, but the whole experience reminded me that life is a movie, with each of us the writer, cinematographer, director and actress of our own. No matter the heartbreak and odds, how powerful the ending is entirely up to you.