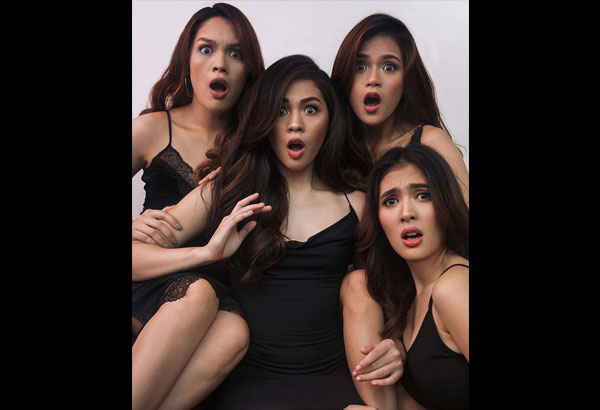 MANILA, Philippines - There is a hallway inside ABS-CBN's compound that we've cheekily dubbed the "Supreme studio." We've shot many of the network's homegrown A-listers in this tiny space — from John Lloyd and Bea Alonzo promoting A Second Chance to The Irreplaceable Angelica (Panganiban) promoting The Unmarried Wife. Today, four of ABS-CBN's talent management arm Star Magic's most promising (leading) ladies-in-waiting are in the middle of their cover shoot in the same makeshift studio. Janella Salvador, 19; Jane Oineza, 20; Sofia Andres, 18; and Maris Racal, 19 are all clad in little black dresses and listening to creative director David Milan's hard-to-pull-off direction: "Scream in fear pero dapat maganda pa rin." They murmur and giggle at this request but acquiesce. The phones go up — everyone watching the shoot knows this is the perfect (Instagram) Boomerang moment. This montage gives us a sense of déjà vu. John Lloyd, Bea and Angelica who shot their Supreme covers in this same hallway went on to enjoy box office success for their respective movies and were praised for their cinematic performances. Will a similar fate befall these four young stars?
Possible success factor 1
The spine of any successful project is a compelling story, and in this regard, Bloody Crayons starring Janella, Jane, Sofia and Maris will most likely be in the black. The premise: a bunch of students travel to a remote island to shoot a film. One of them dies mysteriously on location, and that's where the scream-fest begins.
At the helm of this film is director Topel Lee who has clocked in over 15 years in the business, with a number of music videos and films under his belt (Ouija, Amorosa, and four Shake, Rattle, and Roll shorts). In a remote interview, Topel says Bloody Crayons took so long to finish primarily because the writers didn't stop polishing the story until Topel was truly happy with it. "I kept telling them to improvise and to come up with really scary and unique devices." In short, this is not a rushed job. To the four girls' benefit, this is a tale that had time to incubate. The film's objective is pretty straightforward, Topel adds: "to really scare people." But nota bene: there are no ghosts or aswangs thrown in the mix. It's more in the vein of Get Out, one of Hollywood's most excellent yet underrated recent thrillers.
Another cause of delay was the ever-changing casting. (Jane Oineza [who has been onboard since Day 1] admits questioning the project's feasibility at one point. "Maiisip mo, 'Tuloy pa kaya 'yung buong movie? Kasama pa kaya ako kasi wala akong update kung kailan 'yung next schedule [of shooting]?'") This is Star Cinema's first suspense thriller featuring a barkada at the core (Think Hills of Ice or Wrong Turn) and it was crucial to get the right mix of actors. "When you set up a group, put it in a movie, dapat ganun; marami kang iba ibang traits para masaya," says Topel. After a couple of tries, they finally found the winning combination. Janella, Jane, Sofia and Maris all brought their distinct characters to life — and this is a big reason Bloody Crayons works, says Topel. "You have Sofia as the sosyal type, the medyo athletic, which is Jane; then you have the lead actress, Janella, who is in charge of everything; and Maris, 'yung funny person. So balanced naman."
After countless story and cast revisions, Bloody Crayons is finally hitting theaters on July 12. And Jane, who has been part of the project the longest, is happiest about this development. "Ito na. Ipapalabas na talaga. Ang tagal hinintay, and now it's really here," she says, face breaking into a grin.
Possible SUCCESS factor 2
But even the Most compelling story will fall flat if you cast incompetent actors. Good thing Janella, Jane, Sofia and Maris give so much more than a good face. Topel says, on set, the quartet was "very fun," but also "more focused and attentive" compared to the male leads. "They're (Janella, Jane, Sofia and Maris) the ones who listen to me kaagad when I tell them," the director shares. "The boys would go back to me and ask, 'Direk, ano nga 'yun?' Pero in the end naman, they try to give you their best din. Masipag din."
Sofia (who dreams of becoming a movie star like Kristine Hermosa and Claudine Barretto) may look fragile, but there is a steely determination to be a great actress beneath that visage. "She would ask me always kung ano yung gagawin," Topel shares. "Gusto ko 'yung quality talaga," Sofia stresses. "Yung talagang magbabayad sila; (iisipin nila) worth it 'to." Jane, who has been hustling in this industry since she was four years old, and who has more than held her own opposite veterans Angel Aquino and Angel Locsin, nailed every crying scene, says Topel. In fact, she's so good at what she does, she nearly made her co-star Maris cry at the most inopportune time: "Yung eksena na ina-accuse siya, naiiyak ako sa kanya, pero dapat galit kami sa kanya." Maris, a Pinoy Big Brother alumna who never imagined herself being part of showbiz post-PBB, is slowly but surely making her mark as an actress (and, in this writer's opinion, she deserved an MMFF 2016 best supporting actress nomination for her lovable performance in last year's Vince & Kath & James). Topel says this newbie always approached him and the production staff just to talk, often checking what was going on in the monitors. And lastly, there's Janella, the film's lead star. The ingenue is playful off-cam, often singing her TV commercial's jingle or doing some silly sunset pose; but once the cameras start rolling, the "serious" side comes on, says Topel — and it stays on until he says cut. Four pretty girls who actually have the goods to back up the hype — that's a key ingredient to a story's success, if we ever saw one. The secret sauce to their magic onscreen, says Topel, is that the true friendship they have off-cam translates on film. "After this movie, talagang very close na sila."
Bloody Crayons is the first of its kind (for Star Cinema, at least): a welcome break from rom-coms, a palate cleanser, so to speak. The first roll of the dice is always the scariest and riskiest, but with a promising story at the core and actors who did everything they could to slay every sequence — just like One More Chance and John Lloyd and Bea; The Unmarried Wife and Angelica — the odds might just be in these scream queens' favor.
* * *
Tweet the author @IrishDDizon.
Photo by KOJI ARBOLEDA
Produced by DAVID MILAN