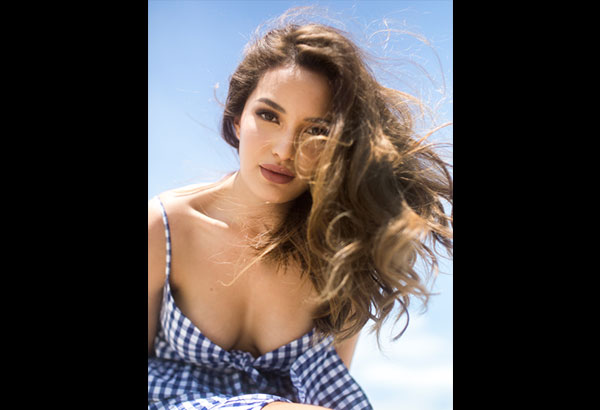 In her new film, Sarah Lahbati trains the spotlight on the monster that lurks beneath her striking looks: a passionate, legitimate actress.
COVER:Sarah in a new light
MANILA, Philippines - Director Katski Flores echoes something many people say about Sarah Lahbati: "I didn't know anything about Sarah at the time, except that she was a model, a celebrity." (That's the curse of being a stunner like Sarah: people usually fixate on the shell and tend to stop there.) Katski is referring to the period when they were casting for the psychological thriller, Ang Pagsanib Kay Leah dela Cruz. It's a horror film that is propelled by a singular idea: "There are demons in all of us," shares Katski. At the heart of this story is Ruth Liwanag, a pill-popping officer who has baggage with a capital B; a policewoman who, contrary to her last name, is actually dark and full of terrors. (Read: Her idea of release involves blades.) Katski needed an artist, not an artista — someone who could do the job, not someone who would just give good face on the silver screen. Katski needed someone unencumbered by strict endorsement deal clauses — meaning, someone who could walk around in her panties, swear, and be violent onscreen. A professional who was willing to delve into the darkest parts of her psyche — all in the name of telling the Erik Matti-conceptualized story as truthfully as possible. Going into their very first meeting, Katski didn't think Sarah Lahbati was her girl. But as she observed the star during that pitching, she sensed "a quiet intelligence and depth beneath the glamorous facade." And when the dark horse did a cold reading for Ruth's part, Katski was "floored." "She got it, intuitively, without direction. She sounded like the Ruth I had been envisioning." Lucky for Katski, the revelation didn't end at that meeting. On set, she witnessed how Sarah "puts the character first before any vanity." In other words, she wasn't afraid to look ugly. While other stars would rather die a painful death than appear on camera barefaced (sans makeup), Sarah had nothing on throughout the film save for powder. Her hair was frizzy, with the roots showing. (She begged for her director to allow her to do her eyebrows at least, but the former wouldn't budge.) The usually-glam Sarah made that artistic choice for "authenticity and integrity," says Katski: if her ruthless Ruth looked too pretty, no one would take her seriously. The film's core is people's demons, and so we ask Katski what Sarah's "demonic" side is like. The director stresses her lead star was "mabait and a professional." Consider: throughout the six-month shooting period, Sarah was only late once, and her attitude more than made up for the team's relatively short wait (30 minutes). "Lumabas sa van all apologies at bihis na."
Whether this film will succeed in terms of box office numbers remains to be seen. (Real talk: the film has no love team, covers a terrifying subject, and has no big machinery behind it.) But success has different meanings. Sometimes, success is when a viewer claps as the end credits start rolling, the way that dude at the June 28, 2 p.m. screening at SM MOA did. Director Katski Flores, initially a doubter and non-believer of Sarah Lahbati, now says this about the actress: "Ang layo layo pa ng puwede niya marating as an artist."
Re-acquaint yourself with Sarah Lahbati. There's more to her than those weekly ASAP dance numbers.
SUPREME: After your pregnancy, you came back to revive your career. How's the comeback going?
SARAH LAHBATI: I think I did a few things for other networks, a couple of guestings, until I did ASAP, MMK, and all that. Of course, I was fearful, of course I had doubts, especially since society always has something to say and they have their own vision for you. So there was a lot of pressure, but thankfully my family was there for me, and I had a lot of reassurance that I could act again and do what I love.
What was your highest and lowest point as you tried to make a comeback?
I definitely came to a point where I was getting impatient. I'm just a human being who gets impatient and wants to work and do what I love. So I was in that situation and Chard and I started traveling so much. I've always loved the ocean; my dad is a diving instructor, so I've always loved diving. And at one point, I was like, what if I just become a marine biologist? And Chard can just shoot and we could work for an NGO. Bigger dreams, even! Despite my situation, I just kept dreaming and having new dreams. Just because I have problems, hindi kailangang maging super negative na tao na ako. I just kept fighting for what I wanted to do and other things I could possibly do. I don't think showbiz is the only thing that makes me happy and my world doesn't revolve around it. I can live without it, but I love acting. I choose to remind myself that I can do other things and not be obsessed with showbiz and think that it's the only thing that can give me life. I know I can detach myself anytime from it.
What is it about acting that you love?
I fell in love with the process, the part where binubuo mo yung character, it's so fulfilling for the mind to just create a character and give a life to it; to think about her past, her little details… that's something I love doing and would love to keep doing in the future.
Is that why you titled your book True Beauty: How to Glam Your Life Inside and Out?
There's just so much negativity online, on social media, and I just wanted to spread positivity and try to inspire women, anyone who's struggling, who feels like giving up. I wrote that because I want to share inspiration and just give love out there because I have so much love to give.
Did anyone tell you, "Sarah, just give up on showbiz."
No naman. Thank God. (Long pause) Actually, my dad. He won't read this naman. He obviously loves me so much. I have such a comfortable life there and he knows how hard I work here. I could be studying in a beautiful, amazing school and then have my own business one day. That's the reason why he told me, "Just come back here, be with me, do what you want. There are a lot of opportunities here." But being my stubborn self, I decided to pursue my own dreams.
How many films have you been in? How do you choose which ones to do?
Not so many. And I want to start with this Ang Pagsanib kay Leah de la Cruz. I wouldn't count the other ones. I'm not the type who would just say "yes, yes, yes" all the time for the sake of having work, for the sake of people remembering me and seeing me onscreen every single day. I have no interest in that sort of thing. Hindi ko gagawin ang isang bagay para lang kumita o makita. What I want is art and satisfaction when I do creative things. So I choose a role that will challenge me and fulfill my soul as an artist. I want to be taken seriously as an actress.
So why did you say yes to Ang Pagsanib Kay Leah de la Cruz?
Direk Katski told me it's kind of like The Exorcism of Emily Rose and Sicario. I've seen Sicario, so I said yes right away because it's an action movie and the lead actress (Emily Blunt) did an awesome job. It was always a dream of mine to do action, to use my muscles for once outside of the gym. The writer, Charlene Sawit-Esguerra, didn't give many details about Ruth. I love her for trusting me to build my character with my director; to build details, mannerisms, nuances. It's so important for an actress to think about those little things.
What is the path you want for yourself now?
Honestly, I just want to keep doing movies that are creative and full of passion. I want to keep working with people, like direk Katski and direk Erik. I want to make great movies not for the attention but for the art.
The movie is about demons. What's a personal demon you've slayed?
Not having a proper teenager's life affected me at some point and made me numb. There was a year where I was really bad and I decided, okay, I need to check myself because I didn't go through a normal teenager's life. I felt like my life wasn't complete because there was a hole. One year, I just focused on myself and gave myself more love. I traveled a lot: Fiji, Tonga, a lot of local beaches. It gave me so much sanity and peace of mind.
Despite having done two other films, you consider Ang Pagsanib kay Leah de la Cruz your first legitimate movie. What is the one compliment regarding this film that would make your day?
I think one example I can give is what direk Katski said. She posted it on Instagram, actually. Sabi niya, "The first time I met Sarah, I had no clue who she was. I just knew she was a model na hindi ko alam kung nag ta-Tagalog ba siya o hindi." She had preconceived notions of who I am and she said, "Ano ba siya? Ano bang ginagawa niya? Model ba siya or what?" And then sabi niya, "Marunong pala siyang umarte. Meron pala siyang maibubuga. And I'm excited for what's to come for her." So when people notice anything that's related to the craft, it makes my heart so joyful. I think with Instagram and all that, when people only see the glammed-up Sarah Lahbati, they forget that I have so much more to give.
Tweet the author @IrishDDizon.
Photo by REGINE DAVID
Produced and styled by DAVID MILAN
Makeup by JAKE GALVEZ
Hair by FIDEL TANGO