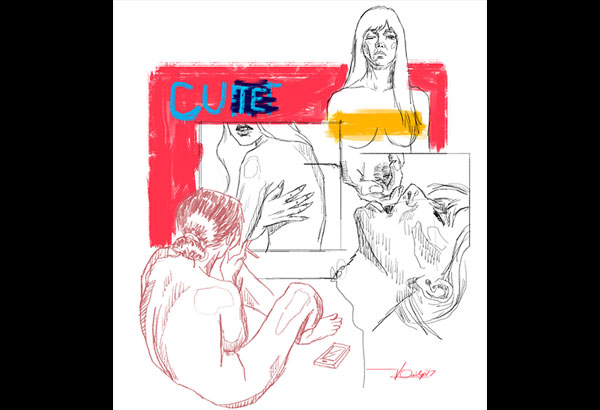 Illustration by Vincent Kristan Quilop
Alter accounts. They're the answer to the decades-old question, "Anong pangalan mo sa gabi?" Think racy display pictures with stickers slapped onto where the faces should be, provocative Twitter handles, and a bit of nudity. I have been following gay alter accounts for about three years now, and have even made friends with a number of them owing to the candor they present themselves with and the pornographic media most of them throw around.
This Pride Month, however, I wanted to explore alters we don't usually hear about — lesbian and bisexual female alters. Alternate alters, if you will. Here, Supreme slides in to the DMs of Dolores (@lilbitchtitz), a 23-year-old bisexual from Antipolo; Ross (@suckerforclits), 21, lesbian from Bulacan; Cautiously (@onenightbabe), 21, bi-curious, Pasig; Alex (@ughlex), 23, lesbian, UAE; and Marj (@lilybabeG), 20, bisexual, Alabang for a chat on what turns them on and what makes them tick. Of course, in keeping with alter tradition, their real names and occupations have been kept confidential for protection.
SUPREME: We know about the popularity of gay alter accounts (or what were once known as "libog accounts"). I'm guessing lesbian and bi-female alter world is a thriving community. Can you describe its growth so far and how different it is from gay alter?
ROSS: I guess we are more discreet than the gay alters. Mas aggresive sila in a way. I can't fully describe it pero mas sexually open sila? Kami kasi, kahit alter, we still have our reservations. Personally, I don't post nudes or tweet anything na sobrang libog. Pero yung gay alters, ang active nila talaga with hookups and all that. Mas adventurous. Ang hirap lang dito is maraming bi-curious, and personally nahihirapan akong mag-gauge if okay ba sila, puwede bang prospect, or hindi kasi yun nga, may reservations pa rin.
MARJ: I think female alters help each other and encourage each other to just be themselves and that helps the community to grow and be more confident with themselves.
ALEX: I don't know if ako lang ba yung lesbian na nagti-tweet ng pics na tulad ng nasa media tab ko. Sa growth, lately ko lang napansing maraming bi accounts. Mostly, hindi sila out kaya sila nag-alter. And we're really different from gay alter accounts — halos lahat ng friends ko rito di naman f**k girl o naghahanap ng sex. May part na ganun, pero mas pronounced yung part na gusto nila ng kausap na di sila ija-judge kasi complete strangers.
DOLORES: I'm new here, but from what I've experienced so far, female alters have been very encouraging towards each other. The compliments don't feel like objectification, unlike when most hetero male alters comment on a nude photo. Just genuine admiration. Like gay alters, some women also use their alters to hook up or browse porn and that's okay, too. Better to express sexuality than repress.
I'm guessing you girls all have real, personal accounts, or what alter people call "legit" or "main" ones. How different are your alter accounts in terms of content?
ALEX: My main account was connected with my Instagram, so I have IG posts or sometimes rants in it. Almost the same naman but not nudes or "for alter only" tweets. I have my siblings and cousins as followers.
ROSS: I post almost the same content on my main account. The only thing that differs is I don't retweet porn on my main. Pero I'm sexually open din sa main account. Dito nga lang sa alter siguro mas free kasi andun yung anonymity.
DOLORES: I curate my posts in this account to be just nudes and some tweets about sex — kinks, etc., like a more open-book version of my legit account. Usually, I don't have a problem with tweeting about sex, but lately I just felt like I need to tone down a bit on my main account and filter what I post because I get a lot of views there and I don't know if I can handle too much attention for showing skin. Appreciation, I can deal with. But too much attention — especially male gaze — that just irks me the f*** out. I'm all for setting a good example and learning to love yourself, I'm just a bit shy, that's all.
Has the alter world affected your attitudes toward sex and sexuality?
DOLORES: Yes. For me it was more of a "be comfortable in your own skin" kind of thing. I've always been accepting of what people do with their bodies, so learning about kinks and other sex stuff here wasn't very shookening for me.
ALEX: I guess so. Mas na-challenge akong gumawa ng mas horny and wilder things sa sex namin ni GF, lalo na kapag nasa mood kami mag-live or moaning videos. We are wilder. And it also boosts our confidence about being a lesbian couple kase mas tanggap sa alter. Mas nakakalibog pa nga daw kaya they prefer to follow us.
MARJ: Yes, because it has made me confident and it has helped me in knowing what I really want and like.
Where do you draw the line between genuine, healthy sexual expression and being objectified?
ROSS: Ay grabe, triggered ako. I like it when girls are open about their sexuality. It's the patriarchal society that dictates that girls should be pure but then we can objectify them because they are male. I get so pissed off whenever a guy gets so salty 'pag di sya napapagbigyan. Her nudes are not an open invitation para bastusin mo yung tao. I'm not being sexist pero lalaki talaga ang mga bastos dito.
ALEX: Actually, I don't give a f*** about this. Simple lang: kung ayaw mo, eh di 'wag mong i-entertain. If you feel na wrong move siya, then wag mong reply-an. Sa mga tweets naman sa pictures ko, it's fine kung paano nila ako pupurihin. Or how my shots look.
DOLORES: When a comment feels like my body's purpose is to look "good" or to cater to the male gaze, and to give pleasure to a person, that's definitely objectification. I got a few replies to my nude photos saying "yummy." Ano ako, pastry shop display? Nakakaloka.
Let's be honest here. How many hookups have you had via the scene as of this interview?
MARJ: Honestly? None here sa alter because I have a fubu (f*** buddy) girlfriend.
Cautiously: Never pa ako nagka-hookups. Puro sex chat at SOP (sex on phone) pa lang. Hoping ako, hahaha.
ROSS: I've had just one pa lang, a week after I created this alter account. Maraming sex on chat, pero yun pa lang yung in person.
Booty calls aside, how would you describe the virtual solidarity among your online community despite the anonymity?
ALEX: Baka alter nga talaga ang "real world" kasi at least dito, we can be the real us. We can be mabait and malibog at the same time. Unlike in our main accounts, masyadong judgmental.
MARJ: I think it's a good community kahit na iniisip ng iba na if you have alter account, you just wanna have sex and all. It's a community where you can freely express yourself and people will support you.
ROSS: It's a safe space. I've made friends here and I'm very happy to have met new people. It's not always libog. There is camaraderie.
What does it say about our society and about us millennials that some of us feel the need to put up alter accounts?
MARJ: Some are still afraid of what others would think because our society is still not tolerant about this kind of things. Some are still narrow-minded and quite conservative.
Cautiously: Ngayon kasi, mas up-to-date na tayo kaya mas more on explorative tayo sa mga bagay-bagay. Mas may freedom tayong ipakita at i-express yung libog natin, lalo rito sa alter na wala ngang nagja-judge.
ROSS: It's our own kind of channel. Other generations have their own, pero ours is much faster than theirs. They had their phone pals and pen pals dati, and I think it's no different from alter. I guess mas sexually open lang ang millennials dahil di na naka-box ang sexuality natin. Hindi pang mag-asawa lang ang tingin natin sa sex.
DOLORES: Society tends to romanticize sexual objectification a lot, so it doesn't feel very safe when you post a nude in public. Especially in the Philippines, napakapyudal ng sistema rito. Patriarchal standards will shame and demonize women for being sexual.
Recent days have seen alter members, both gays and lesbian/bi-female users, being harassed and threatened with exposure by begrudging anonymous users. What measures do you think must be taken to maintain the security of your safe space? In general, what should the LGBT sector do in order to provide and preserve safe spaces in a society fraught with oppression?
ALEX: Regardless of those issues, dapat naman kasi talaga we have to be responsible sa mga pino-post kahit pa hindi alter. If you want to post nudes, kailangan ready kayo sa possible na mangyari. Or play it safe: post nudes pero medyo itago natin. Guys are more malibog kapag medyo nanti-tease yung nakikita nila. Wala rin akong maisip na puwedeng legal action, eh, unless yung magli-leak ay yung BF o GF mo. Kung stranger, bakit ka kasi nag-send? Or ba't ka nag-tweet? As simple as that. Kung takot kang mag-leak ang nudes, don't post or send. At kung may na-send or post ka na, show them that you don't care kahit ikalat nila. For sure, di na nila ikakalat yun.
ROSS: There is no need for them to secure. Ang mali ay mang-blackmail and be an ass when you can't get what you want. What we can do is to educate. There is no need for censorship kasi kaya nga may alter — to provide a safe space. We need to bring down the patriarchy pa rin kasi it's where the thinking of males comes from na they are stronger, hence they feel entitled regarding women. Here on alter, we need to battle it out, too, kasi rape culture is proliferating here.
DOLORES: I think that more than filtering out the people who follow you and being more vague about your location and personal info, people should really just respect other people's spaces. More than anything, I think that sex education should be a thing in our country. But education itself is such a privilege here, and shouldn't be because that's a right. This feudal system, brought by imperialism and capitalism, commodified education, depriving people of it. And then there's Catholicism which heavily condemns sexuality. These issues hinder us from being educated about sex and sexuality. When we aren't informed, and when the patriarchy normalizes male entitlement, these things happen. It's a shame, really.
* * *
Tweet the author's (legit) account @Watdahel_Marcel.