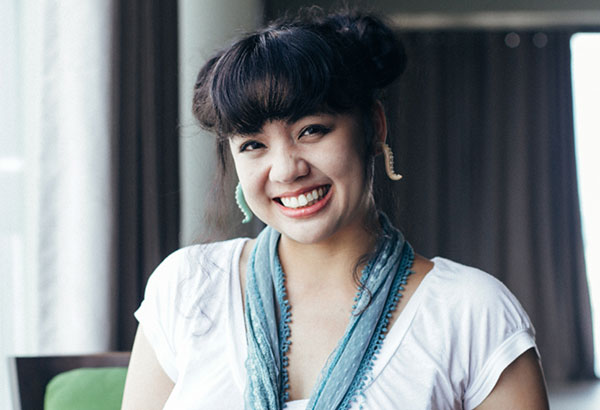 In the tail-end of 2015, Adrienne Vergara auditioned for Bliss and nailed it. Jerrold Tarog says, "The audition piece required the actress to switch between three different characters in one shot. She pulled off all three and was absolutely fearless. Lastly, that laugh. Oh my god. It was perfect." Photo by Krista Ortega
FEATURE: Her name is Adrienne Vergara
MANILA, Philippines - Cinema 76 Film Society, a micro-cinema with a seating capacity of 60, is full tonight. We're watching Bliss, a psychological thriller by director Jerrold Tarog. It's his follow-up project to the unexpectedly successful Heneral Luna. At the center of it all is a superstar named Jane Ciego — excellently played by Iza Calzado — who, craving respect from the industry, decides to produce her own movie, in hopes of finally winning an acting award. (And maybe even going to Cannes!) Something goes very wrong on set, and Jane's life goes straight to hell — with a nurse named Lilybeth/Rose as Satan himself. Lilybeth's laughter is the aural definition of diabolical.
As the end credits start rolling, someone in the audience lets out an audible, "What the f**k?!" (We suspect this is exactly the reaction Jerrold wants.) A dude from TBA, the film company that produced Bliss, marches to the front, and asks us to: "Please tweet about the movie." People are ready to go, but a familiar diabolical laugh stops them in their tracks. They crane their necks to look for the source, some giggling nervously. And from the back, she emerges: actress Adrienne Vergara, who, for the past 100 or so minutes, stressed out this bunch of 60. She's wearing a sheer, light brown mini dress (something she found at an ukay store by the MRT Shaw Boulevard station), paired with green Doc Martens (a gift from a godmother), and her hair is up in space buns, her "homage to Sailor Moon." With Adrienne is actress Star Orjaliza, who plays the seemingly-kind predator ate Ling. Adrienne is nothing like her evil/broken character in person…more like a bubbly, super kawaii child-woman who wandered in here straight from Harajuku, Japan. (She's 33 but she can pass for 16.) The two gamely pose for photographs and even put lotion on the more playful members of the audience. When the small crowd disappears, we leave for a restaurant she loves somewhere in Teacher's Village, with her four interns in tow. They're helping her carry out her duties as one of Sipat Lawin Ensemble's players. (She's been with this theater company for six years. "Ano kami: non-stop, no-profit performance company!") This free movie and dinner treat is her way of saying thanks to her helpful elves.
Makiling-made baby
"How are you similar to or different from your character" is a typical question asked of actors, especially if they're playing a particularly unconventional role. So we don't ask her that. But the parallels and disparities between Adrienne and Rose emerge anyway.
Like Rose, Adrienne's never been close to her father. He bolted even before she was born, leaving her mom, Mina, to raise their only child on her own. Adrienne gleefully says, "Sa Makiling ako ginawa!" Her parents were college sweethearts in UP-Los Baños whose lives were altered forever by this surprise baby. (Mina never got her degree.) But unlike Rose, Adrienne's mother never forced her to pursue things she had no interest in. "Ang gusto ko kay nunu [Nunu is how she addresses her mom], sobra siyang supportive," she says. "Hindi ko naranasan yung kagaya sa iba na sinabihang, 'Mag-nursing ka or mag-IT ka.'" Her first taste of her mother's brand of supportiveness happened when she was in the first grade. Adrienne was part of a sabayang pagbikas (choral recitation) and right after the performance—even though she had no solo part—her mother enveloped her in a hug and said, "I'm so proud of you." "Nilibre pa niya ako ng McDo! Ganun pala ka-big deal yun," she says, her distinct laugh blooming from her lips.
Adrienne's childhood was marked by constant movement. Before high school, she lived in 10 different houses—from Sampaloc, Manila to Isidora Hills in Quezon City. Mom and daughter, at one point, even called the NUWHRAI (National Union of Workers in Hotels, Restaurants, and Allied Industries) office in UN Avenue home. They were forced to look for new digs when it burned down. They had to keep moving "because of money": It's not easy being a single mother on an NGO worker's salary.
She moved schools a lot, too, as a consequence, and early on learned not to get too attached to anyone. Little Adrienne, who had no siblings and was always in the company of adults, developed an important skill: how to "self-entertain." She read books, built things using her Lego blocks, drew, and dressed up her paper dolls. On days Nunu picked her up late from school, she whiled away the time by watching college kids rehearse for their plays at the school auditorium. But she also liked going with Nunu — an NGO worker whose specialization is adolescent sexuality and reproductive health — to her meetings and presentations. "Na-a-attend-an ko yung mga sexuality seminars niya. So minsan ako na yung sumasagot. 'Ilan ang butas ng babae' Sasabihin ko, 'Tatlo!'"
In high school, the gypsy life of Adrienne would come to an end. She was accepted at the Philippine High School for the Arts. The baby made in Mount Makiling, for the first time, grew roots, in Mount Makiling. It was a heady experience for Adrienne, having a much-respected actress like Shamaine Buencamino as a teacher, being mentored by actor Herbie Go. It was four electric years rife with competition ("Pumasok kami mga 30, 27? Tapos grumaduate kami 21 na lang."), raging hormones (Her mother was summoned by the discipline committee because a stash of chocolate-flavored condoms were discovered in Adrienne's then-boyfriend's drawer. Her mother, an advocate of reproductive health, maniacally laughed and declared, "Sa akin galing yan!"), and expanding egos. "Feeling ko ang galing galing ko. Lumaki ulo ko dun," Adrienne admits. "Kasi nakapag-perform na kami sa CCP, we've met these artists…"
She was in for a rude awakening.
Girl, Interrupted
In UP, Theater Arts major Adrienne was served several slices of humble pie. Away from the cocoon that is Mt. Makiling, she felt crippled by the absence of her mentors. She also realized she had developed "bad acting habits," like the "Horizon school of acting. Yung naka-look away. Eto yung kausap ko pero dun ako nakatingin." She encountered classmates who, unlike her, had zero training, but were innately brilliant. UP deflated the ego.
So she read books on acting, beginning with all the Stanislavski classics she could get her hands on ("An Actor Prepares, Building a Character, Creating a Role.") She enthuses about the guy considered to be the originator of Method Acting for three minutes without stopping, and tells me how she applied what she learned from him in her thesis. (Adrienne performed in waiting sheds and jeepneys instead of theaters.) She had plans of joining a theater company post-graduation, but an unexpected break came her way: to be a mascoteer at the about-to-open HK Disneyland. In the end, she chose work over a degree; she chose learning simple choreography and performing abroad over being a working actress here, a disciple of Stanislavski. "So lahat ng pinag-aralan ko, ba-bye," she laughs.
In HK Disneyland, Adrienne performed around 4,000 times. You could say she had a four-year Jane Ciego episode in the happiest place on earth: "Same shows, same days." She had an alternate, but the said alternate, a local, often went on sick leave, forcing Adrienne to perform five shows a day on non-peak seasons and seven times a day on peak seasons. There were pockets of bliss during her four-year stay in HK, like the time she won a contest and met Lady Gaga in the flesh, but all in all, life was like one bad song on loop. It was worst on Christmas Day. "Makikita mo sa audience, kumpleto yung mga families, nanonood, tapos ikaw nandun. Umiiyak ako sa loob. Tapos nakita ko rin yung ex ko may asawa na, nanonood. Sinasadya niya!"
She quit to join a reality TV show in Singapore called HP Space, where challenges included decorating hotel rooms, creating anime in three days, and designing laptop bags. Conclusion: She didn't win and had to come home to Manila and restart life here.
Square one
"Gusto ko rin magpahinga. Parang si Jane. Gusto niya matulog," Adrienne says, explaining her decision to go on hiatus for the entire duration of 2010. "Natakot talaga ako, wala akong contacts, wala… as in bagong life na ulit eh." She hid in her Lola's house in Cainta, only leaving if her mom needed help with her RH Bill-related NGO work. A year later, Adrienne found the theater group Sipat Lawin Ensemble and slowly, she re-emerged into the light. Her co-Sipat Lawin player, JK Anicoche, helped her find rakets for theater, film, and TV. (In 2012, she landed her first magazine cover: Leeroy New's Art magazine—but you're gonna have to take her word for it. "May takip yung mukha ko!") With JK's help, Adrienne has been working steadily since '11, accepting all kinds of work: from hosting educational shows on Knowledge Channel to pinch-hitting for an extra who couldn't make it to one shooting day of OTJ by Erik Matti. All this on top of doing voices for TV and professional mascoteering and revolutionizing local theater by way of Sipat Lawin. In the tail-end of 2015, she auditioned for Bliss and nailed it. Jerrold Tarog says, "The audition piece was the scene in front of the mirror and the actress was required to switch between three different characters in one shot. Adrienne pulled off all three and was absolutely fearless. Lastly, that laugh. Oh my god. It was perfect."
Bliss isn't just a story about a superstar whose life has gone to hell. You could say it's also Jerrold calling out the abusive practices in the local entertainment industry. Adrienne confirms the depiction of local showbiz working conditions in Bliss is accurate, and shares personal anecdotes: how big stars eat using real plates and metal utensils, while talents and extras eat off styrofoam containers; how big stars have airconditioned tents, while talents and extras are lucky if they have tarpaulins to sit on. Adrienne neither has a tent, nor does she sit on the tarp. "Dun ako sa may food," she squeals!
Working on a Jerrold Tarog set is not like working on a Lexter Palao set, Adrienne stresses. (Lexter is the fictional despotic director on Bliss.) She rattles off the things she loved about shooting the film: the respect for time ("Maaga kami nakakauwi. Ang bilis."); minimal technical problems; a director who knows exactly what he wants ("First time ko makakita ng director na may shot list. Walang dagdag. As in ganun ka-precise.); equal treatment of the cast (they all ate using real plates!); and an overall feeling of safety. (Adrienne was originally going to go panty-less for a scene, but TBA big boss Ed Rocha appeared on the day of the shoot, and for some reason, it was decided she won't be fully naked.) "Posible naman pala," she says. "Ang galing na na re-revoluiotnalize nila yung practices in the local filmmaking industry."
As this goes to press, Bliss is still in six theaters. But it is in the can and it's time for Adrienne to look forward. She has an audition tomorrow, one very important to her because she's always wanted to work with the director. She wants to keep making movies, but is wary of creating plans. "After masira yung plano ko supposedly after graduating from UP, wag na," she says.
Adrienne Vergara laughed a total of 154 times throughout the two-hour interview. Whether recalling something funny or talking about some injustice, she laughed. On social media, people have strong feelings about Nurse Lilybeth and her diabolical cackle. "Grabe ngayon lang ako namura ng malaley. With love! 'K**g**a mo! Wag kang magpapakita sa akin! Galing mo!' Ano ba talaga guys," she says. A distinct laugh isn't such a bad legacy to leave behind. But something tells us Adrienne Vergara is going to leave us so much more than that.
***
Tweet the author @IrishDDizon.