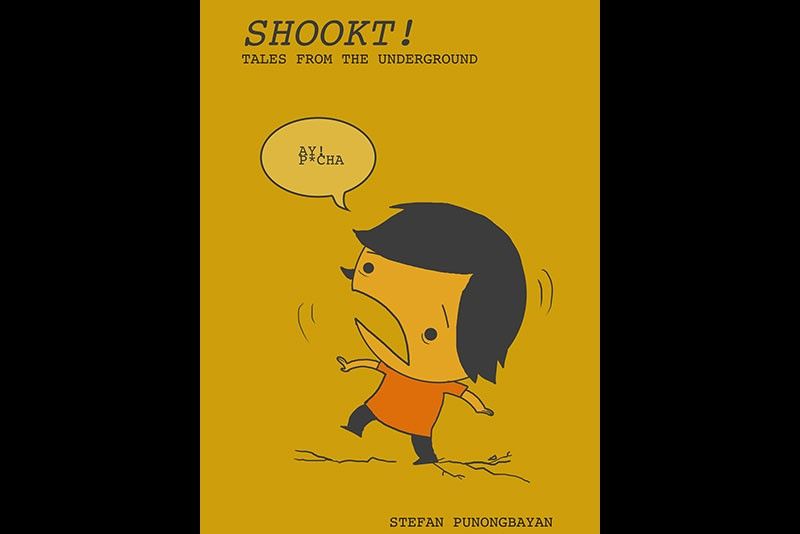 MANILA, Philippines - (Disclaimer: The following is a work of fiction. While real names, quotes, and other elements have been retained, everything else is purely speculative. The author, along with the entire Supreme roster, does not wish ill upon the people in the article.)
Break out the rosaries and pyramid helmets. If the previous series of unrelenting aftershocks is any indication, the end, as we know it, is upon us. As we fill our backpacks with batteries, Ligo sardines, and whatnot, we secretly anticipate with bated breath that which might finally free us from the burden of daily existence.
It comes every 400 years or so, according to PHIVOLCS. The Big One may not be anybody's fault, but the West Valley Fault is slated to generate a Magnitude 7.2 quake, turning boulder into rubble from Bulacan to Laguna. No one is safe as the ground splits open, with Satan waving hello amid the geysers of fire and brimstone.
If it's any consolation, our journey down the highway to hell won't be as tragic as you may think. There's still that near possibility that some of our beloved celebrities will go down with us into the abyss. When sirens start blaring, just look towards the horizon and watch the stars falling from heaven and into the tectonic chasm.
Gina Lopez
Hello! It's a Sunday. Gina has just finished meditating and is on her way to lunch. She spends the remainder of her morning in her SUV answering texts about how she conducted herself the previous night when she rocked the proverbial boat. Think: a one-woman management team on wheels. Or a hungover ex-girlfriend ng bayan who had a beer in her left hand and a phone in her right on a Saturday night.
She arrives at her favorite vegan restaurant along White Plains. As she enters the bead-curtained doorway, the waiter heads straight to the counter to put her usual order of free-range, organic, handcrafted, artisanal vegetarian paella with a side of malai kofta. Gina beckons the waiter to ask for a cup of turmeric tea. "It's my new favorite," she says with a wry smile.
Her phone rings yet again, this time with a call from one of her staff. "Hello? Yes, we really have to go to Marinduque this week! Huh? No, no! Our plan is to convert the mine and the surrounding area into something conducive for eco-touri — oh, my. What is that?" The tatami floor begins to shake. Glasses on the tables clink and tip over. "F*** lumilindol!"
Soon enough, the ground starts to fold. The waiter manages to run toward her in the nick of time. "Ma'am, wala na pong turmeric tea."
Alas! The floor splits open! Gina's lasts words are, "You're just a f***ing employee!"
Indeed, such an ironic way to go as an anti-mining authority.
Sonny Angara
"The new Kendrick Lamar is fire," Sonny tweets, the last word actually signifying three flame emojis. It's the Supreme-and-New-Balance-wearing senator's third music festival this year. Right now, he's standing in line to get a drink at the beer station.
It's a breezy summer Sunday afternoon in BGC. Boys in pastel tank tops and girls adorned with flower crowns float about the grassy activity park as a local indie band waxes electronic onstage. Sonny, holding a bottle of water (as opposed to a beer, lest photos of him not being a role model end up online) gets inundated with millennial fans asking for selfies.
"Sir Sonny, even if you voted in favor of the death penalty, I still love you," a fangirl tells him, trying to keep her composure. "I'll vote for you in 2019!"
"Well, we have yet to hear the Senate's decision about that. Also, why wait for 2019 when you can have a picture with me now?" He leans in and flashes a smile at her phone's camera.
After a few minutes of soundchecking, the next band, Sud, starts playing Sila. Sonny quickly Googles the lyrics on his phone so that he may watermelon the verses the moment the sea of youth begins to sing.
However, as soon as vocalist Sud Ballecer mouths the first letter of the song, the earth starts trembling. Is it the amps? Surely, the amps don't have the decibels to cause nearby buildings to shake and collapse. The concertgoers run amok and eventually fall trapped into newly-formed crevices where grass becomes soil. Sonny, still trying to watermelon the lyrics to Sila, can't choose where to run. Where's the most hip and popular corner to get trapped in anyway?
Snap! Crumble! He looks below and sees a crack forming between his NB-wearing feet. The crack quickly expands into a pothole, the pothole into a massive cavity. Much like his political judgment during the course of his legislative career, Sonny's legs are planted on either side, as if he were to perform a split — all because of his indecision. Too bad the Senate can't evaluate his predicament on his behalf.
Isabelle Daza
"Yaya, did you find my hat?"
Statuesque model and actress Isabelle Daza just came home from a week-long vacation in Siquijor. She's still reeling from the social media backlash that was brought about by a certain hashtag she captioned her Instagram post with. Yet, being a woman of the world that she is, it's as if she has emerged unscathed.
"Hindi ko ho mahanap, eh," says her yaya in a hushed tone. "Baka ho naiwan na sa Siquijor."
"Ba't kasi hindi mo binabantayan yung mga gamit ko? God. Now, I have to buy another one."
Today, Isabelle is set to meet Bongbong Marcos for her vlog, Haters Gonna Hate. It's as if one online brouhaha in a week wasn't enough that she's eager to hop onto the next one. Naturally, she needs to put together a look, which is why she asks her driver — who hasn't slept a wink — to start the engine again.
She steps out of the car in a cream Escada jumpsuit and strides toward the entrance of Greenbelt 5, her yaya trying to keep up with her. Isabelle doesn't care if her yaya stumbles along the way — she just needs to get another one of those safari-inspired hats before somebody else lays their hands on it. She rushes into an upscale boutique and reaches for the first brown leather hat she sees on the rack.
"Yaya, what do you think?" Isabelle asks. "Buy this for my Africa looks, or feed the children in Africa for the same price? What would Angelina Jolie do?"
And those are the last things we hear from her. Before her yaya can answer, the chandelier in the boutique starts swinging. The lights flicker while the glass panels crack and shatter. Yaya clings to the wall in the doorway while the marble ravine engulfs Isabelle.
Thank goodness, her yaya survives. God forbid another eternity in hell with a talentless brat.
* * *
Tweet the author @Watdahel_Marcel.