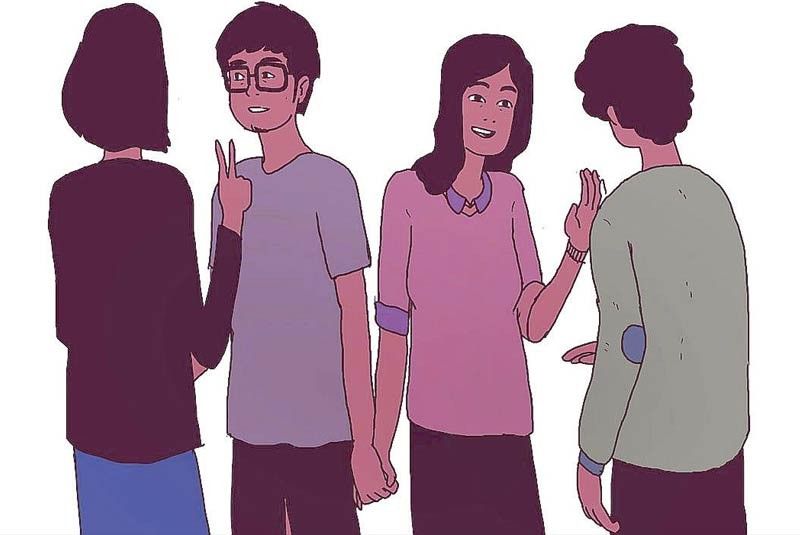 "We are way more open about stuff, I think. When you trust your partner enough to tell them you want to have sex with someone else, I think everything else just seems kind of easier to talk about."
Illustration by Rob Cham
ROUNDTABLE: This Modern Love
MANILA, Philippines - In an age when snagging a date is just a swipe away, potential partners come quickly as they go. They tap their phones and move on to the next promising hookup just when you think you've wrapped them around your finger. As someone who has been single for quite a while now (and is continually being rattled by the sound of a nonexistent biological clock), I'm always on the prowl for wider and more sustainable options.
In celebration of Valentine's Day, the nursery song "the more we get together, the happier we'll be" takes on a whole new meaning this week here at Supreme. We sat down with a not-so-conventional couple who will henceforth be known as Craig (27, straight) and Michaela (22, queer) to explore polyamory, consent, threesomes, and everything in between. Whoever said that three (or more) is a crowd?
Can you share with us your love story? How and when did you two meet?
Craig: We were at a gig, we talked, and she asked for my number.
Michaela: I asked him out the next week. We dated for about a month, then he broke it off because he wanted to be single again. Pfft.
C: Then after a few months, she and I were just kinda still talking, flirting on Twitter, and I kinda realized I still liked her. She offered to buy me sushi one time when I was sick, then we started dating again. Then we just kind of ended up together.
When did you start dabbling in polyamory? What led you to this arrangement?
M: I suggested it very early on, I think we weren't even officially boyfriend & girlfriend yet, since I had tried an open relationship-type setup before. It's something I already knew I liked, or at least was capable of, so I offered it to Craig in case he liked it too.
C: This is my first. She kind of convinced me to try an open relationship. Michaela figured that we were young and can't help it if we end up being attracted to other people. Life is a long time. This was kind of a weird safeguard from cheating, too, which I think is way more devastating emotionally. She started it out when someone asked her out. I kind of winced and had a lot of anxiety around that, but it then turned out alright. From there it kind of escalated and I dated around, we slept around, it was fun. Always use protection and don't hurt anyone. I always make sure to disclose to anyone I am interested in that I am in an open relationship. If they are cool with that, then we just see where it goes.
M: You can't cheat if your partner is okay with you sleeping with someone else! At least they didn't break your trust. Sex is the least offensive part of cheating, it's the betrayal, the lying.
How is it different from other sexual and romantic contracts like swinging, open relationships, and friendships with benefits?
C: Swinging could be part of it but not necessarily.
M: Polyamory is this umbrella term for non-monogamous relationships, but it comes in different forms, and it's different for every couple. We date and sleep with other people on our own, but we also date and sleep with other people…. Together as well?
C: Threesomes. Swinging. Watching them do stuff while I hide in a closet. That kind of thing.
M: But the main thing is we still love each other and all the stuff we do, even with other people, enriches our own relationship.
Aside from the obvious, what do think are the advantages of polyamorous relationships over traditional romantic partnerships?
C: We are way more open about stuff, I think. When you trust your partner enough to tell them you want to have sex with someone else, I think everything else just seems kind of easier to talk about. Way more testing for STDs because we want to be safe and make sure that nothing becomes an outbreak. Way more spending on condoms. Way more spending on dates.
M: The communication is much better between people in polyamorous relationships, and not just about the sex stuff. Plus, there's no pressure to hide your feelings or desire for someone else, and that helps your own mental health because you're not racked with guilt.
But aren't relationships — or love in general — supposed to be inconvenient?
C: We still have our problems and I can say that having more people involved brings more problems, but there's good stuff, too. Like, I know that I'm going to be with Michaela for a long time, because she's someone who I wanna grow old with. This kind of showed me that.
M: The best relationships aren't! Relationships already come with a lot of problems without all the arbitrary rules we place on them. Not to say that open relationships can't be problematic, though. But you work through it, just like every other relationship, because you feel like it's worth it.
How do you select potential dates? Is there a vetting process of sorts that's peculiar to the kind of relationship you have?
C: It's weird because Michaela is asked out more often and I usually ask out my dates.
M: I do a lot of asking out, too! I usually let Craig know the moment I'm interested in someone, or if someone asks me out. We usually don't veto each other's choices, but we probably would if we knew something bad or unsettling about the new person.
C: I just tell them I'm in this situation. I don't try to spring it on them after getting serious. Always just at the start because it's not going to turn out good at all if there's that dishonesty. A lot of people aren't comfortable with their dates seeing other people, and that's understandable. So usually I end up with people just open to the idea, or are just okay with a fubu set up.
M: It's pretty similar to dating when you're single, except it comes with a disclaimer that you already have a partner. Sometimes you have group dates and more people cuddling in bed.
Are your friends and respective families aware you're going out with other people? What do they usually ask you?
C: Friends, yes; families, no.
M: I don't keep it a secret if it comes up, but my family's also never asked and I'm not about to burst their happy bubble about me and Craig.
C: They usually ask what it's like, what I feel, and if my p__is is okay.
M: It's always, "Why?" "How does that work?" "Does that mean you get to sleep with other people?" "Does that mean we can sleep together?" (Winks.) I'm like, "Eww, no. I have standards."
C: They ask us if they can get in on this.
Do these affairs somehow affect your feelings for each other?
C: I am jealous that she gets more girls than I do.
M: True, but he usually stays in contact with them more. I go on a lot of first dates and never see them again!
C: I prefer not to complicate my life too much.
M: You need to be pretty stable and secure with each other to even think about opening up your relationship. I know he loves me and is honest with me, and he never lets his dates infringe on our personal time together. That's all you can really ask for from someone.
C: I feel that I still get to do way more experimental things in the bedroom with Michaela. And someday, maybe it'll all sort of end up in a huge strange orgy.
In hindsight, how do you view singlehood?
C: Not good, not bad. It just is.
M: People just don't like being lonely, but being single is an opportunity to not be lonely with different kinds of people!
We just have to ask: if you could be romantically and sexually involved with anyone in the world, but only for a day, who would they be?
C: Allison Brie. We try not to sexualize her.
M: Ezra Miller. Or Kate McKinnon. Ack, the whole reason we're in an open relationship is so that we don't have to choose just one anymore!
* * *
Tweet the author @Watdahel_Marcel.