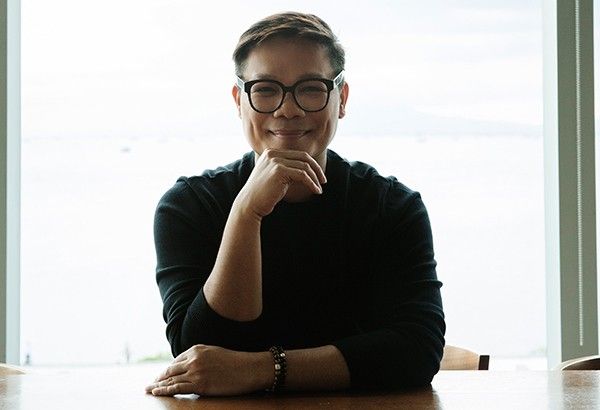 MANILA, Philippines - When you think of tearjerker movies, The Devil Wears Prada—a film about an assistant's traumatic year working for an editor-in-chief from hell—doesn't usually come up. But 38-year-old Jonas Gaffud, head of Aces and Queens, the country's top training camp for beauty queens, is not ashamed to admit one particular scene in this blockbuster comedy unexpectedly made him weep. "You think this is just a magazine, hmm? This is not just a magazine," said the Nigel character, creative director of the fictitious Runway magazine, as he scolded Andrea, the whining assistant. "This is a shining beacon of hope for... oh, I don't know... let's say a young boy growing up in Rhode Island with six brothers pretending to go to soccer practice when he was really going to sewing class and reading Runway under the covers at night with a flashlight." "That's a line that made me cry," Jonas says with a wistful smile. "I feel for them…" He trails off. "I feel for them."
That line hit a nerve because once upon a time, Jonas Gaffud was that young boy, except he was living in Isabela, not Rhode Island; except he was reading Mod and Woman Today instead of Runway. "I'd cut out the figures of the girls in print ads or I'd get the glossy pages and make gowns," he recalls. He hid his creations beneath their book shelf, but his mom always discovered his stash and gave him hell him for it. Jonas is the third son in a brood of five, born to a military man and a school principal. He knew he was different early on, preferring to play with his sister's Barbie dolls over toy guns. His family knew as well, but they thought it was just a "phase." "They thought, 'In the future, mag-a-asawa rin yan,' but here I am."
Even as a kid, Jonas had a clear, burning desire in his heart. "My family is okay. I don't need to be a breadwinner or something," he qualifies. "But I wanted to go to Manila. Makipagsapalaran. I dreamed big. I wanted to do something with my life, but I didn't know how." When he was eight years old, around the time People Power won our country its freedom, he stumbled upon a passion that would open up his world and eventually become his ticket out of that little town.
Jonas Gaffud discovered the world of beauty pageants.
From Isabela to Manila
He can no longer remember the details of the first beauty pageant he watched on TV, but Jonas clearly recalls feeling thrilled every time the contestants announced their names and countries of origin with enthusiastic energy. In high school, his love for pageants deepened, and he found himself becoming emotionally invested in women he didn't even know. "I'd get frustrated when my bet didn't win in Miss USA or Miss Universe. I'd get sad."
When the time to choose his college course and university came, Jonas' fascination with beauty and countries came into play: "That's why I took up geography in college. I never wanted any other course." At the time, UP Diliman was the only university that offered geography, and luckily, Jonas made the cut, difficult exams notwithstanding. "I was shouting the whole time. 'I'm going to UP Diliman! I'm going to Manila! I'm going to forget about this province," he says with a grin, then backpedals. "I'm just kidding. I didn't say I was going to forget. But I'm going to leave my life [behind]."
UP Diliman became both Jonas' teacher and playground. Up until sophomore year, the probinsyano was scared of what could happen to him in that big school in the big city. Every day, without fail for two years, he would sing "I Have Confidence" in his head (a song from The Sound of Music, his mother's favorite film) and attended his classes and tried to survive. Things got better when he made friends with members of the ROTC. "Puro beks din yung mga taga ROTC kasi," he shrieks. Jonas was surprised they knew he was one of them. "'Hindi naman ako out eh,'" sabi ko. Sabi nila, 'Ay! First day pa lang alam na namin, ano ba?'"
Jonas was invited to join Babaylan, an LGBT student organization, as well as Sigma Rho, a fraternity which his brother was a member of. He declined both. "Ang ginawa ko, nagtayo ako ng sariling org. Binuhay ko yung org namin: Geographical Society of UP. That's my interest. That's what I want to do." Their org's agenda was to educate people about how to take care of the environment. "Meron kaming mga exhibits about saving the ocean. Geography encompasses everything. It's very holistic."
On his third year, they spent an entire semester just drawing maps, and he fell in love with the Mercator projection, which, several years down the line, would end up being the name of his own modeling agency. Where the Mercator map was used by European voyagers to discover lands, Mercator modeling agdency became Jonas' way of discovering potential stars.
Rookie Reign
In UP, he found his first beauty queen: Zorayda Andam, then a law student. Jonas, whose only training, so to speak, was a lifetime spent watching beauty contests, taught his girl how to walk in the halls of UP. Sometimes in the corridor of the School of Economics, other times in the halls of the Faculty Center where he worked as a student assistant. He enlisted friends to help Zorayda out, too: Jeffrey became the go-to guy for makeup, Nat was tasked to train Zorayda to be sharp for the Q&A. Aces and Queens' prototype was born.
Zorayda won Miss Philippines-Universe in the Binibining Pilipinas pageant of 2000, but she didn't place in the Miss Universe competition, signaling a trend for that decade—from 2000 to 2009, the Philippines did not make it to the top 15 of the prestigious pageant. (In this decade, Jonas was also trying to find his place in the sun, trying all kinds of jobs: first as a research assistant at the Department of Geography, then an assistant at a PR firm, eventually as an investment banker, then booker at a modeling agency, before he decided to put up Mercator.)
Enthusiasts began to blame Jonas. In that whole decade, there were five Gaffud-trained girls, and none of them made the cut. "Ako daw yung malas ng pageant industry of the Philippines. Since I came in, wala na raw pumapasok." The bashing hurt, but it never hurt enough to make Jonas stop scouting for and training girls.
His decade-long wait would soon end. In 2010, the tide would turn in favor of Jonas, in favor of the Philippines.
How to make a Queen
Venus Raj's 4th runner-up finish in Miss Universe 2010 heralded the beginning of a series of almost-wins. Shamcey Supsup was declared 3rd runner-up in 2011, while Janine Tugonon was this close to becoming Miss Universe 2012, except Miss Universe Olivia Culpo ultimately won. In the years that followed, Jonas continued to scout for and train girls who had potential, and one of them was a certain Pia Alonzo Wurtzbach. He had seen her twice prior to an encounter in Greenbelt, but it was that night that he convinced Pia to do it. "I was really drunk at that time, and then I said, 'Hoy, halika dito!' Sinisigawan ko lang siya," Jonas recounts. "'Wag mo akong isnabin, sumali ka ng Binibini. Wala kang ibang choice sa buhay kundi gawin 'to.'" Pia, then feeling lost, agreed. "Okay po. May gagawin na ako sa life. Kasi hindi ko na rin alam gagawin ko." It was the perfect timing.
The fairy godmothers of Aces and Queens worked on Pia. She underwent training for the seven core areas beauty queens must ace: makeup, Q&A, posture, personality, walking, dancing, and fitness. But the most crucial of all, the one that spells the difference between a winner and a runner-up, says Jonas, is the aura. "What we tell our girls is to be classy, commanding, but very serene. Yung aura very regal but fierce — alam mong lumalaban," Jonas explains. "Pia is the epitome of that." He asked one thing of her before they even began training: "Basta ang sabi ko lang, this time sumunod ka sa akin. If you want to win, just follow my advice. Who knows? You might be the next Miss Universe." Pia agreed. She followed his advice from start to end. And she ended up winning Miss Universe 2015.
Jonas initially said he would retire from training beauty queens the moment one of his girls wins the Miss Universe crown. But he has changed his mind, and will continue to do the work pro bono. (FYI, the girls who train for Aces and Queens don't pay for their pageant education. Jonas and team really do this for the love.) His purpose is now clear to him: "I want a beauty queen to be recognized as someone who is really aware of things; someone who wants to make a difference in her community or in her sphere of influence. I want to help them become better women of our society," Jonas stresses. "Ang pinaka nakatatak sa akin na quote when I was in UP studying geography is the first law of nature, that is everything is connected to everything else. What we do can affect other people. I'm just glad I can help girls and in the end, they can help other people. It's a chain we can make."
His eyes begin to do a sweep of the C Lounge of the Conrad Hotel where the Governor's Ball for the Miss Universe candidates was set to happen. The Queenmaker and creative consultant for the Miss U pageant clearly has things he needs to attend to now. The kid in Isabela who dreamt of going to Manila to make something of himself is still within him, he says, before we part ways. "I'm still a fan, but you don't go out there and just be a fan and not learn things. Learn how it really works. Observe. Know everything."
And as this self-taught beauty queen mentor stands up and walks towards the photographer, all I can think of is: If Jonas Gaffud were born female, all these 86 ladies competing would have had a most worthy adversary.
* * *
Tweet the author @IrishDDizon.
Photo by Joseph Pascual
Produced by David Milan