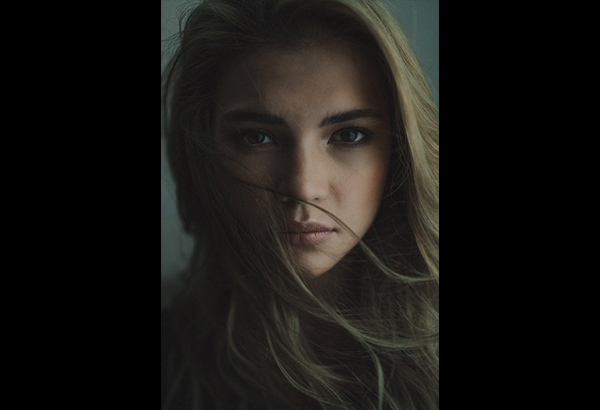 "If you view it as a popularity thing or how many people like you, then, siguro I was more successful then. Pero if you view it as how aware you are of yourself and your world, yung parang you're not living in a dream anymore, I feel like I like where I am now, mentally," Rhian tells Supreme.
COVER: Rhian Ramos, redux
MANILA, Philippines - Palimos naman ng feature," commented Avid Liongoren on one of my Facebook posts. Avid (who sees himself as "an illustrator first, director second") and I have never met prior, but I know of him. You can even say I am in awe of him. You see, back in 2005, when I had to buy an ISP Bonanza card to be able to go online, I stumbled upon a page about Saving Sally and instantly fell in love with the premise of this promising movie that combines live action and animation. Marty (played by Enzo Marcos) is a comic book artist who is in love with his best friend Sally (played by Rhian Ramos), a gadget inventor. In their world, a dreamy, re-imagined Metro Manila, there are monsters that make Sally's life hell — including her boyfriend, who, depending on certain lights, looks like TJ Trinidad or a one-eyed penis cartoon. I held my breath and waited for it to come out.
I held my breath for over a decade.
Blame it on many factors. Money was very tight, so tight Avid "paid for the initial shoot out of his own pocket," shares Charlene Sawit-Esguerra, the writer who came up with this story about love and monsters. "Then we got some foreign folks interested in our film and they gave us some money and hooked us up with a grant from the French government," says Avid. However, because they were amateurs experimenting with an animated hybrid film, the funds quickly ran out. "I had to sell my kidneys to get the film to the finish line," Avid adds, and we are not entirely sure if he is kidding.
With the film finally in the can and ready to premiere at the MMFF, Avid, Charlene, Rhian and everyone in their team are probably at their wits' end thinking about how the public will receive this passion project that took more than a decade to make. The real test is box office returns and tomorrow is the day of reckoning. But tomorrow is still hours away. At the moment, there's only one thing on Avid's mind: "Wala akong masyado alam sa showbiz, pero sana makita ng mga tao gaano si Rhian kagaling," he says sincerely as our chat winds down.
For now, Supreme rediscovers Rhian Ramos, now 26-years old. The girl who had so much promise; the girl, who, like Sally, slayed her own monster and saved herself. Our kind of heroine.
SUPREME: How did you get the lead role in Saving Sally?
RHIAN RAMOS: I was 19. I auditioned and got the role. I was getting title roles, like in La Lola. That was my first title role, and at the time, it was the highest rating soap on GMA. I was doing Zorro, which at that time was also a top rating soap. I remember there was a time Avid was talking about Saving Sally, and he was like, "Grabe nung nakuha natin si Rhian, sikat pa siya nun!" (Laughs.)
Were you offended?
No! Not really. I accept the journey of my life. It depends on what you think is success or not. If you view it as a popularity thing or how many people like you, then, siguro I was more successful then. Pero if you view it as how aware you are of yourself and your world, yung parang you're not living in a dream anymore, I feel like I like where I am now, mentally.
Did you know Saving Sally was going to take forever to be released? Dumating ka ba sa point na bumitaw ka na?
In interviews and press cons, they used to ask me, "Have you ever done an indie film?" I'd go, " Yes. It's called Saving Sally. Maybe next year?" I was so confident that it was coming hella soon. The movies I'm used to doing, we shoot it in November because Film Fest is in December.
Eventually, I started telling myself, "Girl, stop talking about it in interviews. Baka ikaw lang yung may alam na may pelikula ka." I wouldn't say nag give up na ako. Umaasa lang ako. I still want to see it. And then it just made my life when last year, Avid called me out of nowhere, and went, "Can you dub? We just need to add audio to certain parts." I was like, "What? Yes! Game!" Never ko siyang kinalimutan. I've never felt so similar to a character before, na para bang just be you after 20 cups of coffee. But it's still you.
How did you feel when you saw your 19-year-old self onscreen?
I felt like I could not have played it better (laughs). That's because if I did it now, I would have changed everything. Siguro kasi hindi na ako kasing carefree katulad noong 19 ako. Marami nang nangyari sa life ko between then and now. I had a lot of growing up to do in between. I got shocked to see myself at 19 and I felt like I wanna be her again. When I saw myself, wala talaga kong pake. Nowadays, I can watch myself on TV and minsan makikita ko kung umaanggulo ako o hindi. "Ay hinahanap ko yung ilaw diyan. Ay umaanggulo ako." In this movie there was none of that. I just like that all these insecurities now from having so much social media were not present in this movie. That's something that I need to go back to.
Honestly, when you saw the final cut of Saving Sally, did you feel like it was it worth the wait?
Oo eh. The animation is better than I thought it would be. And that's why Avid's so different. Puwede niya naman sana ilabas na eh. But he wanted to put four more layers of animation on that. He wanted detail. He wanted shading. He wanted you to not be able to tell the difference between what is the set and what is the cartoon. It meshed together so well. Even the coloring of the real things matched the animation. Ako kasi I work in TV. So naririnig ko talaga paminsan minsan, lalo na kung tine-tape natin nagyon at bukas na lalabas, naririnig ko yung, "Puwede na yan. May lima pa tayo at tataas na yung araw." Wala siyang [Avid] ginanun eh. Almost to a fault. Kahit sa oras niya at sa passion niya, hindi niya tayo tinipid. Sobrang bilib ako kay Avid. Ito yung first experience ko na naka storyboard lahat. Grabe talaga yung dedication niya dito. Siya nag storyboard, siya nag direct, kasama siya sa nag a-animate, kasama siya sa nag p-PD [production design], kasama siya sa nag wa-wardrobe… every detail. If you ever wonder what the world would look like if we lived inside Avid's mind, this is it. So now I'm bored with the world because I could be living inside Avid's mind. It's so colorful.
Now that you're older, looking back at your career, do you have regrets?
I like who I am today. I hope to grow into someone I like even more in 2017. I feel like without experiences from my past I would be someone else. I've learned to embrace the experiences of my life. I'm gonna make an analogy. Geek culture used to not be accepted. But we made Saving Sally years ago. Some people would view it as a failure that we went into some kind of limbo. But I think it had to happen because now it's coming out at a time where you can freely wear a Star Wars shirt at a cool party. It had to be now. Whatever those delays were or whatever that limbo was had to happen. Because although it's mysterious, the timing of it all, I can't argue with it. It feels right. Who would have known that we would finish the project in the same year that the Film Fest has a mysterious reformat, di ba? It's strange and unexplainable but I can't question it because it feels right.
* * *
Tweet the author @IrishDDizon.
Photo by ARTU NEPOMUCENO
Produced by DAVID MILAN
Makeup by ANTHEA BUENO
Hair by MARK FAMILARA