EDITORIAL: We are the MMFF
December 24, 2016 | 12:00am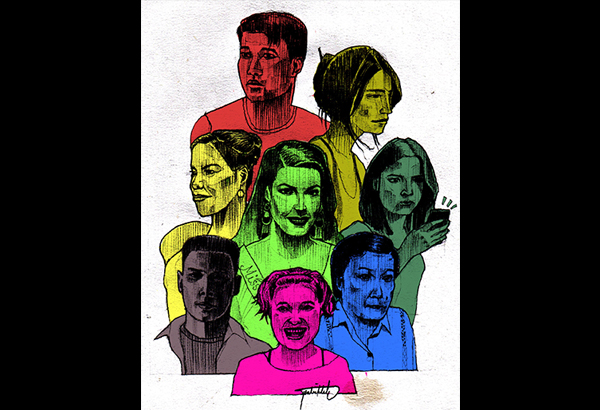 MANILA, Philippines - We finally have our film festival.
After slogging through several Christmases of Vic Sotto aging before our very eyes without his jokes ever maturing, of Senator Bong Revilla wielding too big a sword, of Kris Aquino screaming for her life, we finally have the film festival we think we deserve. On Dec. 25, we will have a film festival that isn't about personalities. We won't have Vice Ganda making news about lording over the box office. We won't have Mother Lily hogging the slots with her horror franchises and her long-winded films about Filipino-Chinese immigrants who are ironically played by very Filipino-looking movie stars. We won't have starlets figuring into personal calamities just to give their movies some publicity.
See, change has come to Metro Manila Film Festival. Whereas in previous years, the festival selected unproduced scripts with box office potential, this year, it picked finished films, placing an emphasis on quality, storytelling and craftsmanship in the hope that this sells tickets. Now, quality, of course, varies depending on the person watching. Vice Ganda, whose film was rejected by the festival and went on to break box office records, is correct in saying that "the word 'quality' is subjective," that "what is quality to you might not be quality to me." However, when she said "kaya hindi tayo pwede magtalo-talo na ito ang quality," she raised a very problematic perspective. It is the perspective that has put us through decades of inane and worthless comedies in the first place.
The old guard — the ones who benefited most from the ways of MMFF past — had the same point of view. They believed that there is absolutely no need to shape the audience to yearn for anything more than just entertainment. They said that the quality the paying masses want does not involve social relevance, artistic impact, or even polished craftsmanship; the quality they want is limited to erstwhile laughs, momentary scares, and dime-a-dozen kilig. They painted the film festival as a get-out-of-jail-free card for the movie industry — a two-week break from competition with Hollywood, and a way to increase local studio's profit margin. "What is the point of breaking this mold?" they asked. Why can't we just let the audience get their more sophisticated version of quality from Hollywood or elsewhere?
They didn't see it, but they themselves had offered the answer: the two-week break from Hollywood is too important for our country and our cinema. To reduce it to its utility as a crash-grab for local studios is shortsighted. It just reinforces a vicious cycle. It denies the opportunity for discourse and discussion, whether peaceful or heated. It opens our society to stagnation, to the economic powers that affect culture to be complacent as to what products they will churn out.
Our Hollywood addiction
The truth that we all need to admit to ourselves is that we are addicted to Hollywood. Don't worry, this isn't just limited to Filipinos. It's a worldwide phenomenon, one that has forced governments to impose quotas and regulations to protect their culture. Unfortunately, here in the Philippines, cinema is an industry. Its cultural aspects are relegated to government institutions like the Film Development Council of the Philippines or the National Commission for the Culture and Arts, whose power over economic policies is not very significant. Given this, we have an unregulated movie theater industry, emboldened even more by coming up with an association that gives them an appearance of a monopoly. With the biggest possible profit in mind, they welcome movies to cannibalize each other, allowing blockbusters to eat up the screens of unfortunate underperforming movies. In any other week, a superhero release will hog cinemas, forcing most Filipino films to bow out after a day or two. Typically during the two weeks of the Metro Manila Film Festival, it is Enteng Kabisote or Vice Ganda who will hog cinemas, dissipating the presence of everybody else. By narrowing — and dictating — the audience's perception of what quality is, the film festival, within a setup of a capitalist theater system, has allowed the Filipino film industry to cannibalize itself.
This year, however, we finally have a film festival to change all that. We finally have a film festival that hopes to graduate viewers' expectations of what a quality Filipino movie is and can be. We finally have a film festival that will allow the audience to get mad at the selections not on the basis of box office returns but on the basis of politics, of craftsmanship, of genre, of artistry, of intent. We finally have a film festival where quality is the point of contention, where everybody will be given an opinion as to how the movies rank alongside each other, alongside the ones like The Super Parental Guardians and Chinoy: Mano Po 7 that got snubbed, and alongside all the other Metro Manila Film Festival movies from yesteryear. The fact that quality is subjective should be a source of excitement because we will have thinkers, critics, cynics, and doubters in the audience, all willing to discuss and discourse.
We won't just mindlessly laugh, cry or shiver in fear because we are finally given films that exist not just to entertain on a yearly basis. We will watch all the films. We will judge. We will no longer just be idle spectators. We will be the festival.
* * *
Tweet the author @oggsmoggs.