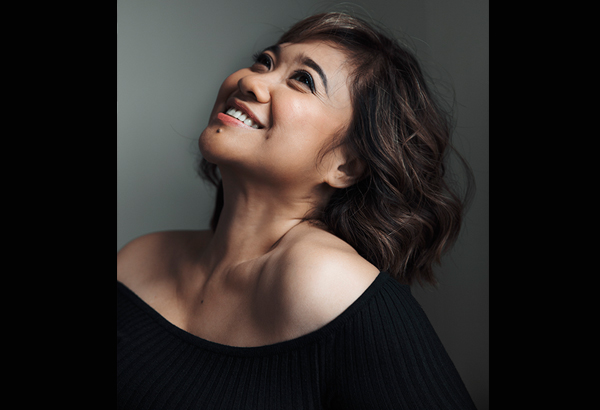 After a two-year hiatus from the big screen, Eugene Domingo awakens—just in time for what many say is the renaissance of the Metro Manila Film Festival. 'Ang Babae Sa Septic Tank' is back.
MANILA, Philippines - You will never see Eugene Domingo celebrate her anniversaries in show business on some Sunday afternoon variety show. Though she has been around for more than two decades, she doesn't really count her years. Perhaps it's because the Eugene Domingo we know was the product of a "very, very Filipino home," a home where the timeless movies of Gloria Romero and Dolphy were lunchtime entertainment. (The first time Eugene saw living legend Gloria Romero, her instinctive reaction was, "Colored pala siya eh. Akala ko black and white.")
In that home, tuning in to AM radio was a family habit. They listened to the baritone of Rod Navarro every morning, with Eugene secretly hoping the announcer would say classes were suspended. They passed time listening to Tiya Dely as she counselled the problematic Pinoys who sent their letters in. At night, horror radio show Gabi ng Lagim sent chills down their spine. This was the era when local TV show choices left much to be desired. (Aside from morning cartoons, Eugene watched variety show Student Canteen but that was pretty much it.) But the girl didn't mind — she had the movies to look forward to. Her mother regularly took Eugene to the cinema; and not the kind we are used to, those adjacent boxes inside malls — no, sir. They watched La Aunor's Himala and Vilma's Relasyon in those now-extinct stand-alone theaters that were also architectural beauties. "Talagang yung buong building, sine! Tsaka yung pila ng tao na bumibili ng ticket kita mo from the outside. Ibang-iba talaga noon. When you say you're going to watch a movie, it was an occasion," the actress explains.
In this environment, Eugene fell in love with acting, and she quickly discovered that she was born to be an entertainer. At school, she relished being called to lead the prayer during flag ceremony. She was the mimic who could do spot-on impressions of her teachers, the "pasikat" who volunteered to host any kind of school gathering. "Pabida nga! Gusto ko nang tinitingnan [ako] ng audience," she says, laughing. At UP Diliman, where she took UP Theater Arts, Eugene got her education inside and outside the classroom. Whenever anyone from the upper batches would scout for extras for TV shows and movies, Eugene's hand was the first to shoot up. She accepted all the rakets that came her way. "[Para may] pambili ng beer tsaka ng sapatos. Lahat: katulong, kapitbahay, puma-party, lahat inoohan ko," she reminisces.
Money, Money, Money
At the time, her motivations for getting into the industry were simple. "Pera," she recalls unflinchingly."Wala akong pangarap na one day mafi-feature ako sa Supreme. Hindi ko naisip yun. Inisip ko lang, kikita ako nang mabilis dito, tapos gustung-gusto ko siya," she says matter-of-factly. "The most important thing for me then was doing the things I liked and earning."
Eugene played bit roles here and there and until she became a household name by way of the very successful soap opera Sa Dulo Ng Walang Hanggan. In it, she played the loveable Simang, the lead character's true friend and protector. Once, during the show's heyday, as Eugene made her way to ABS-CBN, the tricycle drivers saw her and started screaming, "Simang! Simang! Simang! Simang!" They didn't stop until she looked their way. "Noong una, parang, 'Hindi naman ako si Simang eh. Si Eugene ako eh,' " she says, pouting, and adds, "Kasi siyempre narrow pa yung understanding mo,'di ba? Pero eventually, 'Ah, kasi nanonood sila. Oh, okay, 'di nanonood kayo.' Ganun lang ako."
Eugene reveals it was her Sa Dulo Ng Walang Hanggan co-star Mylene Dizon (who played antagonist Sally) who was more stoked about the public's reception. Mylene showed up on set one time with printouts of the comments she saw about the two of them in the online forum Pinoyexchange.com. Eugene appreciated the kind words, of course, but that wasn't her raison d'etre. "Sa akin eh, pagdating ng cheke, I'll get it. Spend it, save. Tapos. Pag sinabi ni Direk Wenn Deremas na, 'Kasama ka dito sa pelikula ni Ai Ai na Tanging Ina, ha?' 'Sige, direk.' Ang naiisip ko nun, ching! ching! ching! Pera! Pera! Pera!"
It was only when she took on the career-defining dual-role of Kimmy and Dora in the first Kimmydora film that Eugene truly felt like she was saying "yes" to showbiz. "Wag na ako, ok na ako," she told producers when they first offered her the role. Headlining her own film was a big responsibility, one she didn't want to be put squarely on her shoulders. But the producers were adamant to a point where they allowed her to pick the writer. (She chose Chris Martinez.) In the end, their insistence paid off, with the movie turning out to be an sleeper hit, grossing P77.36M at the box office. The success put Eugene on a league of her own.
But while Eugene's star rose, her predisposition to take on everything that came her way remained the same. Consider this: In one year, she found herself doing eight movies. "I think I have that record," she says. "I said yes to everything. I wanted to be a part of everybody's dream, I wanted to try all the roles." This would not have been a problem if she didn't have the work ethic she has. You see, Eugene is very hands on, from the clothes to the makeup to the script, she will give her inputs. By the time she finished all her work, she was "burnt out." So spent she had to hit pause and recalibrate. Her 2013 indie drama film Barber's Tales also had a lot to do with her decision to step back from making movies. The movie was warmly received abroad, from Tokyo to Italy. "Mangiyak ngiyak sila [foreigners] and all that tapos ako naman, 'Mabuhay ang Pilipinas.' Ms. Philippines ka, di ba? Tapos pag-uwi mo sa sarili mong bansa…wala bang nakaalam dito? Best actress ako sa Tokyo, alam niyo ba? Audience choice ito sa Italya, alam niyo ba yun?" While the lukewarm reception here left her very frustrated, time has fixed that wound. There's no resentment in her tone as she relates this story. You can tell she's accepted it. "I'm very happy I experienced those things because now it's clear to me. At the end of the day, your audience should be the most important thing. Because you don't want to make movies that nobody watches."
'Ang Babae sa Septic Tank 2'
So how do you make movies that cater to your audience without pandering to the public taste, we ask her. "Give them substance and entertainment at the same time. That is the challenge," Eugene retorts. "And what's an example of a film that gives both," we counter. A pause. She breaks into laughter. "My movies! Ok lang ba?"
On the 25th, her latest film shall premiere at the MMFF. It's called Ang Babae Sa Septic Tank 2: Forever's Not Enough, the follow-up to the 2011 Cinemalaya entry-turned-highest grossing Filipino independent film until 2014. (Film critic Oggs Cruz praised the first film for its "brave and seamless sense of humor," and called "reliable" Eugene Domingo its "biggest commodity.") While the first film satirized the making of an indie movie and "poverty porn," this sequel satirizes the process and business of creating romantic-comedy films, which, for better or for worse, is the country's movie genre du jour. Eugene reunites with director Marlon Rivera and screenplay writer Chris Martinez, and assures us this is even better than the first. "I was laughing while reading the script," she says. "It's the same type of comedy. It's solid. It's still wild."
A new element is added in the mix in the form of Jericho Rosales whom Eugene describes as a very "helpful, generous" co-actor. He plays music, holds her hands, and encourages her to throw lines with him to coax out the emotions necessary for their takes. Eugene is a little more practical than Echo. "Aaminin ko yun sa inyo, when I need to do a drama scene, naku Diyos ko, hihintayin pa ba nating ma-imagine kong pugot na yung mga ulo ng mga aso ko? Ang tagal di ba? Antok na antok na kayo oh. 'Akin na yung menthol,'" she says, making little rubbing motions on her eyes. "Ang importante lang naman sa iyakan tumulo yung luha, di ba? Tapos i-push mo na lang nang konti." She senses our shock at this revelation and says, "I'm very practical. I don't take these things seriously. If you will take this thing seriously, ay. You won't last. Baka maubos ka. Baka mapagod ka at maubos ka. Eh ang game na to mananalo ka kung buhay ka hanggang dulo. That is really the test of showbiz, your longevity." Having clocked in more than two decades in the industry, who are we to argue with her wisdom?
I noticed something as I was typing this story. 2011 Oggs called Eugene "reliable." 2016 Irish calls Eugene "reliable." Maybe that's her brand condensed in one word. When you watch a Eugene Domingo film, you know you're going to get your money's worth. You know she won't let you down. But for Eugene, this is her brand: "I'm a f***ing best actress!" She shrieks, laughing that raspy laugh. I think she was expecting me to say something back. But I could only nod in agreement. The recorder stops. The last line stays.
Best f***ing actress, indeed.
* * *
Tweet the author @IrishDDizon.
Photo by Joseph Pascual
Produced by David Milan
Styled by John Paul Dizon
Makeup by Jay Lozada