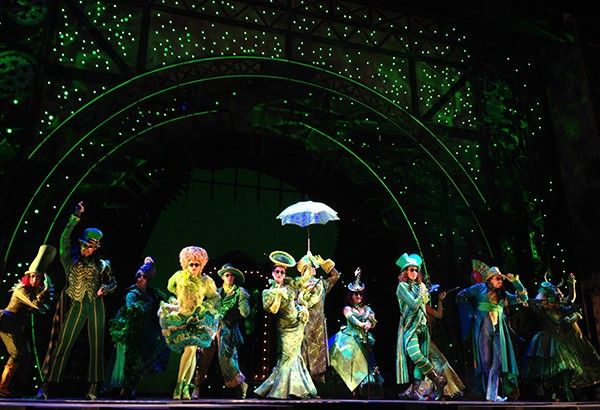 This is Oz as imagined by set designer Eugene Lee, lights man Kenneth Posner, and costume designer Susan Hilferty. If you look closely, you'll notice that everything—from the hats to the clothes to the clock—is slightly tilted. That's because everything in Oz is slightly off kilter.
(The Philippine Star) - November 26, 2016 - 12:00am
When live entertainment promoter Concertus Manila flew us, a small group of newspaper writers, socialites, and online contributors, to Singapore last month, I thought I was just going there to watch a special preview of Wicked, a world-renowned musical, for the first time. I didn't know that a month later, I would end up wishing every single Fiipino could watch the play when it is restaged in Manila starting Feb. 2, 2017. (Get your tickets from ticketworld.com.)
On the surface, Wicked is light comedy, but between the laughs, it may just give our divided, social-media warring nation something to think about.
Wicked is a Stephen Schwartz play based on the 1995 novel of Gregory Maguire. It is the story before the story—the imagined backstory of L. Frank Baum's The Wizard of Oz. It explains how Elphaba ended up becoming the Wicked Witch of the West, and how Glinda ascended and became the Good Witch. Everything, from why Elphaba has green skin to what really happened after she was vanquished, is made clear. Wicked fills in the missing pieces, giving us a clearer understanding of the two diametrically opposed characters.
It's been a month since I watched Jacqueline Hughes (Elphaba), Carly Anderson (Glinda), Bradley Jaden (Fiyero) and the rest of the fine actors bring this left-field story to life. I can still hear their incredible voices and the poppy songs: from "I'm not that Girl," (i.e., the anthem of the friendzoned) to "Defying Gravity" (i.e., the anthem of souls done taking sh*t from anyone). Because we're press people, we had the privilege of going backstage to see the elements of the musical up close. In my head, I can still see the rows of intricate costumes, crazy hats, and freaky masks that were specifically fitted for each actor. I still remember what it felt like to be inside Glinda's mechanical "bubble," slowly going up and side to side, with the empty MasterCard theater in front of me. But most of all, I am back home, wishing everyone here gets to watch it to give us all some perspective.
Watching Wicked made me re-examine how I view people. Consider this: Elphaba, labeled evil, turns out to be not necessarily evil; while Glinda, deemed heroic, turns out to be not necessarily heroic. In light of the recent events here in our country — Marcos' burial at the Libingan ng Mga Bayani, in particular — whatever your stand, whether you're pro or anti or apathetic, you stand to benefit from watching Wicked. Beyond the stage, it reminds you that no one has monopoly on truth; that there is a flip side to every tale you hear; that you won't get the full picture if you choose to shut out anybody who has a dissenting take on things.
Wicked being a redemptive tale, is good for the weary Filipino soul. With everything that's going on, sometimes, you just need to watch art that reminds you that though the moral arc of the universe is long, it bends towards justice; that somehow, everything will be alright. - THE WANDERING I Irish Christianne Dizon
* * *
Tweet that author @IrishDDizon.