A jubilant great-grandmother
January 16, 2022 | 12:00am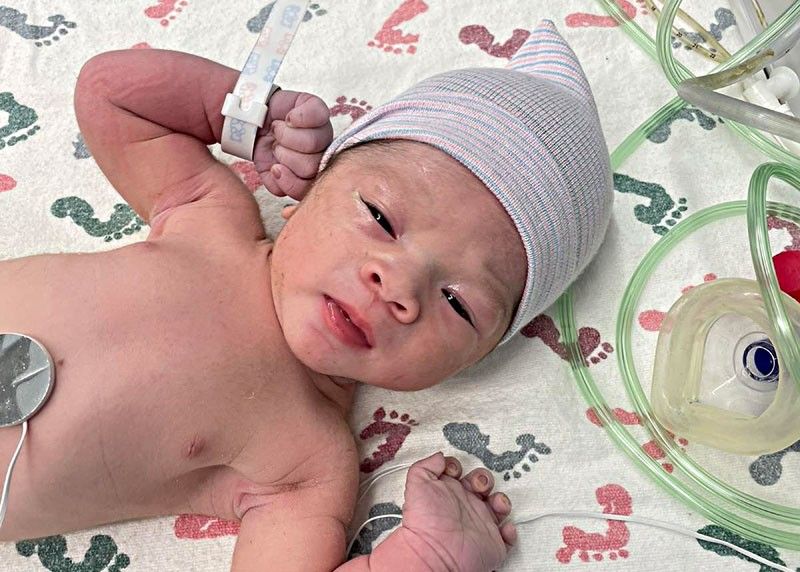 The new year began surreptitiously for me. It just tiptoed in virtually unnoticed. I don't even remember what I was doing or how I was feeling until, a week later, I woke up feeling dizzy. Wim, my husband's caregiver, persuaded me to have my blood pressure taken. I surrendered to him. 94/70! "That's terribly low," I gasped. "Am I still alive?"
"Now let's take your blood sugar," Wim said. It was 209! Another source of panic. It was too high. No wonder I felt like I had scrambled eggs instead of a brain. Immediately I took two of the tiny anti-diabetes pills that my friend Joe recommended to me. I cooked the steak I had stored in the freezer, ate it to raise my blood pressure.
The children took care of me through their cellphones. My son consulted his doctor to cure his mother who doesn't like doctors. They told me to put my feet up and to stop taking my maintenance pills to stabilize my blood pressure.
The next day I woke up feeling better. Hungry, I had two eggs and tons of crisp bacon for breakfast. My blood pressure was up to 123/81 but my blood sugar was down to 68. "Much too low," my son said. "That's okay," I said. "I'll hit the cookies I got for Christmas. It will normalize quickly." The next day it was 100. I was normal again.
What brought on the normalcy? I opened my cellphone and saw this handsome baby picture. His name is Tristan Chiongbian Imperial. He is my first great-grandson! I had just become a great-grandmother! You don't know what that feels like. I felt transported to the clouds. I saw in the picture his father, my first grandson, who was born in San Francisco in June 1985. I was 40, about to turn 41 the following August. I remember being in the hospital with his father, my
former husband Ramon, and my daughter Panjee.
I remember feeling joyful when Paolo, my first grandson, was brought out for us to see. "He looks like you," I told Ramon, who laughed. Turning into "Grandma" at 40 was a strange feeling. But being turned into a great-grandmother at 77 is absolutely heavenly, four times happier than turning into Grandma. I am blissful. I adore this little baby. I wish I could hold him. I wish I could smell him. Oh, how I have missed those lovely baby smells.
I am carried away by a flood of memories. I remembered the first time I gave birth, the long hours of tortuous labor. Finally seeing my beautiful baby girl. I thought she was the most beautiful baby in the world. That's the way we all feel about our babies. Nobody can be prettier or handsomer than our babies. How we adore them when they are small. We sew their little dresses to make them look their prettiest. How wonderful they are as babies, even when they get sick and throw up on us, we adore them.
Then they grow up and reality hits, slaps, bites, all the pain of motherhood followed by the ease of grandmotherhood. I love my grandchildren but I was too young when they were born, could not spend as much time with their growing-up years because I was still at work, but had some vivid memories.
Natalia, the older of my two granddaughters, turned two. Panjee gave her a Cabbage Patch doll for her birthday. Her mom bought her a bike from me. At her birthday party I found her alone in their living room — while her party was out in the garden. She was trying to manipulate her bike into running over the poor little Cabbage Patch doll. I found that so amusing, so memorable.
And Pow, the father of Trey (that's Tristan's nickname), was an adorable little boy. We lived in the States then. On Saturday morning I would vacuum the house. He kept running around. I told him in my stern grandma voice, "Go sit on the sofa." He ran, clambered up on the sofa, then said adamantly, "I don't want to thit (sit) on the thofa (sofa)." But he was already sitting there. He sent my daughter and me to the kitchen to giggle there so he would not see how funny we found him.
I would feed him. He would fall asleep while I was feeding him. He was a wonderfully funny child. And now he is grown, married to a very pretty Ding Chiongbian, has their first baby boy, turned me into a great-grandmother, who believes and hopes she is the first great-grandmother in her family. I am feeling so proud!
I tell you what, Tristan/Trey. Your birth has made me proud to have married at 18! At first I didn't quite understand what that was about. Now I know. It was so I could become a jubilant great- grandmother now!
* * *
Please text your comments to 0998-991-2287.