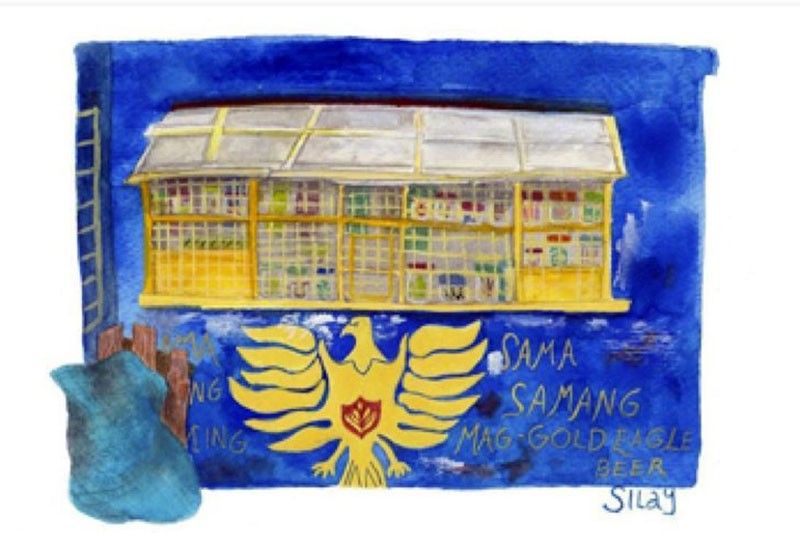 Bayad Po!: Artists raise funds for jeepney drivers
The Philippine vernacular of public transportation has long been a source of subject matter for contemporary artists. The urban thoroughfare itself is a vibrant collision of the industrial and the idiosyncratic in spaces with their own robust social practices and struggles. This system is dependent on workers such as drivers, mechanics and painters whose already precarious livelihoods have been suspended due to the ongoing public health crisis. It's crucial for the artist to be not just an observer, but a reciprocator to those who are essential to their practices as well.
Wrapping up today, "Para Para-an Paabot Naman" is an art fundraiser for the benefit of the 350 jeepney drivers of the University of the Philippines Diliman campus. Ask anyone from the area, and they could name the six routes by heart: Ikot, Toki, Philcoa, Pantranco, and SM North. The effort was co-organized by artists Lena Cobangbang and MM Yu, and the proceeds will be channeled through the UP COVID-19 Response Volunteers for distribution. The works can be viewed or inquired about via their Facebook page of the same title.
Poklong Anading's video sculpture "Makikiabot Po" (2001/2020) documents the distinct gestures of payment inside jeepneys, with a first-person view of coins as they are shuffled along from passengers to the driver and back. It's a common, everyday practice that may be lost for the meantime due to the necessary restrictions of social contact. The drive also has zines like Yas Doctor's "Sari-Sari Project," featuring watercolor paintings of the titular spaces that are also communal spaces where neighborhoods gather.
"Untitled Wheels" (2007-2020) is MM Yu's series of photos of tires in ad hoc urban structures. Long after expiring from their original function, people have used old wheels for different purposes: as anchors for traffic markers, vulcanizing shop signs, lounge chairs, swings, or vessels for plants. Instead of debris, they're offbeat signs of life — not as an obsolete metaphor of resilience, but perhaps a reflection of the grit and savvy daily commuters must build up to survive the unsurvivable.
Across the works of different artist generations and practices, the necessity and importance of public transportation is as clear as a barker's call amidst the morning rush hour chaos. There are conversations about the palpable loss of tangibility in engaging with physical art, but the paralysis of our thoroughfares has impacted society at large.
While some of the existing artworks had been created prior to the pandemic, the 2020 pieces focus a distinct gaze on today's pressing concerns. From Vic Balanon's "Parliament of Rooks" series with stark portraits of control and violence to Mariano Ching's sharp "Hail to the Thief" (2020), the very issues tackled here are directly affecting artists, jeepney drivers, and the commuting public.
Clearly, the halt of public transport has thrown a wrench into the gears of the arts ecology. Even if exhibitions were to slowly resume, many visitors without private vehicles would not be able to attend. To artists, it presents an even greater challenge to the already intensive task of purchasing materials and supplies. How can contemporary art happen when those dependent on it to make a living can't even arrive at the spaces where it thrives?
There are solutions to come from different sectors of art, design, governance, health and culture. But we must address the urgent necessities of survival, and "Para Para-an Paabot Naman" to an opportunity to extend solidarity, assistance, and support to the very people essential to the transportation system which is intertwined with arts and culture. As the late Pepe Smith sang, "Ang buhay ng tsuper ay di gawang biro."
* * *
Today is last day for donations. Visit https://www.facebook.com/pages/category/Visual-Arts/Para-Para-an-Paabot-Naman-100522118393878/ to find out how.