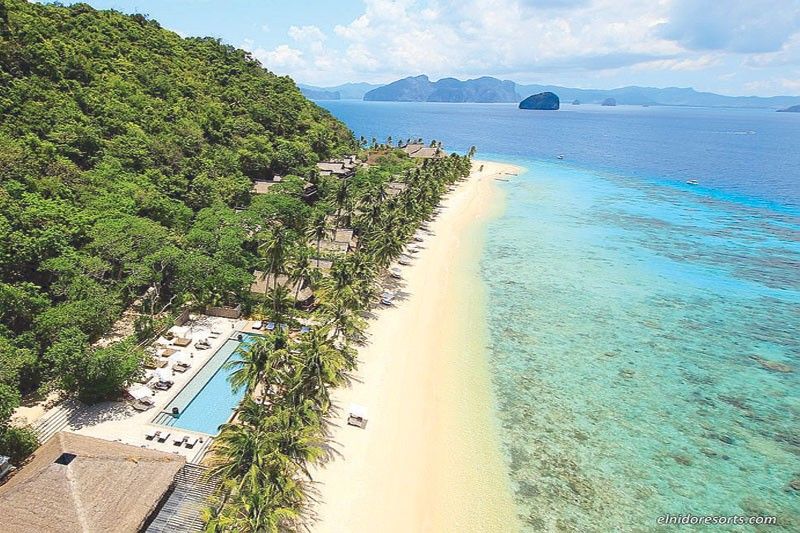 The award-winning Pangulasian Island Resort in El Nido caters to luxury travelers to whom sustainability matters.
Pangulasian Island Resort is having a moment. After six months of renovation, the resort in El Nido, Palawan, reopened in December and immediately was at full occupancy over the holidays and the first weeks of 2020. It was as if everyone was waiting with their fingers poised above their smartphones or laptops to hit "book it" as soon as it reopened.
Named one of the Top 50 Resorts in the World by readers of Conde Nast Traveller, the bible for luxury travel, and by Pacific Asia Travel Association as Best Branded Accommodation in The Tourism Inspire Awards, Pangulasian retained its much loved native design but completely replaced the signature cogon roofing of the villas. They also replaced the appliances inside the villas such as air-conditioning units (there are two in each) and flatscreen TVs, and refreshed the furniture. Back-of-the-house facilities such as the sewage treatment plant and desalination plant were upgraded.
According to resort manager Heidi Hocson, each villa's cogon roof cost P2 million to replace. Pangulasian has 24 beachfront villas, six pool villas, four villas in Casa Kalaw (the resort's biggest accommodation with its own swimming pool, a large dining room and a lounge) and eight canopy villas, which are located on the cliff side and have wonderful views of the sea.
Joey Bernardino, marketing director of Ten Knots Development Corporation, owner and developer of El Nido Resorts, says the AC units in the villas are now dual-inverter, which saves not just on costs but also on the energy supply of the self-sufficient island.
Sustainability has always been a trademark of Pangulasian and three other El Nido Resorts — Lagen, Miniloc and Apulit. For instance, the kayaks used in the resorts are made from recycled plastic, the toiletries are refilled instead of coming in single-use small plastic bottles, the décor in the resort is made in Palawan or other communities that Ten Knots works with, and the fresh, organic produce is supplied by El Nido Farms.
Joey emphasizes how important sustainability is not just because it makes sense from a business standpoint but it has also become a priority for visitors when choosing destinations. "Size and ostentation are no longer the priority of high-end travelers who set world trends. Instead they focus instead on nature-focused resorts now threatened by climate change and other environmental risks. They also single out resorts that adopt sustainable practices."
Joey gets to talk about El Nido's sustainability practices to travelers and wholesalers when he represents El Nido Resorts in the biggest travel fairs around the world, such as the World Travel Mart in London and ITB in Berlin. "Sustainability now matters to everyone — travelers, suppliers, resort owners. We have to protect the environment if we want to enjoy it for years and years to come. At Pangulasian, we try to be sustainable in every way, from the smallest practices — like not using plastic straws or bags — to the biggest."
In the villas, the resort provides woven beach bags that you can use during your stay, reusable water tumblers for your island hopping, and hats. In fact, before your flight lands at Lio Airport, the flight attendants announce that it is prohibited to bring single-use plastics onto the island (including water bottles) or you might be fined.
From European Royalty to conservationists
European royalty and Hollywood stars who value privacy on top of their luxury love Pangulasian. We've heard of princes and stars who have stayed there but the resort's people never confirm it unless guests themselves geo-tags the resort in their social media.
You know who else loves the resort? Conservationists like explorer and filmmaker Alexandra Costeau, granddaughter of legendary explorer Jacques Costeau who spent his life studying all forms of life in the ocean. An adviser to the international organization Oceana, Alexandra stayed in Pangulasian and went diving in El Nido in 2016; she also toured other islands in the country and talked about conservation efforts, inspiring people in her talks with media and students.
Filmmaker and environmental activist Yann Arthus-Bertrand also chose Pangulasian for the Philippine premiere of his documentary Planet Ocean in 2014. His film is both beautiful and disturbing, giving a glimpse of how the world's oceans are dying and our marine resources dwindling.
I met Arthus-Bertrand during his time in Pangulasian. Like his film, the man is blunt about how our oceans are deteriorating and humans are to blame, but he also always brings a message of hope — we can help slow down the earth's decline.
Tourism Secretary Berna Romulo-Puyat was also at the reopening of Pangulasian three weeks ago and talked about how the DOT's campaign is not just focused on our destinations, but also on the sustainability of our islands.
The tourism sector, she says, contributed 12.2 percent of the country's GDP (or P1.9 trillion) in 2018. In 2019, the DOT strongly encouraging stakeholders to invest in sustainable tourism and help prevent forced closures of the country's destinations in order to rehabilitate them.
Standing on Pangulasian's beach (the only place in El Nido where you can see both sunrise and sunset, hence its nickname "Island in the Sun"), looking at the waters and limestone cliffs in the distance, you realize how lucky we are to have these islands — and it's enough reason to bring Pangulasian's sustainable practices into our own lives.
* * *
For more info, visit www.pangulasianislandresort.com.
Visit the author's travel blog at www.findingmyway.net. Follow her on Twitter and Instagram @iamtanyalara.