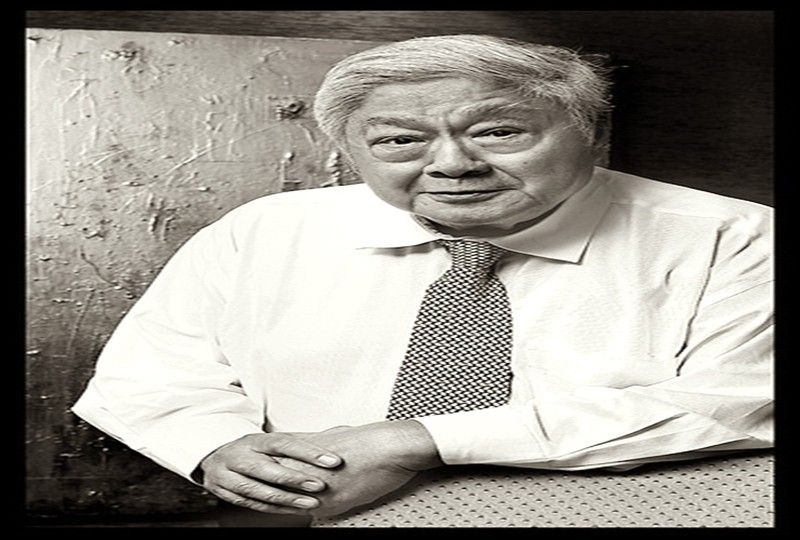 Gokongwei's last conversation with his eldest grandson was about coffee and dating
The Philippines' late "Snack Food King," petrochemicals and budget airline pioneer John L. Gokongwei, Jr. was one of Southeast Asia's most respected self-made business leaders and philanthropists when he died at age 93 on Nov. 9.
He was a pioneer and staunch advocate of Philippine industrialization. Through his efficient and competitive businesses, the visionary Gokongwei brought down prices for consumers with his budget airline, affordable foods, and unli-texts and unli-calls for cellphones.
Fellow billionaire and former Trade Minister Roberto "Bobby" Ongpin told me: "Gokongwei was probably the most educated tycoon in the Philippines, the only one who'd talk to me about derivatives."
The youngest brother of Gokongwei, in his own right a topnotch business leader, JG Summit Holdings chairman James L. Go, said: "My eldest brother was very complex. He was great, very human and inspiring. Do you know that his nickname in Hokkien (south Fujian dialect) was 'Iya'? Everybody called him 'Big John,' but we — his family, siblings and wife Elizabeth — called him 'Iya,' which means 'Lovable Baby.' My father John Gokongwei, Sr. died when he was only 34, my mother was a very pretty, 30-year-old widow. John was 13 years old, the eldest of six siblings, so he felt the big responsibility. I was only six months old when our father died. John always went for the best; he liked to take on challenges. He liked to take care of the family, the company and people."
GOKONGWEI'S LAST CONVERSATION WITH ELDEST GRANDSON
The eldest grandson of John L. Gokongwei, Jr. and son of Robinsons Retail Holdings president Robina Gokongwei-Pe, the New York University-educated, 24-year-old Justin G. Pe shared his unforgettable conversation with his angkong (Hokkien for grandpa) one week before he passed away.
What did they talk about in that last conversation? Justin smiled, saying: "We talked about coffee and dating. He was asking me about the sales of Great Taste Coffee and I said, 'We're up based on recent data.' He had a very big smile. On dating, Angkong actually asked me: 'Do you have a girlfriend?' I replied: 'No.' He then advised me: 'Alright, play around, play around.'"
What were Gokongwei's pieces of advice to his grandson? Justin replied: "He said, 'I'd rather you be a nerd. Be No. 1!' Angkong also always gave me stock advice. When I asked him what are the good stocks to invest my earnings in, he answered: 'RLC for the Philippines and P&G for overseas.' (RLC is Robinsons Land Corp.). He would also say: 'Keep working hard and just stay humble.' He advised me to study hard. I admired and liked him very much. Whenever he gave opinions, he was never condescending but always humble."
Years ago, when Justin was 11 years old, he was made to work in the family's Toys "R" Us store during summer. When he saw his grandfather, the boy asked why were his parents were making him work that summer job? Justin recalled: "Angkong told me that he was only 13 years old when he had to start working for the sake of the family."
Justin also shared that in April or May this year, Gokongwei told him: "I want to see you in the family business before I die. I was then still working for Shell Philippines. I eventually entered the family business in July. Once, he asked me: 'How are you, how's your work?' I replied to him that it was very entertaining."
On his unforgettable memories, Justin reminisced, "Angkong was the first person to teach me how to ride a bike at when I was seven and he was also the first person to teach me to drink coffee when I was 15. We were in Rome, Italy then, it was just house coffee and tasted so bitter. He then showed me how to put some milk and sugar. I've come to love and enjoy drinking coffee ever since."
WANTING TO WORK UP TO AGE 90
John L. Gokongwei, Jr. lived a full and accomplished life, entrepreneurship was his lifelong passion and it was not about the money. I recall that 13 years ago, in 2006, he invited me to dinner a week before his 80th birthday and casually asked a question that almost made me fall off my chair. He queried in Hokkien: "Do you think I can still work up to 90?" Many people dream of retiring early, while this hardworking entrepreneur was asking if he could still work up to 90!
His nephew Patrick Henry Go, president and CEO of JG Summit Petrochemicals Group, shared a memory of witnessing an animated late afternoon meeting between his late dad Henry Go and Gokongwei on whether to further expand their diverse businesses.
Patrick recalled, "I distinctly remember this discussion because my father was loudly trying to convince Mr. John not to do it anymore. That there was more than enough money and that they should rest already — that was his argument. The discussion ended with that, no resolution, just an exchange of positions and shortly after Mr. John left the room my father sat down with me, had a few more glasses of whiskey and told me that I have to remember that at one point it would no longer be about the money."
On Gokongwei's pioneering heavy industry project of petrochemicals for the Philippines, Go said: "One of our guests last night found out that I was handling petrochemicals and told me this was Mr. John's baby and he was very proud of it. I couldn't have said it any better. It was a sad moment and there was a flood of messages coming in, condoling with us. But one in particular made me pause and reflect. A business partner of ours from Indonesia asked about the wake details and interment and told me he wanted to fly in to visit. I told him he didn't need to and that his expression of sympathy was already much appreciated by the family. His response took me aback. He told me it was the least he could do for someone who had done so much for the Philippines.
"It was at this moment that I realized that we had lost more than an uncle and a boss; sometimes we are just too close to the situation that we don't see the forest for the trees. My father's words suddenly made things clear, this was not about money anymore. We — not just the family but the Philippines — have just lost a great man."
A LEGENDARY TAIPAN'S SENSE OF LEGACY & SUCCESSION PLANNING
The last time I had visited him at his home a few months ago, he seemed to have lost some weight but was nevertheless in good health and still intellectually sharp. Gokongwei was one of two remarkable rags-to-riches business tycoons, the other one being Henry Sy Sr., whom I've known for over three decades and considered a friend since I was a college student. I admired them as inspiring business heroes who are positive role models for their Confucian values, entrepreneurship and philanthropy.
Gokongwei was born in Fujian province, southern China, as a fourth-generation scion of a rich family whose great-grandfather was the immigrant tycoon and Cebu Chinese community leader Pedro Gotiaoco. On his mother's side, his grandfather was the immigrant tycoon and Iloilo Chinese community leader Pedro Marquez Lim. His father died when Gokongwei was only age 13.
Years of hard work, discipline and brilliant strategic thinking made the entrepreneur into the country's undisputed "Snack Foods King" with his Jack 'n' Jill brands, a visionary industrialist and founder of many other progressive enterprises under JG Summit Holdings, Inc.
Gokongwei pioneered the budget airline concept, which made Philippine airline travel affordable, with Cebu Pacific Air. He also brought down mobile phone costs by pioneering unli-texts and unli-calls with Sun Cellular. He supported mainly educational charities through the family's Gokongwei Brothers Foundation.
Once at a dinner in his home, I commented to Gokongwei that he had remarkably replicated the 19th-century rags-to-riches saga of his immigrant great-grandfather Pedro Gotiaoco. He quickly disagreed, saying: "No, we're different. My thay-kong (Hokkien for great-grandpa) wasn't able to prepare well for his succession in the case of my grandfather, who was his eldest son. In my case, I have trained and carefully prepared my son Lance to be a good successor. I told my son that he should study well and work very hard, or else an enterprising immigrant youth now in 168 Mall might someday take over that seat of yours."
* * *
Thanks for your feedback to willsoonflourish@gmail.com. Follow @wilsonleeflores on Instagram, Twitter, Facebook. Buy PhilSTAR's Tagalog tabloid Pilipino STAR Ngayon every Friday and read my column "Kuwentong Panadero." Read also https://investment.fwd.com.ph/experts/asia-s-business-leaders-and-what-we-can-learn-from-them.