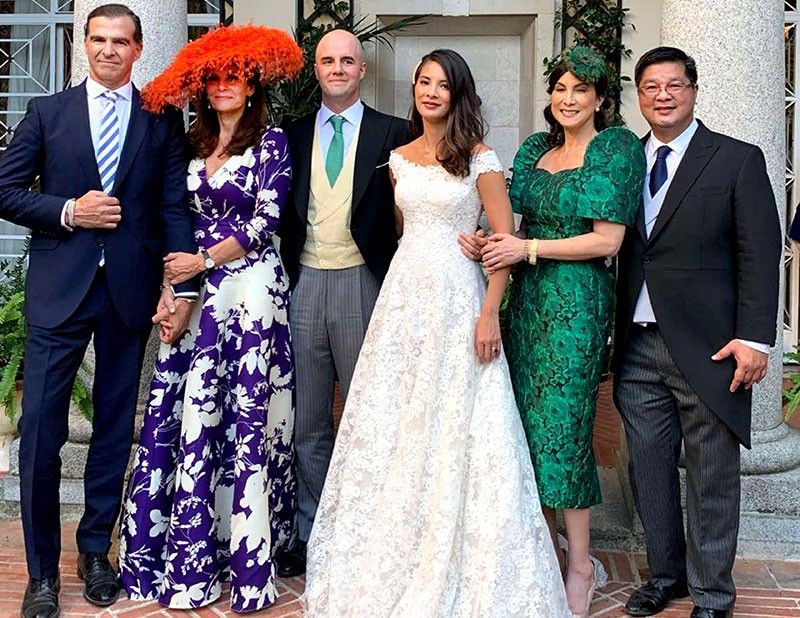 Union of two bright and beautiful families: Newlyweds Jaime Urquijo Zobel and Alexandra Espiritu Suarez with Bea Zobel Jr. and Fernando Manso (left), and Michelline Espiritu Suarez and Leo Suarez (right). Bea wears a long dress by Spanish designer Jorge Vasquez and hat by Conchitta. Suit of Jaime is by Manuel Calvo de Mora, while gown of Alex is by Oscar de la Renta, and Michelline wears a Mich Dulce terno.
Jaime Urquijo Zobel - Alex Suarez, Wedding Bea Zobel Jr: 'We all cried, All memories just rushed in.'
Weddings are always emotional occasions filled with laughter and tears.
In the case of this one wedding we attended in Madrid last weekend, there were buckets of sentimental tears.
"We all cried," says Bea Zobel Jr., whose son, Jaime Urquijo Zobel, married Alexandra Espiritu Suarez in the Los Molinillos hacienda, where Jaime and his sisters Paloma and Monica spent their childhood weekends and vacations. "It was my mother-in-law (Carmen Fernandez Araoz Maranon, fondly known as Piru Urquijo) who started crying the minute she saw Jaime and Alex walking down the aisle. My daughters Paloma and Monica could not stop crying.
"All memories just rushed in. Everything was so emotional. Seeing my mother-in-law cry made me cry all the more," Bea added.
What made them teary-eyed was the absence of the groom's father, Juan Urquijo, who died in January 1995 in Paris in a plane crash while leaving Le Bourget airport after a flock of birds got into the engine. Jaime was only seven years old when his father died.
The wedding venue — the Urquijo estate in Los Molinillos — provided the sentimental setting. "This was where Jaime grew up, a place so loved by his late father, Juan. The young Jaime would ride the tractor with his father and they would harvest wheat together," says Bea. "We would take long walks along the farm where they also grew potatoes and raised cattle." The house was built by Jaime's great-grandparents.
Bea said they went every weekend to Los Molinillos and returned to the city on Sunday afternoon to get ready for school. "Every Friday without fail, I would pack their bags and off we went there."
The songs performed by the Coro de Olivares were very moving. "Especially the last song, Salve Rociero," Bea explains. "The choir was especially close to my husband Juan. He joined them every year to the pilgrimage of El Rocio."
Just when the tears had dried up after the wedding ceremony, Jaime's grandmother Piru Urquijo delivered a speech that made the audience teary-eyed again: "I just have one request, for Alex to do something: Please make Jaime happy all your life. He deserves it."
That was the closing clincher of Piru's speech, which she started by thanking her daughter-in-law Bea, "who has been generous to make this event for everybody… Bea is an excellent mother who sacrificed to send her son to a boarding school. Between the grannies and the nannies, Jaime grew up to be an excellent person with a sense of responsibility. Bea gave support to her sisters and parents and to us. She gave us satisfaction beyond 'thank yous.'"
Jaime is a scion of the Zobel de Ayala family, whose real estate, banking, hotel and telecommunication businesses were, until 2006, run by Forbes lister Jaime Zobel de Ayala. His paternal grandfather, the late Jaime de Urquijo y Chacon, was president of Energy and Industries of Aragonezas and VP of Tabacalera.
Jaime and Alex make a bright and beautiful couple. They are both innovators. The two met five years ago, but it was only two years ago when they became a couple.
"Jaime invited Alex to Calatagan, where he cooked for their group," says entrepreneur Leo Suarez, father of the bride, who is all praises for Jaime's gracious and unassuming ways. "He doesn't feel entitled at all. I have also seen how Jaime deals with people from all walks of life. I saw how he talks with the household help."
Bea explains: "Jaime is an excellent cook! And he is always eager to learn about other cultures."
Being a widow, Bea found it a challenging task raising her kids alone. "I got a lot of help from my parents. And this wasn't easy considering that it is the grandparents' role to spoil the child."
Born in Spain, the groom Jaime Urquijo studied in England at All Hallows and Worth School, finished political science at Notre Dame University and took his MBA at INSEAD. He worked as an analyst at JP Morgan.
"Jaime is very talented and very passionate, a take-charge kind of guy who produces results," says Eric Francia, the CEO of AC Energy. "We worked together at the Ayala Group, where we assigned him to lead one of our strategy and infrastructure projects. While doing projects for the Ayala Group, Jaime at the same time pursues his own initiatives in agriculture."
Bea adds: "Jaime is obsessed with helping Filipino farmers. He just feels we can work our land more sufficiently."
The bride, Alexandra Suarez, is described by an international glossy mag as "a beauty of Asian features and meteoric trajectory." The daughter of entrepreneur Leo Suarez and the former Michelline Espiritu, and granddaughter of OV and Marilen Espiritu, Alex attended Woodrose and Ateneo before pursuing her postgrad in business management at Boston University. A technology wiz, Alex was one of the pioneers in Uber Philippines, then Google Philippines before she became head of Bumble Philippines.
"Alex is extremely intelligent and extremely organized," says Bea of her beauteous daughter-in-law.
When I asked the couple what qualities they liked about each other, they quickly replied, "Alex challenges me a lot," and "Jaime is the best person I know."
With photographs featured on Instagram and IG Stories this past week, the Urquijo Zobel-Suarez wedding was a three-day celebration in Madrid that had — as per Bea's count — 700 guests, 400 of which came from Manila. Among the guests was Doña Cristina, sister of King Felipe of Spain. Also present was royalty from family; Piru has a sister, Loli Barroso, whose daughter Sofia married Fernando Palazuelo, and they had Sofia, who married the future Duke of Alba. In the front row were King Simeon of Bulgaria and his wife, Margarita. It was a beautiful event organized by Bea, with good ideas coming from Alex, and details put together by events expert Ferdi Salvador.
"The first night was a flamenco welcome party at Palacio de Santoña, a beautifully ornate venue at the center of Madrid. Guests came in polka dots, ruffles and wore big flowers as headgear. Spain's best flamenco dancers showed us what they're made of, while a band of singers belted out traditional Spanish songs in another hall. After the flamenco, a DJ played dance music for the guests till the wee hours. It was soooo much fun," Tim Yap raves.
The second day was devoted to asado and dancing at Finca El Feligres, where guests wore hats as they watched graceful horsemanship. The wedding day had guests wearing fascinators as they attended the ceremony at a huge, tent-covered area in the garden. Officiating priests were Fr. Valentino Pinlac and Jesus de Juan. Readings were recited by Victoria Urquijo and Teresa Urquijo; responsorial psalm by Coby Suarez; prayers of the faithful by Tia Monica Zobel. Candle sponsors were Tisha and Glenn Garcia; veil sponsors were Bea Zobel and Jaime Zobel; cord sponsors were Leo and Michelline Suarez. Offerors were Marco Suarez, Alfredo Pla and Andres Garcia. Best man was Gabriel Sagurduy, while maid of honor was Samantha Suarez.
A lot of thoughtful details went into this wedding, such as the comfortable espadrilles provided to guests and strategically placed near the dance area. The weather forecast was initially cold and rainy, so guests packed their luggage with warm clothing, only to be greeted by a sunny Spain. For the unexpected heat, the party organizers were ready with a pretty ice cream cart in the garden. Guests loved the tapas and champagne, more so the excellent Spanish dishes by caterer Isabel Maestre.
"For their honeymoon, we are sending Jaime and Alex off to Nakasendo, a place with historic towns with forests and waterfalls that originally connected modern-day Tokyo to Kyoto," explains Leo Suarez. "Samurais used to take this trail where you walk 15 kilometers a day, rest at night in a ryokan and take an onsen bath. My wife and in-laws did the Nakasendo trail walk a few years ago and we thought Alex and Jaime, who is very outdoorsy, would like it."
The newlyweds will walk this new path, perhaps also in a metaphorical sense. "I am overjoyed and so excited for this new chapter in their lives," says Bea. "This has truly been an emotional wedding in Los Molinillos." Jaime and Alex will take a new path, but surely they will always look back. This wedding, after all, wasn't just a union of two people and two families. It was a revisit to the past that forever has places in the heart.
* * *
Follow the author on Instagram and Facebook@milletmartinezmananquil. Email her at mmmananquil@philstarmedia.com.
Thanks to TINA CUEVAS for translating Spanish speeches into English