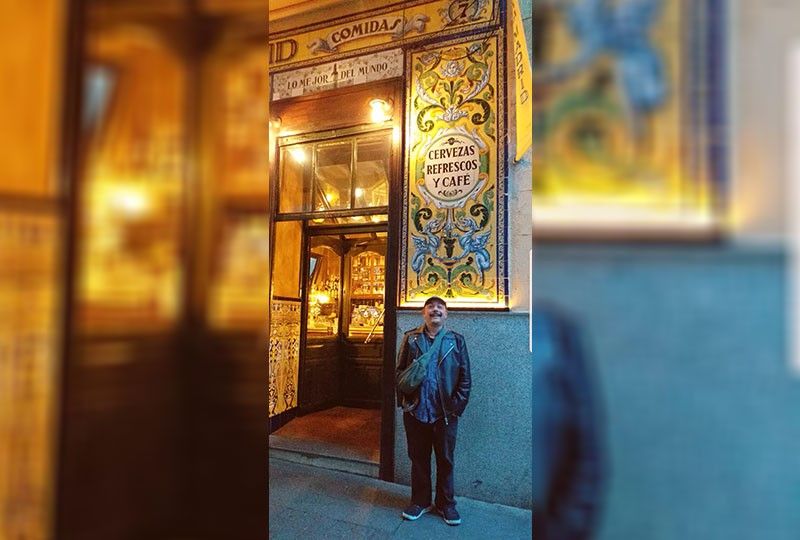 Carlos Celdran in Madrid, around Holy Week, 2019
Gary Jamora
Carlos Celdran's final act
You'd never really "meet" Carlos Celdran; you'd encounter him. The circus showman chronicler of Manila's history — who passed away in self-exile in Madrid last week — was, at least in my experience, either at the center, or on the sidelines, of any given spectacle, making wry observations.
I only encountered him a few times — first on his Intramuros tour, then waxing all things Imelda Marcos in a one-man show at Pineapple Lab, and later, randomly, somewhere up in the bleachers during the Aerosmith show at MOA Arena, where security was trying to get him to sit down and stop dancing. (My memory can't confirm whether it was during the song Walk This Way.)
That was Carlos Celdran.
Leave it to him to upstage Aerosmith in the middle of their concert.
Celdran was obviously way more complicated than any headlines or tour spiel. My brother-in-law, Gary Jamora, met up with him in Madrid earlier this year after he found himself stranded, waiting for a new passport to be issued by the embassy; Carlos took him under his wing, showed him around the Rizal sites in Madrid (he'd been talking about setting up a Rizal tour gig in the city, the place he'd repaired to after facing arrest in the Philippines on trumped-up charges for "offending religious feelings"). For several days, Carlos took Gary around to the cheap tapas places, the local haunts of Juan Luna and Jose Rizal, and to piano bars where they'd hang out in sympathetic limbo.
"He was exiled there, he was totally alone," Gary recalls, though Carlos' sister, who lived elsewhere in Spain, eventually moved closer to Madrid. "He felt the current (Duterte) government was 'after him,'" Gary says, but "he made the most of his being alone" in Madrid.
Carlos wasn't living the high life: he preferred artsy neighborhoods made up of minorities and artists, where rent was more reasonable. Trying, in a way, to retrace his hero Jose Rizal's footsteps and lifestyle: "He wanted something closer to the vibe of Intramuros."
They'd hang out in El Retiro Park in the mornings, where Carlos liked to "unwind," then he'd work — either teaching English or Spanish to migrants and refugees, or making art. Later, "We would jump from party to party, drinking in places where Jose Rizal and Luna hung out."
Sounds fun. But it wasn't always a picnic. Carlos told Gary he got mugged in Madrid four times. Despite his ongoing tirade against a government back home that seemed to "target" him for his criticisms — even, he felt, expediting the case against him and forcing him into exile — "He ached to get back to Manila, his family," says Gary. One night, he and Gary would hang out in a grungy underground piano bar, where Carlos would belt out Hey Jude; another day they'd visit Gran Hotel Ingles, another 19th-century favorite of Rizal and Luna. "Wherever Rizal went, he'd pattern his travels after that," says Gary. "It was like he was living the life of Rizal, exiled in Spain."
There were warning signs about Celdran's health. Just last Sept. 3, he posted on Facebook his blood pressure — 150/110 — after a hypertension episode caused him to stay in bed for days. He decided to give up coffee and tea and promised to "stop drinking… so much."
My brother-in-law texted his advice: to adopt a plant-based diet, cut out pork, fried and salty foods, and stop smoking. "Sorry to preach what I don't follow," Gary joked.
Carlos texted back: "Hahaha. You aren't the first to sermon me."
I think of those guided "Walk This Way" tours now, which started as far back as 2002, as the first tingling beginnings of "woke" culture here: the inclination that young Filipinos were starting to have to examine their own historical record and come up with their own conclusions, then to use that record to challenge future actions by leaders and fellow Filipinos. It was pride mixed with a head-wagging self-realization about all the absurdities of history.
I wrote this after attending his Intramuros tour with my family one Sunday morning in 2010:
"In some ways, Celdran's narrative is as conflicted as the feelings many Filipinos have about their own nation's history. It's necessarily so. By refusing to sit on the sidelines of history, or offering a safe dose of pabulum for the tourists, he dares a new generation to consider how external forces — geography, language, war, economics — create what stands before us now."
The outpouring on social media after his passing at age 46 (from natural causes; a heart attack, we hear) shows how much he connected with the current generation. But their connection, I suspect, is more than just celebrity-hood: traces of his rebellious, questioning nature have seeped into the youth consciousness.
It's worth repeating: it wasn't all just for show. Celdran really meant those social critiques, those criticisms of the Church, because he felt his art. During our first "Walk This Way" tour, he'd pause while passing through the fortified walls of Fort Santiago, set down his boom box, remove his tall ilustrado hat and commence firing on the Catholic Church. On the hog-tying and shooting of a dissenting friar during Spanish rule by some of his own robed brothers, he hissed: "Catholic Taliban!"
During the latter part of the tour, after all the flower petals and jokes he'd dropped, we stopped inside the Intramuros walls, a place where bombs fell, and he had us take in a moment of silence. Celdran then got emotional, reciting how the decapitated dead were stacked on the streets of Intramuros by the Japanese to induce psychological terror; how the US carpet-bombed Manila, from Feb. 17 to 23, 1945, to rout the Japanese. In the process, says Celdran, the city's heart was forever decimated.
When Celdran was done, you could feel hearts shifting up there on the ramparts of Intramuros. It was a chilling moment.
Then later, he bought all of us all — including the somewhat uncomfortable Americans on the tour — halo-halo, and everything was okay.
That takes skill, the skill of a master showman: taking your paying customers through an emotional rollercoaster, and then depositing them safely back down again on earth.
Celdran said in a recent ABS-CBN video that he considered performance art to be "voodoo," and possibly the oldest form of art there is.
Surely, this funhouse impresario of Philippine history understood that life itself — with all its spectacle and drama, but even the boring bits and waiting in exile that goes on in-between — is the ultimate performance art.
* * *
Follow @scottgarceau on Instagram.