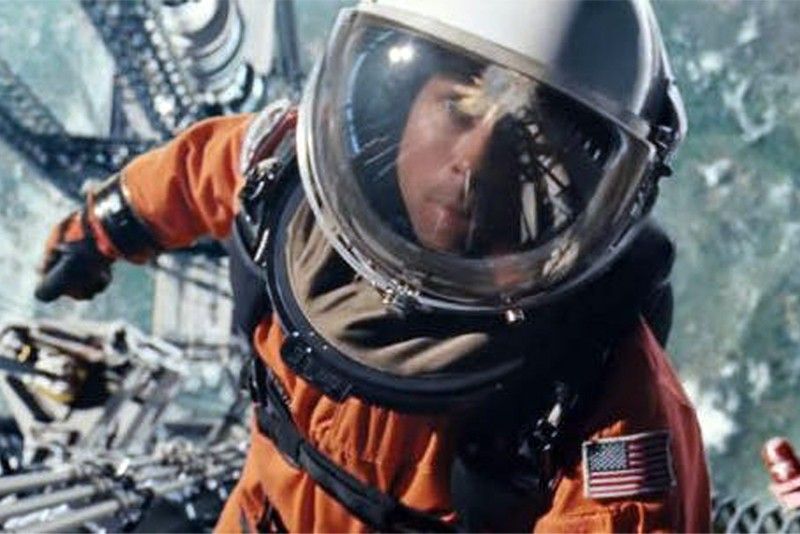 Set the controls for the heart of the son: Brad Pitt as an estranged astronaut in Ad Astra.
Brad Pitt goes Interstellar
Lately, on the heels of prominent roles in Tarantino's Once Upon a Time… in Hollywood and the just- released Ad Astra, Brad Pitt's been spilling a lot in interviews about his own self-reckoning — his marriage and divorce from Angelina Jolie, bouts with alcoholism, the choices he's made in life and where he sees himself now. It sometimes feels like Brad's in public therapy, ready to self-assess and draw lessons, and Ad Astra — the James Gray space epic in which he plays an emotionally distant astronaut — also at times feels like a prolonged therapy session.
That might not be a bad thing, since Pitt's character, named Roy McBride, reveals his inner feelings mostly to a computer administering psychological evaluation, and Ad Astra is largely about the emotional distance at the heart of man: his heart of darkness, if you will.
McBride's a soldier who does dangerous repair jobs for the military — such as fixing a massive radio antenna stretching from the Earth's surface to the edge of space after it's been hit by cosmic power surges. Because his pulse rate reportedly never goes above 80 beats per minute, he's like the Wichita Lineman of space: a cosmic cowboy who stays disconnected from all the human interactions pulsing through the wires.
That sang-froid and emotional chill might make him great for dangerous jobs, but it takes its toll: his wife (Liv Tyler) leaves him, and we hear from his frequent voiceover emissions that, well, it's lonely out in space. My eyes are on the exit — always on the exit, goes his internal monologue, even as he grins at a throng of technicians and colleagues and heads atop the antenna. Just don't touch me.
His father, meanwhile, was pioneering astronaut Clifford McBride (Tommy Lee Jones), a scientist leading the "Lima Project," sent to the far reaches of the solar system to search for intelligent life. Twenty years later, Roy is briefed by the military: his dad might still be alive out there, orbiting Neptune; his crew might be dead and the project could be the source of power surges crippling Earth. So Roy is sent to track him down.
Ad Astra (Latin for "to the stars") unavoidably brings to mind other cinematic space journeys, such as Kubrick's 2001, Gravity, Interstellar and Ryan Gosling's Neil Armstrong in First Man. With its frequent internal soliloquies (spoken by Brad, penned by Gray and Ethan Gross), it might suggest a Terence Malick film.
But it also echoes Francis Coppola's Apocalypse Now. As Pitt heads to the moon — now a vast international space hub littered with Applebee's and other US fast-food rest stops, not unlike Saigon during the Vietnam War — before hitching a ride toward Mars and a secret flight to Neptune, he's like Martin Sheen's Captain Willard in Apocalypse Now, laying out a dossier on his dad — his early accomplishments and dangerous deviations — in a series of monotone reflections that also serve as McBride's "psych eval" during the mission.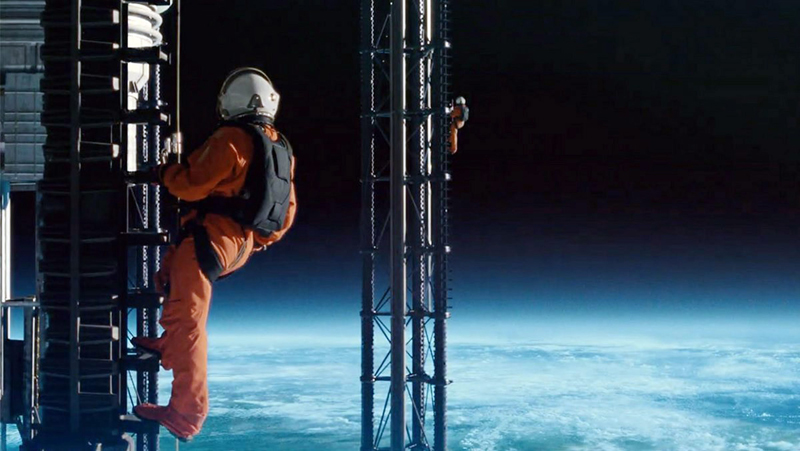 Lineman for the planet: Roy McBride fixes a space antenna buffeted by cosmic pulses.
Not to spread the Apocalypse Now connection too thin, but Willard — er, I mean Brad — has top-secret authority to terminate the Lima Project because his dad might have gone too far. And as the son heads "up river" in this space version of the Coppola saga, things get weirder and weirder.
While Ad Astra isn't designed as an action-packed space thriller, it does have its share of pulse-quickening scenes. You'll find yourself gawking at the Earth's blue immensity from orbit and other deep-space shots that are breathtaking. Action fans might enjoy the Fury Road-style moon buggy battle, or a knife fight in an orbiting space station, or a crazy baboon attack in zero gravity, or even Brad Pitt's frequent internal soliloquies, which reveal his deep disconnect from other human beings.
So far, so Gravity, or First Man. Space almost irresistibly lends itself to the metaphor of humans drifting apart ever since, well, 2001 and Bowie's Space Oddity. It's kind of baked into the setting: deep, immense nothingness, man's longing for solitude and possibly oblivion.
And because the metaphor's so on the nose, critics will either adore the meditative, poetic pace of Ad Astra, or find it immensely pretentious.
I found it convincingly engaging, enough to wonder what Pitt was going to say about the difficulty of getting close to one's parents, and how this affects our view of human relationships. Donald Sutherland and Ruth Negga offer good supporting roles, while Pitt gives a central understated performance, one that only reveals traces of emotion during his frequent mental evaluation sessions (the military wants to ensure he's still fit to carry out the mission), though there were times I could have done without the voiceover: the images alone could show us, instead of tell us, what's going on under the hood.
What Brad's journey goes to the heart of is how men exist in a world that asks them to shut down their emotions. Admittedly, this is a generational thing: Pitt's generation still believed in that Hollywood "man's man" idea; today's millennials are way more willing to share — and share, and share, and share — their emotions on every available platform. So that's changed a bit. Though emotional disconnect, and even mental health issues, are certainly still very much au courant.
Under Gray's visionary direction, space oddities and puns abound: astronauts en route to their long-term destinations stay in "comfort rooms," big empty chill spaces where the walls are projected with comforting images from earth, like flying geese or fields of flowers waving in the breeze. It's a different view of space, one both routine and filled with wonder, even with all the space epics we've already seen.
Consider the idea of pirates roaming the lunar landscape like something out of Mad Max. It may not make a whole lot of logical sense — but hell, it's a great image. And a later sequence where Pitt launches himself through space on the back of a steel panel, like the Silver Surfer — well, it takes cajones to pull that off.
Like Coppola, Ad Astra might not deliver a final payoff that supports the visual menagerie that preceded it, but in a Hollywood landscape that's increasingly packed with space junk with little emotional reward, the film stands out for daring to slow its roll.
* * *
Ad Astra, released by Disney/20th Century Fox, is now showing.