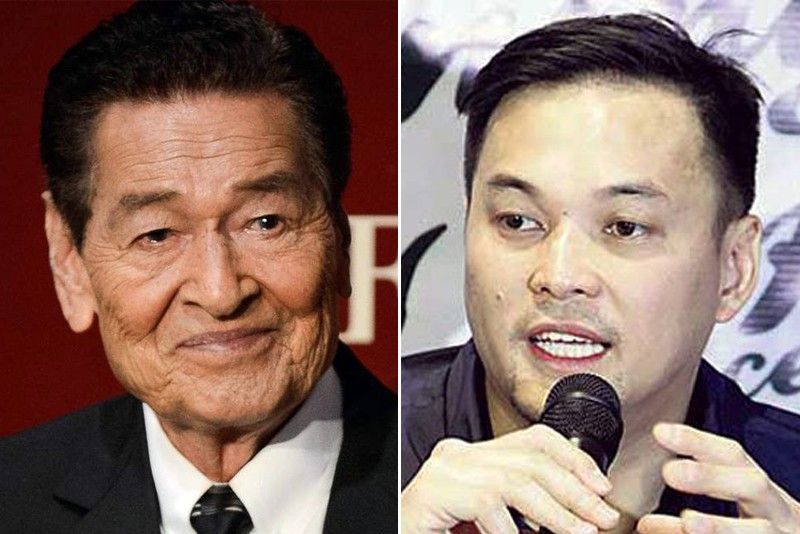 Eddie Garcia and stepson Congressman Michael "Mikee" Romero
Dad lessons from Eddie Garcia, Nards Jimenez & John Gokongwei, Jr.
It is sad that one of the Philippines' best award-winning actors, 90-year-old Eddie Garcia, who has portrayed innumerable father roles in movies and television, has been in critical condition at the ICU of the Makati Medical Center since June 8. He fell in an accident during a TV shooting in Tondo district of Manila City.
A kind father who personified professionalism
For this Father's Day, I asked Eddie Garcia's stepson, Air Asia's biggest shareholder and 1-Pacman party-list Congressman Michael "Mikee" Romero, how the actor has been as a stepfather.
Apart from being a good actor and the paragon of professionalism, Mikee Romero said Eddie Garcia has been "a very good and kind stepfather, who never even once scolded" him in 33 years.
Mikee shared that he was only 13 years old, when Eddie Garcia became a stepfather to him and his brother Nikki, and husband of their mother Lilibeth.
This fatherly celebrity has always been exceptionally courteous, humble, good-humored and very intelligent whenever I'd see him on social occasions and got to chat with him. The last time I met Eddie Garcia was an unforgettable and happy encounter on Oct. 12, 2018 at Crowne Plaza Manila Galleria Hotel, when we were both conferred the "Manuel L. Quezon Gawad Parangal" award for being Outstanding Citizens of Quezon City by Mayor Herbert Bautista and Vice Mayor Joy Belmonte (who was accompanied by her own loving father, former Speaker Sonny Belmonte).
What are Eddie Garcia's secrets to long life and good health at age 90? I've asked several times, at every occasion that we'd meet socially, the latest at the QC awards. Aside from not totally retiring from all work and still keeping busy, Garcia shared his secrets: "Everything in moderation. I do regular exercise. Eat mostly fish and vegetables, many vitamins and two meals per day. I usually sleep eight hours every day. Always think positive. If you have a problem, think of the solution because for every problem there is a solution
* * *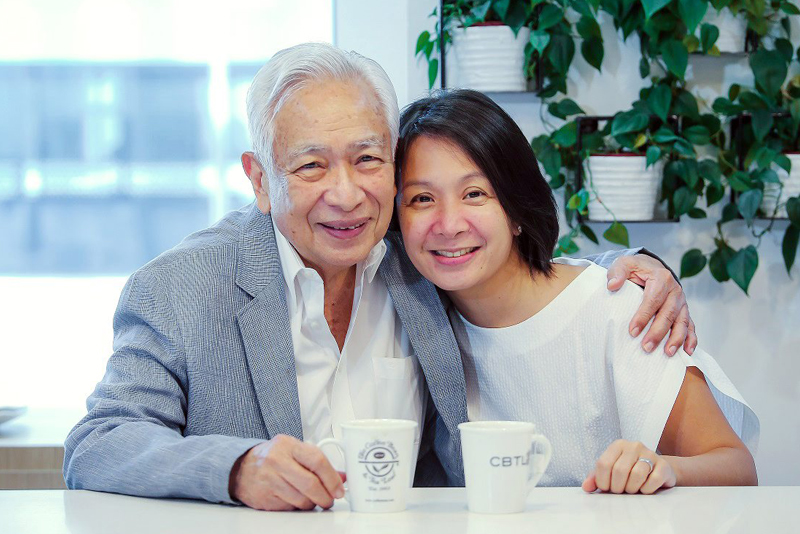 Menardo "Nards" Jimenez and Carmen Jimenez-Ong, founder and CEO of Menarco Development Corp.
Nards Jimenez taught kids hard work, business, art & faith
The 87-year-old real estate businessman, GMA Network, Inc. part-owner and Pangasinan's 60-hectare Dasoland Adventure Park founder Menardo "Nards" Jimenez is an exemplary father to four children: PLDT senior vice president Menardo "Butch" Jimenez, Jr., GMA Network's Executive Committee vice chairman Joel G. Jimenez, Majent Group of Companies CEO Laura Jimenez Westfall and youngest child Carmen Jimenez Ong, founder and CEO of Menarco Development Corp. which constructed the 32-story Menarco Tower in BGC, Taguig City as the Philippines' first and only WELL Gold-registered building in Southeast Asia.
At an exclusive interview with the close father and daughter, I asked if she's the favorite child, being the youngest daughter. Carmen smiled and replied: "All of us siblings believe we're his favorite." (Laughs)
When asked if Carmen is his favorite, Nards and his wife Carolina "Kay" Gozon Jimenez recounted an experience between father and daughter, when Carmen was only three years old. The baby girl was one day crying nonstop; Nards was then at home doing some work and wanted the daughter to stop. He carried the baby girl to the bathroom, placed her into the empty bathtub, closed the lights in that bathroom and left her alone there. Nards smiled to recall: "After that, there was no more crying. That's why she is my favorite."
Carmen said that, between their parents, father Nards is "more strict." What lessons did he impart to them? Carmen Jimenez Ong replied: "He always tells us 'hobby, hobby lang.' Treat your work as a hobby, do not be overly serious, so you won't be too exhausted. More than talking to share teachings, his life and work ethic taught us lessons. He is a role model for us, his children; he walks the talk. He works hard upon rising in the morning, at the office, after dinner. We grew up seeing him like that, so I thought work is the norm and emulated his dedication to work."
Nards Jimenez is also a collector of art, stamps and coins, and youngest child Carmen has imbibed his love for art. She shared that not only is Menarco Tower uniquely designed to be "the healthiest building in the Philippines" according to stringent international WELL standards, she plans to establish here "the first vertical art museum in the country showcasing Philippine contemporary art works from the 1990s to today on every floor."
When asked to comment on their tastes in art, Nards laughed and said: "We have different tastes. I couldn't understand the artworks she likes; mine are artworks with human figures."
Carmen Jimenez Ong added: "Of all the things our father taught us, the biggest lesson from Dad is the most important: putting God first is having an immutable source of strength."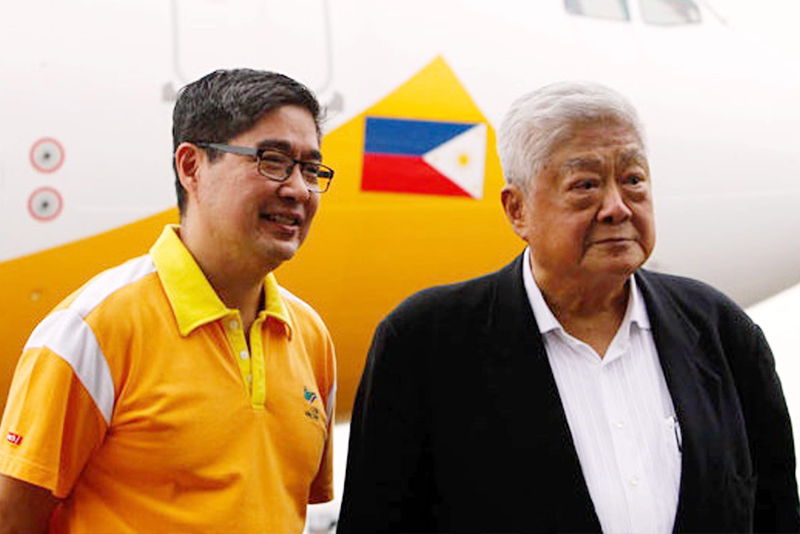 John Gokongwei, Jr. JG Summit Holdings Inc. president and CEO Lance Gokongwei
John Gokongwei, Jr. as a father who never spoiled his kids
How is the hardworking, self-made business leader and philanthropist John Gokongwei, Jr. as a father? JG Summit Holdings Inc. president and CEO Lance Gokongwei shared his thoughts to 2019 graduates of the Pamantasan ng Lungsod ng Valenzuela. Here are excerpts:
"That work ethic, more than anything, was the foundation of his success — and it was this same work ethic he would try to pass on to myself and to my siblings.
"Just as life did not give my father everything, he made sure that we, his children, would not get anything on a silver platter.
"If we wanted something, we had to earn it. We did not get large allowances when we were in school, nor did we get cash for our birthdays or for Christmas.
"When we graduated from school, we were no longer given allowances; if we wanted to have money to spend, we had to work for it.
"There would be no high-level positions waiting for me nor my siblings when we finished school. When I got back from college at the University of Pennsylvania, I started work as a management trainee in our food division. Basically, that meant I had to go out and sell Jack 'n Jill snacks to supermarkets, groceries, and sari-sari stores.
"I was paid P2,000 a month. Since I had to go around the city, Dad let me use an old car — not even a Nissan, but a Datsun at that time, with a broken air conditioner.
"I may have been the son of the boss, but I worked harder than anybody else to prove that I wasn't just the son of the boss.
"My father believed that for us to appreciate the different nuances of our businesses, we had to start from the bottom and get our hands dirty. My sister Robina started out as a clerk in the bodega of Robinsons Department Store. My other sister, Marcia, scooped ice cream at one of our old Presto outlets when she was in high school.
"As for myself, I am willing to bet that I have held more bras than any man or woman here today — because one of my first jobs was to put the pricetags on women's bras in our department stores.
"But seriously, this and other jobs I held in my father's companies is what made me appreciate the dignity and value of work."
* * *
Thanks for feedback at willsoonflourish@gmail.com. Follow @wilsonleeflores on Instagram, Twitter, Facebook. Buy PhilSTAR's Tagalog tabloid "Pilipino STAR Ngayon" every Friday and read my column "Kuwentong Panadero." Read also https://investment.fwd.com.ph/experts/asia-s-business-leaders-and-what-we-can-learn-from-them.