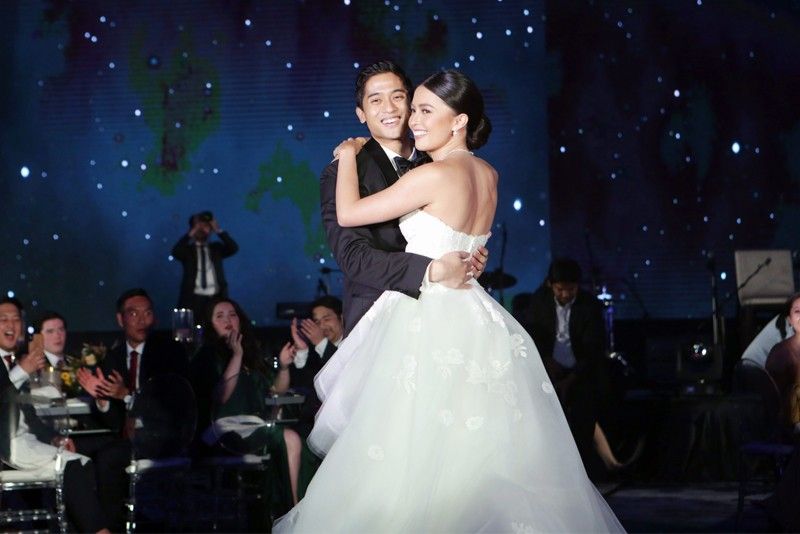 Javier Puno and Catherine Concepcion
Photos by Geremy Pintolo
Javier Puno & Catherine Concepcion
MANILA, Philippines — There is a scene in my favorite movie, Sweet Home Alabama, that reminds me of my sister's wedding day. It is when the young boy asks the girl of his dreams to marry him by the beach while there is a thunderstorm, and the girl replies, "Why do you wanna marry me, anyhow?" and his response is, "So I can kiss you anytime I want." It is young love in its simplest and truest form. And this was my future brother-in-law Javier Puno's thought during the night he met Catherine at a soiree nine years ago. He told his dad, "I think she's the one," and he was only 16 years old then.
Last Friday, I saw their long-distance love story come full circle and it truly was one of the most beautiful days I have witnessed so far when tears of joy were pouring down my face. Over these past six months of planning the wedding, it never fully hit me that my sister was going to get married; in my head, it always seemed like there were still months before the big day.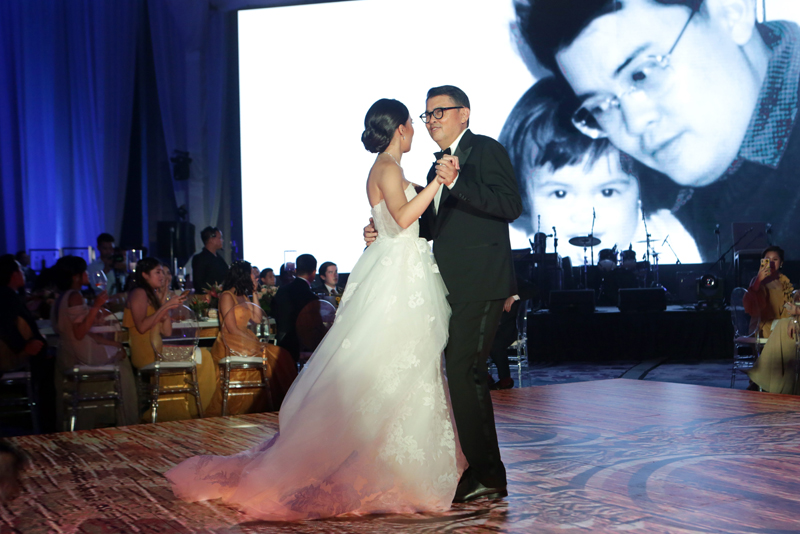 Catherine with her dad, Joey Concepcion in their father and daughter dance.
And then when the singer in the church started singing the words, "Never knew I could feel like this/Like I've never seen the sky before/Want to vanish inside your kiss" from the song Come What May in the movie Moulin Rouge, and as the doors of the San Antonio Parish Church started opening, I could feel the excitement and anticipation fill the room. And at that moment, it finally hit me: my sister is finally getting married. And before the doors could even open tears started dripping down my face uncontrollably. It was as if the whole world just stopped when my sister Catherine walked down the aisle towards her best friend, and her forever.
As she was walking I turned to look at Javier, the groom, and I just could not help but smile because he was looking at her and smiling as tears were falling down his face. That's the moment wherein I knew that the four years of being long distance out of the nine years they were together was all worth it. And it all worked out because of Javier and Catherine's love that withstood the greatest of odds. I felt so reassured that this man about to marry my sister, whom I have come to grow with these past nine years, was going to be her husband and a part of our family.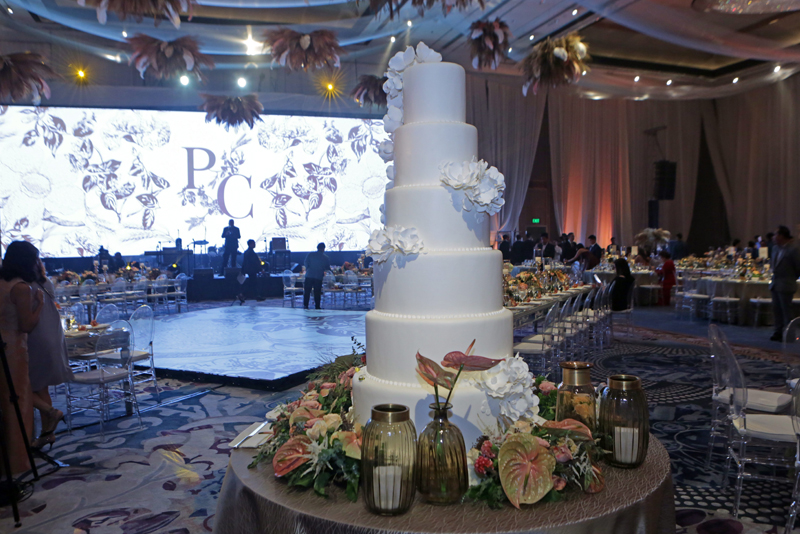 Six-layer wedding cake by Penk Ching
When my parents walked down the aisle hand in hand with Catherine while Javier was down the aisle along with his parents, Bea and Eric Puno, you could see the utmost respect Catherine and Javier have for one another as they greeted their parents with heartwarming "Thank you"s and farewells in their final moments of being single. And watching from a distance, you could see that though every parent has a hard time giving away their child, this was not one of those moments. It was a moment of true bliss and happiness for both the parents to witness their children walk up as one towards God, who would bless their marriage and make it official.
As the wedding ceremony came to an end, everyone came to the church entrance to welcome, with colorful ribbons waving in the air, the new Mr. and Mrs. Puno as they walked out into their new lives as a married couple. At 7 p.m. all the guests were seated at the reception in Shangri-La the Fort to welcome the newlyweds and celebrate. As soon as the couple came in, they greeted their guests with a welcome and thank you speech. And much to the surprise of Javier and the guests, Catherine ended the speech by saying that her second wedding gift to Javier would be her singing to him a song which she had been rehearsing for a couple of months to surprise him on this special occasion. Javier and the rest of the guests had their eyes locked on Catherine as she serenaded him to the lyrics of Daydreamer, especially the lines: "He lends his coat for shelter/Plus he's there for you/When he shouldn't be/But he stays all the same/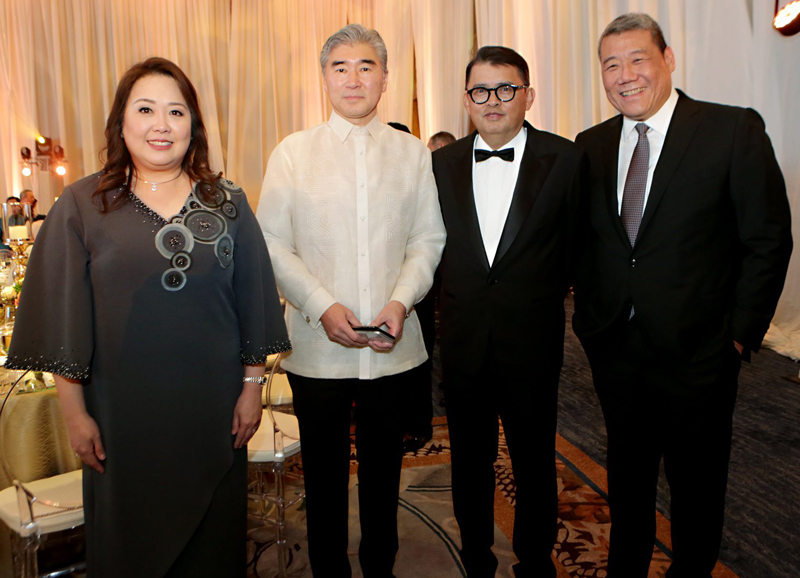 Alice Liu, Ambassador Sung Kim, Joey Concepcion, and Bernie Liu
Waits for you/Then sees you through/There's no way I could describe him/What I'll say is/Just what I'm hoping for/But I will find him sittin' on my doorstep/Waiting for a surprise/And he will feel like he's been there for hours/And I can tell that he'll be there for life."
It was a song that I witnessed her practice over the course of months. After he proposed to her, she dedicated an hour every day of the week so she could perfect this song for him. Everyone, especially Javier, was left speechless and amazed at what they had witnessed: such a beautiful voice singing such heartfelt lyrics.
As the night continued, speeches were given by good friends, siblings and fathers of the bride and groom. You could really notice from all the speeches the utmost respect and love each person had for Catherine and Javier's relationship. It was all unified by those two thoughts. I'm not one to believe that long-distance relationships can last. It is not easy, witnessing it from the side while Catherine was here in Manila and Javier was in New York, but because of their love, respect and commitment to one another, they worked through what seemed almost impossible to many of us. They are a true testament that love can withstand even the toughest of odds. They worked together as a couple to get to where they are now and I am truly inspired by it all.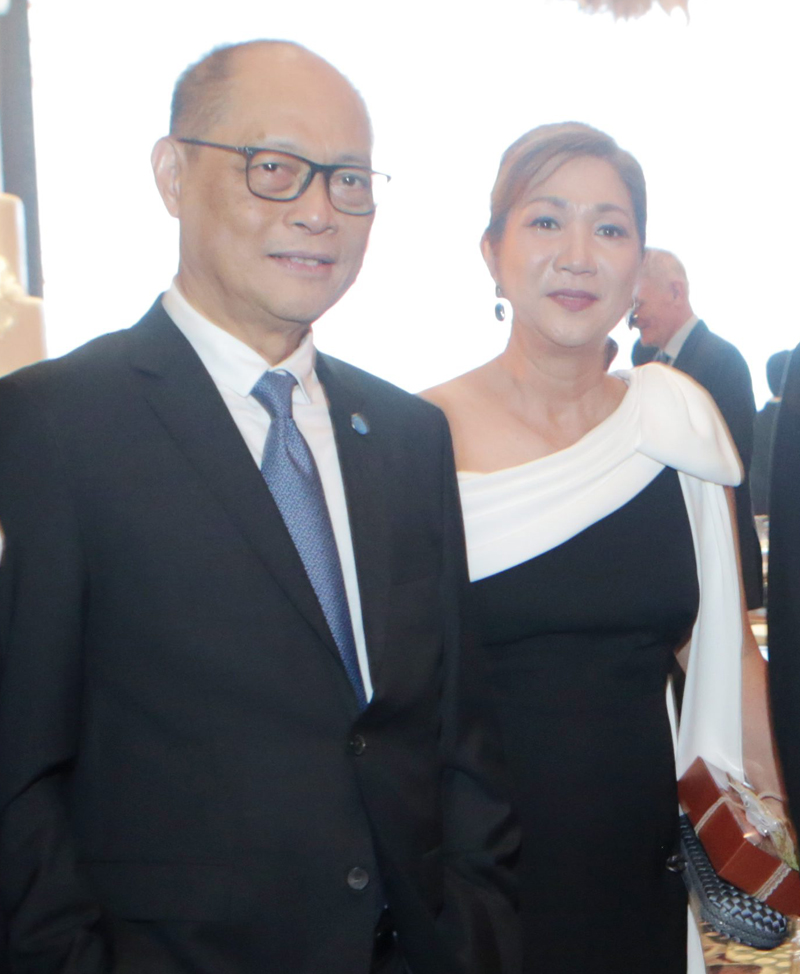 Gov. Benjamin Diokno and Jo Ann Diokno
That day was filled with many emotions — love, respect, excitement and joy — all felt by the more than 700 guests there (both families are big). Deep down, though, while I kind of always thought that Catherine would be my next-door neighbor forever, it is with the greatest of joys that I get to witness her and Javier's forever dream coming true — the dream of finding that one person and best friend with whom they can enjoy life's adventures and surprises.
To Catherine and Javier, thank you for allowing me to witness such a beautiful love story. God has truly blessed you. And although you both will be miles away in New York, I can't wait to continue to witness your love story unfold and, hopefully, soon have mini Catzs and Javiers running around.