Heavy mental: David Fincher and Tim Miller are behind Netfl ix's adult animation anthology, Love, Death + Robots.
This week, as we await the arrival of HBO's Game of Thrones, here are some more quick picks to pad through during your Holy Week viewing spree. Those of us resigned to staying in Metro Manila's ghost town will have lots to keep us occupied.
Our entertainment options nowadays are infinitely vast, yet somehow this just makes all of us more picky. With a finite amount of viewing time, it's hard to plunge into the black hole portal of every single series coming down the pipeline.
Better to try what my wife and I do: we dabble. Try an episode or two, then switch to something else. The must-watch series will rise to the top of our attention spans. The rest will rest in our playlists, unfinished forever.
Twilight Zone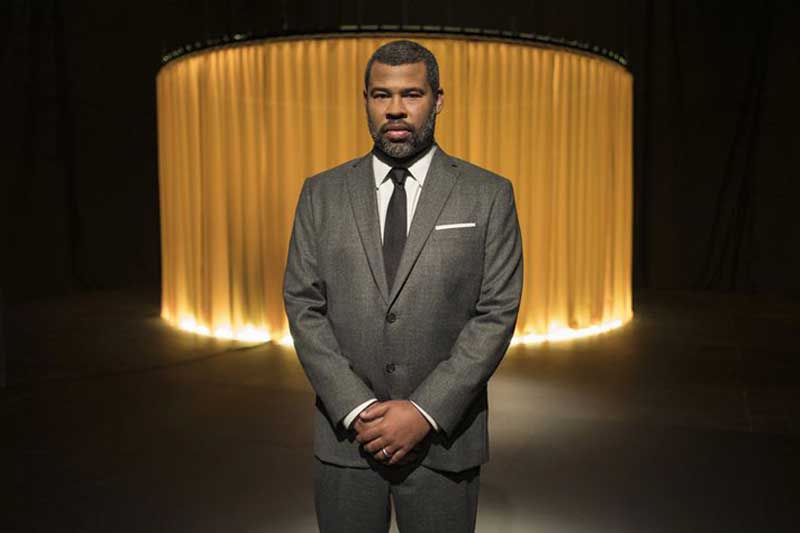 Out there: Jordan Peele makes like Rod Serling in the new Twilight Zone.
Jordan Peele, not content to bring his nightmares to the big screen, has teamed with CBS All Access streaming service to resurrect Rod Serling's Twilight Zone. He's just geeky enough to slip comfortably into the suit-and-tie narrator role that writer/creator Serling settled into during the Zone's five-season run from 1959 to 1964. Picture if you will: a cast that includes Adam Scott, Kumail Nanjiani, Taissa Farmiga, Alison Tolman, Seth Rogen, Rhea Seehorn, John Cho and Chris O'Dowd in omnibus episodes that explore the darker edges of reality. So far, so Black Mirror. Will the new Twilight Zone transcend the very genre of social commentary disguised as sci-fi that it invented? So far: meh. First two episodes "The Comedian" (Nanjiani as a dud standup comic who makes a devilish deal with vaping Tracy Morgan to come up with killer material) and "Nightmare at 30,000 Feet" (an update on an original Twilight Zone premise with Scott as a panicky passenger who does all the wrong things mid-air, post-9/11) hint at updated directions, though none of it's exactly trailblazing. View on: CBS All Access.
Love, Death + Robots
Turns out David Fincher and Deadpool director Tim Miller are big fans of Heavy Metal, the old sci-fi anthology movie from 1981 that featured overblown shrieking on the soundtrack from Sammy Hagar, Nazareth and Cheap Trick, among others. It also showcased innovative animation for its time, and Fincher/Miller bring to Netflix a parade of short stories (ranging from six to 20 minutes) displaying some real cutting-edge graphics. The thought-provoking meter runs the gamut from "Not much" to "Whoa!" — whether it's the so-so anime pastiche "Blindspot" (a cyborg crew attempts to rob a convoy), the cutesy-yet-chilling premise of "When the Yogurt Took Over," or the mind-blowing cat-and-mouse chase of "The Witness," featuring a high-tech mix of motion-capture and digital design set amid an Asian cityscape where a woman witnesses a murder from a hotel window, and has to escape the killer. Fincher basically steers from above as executive producer, but Miller himself directs one episode — one of the best — called "Ice Age," a live-action short featuring Topher Grace and Mary Elizabeth Winstead as a couple who find they have a prehistoric civilization living in their overfrosted freezer. It will probably remind some of Lisa Simpson's encounter with a rapidly-developing alternate humanoid civilization in her sea monkey tank during one of those Simpsons Halloween Specials, but with added nods to A.I. and the Singularity. Extra Netflix bonus points come in the form of "NSFW" graphic sexuality and frequent nudity. (Hey, that's the way Heavy Metal would have wanted it.) View on: Netflix.
Veep
Power play: Julia Louis-Dreyfus returns as presidential candidate Selina Meyer in HBO's Veep.
A funny thing happened to Veep while its star, Julia Louis-Dreyfus, was undergoing breast cancer surgery and recovery: Donald Trump was elected president. That means one of the main premises of this award-winning HBO series — a woman as US president — was sidelined by a stranger reality. Honestly, there's no way the hard-boiled satire of Armando Iannucci could keep up with the real-life strangeness of Trump's Oval Office. So Veep, in its final season, goes for broke with an even more gonzo embrace of everything unseemly in Washington and American politics. As cynical and biting as ever, Season 7 finds Selina Meyer (Louis-Dreyfus) mounting yet another presidential campaign, despite tons of evidence that American voters don't really want her around anymore. We wish the American voting public was actually this discerning in real life, and it's good to see Louis-Dreyfus back, once again attacking her character's most vicious lines like a Mako shark. (The rest of the cast are, as usual, a well-oiled ensemble, peerless at peppering the screen with one-liners.) The weird thing is that Veep has somehow steered itself into an alternate universe where the details have been jiggled a bit, but it still seems a lot like Washington, DC's toxic reality, perhaps in a shift not unlike Jordan Peele's Twilight Zone.
View on: HBO