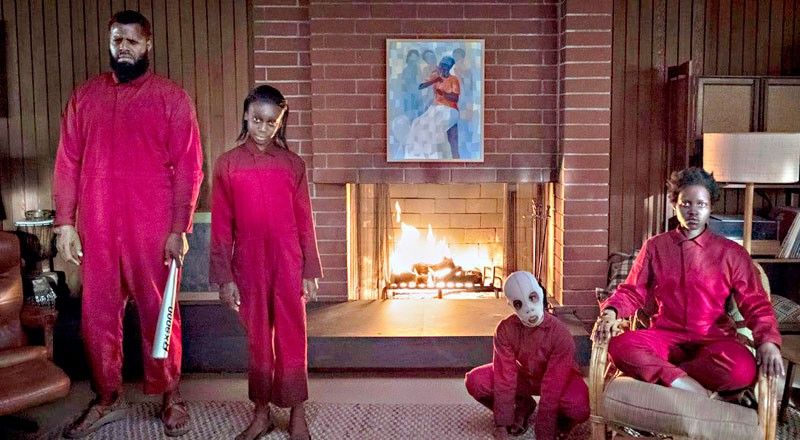 The Tethered pop in for a visit to the Wilson's beach house in Jordan Peele's Us.
Photos courtesy of Universal Pictures
Jordan Peele's Black Mirror
Early in Jordan Peele's latest social commentary/horror film Us, we see a young girl putting on a Michael Jackson Thriller T-shirt; her dad just won it for her at a boardwalk game on Santa Cruz Beach. It's okay: this is 1986, and Michael Jackson wasn't embroiled in real-life horrors yet.
Was Peele making a nod to those recent resurfaced allegations against the King of Pop? It's tempting to see hidden meanings and layers everywhere in Peele's follow-up to 2016's Get Out: while that breakout horror movie tackled race relations through a black man's weekend spent among white suburban Americans, Us is even more ambitious in scope.
After the now-standard prelude scene (taking place in '86, the year of Hands Across America, which sought to raise money to fight poverty and homelessness), Us shifts to present day: the Wilson family — Adelaide (Lupita Nyong'o), Gabe (Winston Duke) and two kids — are spending a weekend at their beach house. They're reasonably well-off and content, though Adelaide suffered a childhood trauma, referenced in the opening scene. They hang out by the beach with privileged, vacant white couple Josh (Tim Heidecker) and Kitty (Elizabeth Moss); but their idyll is cut short when a quartet of strangers wearing red jumpsuits shows up at the Wilsons' front lawn one night.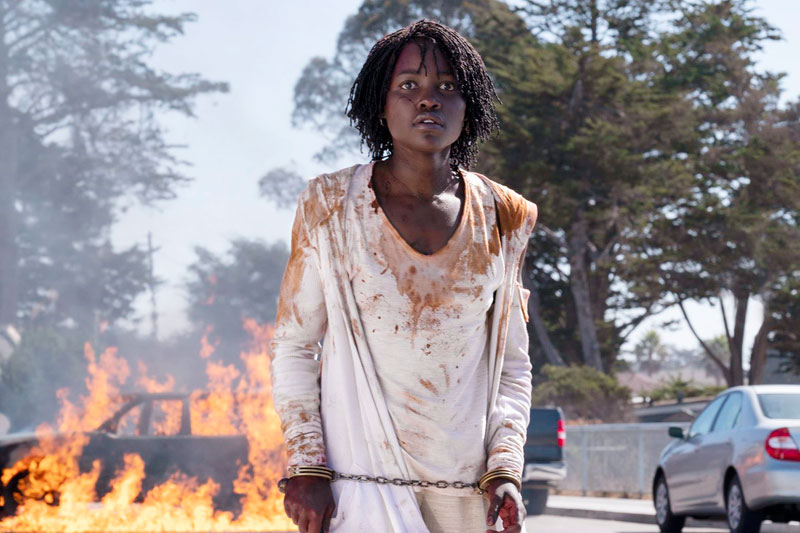 We have met the enemy, and they are us: Lupita Nyong'o grapples with the underclass.
Jordan — writing and directing again — has a knack for resonant images. Clearly, his appetite was informed by '70s and '80s horror films, and here, he puts so many movie references into the Cuisinart you might lose track — Jaws, The Stepford Wives, The Omen, The Shining (countless times), The Thing, Blade Runner (that tumbling twin sister), The Lost Boys, Night of the Living Dead, plus every home invasion thriller you can mention. But he's also becoming a master at mood: he can summon creepy foreboding with a simple atonal musical motif or a slow camera zoom on a spider crawling across a coffeetable. (Cinematographer Mike Gioulakis, who also shot Get Out, Split and Glass, creates blissfully bloody tableaux.)
As with Get Out, the air of tension ratchets up slowly and then springs out at the audience. "Who are you people?" Adelaide asks the female head of the home invasion team, once they've entered the home and sit in the living room. She answers in a strangled, raspy voice: "We are… Americans." Those red-uniformed strangers turn out to be part of a larger group calling themselves The Tethered — doppelgangers who have lived out of sight and underground for too long — literally America's underclass. It's a bit on the nose, as a metaphor. But it's just one of the twists Peele has in store with Us.
Humor erupts along with the shocks. Winston's new toy — a second-hand speedboat — is played for laughs more than once. Josh and Kitty's Google Home device, Eliza, doesn't quite get it right when Kitty asks it to "call the police"; the high-tech device instead pulls up NWA's F**k the Police to blare as a kind of home-invasion counterpoint anthem.
Nyong'o and Moss in particular seem to relish playing both their main roles and their evil counterparts — part zombie killer and part aspirational consumer. Watch Nyong'o's menacing pas de deux with herself in the climax (dance moves have played a key role in recent horror movies, like last year's Suspiria and Gaspar Noe's Climax), or Moss smearing on lip gloss before a mirror, revealing a scary rictus.
Mirrors and mirroring pop up repeatedly in Us. The main conceit is not only that the "forgotten" class — the ones who were supposed to be uplifted by Hands Across America — want revenge, but they possess the same goals as the more fortunate in society do (Winston is a yuppie, envious of Josh's toys). As mentioned, it's tempting to see symbolism everywhere. Are those red suits meant to suggest MAGA hats? The class divisions that have erupted into a serious fracture in American society? Would The Tethered vote for Bernie Sanders? It's hard to say. Peele keeps things ambiguous though, as with Get Out, the film does eventually resolve into too-easy, less-satisfying horror tropes.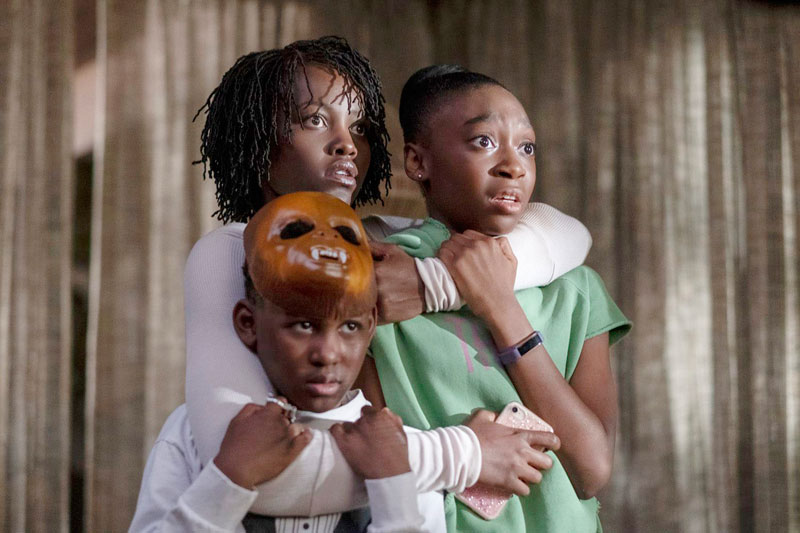 Scary movie: As he did with Get Out, Peele reinvents horror movie tropes to comment on social concerns.
Partly that's because Peele's script seeks horror movie resolutions to some of the mysteries so carefully constructed in the first half. We see a strange homeless man with "11:11" stenciled on his forehead, a reference to Jeremiah 11:11 ("Therefore thus saith the Lord, Behold, I will bring evil upon them, which they shall not be able to escape; and though they shall cry unto me, I will not hearken unto them."); not much happens with him. A failed magic trick attempted by the son, Jason (Evan Alex), fizzles out as a red herring. A girl whistles Itsy Bitsy Spider nervously in the dark, and it may be a horror movie cliché, but it's no less effective for being so. There are many threads to follow in Us, but most tricky is an ending that will possibly leave people baffled, irritated or expecting a sequel.
Yet we revel in what Peele has done with the horror genre, injecting it with layers of social commentary that linger (we'll probably never look at a teacup the same way after Get Out). We wonder, though, what he could attempt next. A straight comedy? A straight drama? Can't wait to find out.