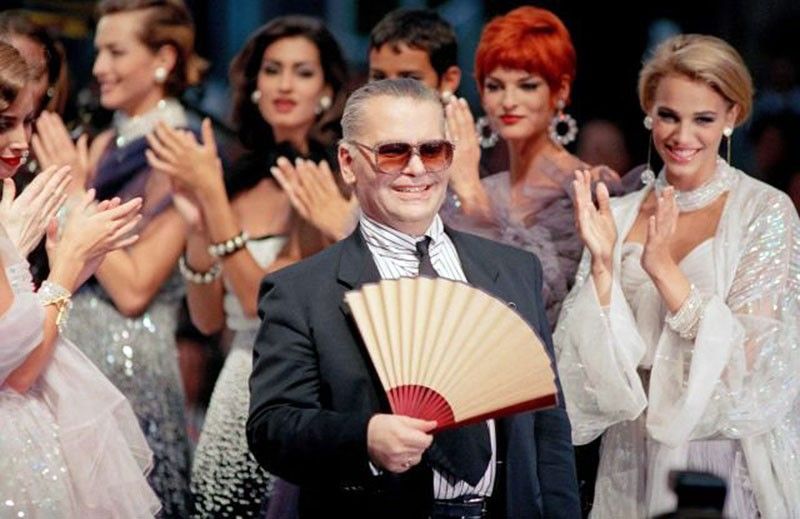 Lagerfeld with supermodels on the Chanel couture show in 1991
Karl Lagerfeld had a sharp tongue, a subversive eye & a great work ethic
'I've never complained. And that is why all the designers hate me. They are only interested in their damn "inspirations."'
It seemed like he would never die. He was always a constant presence and influence for the past six decades in what is one of the world's fastest changing industries. And yet, last Feb. 19, Chanel, the fashion luxury powerhouse that he was most associated with as creative director, announced that Karl Lagerfeld had passed on at the age of 85. If there is any doubt that he is deserving of the title of emperor of fashion, one just has to see his work schedule which he kept till the day he died: the creative director of not one, not two, but three fashion houses which included Fendi and his eponymous label. At Chanel alone, he was doing 10 collections a year — two major shows each for ready-to-wear and haute couture and additional ones for the pre-collections, cruise lines, the Métier d'Art and Coco Snow.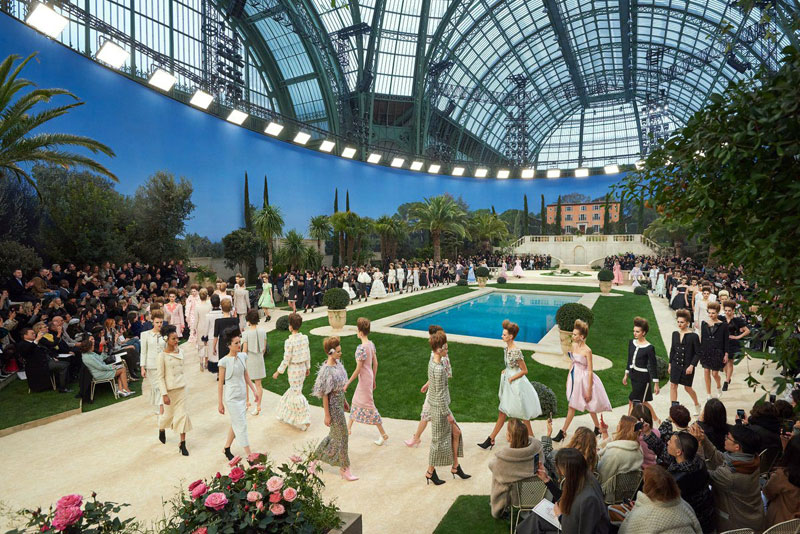 The Chanel couture show in January 2019 featuring an Italianate villa summer getaway complete with swimming pool and trees, one of the brand's spectacular shows at the Grand Palais. Past shows included the recreation of a sprawling beach, a space center with a rocket and even the Eiffel Tower.
With designers half his age getting burned out with work in just one fashion house, his energy and prolific output were quite phenomenal. And he never failed to brag or mince words about it, declaring in an interview: "I've never complained. And that is why all the designers hate me. They are only interested in their damn "inspirations." They can spend an hour deciding where a button should go, or choosing sketches done by their assistants, which riles me to distraction. They try to blame me for their problems with working overtime. Azzedine Alaïa claimed that the supposedly unsustainable rhythms in fashion today were entirely my fault, which is absurd. When you are running a billion-dollar business you must keep up. And if it doesn't suit you, you might as well mess around in your bedroom." True enough, from 1983 onwards he transformed Chanel into one of the biggest luxury brands, with sales of $9.62 billion in 2017, the first time it published its annual financial results in its 108-year history. It outpaced rivals like Gucci and was in the same league as Louis Vuitton, the widely acknowledged industry leader.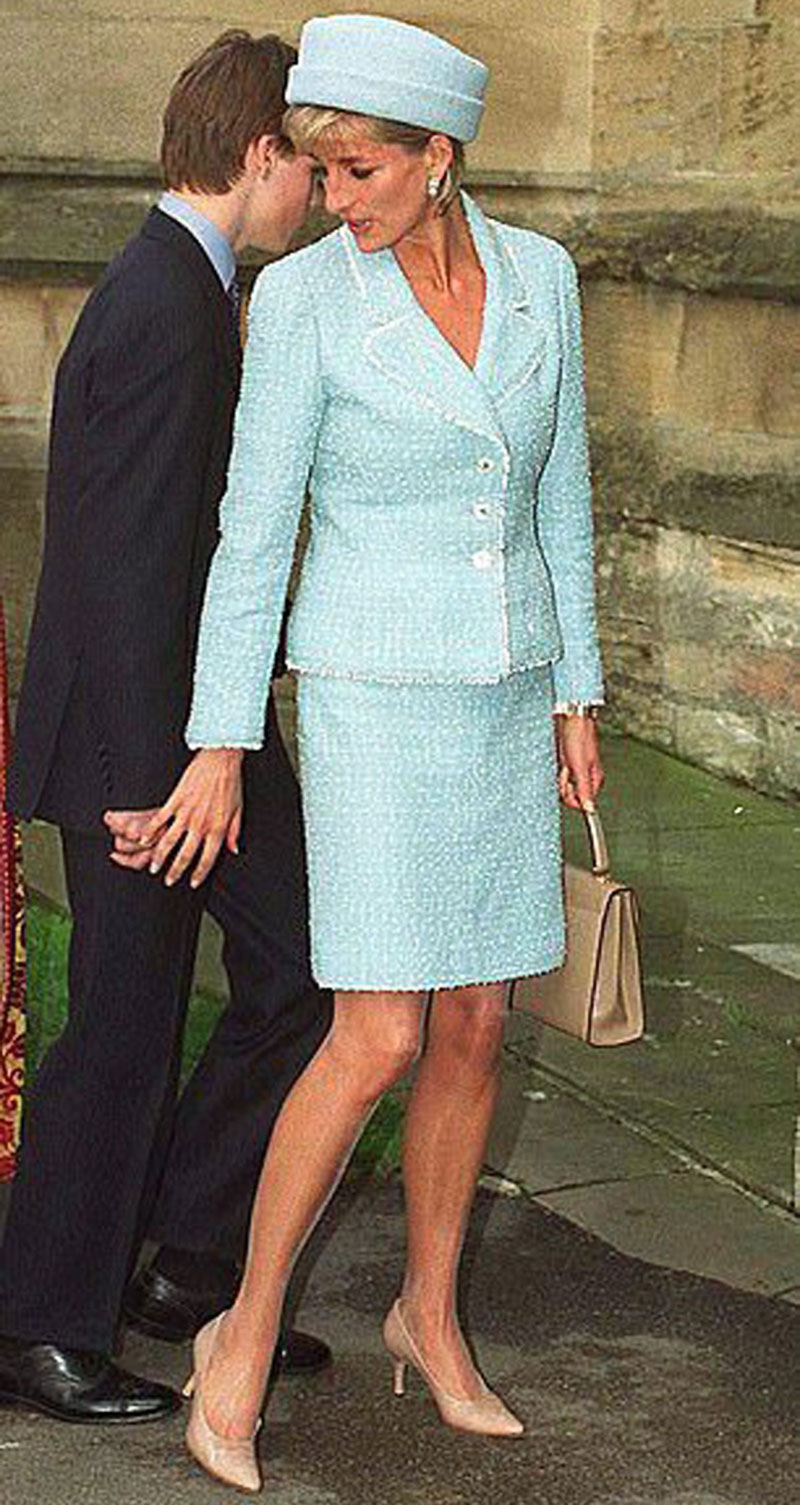 Diana, the late Princess of Wales in a Chanel suit in 1997. She once favored Lagerfeld's designs but reportedly stopped wearing them because the double C logo reminded her of Charles and Camilla.
Lagerfeld's work ethic — not to mention his sharp tongue — could largely be credited to his German mother, Elisabeth Bahlmann. To encourage him to work harder, she would call him stupid, a "mule." "I've probably just been overcompensating ever since," he said of his childhood, which he was not very fond of. She would also slap him when he could not give her a witty answer fast enough. His father, Otto Lagerfeld, a well-off manager of the American Milk Products Company, moved their family during World War II from Hamburg to a small northern German town where Karl felt out of place. He liked wearing smart formal suits and ties, you see, and even as early as age four he had asked his mother for a valet as a birthday present: "I wanted my clothes prepared so that I could wear anything I wanted at any time of the day. I was mad for dressing differently at least four times a day."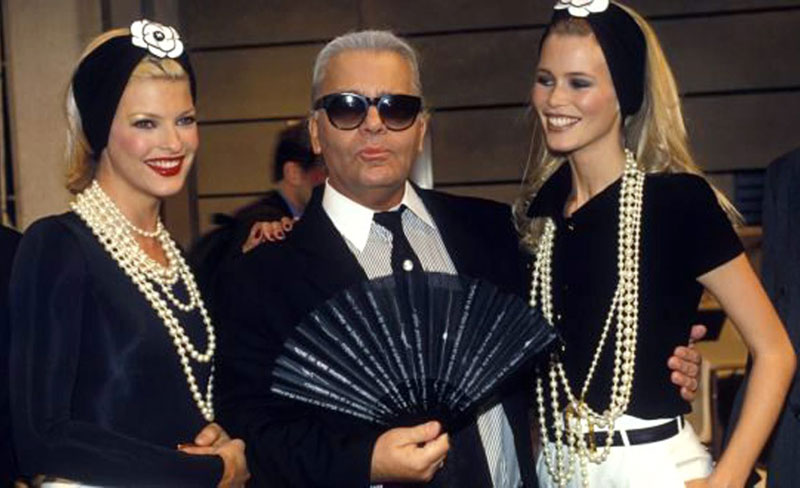 Lagerfeld with supermodels Linda Evangelista and Claudia Schiffer wearing his creations with the quintessential Chanel pearls and camellia in 1995.
Paris was ultimately the city he escaped to as a teenager and after majoring in drawing and history in secondary school, he entered the International Wool Secretariat's coat designing competition where he befriended Yves Saint Laurent and soon after was hired by Pierre Balmain as assistant. Three years later, he became the artistic director of Jean Patou. A trip to Rome in the mid-'60s got him to study art history, work for Tiziano and eventually do freelance work as a designer for Charles Jourdan, Krizia, Valentino and Chloé where he developed his trademark subversive style of turning fashion tradition on its head. This irreverence continued when he got the job at Fendi in 1967, revolutionizing fur by shaving, tufting, dyeing and transforming its "sanctity" into innovative, fun shapes and colors.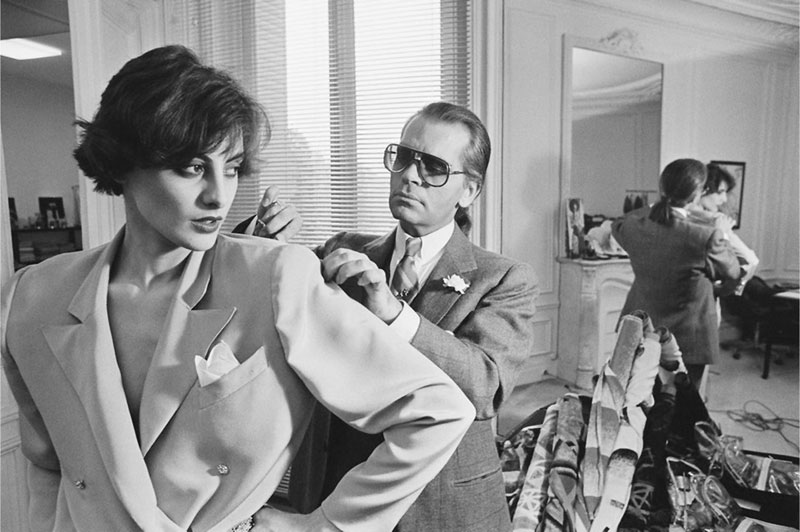 Lagerfeld made Ines de la Fressange one of his famous muses but dropped her when she was chosen as the model of a new bust of Marianne, symbol of the French Republic because he did not like the idea of "sharing" her.
The shape-shifting he did in fashion would also extend to his lifestyle, living in numerous homes over the years, decorated in various styles – from Art Deco for his apartment in rue de l'Université in the '70s to Rococo for his 18th-century. chateau in Brittany from the '70s to 2000, to Memphis in a Monte Carlo Apartment in the '80s. He would obsessively buy furniture, objects and art in a particular style, amassing an impressive collection but would easily discard of them after, without nostalgia or emotion. This supposedly applied to his personal relationships as well where it was easy for him to drop friends and just move on.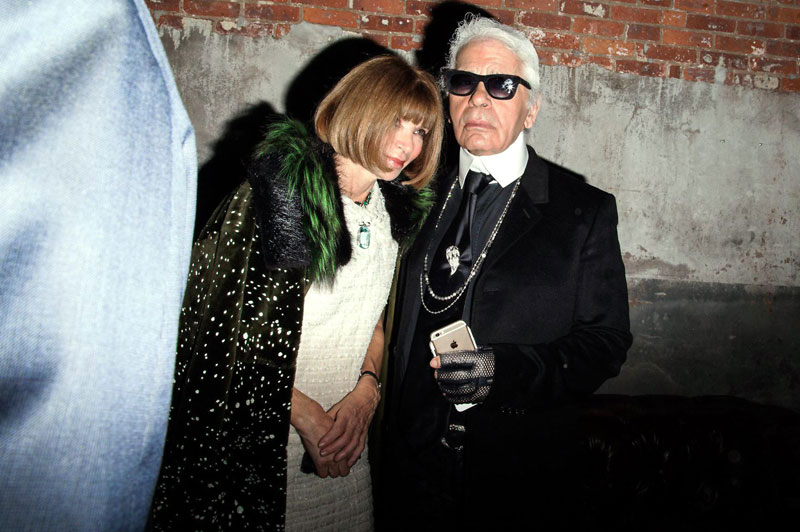 Lagerfeld with Vogue editor Ana Wintour who said that "He represents the soul of fashion – restless, forward-looking and voraciously attentive to our changing culture."
Perhaps it made him the ideal person to turn Chanel around from a brand that had become staid and unexciting in the 1980s, a decade after its founder Coco had died. His sensitivity to the zeitgeist — the changes in fashion, culture and society — allowed him to turn out desirable pieces that people never knew they wanted. He attracted women of the moment, making them his muses: Inès de la Fressange and Jerry Hall in the '80s, Amanda Harlech and Stella Tennant in the '90s, Lily Allen in the naughties, Cara Delevingne in the 2010s. All of a sudden it was hip again to wear those prim tweed suits, which he tweaked and modernized for these women who became fashion icons.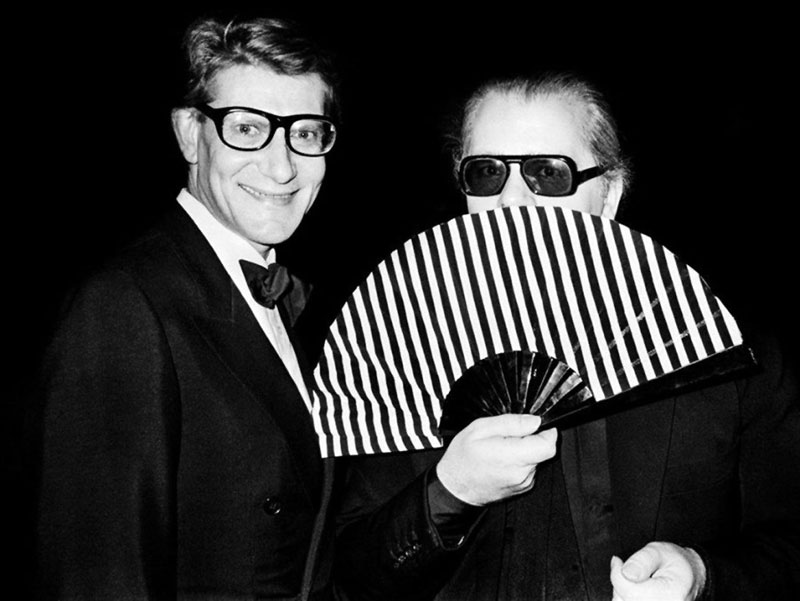 Lagerfeld with his long-time rival Yves Saint-Laurent in 1982. His partner Jacques de Bascher cheated on him by having an affair with YSL.
Just as he turned Chanel and Fendi into hot global brands through celebrity and pop culture, he also transformed himself into a recognizable icon and brand. When French aristocrat Jacques de Bascher (his partner of almost two decades, who cheated on him by having an affair with his long-time rival, Yves Saint Laurent), died of an AIDS-related illness, Lagerfeld went into a period of depression when he gained weight and became infatuated with several young men, according to the designer's biographer, Alicia Drake. Realizing how unfashionable his figure had become, he went on a diet that caused him to shed 93 pounds and allowed him to wear the super-slim suits of Hedi Slimane for Dior. He even capitalized on the experience by publishing a book, The Karl Lagerfeld Diet. He maintained this figure and image by wearing slim, dark suits, a starched white shirt with high collar, a white powdered pony-tailed hairdo and dark glasses. This look became his "caricature," making him an internationally recognized pop symbol appearing in a wide range of merchandise including a Mattel Barbie doll that sold out fast. He further conquered the mass market by being the first designer to collaborate with high street clothes store H&M. More collaborations followed, capped by the design of bottles of Diet Coke, his drink of choice.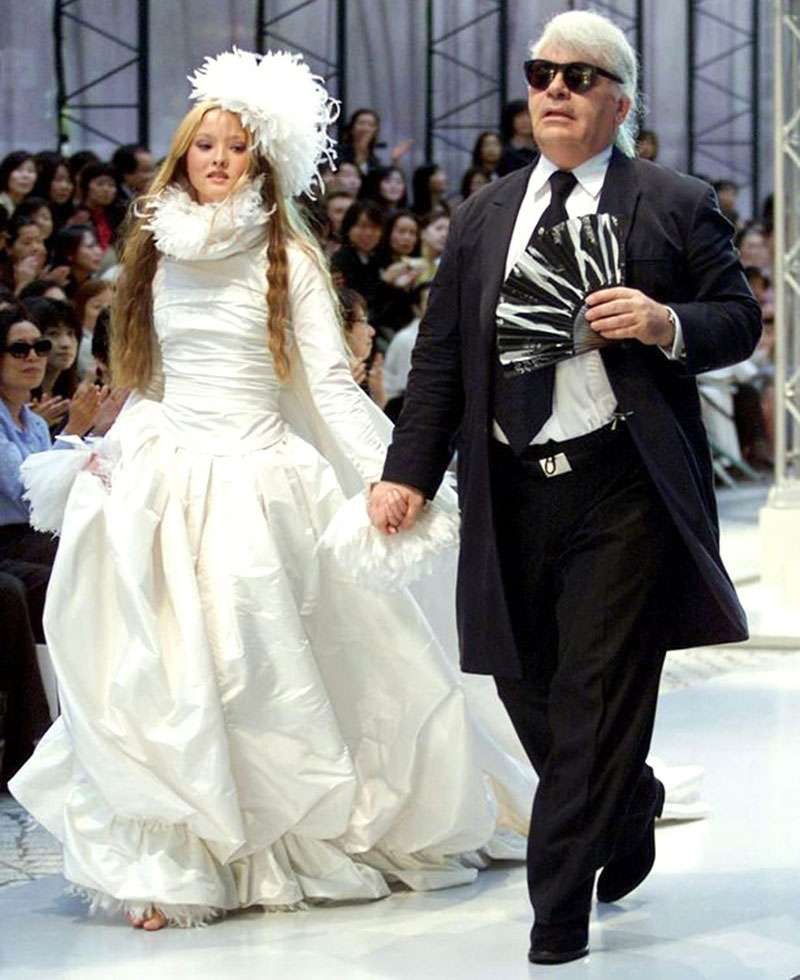 Lagerfeld during his heavier days after a depression, walking his bride on the catwalk
Even in his octogenarian years, he was up to date with the changes happening in the world. Although he made snarky remarks like "Those social networks, there's something sad about them ­— it's like a talkative mirror where people talk to themselves," the designer embraced social media stars like the Kardashians and collaborated with Kaia Gerber, the daughter of '90s supermodel Cindy Crawford, for a capsule collection. He always expressed his views on world affairs with his characteristic acerbic tongue and rapid-fire intonation, sparking outrage when he attacked Germany's open door response to the migrant crisis (" One cannot, even if there are decades between them, kill millions of Jews so you can bring millions of their worst enemies in their place.") and made controversial remarks about #MeToo by saying that the models making on the-job sexual harassment allegations are "sordid, stupid and toxic" and should just go join a nunnery "if they don't want their pants pulled about."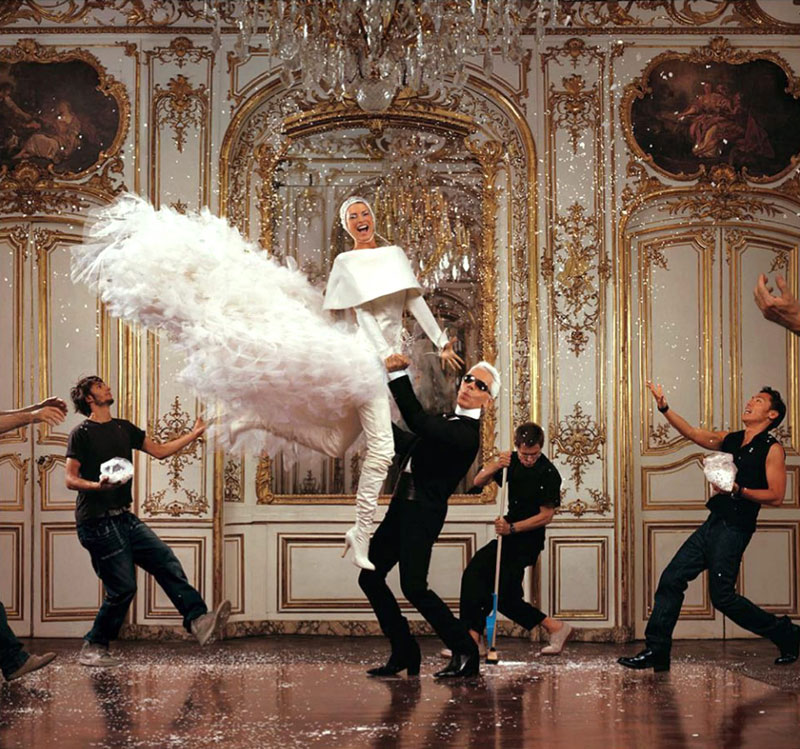 A fashion editorial of Lagerfeld with Linda Evangelista
His steadfast, if stubborn, support of the fashion system that he helped build was apparent till the end. Even if he was already ailing, missing his catwalk bow at the Chanel couture show in January, he still kept his grueling schedule, even making plans for the coming cruise show in May at the Grand Palais in Paris despite the city's turbulent situation with Yellow Vest protests. Work was his life – it was always about the next idea that got him going. "I have a sort of Alzheimer's for my own work. Today too many people remember what they did. Just forget it all and start again." It is no surprise then that he didn't even care to write a memoir: "I have nothing to say. I'm actually trying to make sure that I won't be remembered." Vain as he was, he had no illusions of self-importance as far as his métier goes: "Nobody is forced to do this job, and if they don't like it they should do another one. People buy dresses to be happy, not to hear about somebody who suffered over a piece of taffeta."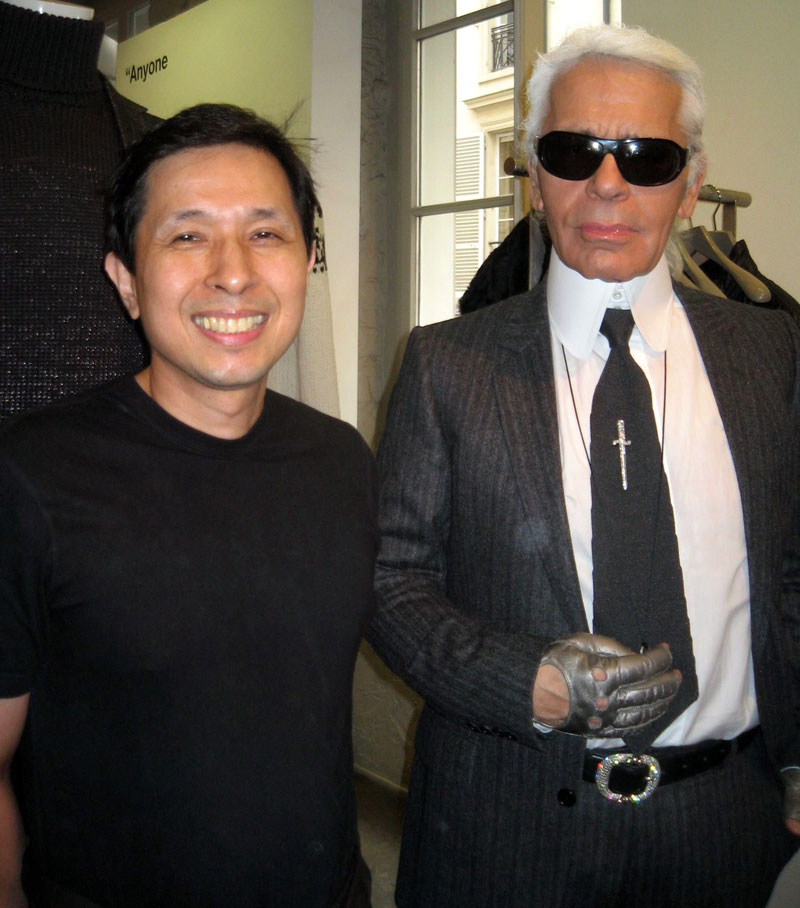 Co-author Ricky Toledo with Karl Lagerfeld at Colette, one of the late designer's favorite haunts in Paris
* * *
Follow the authors on Instagram @ rickytchitov ; Twitter @RickyToledo23 Facebook - Ricky Toledo Chito Vijandre