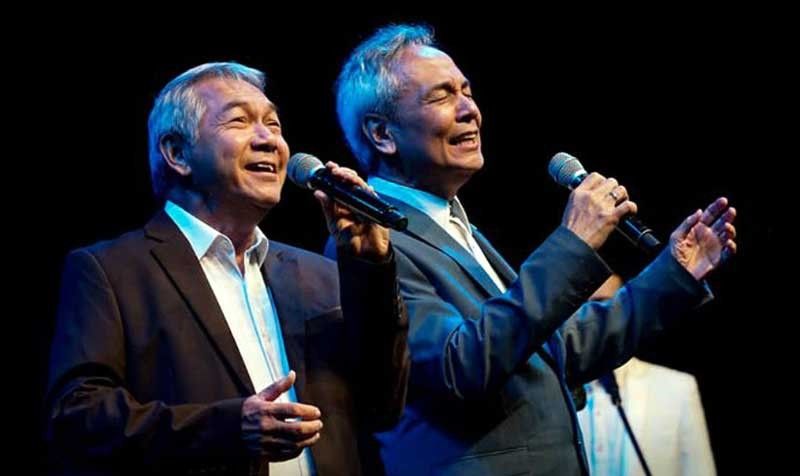 The author Jim Paredes and Boboy Garrovillo together again
Photo by Patrick Briones
My APO buddy Boboy Garrovillo and I did a show last week. It was a fun gig at the Pinoy Playlist Festival 2018 in BGC where 100 artists performed during the last two weekends.
It was an eclectic mix of acts. Artists as varied as Ryan Cayabyab Singers, Noel Cabangon, Nicole Asensio, Glock 9, Razorback, The Company, Shanti Dope, Sandwich, Ben and Ben, Davey Langit, Rachelle Gerodias, and a lot of new and seasoned artists showed up and participated. The shows happened simultaneously in three venues. Two were at the Maybank Theater building, and one was in a big tent nearby. Each artist's performance ran 45 minutes long. With a one-day ticket, you could watch many scheduled artists performing in one day. Or you could get a pass for the entire two weekends. It is impossible to watch all of them since the shows in the different venues happened at the same time. You had to choose whom to watch.
Boboy and I were very excited to do this. It is a unique festival for artists out to showcase their talents and artistry. And it was in its initial year. For veterans like us, we said yes because it would be a good way to sing to a new, younger audience. All songs performed were to be OPM.
Our slot was at 9 p.m. Oct. 11 at the Maybank Main Theater where the APO musical ran its first season last August to September. I arrived three days early from a vacation in Sydney so we could rehearse with our two backup singers, Kay and Anthony of the Ryan Cayabyab Singers.
We made a repertoire of our own hits with the aim to entertain everyone. After all, the audience was a mix of young and old, GenX and millennials, long-time fans, and first-time watchers.
We started the show with a hit song made by Louie Ocampo for the 2nd Metro Pop Festival in the '80s. We were his interpreters then. We won second place. The song Ewan came out to be more popular than the first placer which was Bulag, Pipi, Bingi sung by Freddie Aguilar. The audience loved Ewan. Immediately, we felt a connection.
When we asked the audience how many were watching us perform live for the first time, quite a sizable number raised their hands. I was elated. It is always great to reach out to a new audience.
It was quite funny for Boboy and I as we observed how the young people were reacting to our show. We have done countless shows in the past and can almost always predict when a noticeable audience reaction would happen. The audience at Maybank that night applauded not just in the moments we knew they would but also during some unexpected ones.
During the show, Boboy and I would once in a while burst into song and dance and do synchronized movements. When we did , we would see the smiles on the audience's faces as they expressed a collective ''wow'' while clapping.
They probably found our few choreographed numbers quite novel and charming. They even applauded them. The right word to describe their reaction to our act was they found it "quaint." Maybe because of our age, they did not expect us to do them. But when I think about it, not too many young performers these days do much in terms of unison movements or even choreography during songs. Bands basically just stand there and maybe do the usual head banging while playing something fast and loud. They mostly do not put effort into doing footwork or body movements.
Since our songs are quite well known, they always elicit positive reaction from the audience. We made sure we performed the big ones. Among them were Pumapatak ang Ulan, Mahirap Magmahal ng Siyota ng Iba, Yakap sa Dilim, When I Met You and a few more. We only sang one song that was not familiar to them. It was the song Giliw, which we recorded late in our career. It is only available in CDs sold during APO's live performances. It was never released under any record company.
It is always a challenge to do an unknown song. I was so surprised when people started to applaud within the first 30 seconds of the song. Usually, material heard for the first time does not elicit much of a reaction other than a quiet appreciation and polite applause when it ends. At other times, people can even be oblivious to it, often talking while an artist is singing new unheard songs. This kind of boorish reaction shows that the song is not connecting to or engaging its audience. Thank God, they liked Giliw.
Sometimes, I marvel at how songs can move people in different ways. The song Batang-bata can make some people cry because they remember their parents singing the song to them. Or maybe it is because they sang it to their own children. Or maybe there are other reasons.
Hit songs are powerful, magical creations. They can bring you back to times and places and make you relive events long gone. They are the soundtrack of emotions and memories that you can play again and again. If the performers are good, they can get inside an audience's head and heart through songs and make them feel warm and wonderful. They can transport you to happy memorable places without you having to leave your theater seat.
As performers, I would like to think we still have some years to go before we seriously have to hang our coats and retire. In truth, I can only even speak of retirement theoretically. I can't imagine ever retiring. Why should a person stop doing what makes him happy and fulfilled? It sounds nonsensical.
Granted that we continue to have good health, we want to do this as long as we can. I will probably conk out with my boots on, so to speak.
But before that happens, there are more shows to do, songs to sing and audiences to be entertained. Catch us when you can.