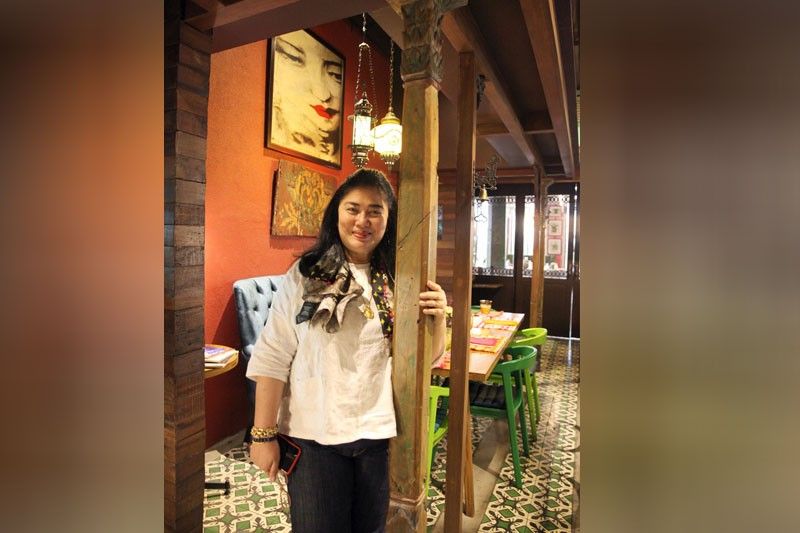 Ica Sebastian at Another Story, one of her five restaurants. All the decorations — from beams to doors and windows — came from her collection of oddities.
From all over Turkey, Afghanistan, India and Indonesia and other parts of Asia came her louvers, doors, window panes, pillars, beams, mirrors, grill works, doorknobs and handles.
For over 40 years, Ica Sebastian has been collecting all these as they always have a story to tell. And through her adventures over the years, people she's met along the way have become her bosom friends.
"I have always liked keeping things from the past. They have a lot of character. I think I started collecting because of my love of the aesthetic beauty of ornate things and they tell many stories," Ica Sebastian explains.
As owner of a range of restaurants — Tiger Leaf Asian Cuisine, Another Story restaurant, Cheesecake Fairy, Blue Ginger Dumbo Smoke and Cafe Voi La in Tagaytay — Ica's statement windows are clearly present in their bold, non-linear and unstructured designs. That's just how she likes it.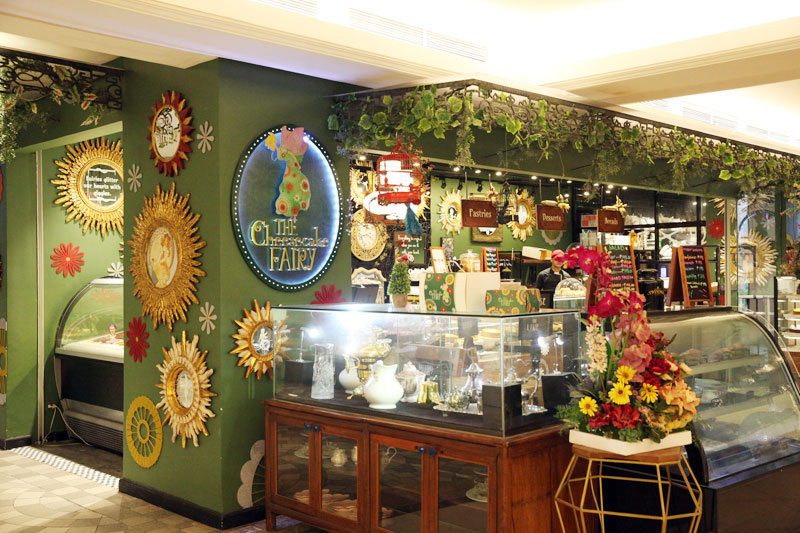 Ica's passion for decoration is displayed at all her restaurants. Her collection of windows, grills, shutters, doors, doorknobs and almost everything ornate is on display for everyone to appreciate.
"I love fairy tales and I try to make them come true to life in my restaurants through decor," Ica narrates. "In 1978, I was living with my parents in Hong Kong. It was the time when Hong Kong was beginning to progress. They were tearing down old Chinese mansions and we're just throwing away doors, window panes and wooden beams."
When she was pregnant with her eldest, Ica saw some wooden panels being thrown away. She asked for them and when the owner agreed, she carried the panels on her back. They were heavy, she was sweating and she was pregnant. But her determination and passion for old things provided her the adrenalin to take them home with her.
A lot of stuff she actually gets for free.
Ica's shutters, screens, windows and grills are permanently exhibited in all her restaurants. "I am intrigued by the designs, pagka-kalado and the lace-like work that goes into them. They come from Surabaya, Sumatra and other parts of Indonesia. I also collect posts and beams and they blend very well in the restaurant where they are tastefully put together."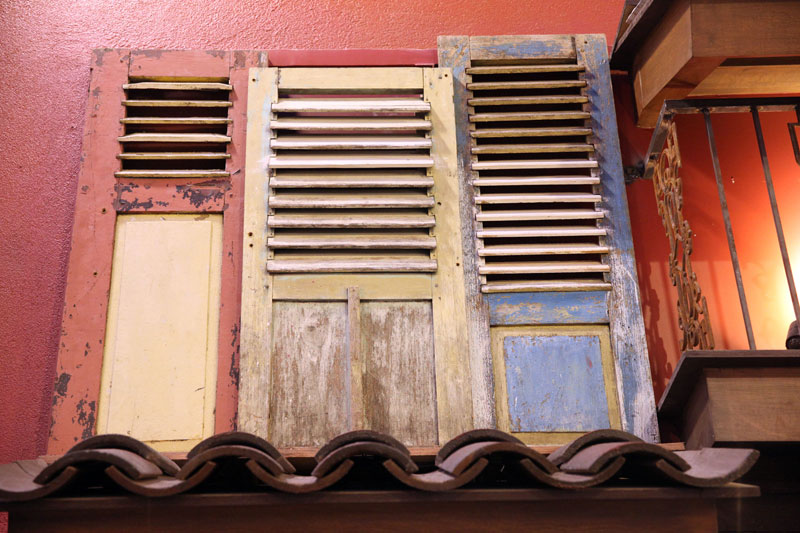 Window panels from all over the world are displayed at Ica's restaurants.
Growing up in a hacienda in the sleepy town of La Castellana provided the backdrop for her love for the whimsical and fantasy. She loved playing make-believe.
"They bring back childhood memories with sprinkled fairy dust," reminisces Ica. "We played princes and princesses or fairies and pretended the hacienda was a castle. There was no limit to our imagination."
Ica started working in an interior design firm that further instilled in her an appreciation for beautiful things. She recalls, "When my boss would be drunk and miss client appointments, I, the faithful secretary, would show up on her behalf. I would have with me my own portfolio consisting of my designs, which I had pulled together so I could make the appointment. And true enough, the clients would like them," adds Ica.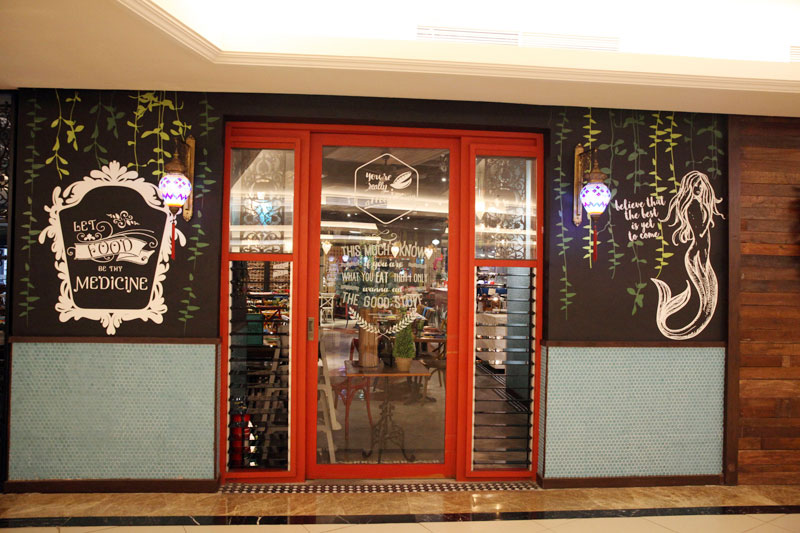 Windows that invite guests to have a meal inside.
Ica would choose furniture fabrics, as she did not have much knowledge of interior design — but she sure picked up quite fast.
Ica recalls that her parents would always take her to museums when she was growing up. "That's how my appreciation for beautiful things started. There was always that fascination for the artistic," she explains.
The dining table she now uses in her home, she bought when she was 18! Her father wondered why she would need such a huge table.
"Who knows? In the future, I might have six kids," she said back then. And true enough, she did have six kids who are now comfortably dining at that table today.
Ica considers Nena Tantoco her life mentor because it was through her that she gained further insight into the aesthetic of ornate things, where to find them and how to value them.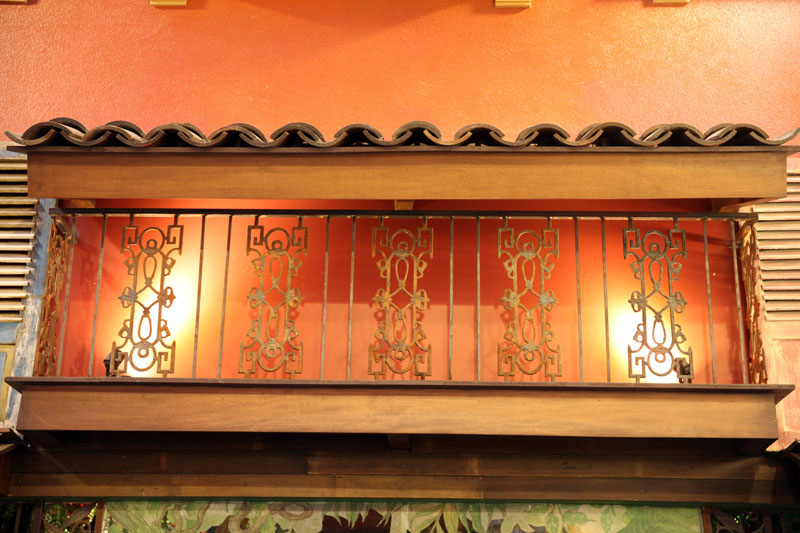 Ica's passion for decoration is displayed at all her restaurants. Her collection of windows, grills, shutters, doors, doorknobs and almost everything ornate is on display for everyone to appreciate.
"I worked with Charlotte Horseman as a secretary, I learned all about paintings and antiques. My mentor then was Charlotte herself, owner of the number one gallery, a pre-eminent 20th century Hong Kong art dealer at that time. I experienced dealing with all kinds of museums from small ones to the big one like the Smithsonian."
Four years ago, Ica found a space in Crosswinds, Tagaytay. "It was so quaint and beautiful. That was where I opened my first restaurant, Cafe Voi La, meaning 'cooking with leaves' in Vietnamese. Since then, I've opened five more," she shares.
Ica also loves traveling and manages to find stuff from everywhere. As a fearless traveler, her stories are aplenty.
"I was in Afghanistan and a guy who saw me looking at antiques told me about a house being torn down. I hopped onto his motorcycle to get to this unknown place as I really wanted to see the house. Then I realized that if something happened to me, no one would really know as I did not tell anyone where I was going. I prayed to God, bahala na po kayo sa akin! I ended up buying quite a lot of their exquisite stuff and that person has since become a very good friend. So whenever he finds something interesting he'll let me know and ship them over here," she vividly recalls. "As a consequence of all this accumulated stuff, the terrace at the back of my house has become a warehouse. My friends will tell me, 'Ang pangit-pangit,' daw."
She also has a secret warehouse where she keeps her odds and ends. Her children tolerate this and jokingly call her a hoarder, which she thinks is accurate. She gets very attached to her stuff and treasures, and relishes telling stories of how fascinating the process of acquisition was.
It's practically endless for Ica. But she also regrets having sold some of her collectibles, "kasi sayang." She moves on and acquires more of what keeps her going, happy and fulfilled!
As Brooke Shields said, "Don't waste a minute not being happy. If one window closes, run to the next window or break down a door."
* * *
E-mail the author at nikkicoseteng2017@gmail.com or text her at 0997-433-7154.