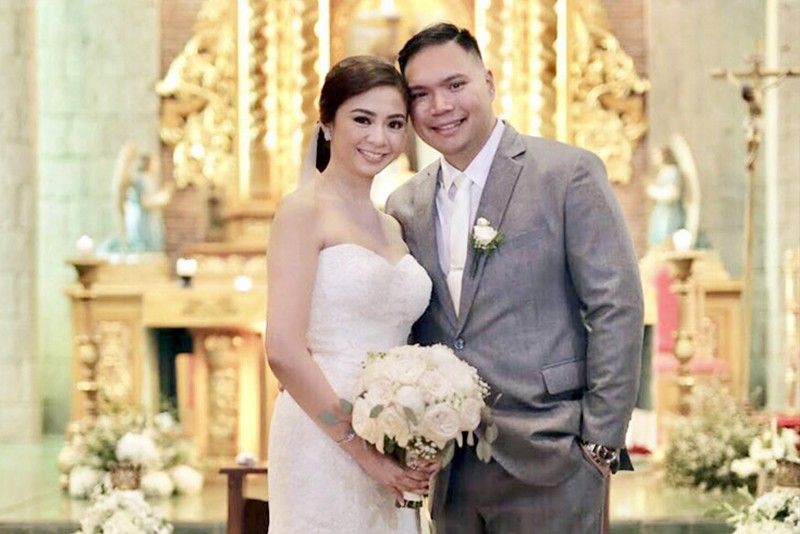 The lovely couple, Macy and Miguel Zozobrado
A romance that started with a beautiful smile
Jose Miguel Zozobrado & Marie Claire Magsino
MANILA, Philippines — Their beautiful love story started six years ago. Jose Miguel Zozobrado, Miguel to his relatives, and JM to his friends, was still connected then with a de luxe beach resort property, while Marie Claire Magsino, or Macy, worked for a local chain of hotels.
At a travel fair at the Rockwell Tent, Miguel was manning their booth and handling inquiries from potential customers for the beach resort he was working for when the beautiful smile of a "pretty young thing" across the hall caught his attention. Macy was standing beside another booth, also taking care of business for the hotel she was connected with then.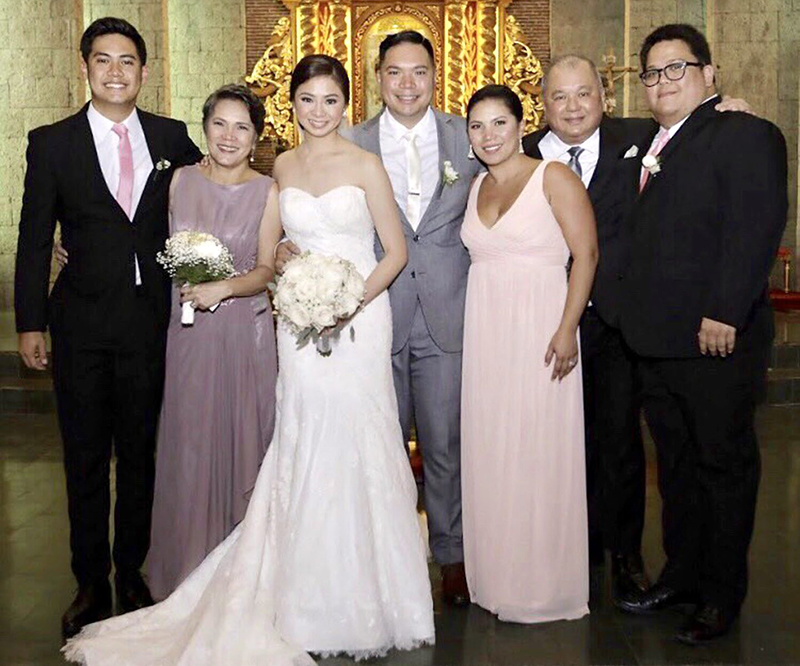 The newlyweds, with the groom's family: Ignacio
Lobregat

,

Ditas

Lobregat

, Bea

Zozobrado

Jordan, Bob

Zozobrado

and Juan Carlos

Zozobrado
It was just too valuable a chance encounter to pass up, so when workload at his booth eased up, Miguel immediately crossed the hall and made up an alibi just to be able to introduce himself to Macy. That's how, according to Miguel, "the awesome years" of his life started, leading up to their recent beautiful wedding which was highlighted by their exchange of affectionate, heartfelt vows. It was a lovely ceremony straight out of a telenovela.
The quaint San Antonio de Padua Parish Church in Silang, Cavite provided the exquisite background to Macy and Miguel's momentous day. Its marble floors, with the middle aisle showcasing an intricate pattern of contrasting colors leading up to the gilded altar, was the perfect setting for the wedding.
When the bride walked down the aisle with her parents, the groom, waiting for her in front of the altar and looking dapper in a made-to-order grey suit, was seen teary-eyed. Yet, people could easily detect, a triumphant smile as he fixed his gaze upon the approaching beauty who looked radiant in her dreamy Rosa Clara wedding gown.
While watching the couple exchange their "I do's" at the altar, everybody could easily feel their love for each other, especially when the groom vowed his eternal love for his bride and promised to "always be with you in dreaming of bigger and better things for us, because you have given me this privilege of living out my dream to be with you forever."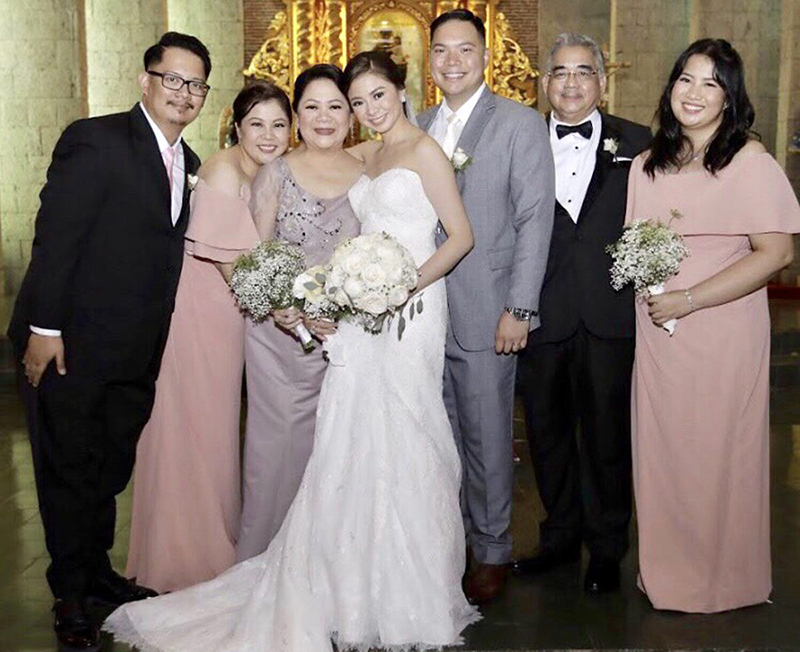 The couple, with the bride's family: Antonio
Magsino

, Dr. Patricia

Magsino

, Lorna

Magsino

, Rolando

Magsino

, and Hazel

Magsino
The bride, misty-eyed as well, also professed her profound love for the groom and punctuated her vow with "I promise to love you at your best, and love you even more at your worst."
The setting for the reception dinner at the nearby Angelfields Nature Sanctuary was postcard-pretty.
Looking back at how their beautiful life's journey started, Miguel declared that when he first saw Macy at that memorable travel fair, he was "dumbstruck by her beautiful smile which gave the Rockwell Tent a different kind of brightness, a brilliance that has given my life new meaning." For her part, Macy acknowledged how she loves "the way Miguel takes care of me, how patient he is with me, and how he always makes me feel special."
Listening to the giddy cooing of these two lovebirds and watching them express their love for each other, one could almost hear Debby Boone singing, "You light up my life, you give me hope to carry on…" as they tread on their brightly lit path together, hand in hand. It's heartwarming to know that all this was sparked by a beautiful smile.