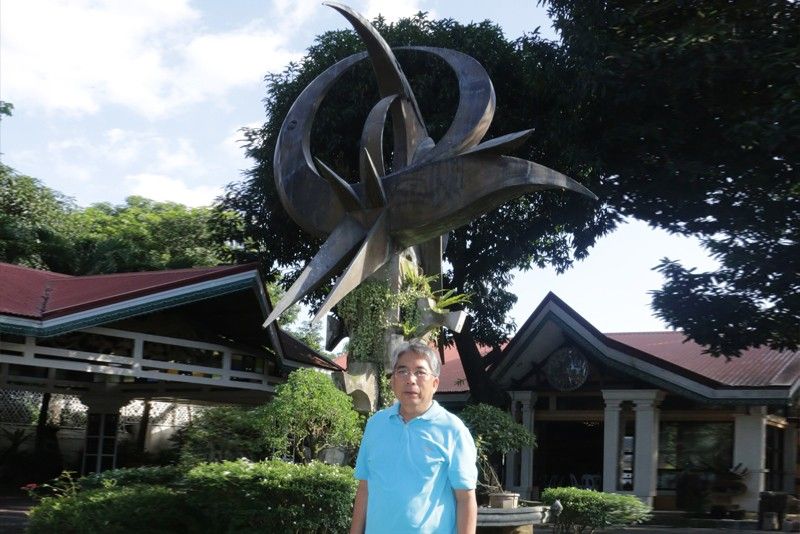 Demetrio "Jun" Bajet with his favorite sculpture of Imao, a 20-foot giant entitled "Infinity" that sits in the middle of the rotunda at Jun's Pulilan home
Finding art in Pulilan life
'I think exposing the young generation to the arts is important and essential,' says art collector Jun Bajet. 'Art shows us the many facets of life: sorrow, joy, anger, pride and many other emotions we often take for granted.'
His friendship with Philippine National Artist for sculpture Abdulmari Imao turned a bakery supplies trader into a collector of sculptures.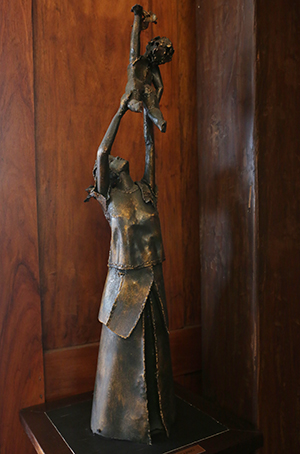 "Mother and child" by Solomon Saprid
Since 1966, Demetrio "Jun" Bajet Jr. of Pulilan, Bulacan has been collecting art and supporting many budding Bulakeño artists. The latest one is Avic Zamora, who is currently holding an art exhibit entitled "Heart and Soul" on the very day that we went to meet Jun.
Jun is known in his community as the "godfather of Philippine art" in Bulacan, where he and his wife Emma Bajet live with their collection of artworks both old and new.
"I love the stories the paintings narrate, the emotions they evoke and the colors! That's a visual feast," Jun begins.
The first painting he bought in 1966 was by Tony Pajaro, a fraternity brother from UP Plebians now based in Spain.
His collection of Imao sculptures is quite impressive, numbering more than 30 in Casa San Francisco, the rest are in his home.
An 18-foot sculpture, "Infinity," is easily his favorite. "It sits in the middle of a rotunda in our house in Pulilan. You really don't know where the sculpture begins and where it ends. I guess that's why it is an 18-foot work of wonder," Jun adds.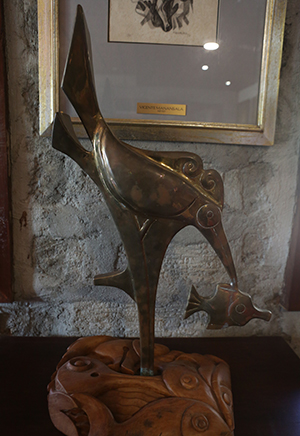 A sculpture of Imao
in the foreground and
a Vicente Manansala
painting
Indeed this mythical bird stands proudly with grace as if to keep eternal watch over him… ever ready to protect him from evil elements.
"Another one of the more unique Imao sculptures I have is a 16-seater table etched intricately in that typical Imao style. It stays at Casa San Francisco because it won't fit our house" he proudly shares.
Abdulmari Imao, a Tausug, was the first Filipino Moro sculptor and painter who was proclaimed National Artist of the Philippines for Sculpture in 2006.
"When I became friends with Imao and his wife, that was when my education in sculptures started. He inspired me to collect sculptures," Jun narrates.
"Abdulmari and I were brods at UP Plebians but I didn't know about it until after we became friends. He is older than I am kaya hindi na kami nag-abot sa college. We became good friends so most of what I have were given by him as gifts to me," Jun reminisces.
Going through Jun's gallery, the Imao sculptures consistently and creatively depict variations of the expressive and regal sarimanok, the mother and child of Ed Castrillo and terracotta churches of Anton Quisumbing.
Jun says, "If there is any sculpture I would love to get my hands on, it would have to be the 'Transfiguration' by National Artist Napoleon Abueva, who recently passed on. I think that creation is so inspired. Napoleon Abueva and Abdulmari Imao were actually very good friends and they had a few collaborations. I would love to see any of those works done by them. I think that would be amazing."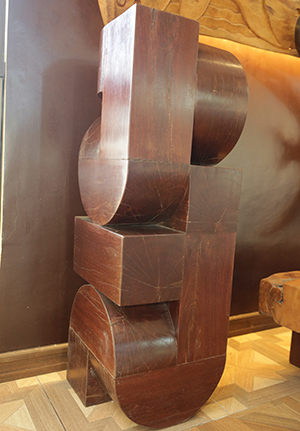 Arturo Luz
His collection is like a who's who of the Philippine art scene. He has sculptures by Eduardo Castrillo, Solomon Saprid, Arturo Luz, Abdulmari Imao, Guillermo Tolentino, Ricarte Puruganan, Raul Pantidol, Michael Cacnio, Anton Quisumbing and paintings by Vicente Manansala, Demetrio Diego, Mario Parial, Cesar Amorsolo and others.
Jun and Emma did not confine themselves to collecting art. Emma is heavily involved in education as well. One of their beneficiary institutions is the Bulacan State University. They also founded their own Bajet Castillo High School in Pulilan, Bulacan.
"I think exposing the young generation to the arts is important and essential. Art shows us the many facets of life: sorrow, joy, anger, pride and many other emotions we often take for granted. It keeps us humane. I think the arts give color to an otherwise boring world. That's why whenever I can, I like showing what I have and explaining it to students," professes Jun.
Casa San Francisco in Pulilan, Bulacan, a repository of fine pieces of sculpture, can be and should be the destination to enable us to see and appreciate what our artists have created. They have been so carefully selected by Jun Bajet for our appreciation and wonderment.
"In the future, I plan to build a small museum for the works of Demetrio Diego as well. He hails from Pulilan, Bulacan and I would like to do my part in showing the world that Bulacan has amazing artists too" he concludes.
* * *
Email the author at nikkicoseteng2017@gmail.com or text her at 0997-4337154.