The journey of Armie Jarin-Bennett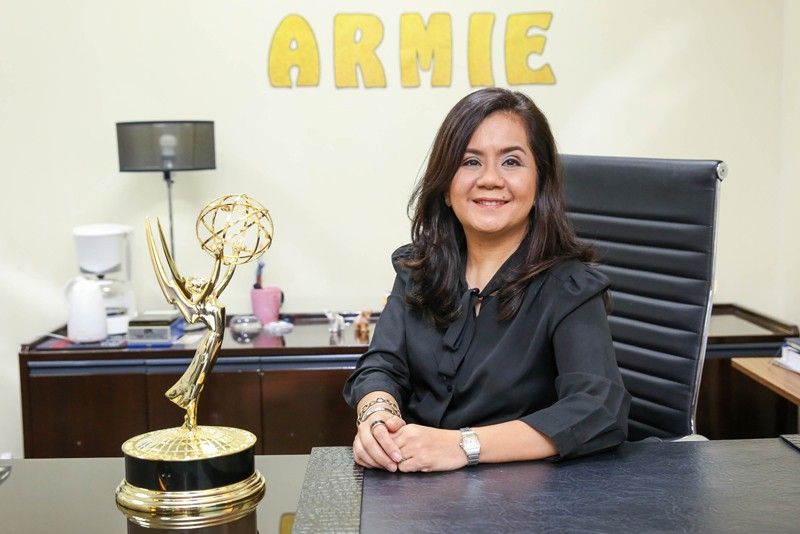 From Atlanta to Leyte to Hong Kong and back to Manila, she has reached her dream: CNN Philippines
Armie Jarin-Bennett reached a career high that most journalists only dream about: executive producer at CNN International, bringing the stories that really mattered to a worldwide audience that trusted the 24-hour cable news network implicitly, and winning an Emmy award along the way.
Armie then brought the dream with her all the way back home, where she is now president of Nine Media Corporation, the parent company of CNN Philippines.
"I help decide what we're going to do, from programming to marketing to newsmakers we need to interview, and making sure we're not just reporting one side of the story but all sides of the story," she says. "We still have a long way to go, but I'm confident that we're doing a good thing."
Armie didn't always have ambitions of becoming a journalist. She took Communication Arts at De La Salle University "because I was so bad with math," she laughs. "I like English — I was very confident with my language, reading and history in high school, so I thought, why not make my life a whole lot easier?"
Before she graduated, however, a friend of her sister's who worked at the radio station 99.5 RT said they had an opening for a radio announcer. She thought Armie could do the job, so Jarin auditioned and was hired.
Over the next eight years, she held a string of radio newscaster positions, broadcasting the top-of-the-hour news for stations like Kiss FM and Citylite 88.3, which would prove to be fateful: jazz station 88.3 was also an affiliate of CNN.
"The first Gulf War was happening and I became very interested in the news," Armie recalls. "I felt that I wanted to do more than the top-of-the-hour news; I wanted to venture into television. I wanted to cross over because I felt like I had done all that I could doing radio news."
She applied to local TV stations like ABS-CBN and GMA 7, but was turned down. "For a very good reason: when I applied at GMA I really didn't have television experience. So I said, I'll try CNN, because Citylite was an affiliate, and we ran a writing contest for journalism students. The prize was a trip to CNN Center in Atlanta."
Armie accompanied the winner to Atlanta and fell in love. "I was at CNN Center for three days and really wanted to work there. So when I came back in April 2016, I wrote CNN and said, 'I want to be an intern. I want to work there someday, but I'm willing to learn.'"
She kept writing, emailing, and persisting. "By October of that year, I was an intern in CNN Radio. I wanted to be an intern at Headline News, CNN International or CNN USA, so I hoped they would notice how hardworking and committed I was, and offer me a job eventually."
They did offer her a job as a production assistant (PA), where her duties included putting paper in the printer and getting water for the anchor. "It was okay with me — I got a working visa, my parents supported me because I said, 'This is what I want to do.'"
Armie was a PA for almost eight months before she took a writing test that moved her up to "assistant writer" position. (All CNN employees hoping to get promoted have to pass a writing test before moving to the next level.) After that she got another bump up, to "writer." She kept leveling up slowly — a process that took years — before becoming a producer at CNN Headline News.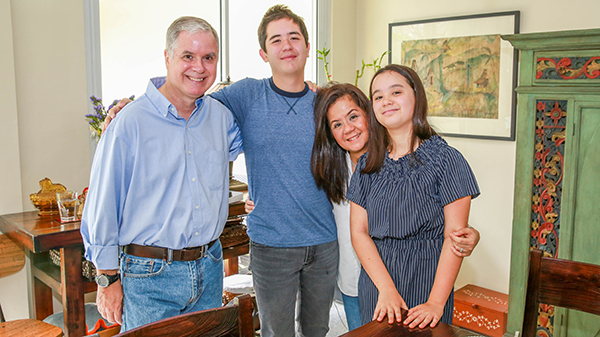 At home with her family: Husband John Bennett, son Henry and daughter Chloe
Romance in the newsroom
Along the way, she caught the eye of John Bennett, a director at Headline News. "When I first met her, in the newsroom, she was a little more reserved and quiet," John recalls. "She sat off to the side, but I could tell she was a smart person."
Once, he found himself going to Manila on assignment for a few days, and asked Armie for tips on what to do. She informed her parents that he was coming and, with typical Filipino hospitality, Armie's father met him at the airport, got him through customs, and even offered the use of a driver. Later, he was invited to merienda at the Jarin household. "Little did I know I was meeting my in-laws, that one day I'd actually be moving here."
Though they were still acquaintances at that point, John's esteem of Armie eventually turned romantic. "It didn't take her long to move up at CNN. I knew she was smart, that's why I latched onto her early. Because if I waited too long, she would never even talk to me," he jokes.
Their first date was a casual dinner and drinks on the Fourth of July. Neither wanted to make too much out of it, but after going out for a couple of years, that noncommittal beginning turned serious. The couple fell in love and wed civilly in the United States, followed by a Pinoy-style church wedding at the Archbishop's Palace here. "I wanted it to be a small, private ceremony," Armie says.
They had two kids who were born in the States: Henry, now 15, and Chloe, who will soon turn 13.
From 9/11 to Typhoon Haiyan
Armie's career shifted around the time of Princess Diana's death: she could see how a supervising producer called the shots in the newsroom — more than an anchor did — developing the story and putting reporters to work in the field, and realized that that was what she wanted to be: "A supervising producer, or what they call a 'video journalist,'" she says.
So she applied to CNN International and was hired. "That's where I matured, because I was a junior manager and then I became that supervising producer I wanted to be."
Her biggest story as a new producer was the biggest of them all: 9/11. "I was fairly new then, it was my day off, and I was watching TV at home. I realized, 'Oh, no, this is more than just an accident.' And so I rushed to the office along with everyone else."
She produced the 2 a.m. show, working through the night with no sleep. "That was when there was no social media," she says. "I realized how important media was in providing news that people could trust. As I got older, it became less about my passion for the news and advancing my career and more about the audience that I was serving. So that passion became compassion for the audience."
Over the span of 16 years she reached a pinnacle at CNN, becoming an executive producer who oversaw the newsroom and reported directly to the senior vice president of the network. She produced long-format stories like CNN's live coverage of the Egyptian Revolution (otherwise known as the Arab Spring), for which she won an Emmy.
"I was seated as the EP at the time it was nominated, and we won," she recalls. "But I would have preferred to have won for (our coverage of) Typhoon Haiyan (aka Yolanda) because that story meant more to me."
By that time Armie had actually moved on. Always one to look for new challenges, she'd applied for a job overseeing the content-sales business of CNN in Asia-Pacific and had moved with her family to Hong Kong.
"But because the news was happening in the Philippines, my former bosses and colleagues in Atlanta and Hong Kong called me to say, 'Hey, it's your country. We need you.'"
So she went to Tacloban to accompany no less than Anderson Cooper, acting as his producer, go-between and translator.
"It was very hard because it was the very first time that I was sent out in the field," she admits. "I'm not a field person; I'm more a newsroom person, working with writers, producers and reporters from the comforts of a control room. But being out there and seeing dead people, homeless people, people who lost everything they had — including the most important people in their lives — was one of the hardest things."
She remembers approaching a woman for an interview, only to be told in Tagalog, "Naku, my two children died, but don't interview me, interview her — her six children died."
While walking the streets she and Cooper encountered another woman cooking rice. They later discovered that her husband and child had died but the first thing she said to Armie was, "Uy, kain ka, o."
A colleague from CNN asked, "What did she say?" to which Armie replied, "She said, 'Let's eat.'"
"That is the Filipino way," Jarin-Bennett says, "and I think they were touched by that."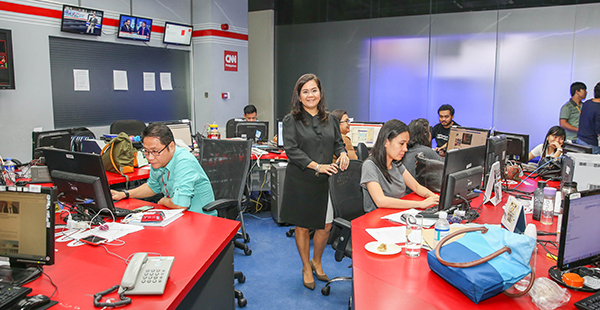 At the center of it all: Armie in the CNN Philippines newsroom
Coming home
The Jarin-Bennett home is a warm space decorated with souvenirs from the many places Armie and John have visited around the world, from Tunisia to Cuba. They joke easily with their two kids, Henry and Chloe, and the whole family seems close. Manila is home again, and the irony is that it was CNN that brought Armie back home.
She had been working in sales at CNN Hong Kong in 2013, but "I was envious, because CNN Indonesia had launched during that time. I felt, hey, we could also have CNN Philippines. So I pitched it to my colleagues at CNN and Turner." She needed a local partner, and Solar stepped up. "We wanted to launch when the Pope arrived" in January 2015, she says, "but we needed time to train our journalists and prepare our set."
CNN Philippines launched in March that year, and by November, Armie was helping run it. "My heart is really about storytelling, creating content, and I missed the newsroom setting, so when this opportunity presented itself I told my husband and kids, 'Let's move.'" They agreed, and so here they all are. "It's good to be home," says Armie.
From the start, she says the goal of CNN Philippines has been to focus on local content — up to 95 percent of reporting and programming. "We study who's doing what and if we can tell that story from the perspective of the Filipino, but it has to be relevant, accurate, fair and balanced."
CNN Philippines broadcasts not just hard news but also lifestyle programming, with cooking and travel shows featuring the likes of Gaita Fores and chef JP Anglo. A weekly documentary, Story of the Filipino, focuses on a single issue, such as Mayon's eruption and its effect on families. "These are stories that need the voices of the people," she says.
She's also intent on shoring up CNN Philippines' strong digital presence. "We're launching a new digital show called DigiPinoy hosted by Mitzi Borromeo about the way our lives have changed because of digital. I'm really passionate about doing more because that can serve a bigger audience." The network will also launch its first digital-only lifestyle show hosted by Angel Jacob, host of Leading Women (the show title has yet to be chosen).
Getting respect in journalism, however, isn't a given in this era of fake news. "It's hard, especially now, to make a mistake because social media talks back to you," she says. I mention her former colleague Maria Ressa and the Rappler fight, and she stresses that good reporting is a team effort. "Journalists need to work together and be consistent in their work, I think that's how you fight fake news," she says, noting that journalists have a responsibility to "educate people to know what is fake news and what isn't."
Her time at home with her family is precious and Armie appreciates the small things — cooking for her family, playing board games with her kids — things that help her de-stress from a world that can pound us with so much information. That's how she manages to call a truce between her professional and personal lives. "I'm juggling," she says. "When you're in the news business you're always on call. I'm still learning how to balance."
* * *
Follow me on Instagram @theresejamoragarceau and Facebook (Therese Jamora-Garceau).