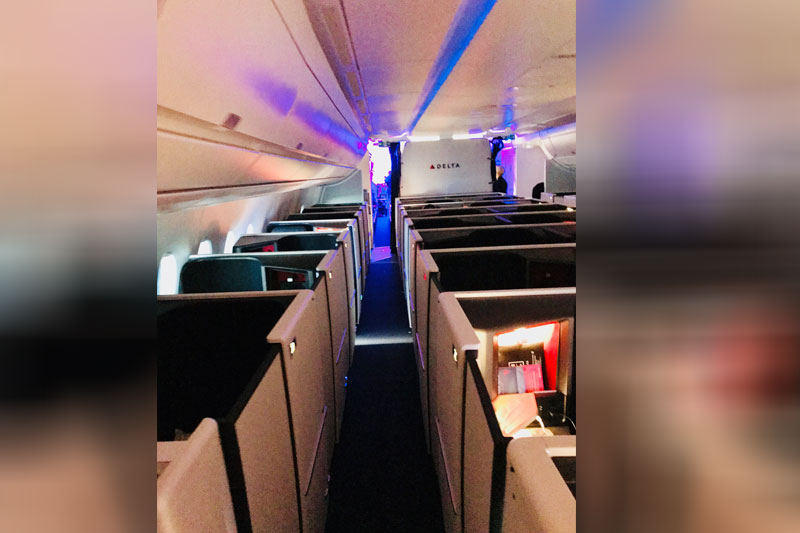 My own suite, my own door: Delta Air Lines' award-winning Delta One Suite offers added privacy with a sliding door.
LIFE & STYLE
(The Philippine Star) - January 27, 2018 - 12:00am
Last December, I experienced the future of flying.
It was on board Delta Air Lines' Airbus A350 and it wasn't just about the state-of-the-art aircraft.
For me,it was more about comfort, relaxation, chef-curated meals, and good service—everything I look for during a flight. I was told riding Delta Air Lines' A350 was "like floating on a cloud." I say it was like flying to dreamland. I have never slept this well during a flight.
At the Delta One Suite, what I had was exactly that—my own suite in the sky . This awardwinning space has a large seat that converts into a lie-flat bed, enclosed with a privacy door . It has thoughtful storage areas for a passenger's shoes, headphone, laptop and bag as well. It has larger space for my long feet.There is a hook for a coat which I used to hang my tote bag.
It has in-suite LED lighting that reduces feelings of jetlag.The pillows are soft and fresh, and the comfort cushion has a memory foam. And what kept me comfortably warm during the flight was the soft caress of a duvet, not a blanket that makes you feel itchy.
Each suite has a universal power outlet, high-powered USB port, noise-canceling LSTN headset and a high-resolution in-flight monitor, the largest among US carriers.I was told that Delta's A350 is the first long-haul aircraft with next-generation 2Ku Internet connectivity.
Delta is the first US global carrier to offer free mobile messaging. So I was able to do work as well as send real time messages to family and friends via iMessage, WhatsApp and Facebook Messenger. Delta executive Gina Campos asked me upon arrival in Manila if I did a lot of messaging during the flight. Yes, I was fully connected to the ground at 30,000 feet up in the air.
A long-haul flight is never complete for me unless I watch at least two good movies. From Narita airport in Tokyo to Detroit, I was able to see Blind starring Demi Moore and Alec Baldwin, and Beatriz at Dinner with Salma Hayek. Delta has a huge movie menu of the latest films as well as classics.
Airline lounges with their piping- hot soup, freshly cooked meals, assorted salads and fruits usually tempt me to get filled up before boarding a plane. But this time, the pescetarian in me couldn't resist the meals during the flight itself. From the Japanese menu, there were lobster, chestnut, shrimps and black cod misayaki. From the western menu, there were crab cakes and penne pasta.
I am a stickler for details and I did appreciate Delta's amenity kit for passengers: a miniature Tumi with Kiehls lotion and lip balm, among the usual stuff. The socks were not the predictable black, but striped blue and grey for some hip factor. Cute!
Here's another unique thing about Delta: Your luggage is safe with this airline.Instead of the barcode hand scanning which has been the industry standard since the 1990s, Delta uses the Radio Frequency Identification (RFID) baggage tracking technology. It's a first for US carriers, providing real-time tracking of luggage. "With this new technology, scanners use radio waves to capture highly accurate and consistent data on an RFID chip embedded in the luggage tag, assuring transparency," according to a Delta report.
From being the best in the aviation industry, Delta aims to fly higher as the best in customer service brand. For me, the face of Delta is not just that of a smiling flight attendant. It is also the caring airport staffer ready to guide you during departure,stopover and arrival.
It is a good-looking face.
* * *
Follow the author on Instagram and Facebook@milletmartinezmananquil. Email her at mmmananquil@philstarmedia.com.