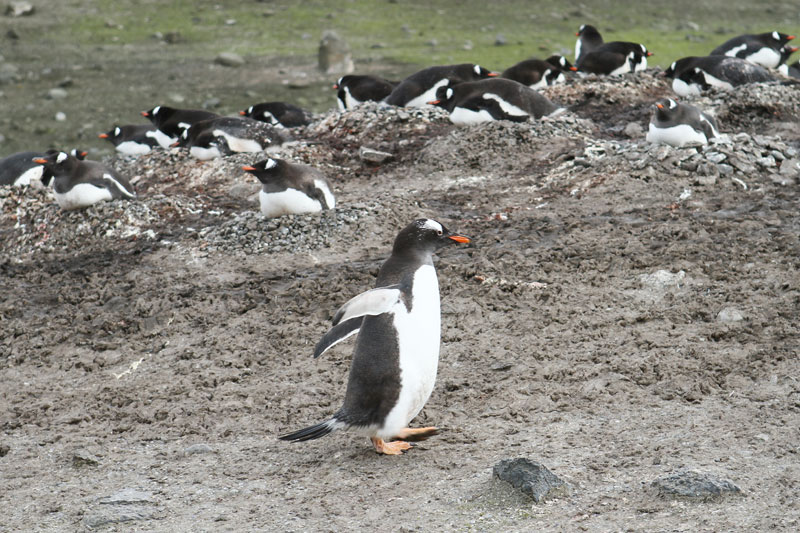 Penguins, penguins all around.
Journey to the bottom of the world
Whaaaat? Why?" exclaimed some of my friends when I told them I was going to Antarctica. This was often followed by "Ooooo, envy!" Well, they were right to be envious; I was going where very few Filipinos dared to tread.
Why Antarctica? I had no answer. I didn't know myself. I would quote George Mallory (who took part in the first three expeditions to Mt. Everest) and say, "Because it is there." All I knew was that for almost two years I had this yearning to go to Antarctica. Perhaps it was because I had been on six out of all the seven continents and only Antarctica was left. Or perhaps it was because 2016 was my 80th year. A bucket list wish?
After hearing me dreaming out loud for two years, my husband (who was one of those who thought I was crazy but decided to love me, anyway) showed me a copy of the Wharton alumni magazine, which advertised a trip to the Antarctica on the National Geographic Explorer. What could be more perfect? Eighteen months later I was on my way with my son and daughter.
The trip started out not very auspiciously. We spent 12 hours in the Miami airport waiting for the flight to Buenos Aires that had been scheduled to leave at 8 p.m. We ended up leaving at 10 a.m. the next day. After an eight-hour flight to Buenos Aires we boarded a smaller aircraft for Ushuaia, Argentina, which is the southernmost tip of South America. After a catamaran tour of the Beagle Channel in the Tierra del Fuego region, we boarded the ship.
We had been warned about the treacherous Drake Passage. This turbulent body of water was named after Sir Francis Drake, the first Englishman to sail around the world, who first reached the place "where the Atlantic and the Pacific Oceans meet." We would have to cross it to get to the Antarctic Peninsula. For 36 hours, we were tossed about in what later we were told was the second-worst storm in 10 years! On a scale of 1 to 10 it was a 9! Meals were served in the cabins because nothing would stay on the tables but it didn't matter because we were too sick to eat. Finally, the kindly ship's doctor gave me a shot of something. I had envisioned myself standing at the bow of the ship with the wind blowing my hair and the waves lashing at my feet. I slept through it all.
Having survived the Dreaded Drake, though, the trip was everything the brochure had promised, and more!
The National Geographic Explorer is a state-of-the-art ice-class vessel and although it was not luxurious it was very comfortable. My favorite spot was the observation lounge, which allowed panoramic views of the magnificent scenery. We took most of our lunches there — sacrificing the more varied choices in the main dining room for the unbeatable ambiance of having nature all around.
The ship has neither a casino nor theater but it has a passenger lounge where, every day before dinner, passengers gather for cocktails to listen to the Expedition Leader give a round-up of the day's activities and the plan for the following day, and to hear and see fascinating audio-visual presentations by naturalists and specialists on various aspects of Antarctica — the water, the ice, the wildlife, the geology, and interesting stories of its history.
The most entertaining presentations were given by Peter Hillary (son of Edmund Hillary who, with Nepalese Tenzing Norway, was the first conqueror of Mt. Everest). He had many interesting and funny stories to tell about his father and their experiences.
By the way, the crew of the ship was 90 percent Filipino, including some of the officers. Needless to say, we got extra-special treatment. Some of the crew, with the sponsorship of their supervisor, put together a band led by two male singers. They entertained the passengers and provided dance music on the penultimate night in Antarctica. They were a hit! They were so good. I was so proud of them!
After the infamous Drake Passage, we sailed in smooth waters along islands off the Antarctic Peninsula known as the South Shetland Islands. We were literally at the bottom of the world!
Our first landing, which we did taking small rubber boats from the ship called Zodiacs, was on Barrientos Island of the Aitcho (HO) Island group, where we had our first (of several) walks along penguin-nesting colonies. We took Zodiacs to visit the islands or the mainland, the glaciers, and get closer to icebergs. On our fourth day in Antarctica, the ship plowed right into some fast ice (ice attached to the shore) in Wilhelmina Bay and we climbed from the ship right onto the ice while it was snowing!
Each place we visited was different. Each experience different. There were islands, like Paulet Island (our second landing) with hundreds of thousands of Penguins nesting on their nests made of pebbles, protecting their rather large eggs. We could spend hours watching those interesting and appealing animals. There were places like Devil Island where we hiked through the snow and saw more penguins. We saw three different species of penguins (Gentoo, Adélie, and Chinstrap). We saw huge lazy elephant seals lolling on the ice and curious baby sea lions.
We plowed through ice floes to see the icebergs up close and personal, although not too close because there was always a chance that the icebergs would upturn unexpectedly and crush anything beneath it.
All the trips were led by the naturalists who gave information and answered questions and made sure of the safety of their groups. Before we landed on the shore, these naturalists would also check out each landing area and mark off the paths that would be safe to tread and that respected the wildlife. The snow covered very uneven ground and there was always the danger of falling into a hole, or worse, a crevice. Once, the passengers were allowed to row kayaks by themselves or in pairs to get even closer to the icebergs.
Another activity, which I declined to partake of, was the Polar Plunge —although my son did it. Those who wanted to could jump from a platform extending from the ship into the icy waters! It's amazing how many passengers did it, including women in bikinis! They were in the water just a few seconds before they were pulled out, but still!
Cruising was also fascinating. We plowed through ice floes, saw all kinds of birds (petrels, cormorants, skuas, gull, and terns), passed magnificent icebergs and glaciers of different shapes, sizes and colors — blue, green and pink. Sometimes we would see a block of ice floating by with a single lonely penguin as its only passenger.
We stood out on the bow in freezing cold wind and falling snow to watch for whales. We saw humpback whales and killer whales up close. The ship's captain was very skillful in maneuvering the ship so that we could get as close as possible and follow the whales as long as possible.
"So, what is there in Antarctica?" I was asked when I got back. What is there? Nothing. Nothing except snow and ice and indescribable beauty. Nothing but soul-stirring silence broken only by the sound of the penguins calling to each other, or the sudden crack of part of an iceberg falling into the sea or the cry of a whale spouting water as it comes up for air. I told a dinner companion that I thought no photograph, no matter how exquisite, could replicate actually being in Antarctica. He looked a bit surprised. I found out later that he was a National Geographic photographer. Oops!
I know I am extraordinarily blessed and one of my greatest blessings has been to be allowed to feast my eyes on God's amazing works of art.