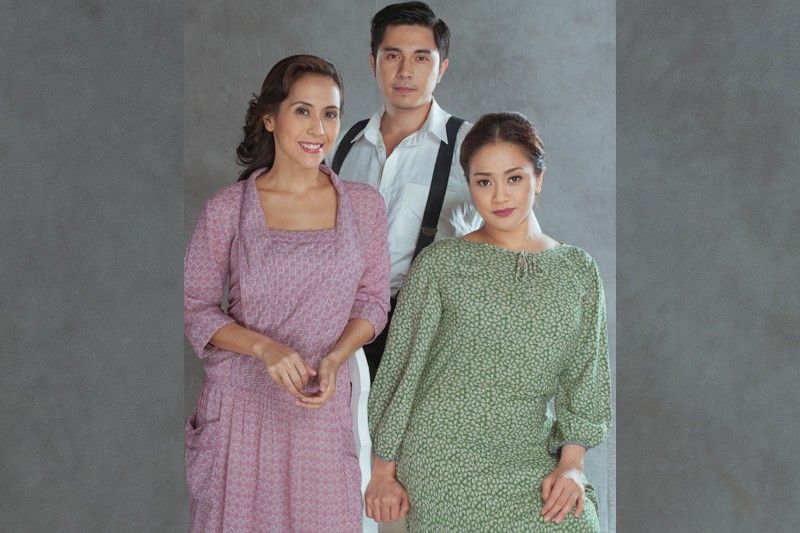 The main cast of Ang Larawan, from left: Rachel Alejandro as Paula, Paulo Avelino as Tony Javier, and Joanna Ampil as Candida, who won Best Actress.
From Passion Project to Cinema Classic
By now, many are familiar with Ang Larawan's fraught journey through its run of the just concluded 43rd Metro Manila Film Festival (MMFF): from being pulled out from theaters on its second day, to being declared Best Picture, to receiving the rallying force of millennials who campaigned that it be returned to cinemas, to its triumphant return, to becoming one of the art highlights of 2017. No one, however, had a more direct experience of that rollercoaster ride than its producers — Rachel Alejandro, Alemberg Ang, Celeste Legaspi and Girlie Rodis — who made it possible for such a behemoth project to take off.
Ang Larawan is Culturtain's first outing as a film producer, and Girlie admits that "all of it was all suntok sa buwan. We never produced a film before. We didn't know where to start. Lakas ng loob namin. We were talking (to investors) about a project we were just about to do."
Celeste and Girlie had experience producing original musicals for the stage, and they felt that their thrust for this new venture should still be in keeping with their goal of spreading our unique Filipino culture with high entertainment value. "It's only when we finally came with the name Culturtain, where 'culture' and 'entertainment' meet, that we were able to find the proper word for our vision," Celeste says. "And we really felt Ang Larawan was the first film that we should show."
When Rachel was staying in the US, she mulled over the idea with Girlie of bringing Ang Larawan as a stage musical to fellow Filipinos abroad. "Wouldn't it be wonderful to bring Ang Larawan — which has been a musical closest to my heart, to Tita Girlie's and Celeste's as well — to Filipinos all over the world?" Rachel says. The longer they thought about it and began crunching the numbers, "it just seemed that it would not be a feasible project to do. That's really when the idea of making it into a film came about. It would probably be more expensive, but it would also be more doable."
They were confronted by naysayers, those who thought "we were a little foolhardy because it would take mega-millions to produce a movie like this," says Girlie. The first organization they approached was the First Pacific Leadership Academy, which had the honor of screening the film early this year. As an educational entity, they could not invest money in the project but they provided a sizeable grant. "The minute we ended our presentation, one of the teachers who belongs to the board said: 'I could use this movie. I teach in high school. This is the best time to plant seeds.' It's like we were talking to an audience that was already convinced even before we sat down."
Soon, the producers were approaching people who they thought could appreciate, if not share the same passion that they had for, the project: from Carlos Santamaria, Rachel's husband, to Ben Chan, whose campaign for Bench, "Love Local," resonated with the spirit of the film. Another investor was the brother-in-law of Jim Parades, whom Girlie chatted with during the wedding reception of Celeste's son. Somewhere in the conversation, Girlie mentioned she was raising money for their passion project. "At the end of our conversation, he told me: 'Can I still invest?'… Money whisperer daw ako. Maupo lang daw sa tabi ko, mahihingan ko na daw ng pera."
Girlie's pitch to would-be investors went something like this: "What do you do with your money? You buy a house, you buy a car, and many years from now, the car will be in a junkyard, the house may or may not still be there, but your name will be there on our movie forever." It worked.
For a project that entailed a big budget, it made sense that they partnered with a big studio. While they were approached by a few, the producers could not entertain the idea that they would lose much of the creative control of the film. Celeste, for one, won't allow ad-libbing or cutting corners with the music of the film. "If I'm strict with the words, I'm more strict with the notes," she says.
The funds came from those who saw the film as an advocacy. Lily "Mother" Monteverde lent her studio for rehearsals. Ernie and Ria Villavicencio, who own the house where the movie was set, only charged for the days they shot, and not the entire duration the crew was on site. They were able to accomplish the interior shots in 15 days, but had to add a couple of days to have footage of Intramuros "to open up the film a bit."
While the casting was one of the most commended parts of the film, it had to take hours upon hours of rehearsals before the right dynamic between the characters, especially between Paula and Candida, could be established. "My first experience of playing Paula was with Celeste in 1998," says Rachel. "When I was cast in the movie, I thought it would be easy, because it was like I knew it, all of the songs I knew and memorized, as though a day had not gone by. I was confident that I would nail it, that there was no problem."
But director Loy Arcenas had a different idea with regard to Paula's characterization — more obsequious to Candida, played by Joanna Ampil, who is the more level-headed of the two sisters. "There had to be lots and lots of work with Jo (Joanna), because the dynamic between the two of us had to really work," Rachel continues. "That was the hardest because our personalities, our relationship to the material were different. She was coming in as a new person, but she had to be the one in control, she had to be one in charge, and I (who knew the material more) had to be the one looking like I was just following her lead."
But the nagging self-doubt evaporated when Rachel finally watched the screening at the Tokyo International Film Festival. "It finally made sense to me why I had to make all those adjustments, because in the end, nawala na ako completely, and it was just the character. There is no 'Rachel' stamp on it at all. That's what I can claim, I guess, is my success. It's a complete new portrayal."
Joining the MMFF was something that the producers debated. While it would definitely showcase the film, "on the other hand," says Rachel, "baka another time of the year would have been better, because then you don't have kasabay na Filipino film." But when the producers finally knew the film had a slot in the festival, they went into overdrive. The cast made the rounds of TV talk shows, meet-and-greets with fans and interviews, sometimes multiple times a day.
Aside from the glowing reviews both online and in print, what propelled Ang Larawan was a young audience clamoring for the film when it started to slip from the cinemas. "The audience, especially the young people, just started talking about us and brought us back," says Celeste. "And they didn't even wait for the awards. By the time we got the awards, ang lakas-lakas na sa social media."
This was the demographic that the big players thought Ang Larawan, a period film, wouldn't be able to hit. "It's so funny that when we were presenting to a major studio," says Girlie, "they didn't think talaga that the young people would take to it. They thought its audience was limited." It was young people, says Celeste, who are the reason they did the film in the first place. "Our vision talaga is to make a film for the young people… This is the better scenario: minahal nila yung pelikula. Personally, I wanted them to be introduced to the words of Rolando Tinio, to the story of Nick Joaquin, how it talks about our history, how it talks about the country, and hey, they really accepted it completely."
Now that the festival has ended, the producers are focused on bringing the movie to as many schools as possible around the country. While it may not have, say, the same energy that drove Heneral Luna to blockbuster status, "what we have is a lot of converted movie-goers," says Girlie. "I'm always surprised there's one, two, three people who approach me to thank me for producing the movie. They are so grateful. Their faces really light up when they talk to you." For the producers, there is nothing that matches the joy of the one certainty they have of the film: "We made a classic," concludes Girlie.
* **
For more information such as upcoming screenings, merchandise, and possible tie-ups, visit www.anglarawan.com.