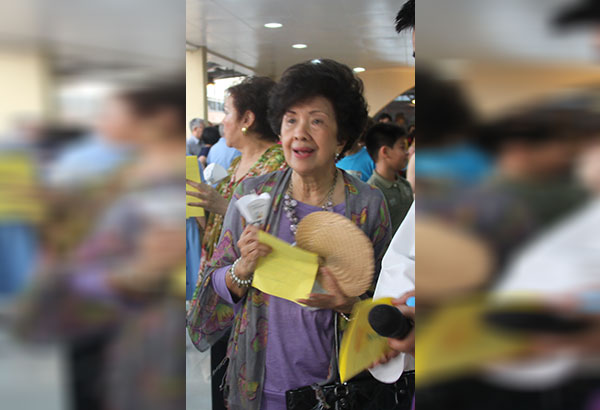 Belen collector Gigi Carlos
My Christmases always had the following must-haves: a Christmas tree, Santa Claus, parols, lots of gifts, midnight Mass, the dinner and the belen.
Over the decades, my Christmases have become more simple as most of my sources of the most valuable gifts, namely grandparents, parents, ninangs and ninongs, aunts and uncles, have passed on.
Parols have become less intricate and less colorful, food more simple and easy to prepare, gifts more standardized and impersonal. Destinations more expensive, Christmas cards close to extinct, replaced by social media; lights have almost disappeared, friends and relatives are now farther away. Midnight Masses more crowded and not at midnight anymore.
Christmas lights are almost nowhere to be found except in higher-end communities, commercial establishments, malls and main thoroughfares.
But the belen is here to stay. It is the most popular symbol of Christmas as Christians celebrate the birth of Jesus Christ in Bethlehem.
For over two millennia, different countries have come up with their own versions of the Nativity but in essence still showing the Holy Family, the Virgin Mary, St. Joseph and baby Jesus in a manger with angels, shepherds and their sheep — at times a donkey and farm animals — and the three kings bearing gifts of gold, frankincense and myrrh.
Christmas has also become rather commercialized and different cultures have come up with an unlimited version of the belen, thus Gigi Carlos has been able to collect hundreds of them.
"They come in so many shapes, colors and materials and I just cannot help but buy them when I see something unique. I must have them," Gigi begins.
Gigi bought her first belen from Catholic Trade on Tayuman St. when she was a second-year high school student at Maryknoll, then located on Pennsylvania St., now Leon Guinto, Manila.
"Every Christmas we would walk to PGH (Philippine General Hospital) to bring gifts and cookies to the children in the wards and sing Christmas carols to them. It was a beautiful way to celebrate Christmas, it felt that we were making children from poor families very happy. When Maryknoll moved to Katipunan Ave. in Quezon City, the nuns decided that we would continue bringing gifts and singing Christmas carols. PGH was quite far from the new Maryknoll campus so we just had to do it in front of a live belen," Gigi shares.
Gigi was married in 1964 to Doding Carlos and had her first baby, Ana, in 1966. She asked her husband to buy a belen for her to celebrate the coming of Ana into their lives. In 1969, she had her second baby, Jigs. So she bought another belen. "By the time my last baby, Reina, came in 1972, I started collecting na talaga. So I was able to acquire 30 pieces from 1969 to 1972," she proudly recalls.
Starting in 1988, Gigi would invite her friends to her belen open house during the months of September, October, November and December, and they would be treated to a merienda.
"After my husband passed away in 2001, there were no more open houses. It was my niece Marides Fernando who suggested I open a belen museum in Marikina Riverbanks after na-Ondoy ang collection ko in 2009. We opened the Belen Museum on the first Sunday of Advent in 2013," she adds.
One of Gigi's favorites is the belen made of coconut husk from the Philippines. She also likes the belen made from Mt. Pinatubo ashes mixed with resin, a life-size belen, and one made from old keys. She also has in her collection many, many more from different countries made of porcelain, wood glass, terracotta, etc.
Happiness and fulfillment are what Gigi feels when she sees families visiting the museum and appreciating her collection as parents explain the meaning and significance of the belen to their children.
It is rather sad that the spirit of Christmas has taken many severe twists and turns. Today, many people have even stopped saying "Merry Christmas" and instead, have replaced that greeting with "Happy Holidays" or "Season's Greetings," which have taken away the essence and meaning of Christmas. The usage of the new greetings has been justified as being politically correct. I find that a rather poor excuse, though. Christmas is Christmas and let it not be called by any other name.
And the belen as the fitting symbol of Christmas should not be replaced by any other as indeed the birth of Jesus Christ changed the world.
* * *
Email the author at nikkicoseteng2017@gmail.com ot text her at 0997-4337154. Photos by Ernie Penaredondo