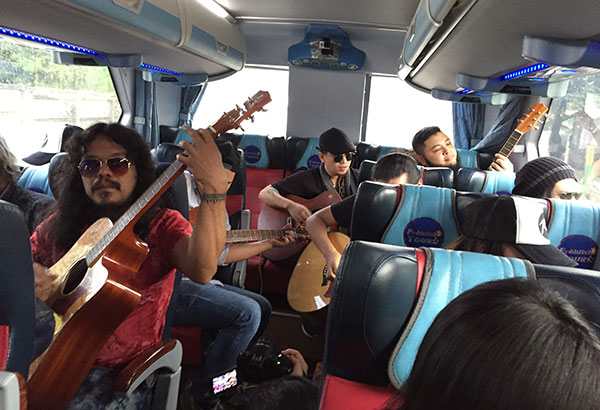 Magical mystery tour: Pinoy musos passed around RJ acoustics and lit up several jams on the road to Cavite.
RJ Guitars has attained what many thought was an impossibility: crafting Philippine-made electric guitars for export that even the exacting Japanese prize.
Too much.
The magic bus was parked outside Dusit Thani, and a parade of rockers — you could tell they were rockers from their omnipresent shades, black T-shirts and wild hair — came from nowhere to file onboard as though summoned by some invisible cue. The indestructible Joey "Pepe" Smith lit up a fresh cig just before stepping aboard, but a nearby hotel security type shook a finger and said "Nonono." Sir Pepe stamped it out with a rock'n'roll flourish.
Too much.
Ramon Jacinto ("RJ") Jr. was there too, shepherding people inside the "RJ ROCK BUS," which was set to roll its way to Dasmariñas, Cavite, for a factory tour. It was the RJ Bacchus Japanese Guitar Factory, owned by Ai Music Inc., set up in the PEZA economic zone to manufacture around 100 finished Bacchus electrics per month for export to Japan, from wood to final guitar peg.
It's kind of been a dream for Manila's "Mainman," RJ Jacinto Sr., now celebrating his 30th anniversary in the guitar business, to make axes that stand up to rigorous international standards. RJ and son are happy to announce that this little factory in Dasmariñas has been quietly doing just that (well, not so quietly — the sound of jigsaws and lathes in the factory is quite noisy) for almost a decade now. But, as RJ Jr. explains on the bus, it wasn't until the resulting guitars received international approval — being shown off at last year's prestigious NAMM (National Association of Music Merchants) show in Anaheim, California, then being featured in The Guitarist UK and on Harmonycentral.com — that father and son felt more confident of their exportable product. Validated, in a way.
"When we showed up at the NAMM show I thought, 'Let's be serious, there's every great guitar in the world here,'" recalls RJ Jr. "The most knowledgeable guitar people in the world are here, so I didn't know what to expect. I was very pleasantly surprised because they loved it. They said 'Where is this guitar from?' and I said, 'The Philippines,' and they look at me kind of funny. They say, 'What's this wood?' I said it's mango wood. 'It's beautiful.' They'd never heard of that before. 'Mango?' And we joked, 'Yes, you can even eat it.'"
The Bacchus guitars exported to Japan use locally sourced mango wood for the bodies ("I don't know why mango has a better tone, it's like a lighter koa wood"), locally made parts and signature hand-wound RJ Mystique pickups. The Bacchus models ape familiar Fender and Gibson shapes and retail to Japanese buyers for between P40,000 to P50,000. By RJ's logic, if the Japanese are ready to accept these locally made guitars at that price, why not make a version that Filipinos are willing to buy? "We want to push forward that this is the Philippine standard," says RJ Jr., "so we plan to launch our most prestigious models, the Philippine Standard Custom Shop guitars."
The plan was to head to the Cavite factory, check out their manufacturing facilities, then head back to RJ Bistro on the bus where the musicians would coalesce into jam sessions onstage. Sounded good.
Someone hauled out a tub of Red Horse and Pale Pilsen and positioned it right in front of me. One o'clock in the afternoon seemed not too early to start dipping in.
Too much, the magic bus.
Bus, beer and blues
You get the sense that, no matter where Joey "Pepe" Smith is (and he might not be 100 percent sure himself), he is fully committed to having a good time. This spells "rakenrol" in the Philippines, and it was good to have him aboard the bus, despite having suffered a recent stroke, ad-libbing lyrics about "going to the RJ factory" as musicians passed around RJ acoustics and played blues vamps. (I was in the back, with the noisy ones, which has always been my preferred place on buses.) The musicians included Sir Pepe, Robin Nievera, bassist Buwi Meneses of Parokya Ni Edgar, Chris Padilla of Hilera, Bryce Zialcita from Taken By Cars, plus some of RJ's sponsored bands including Electric Sala. Guitarists Francis Pitas, Spanky Esquejo and Marco DeLeon held court; later, Razorback's Manuel Legarda and Tirso Ripoll showed up for the factory tour.
In back of my seat were some boisterous youngsters, four males with long hair (much like that kid from Room) ranging in age from 12-14. One of them was arpeggiating like crazy, running scales on an RJ acoustic. This, it turns out, was Square One, one of RJ Jacinto's sponsored bands, whom the band's manager Richard (also the lead singer Kyle's dad) described as the "first professional kid rock band" in the Philippines. Having played 100 or so gigs with a setlist that includes Deep Purple, Metallica (we got a taste of Master of Puppets on the bus) and Parokya Ni Edgar hits, the dad's description didn't seem like an empty boast.
Welcome to the machine
At the factory, tour host Migs Rabat (assisted by hostess Jamie Fournier) gives his spiel: "We loved what Bacchus were doing, and they were looking for factories abroad. We said, 'Why not set it up in the Philippines?" The Filipinos put their soul into making each guitar, which wasn't there in other countries." When choosing a factory site, the warm climate and relative proximity of the Philippines to Japan also helped. "They understood us, because they knew we had it in our blood. It's a perfect partnership, because with the Japanese system and discipline, you'll see the quality of labor we have and guitars we're able to make." Proof of this is that the Bacchus guitars, even sold in Japan stores, bear the imprint: "Made in the Philippines."
Before entering the factory floor, I ran into Robby Mananquil and his fiancée, actress Maxene Magalona. Robby is the guitarist-composer of the band Pulso, which was launched a few years ago by Toti Dalmacion of the Terno label. Later I heard that Robby's own album will be launched soon. When and where? He gave a cryptic smile. And I heard that his jam session at RJ Bistro and that of Robin Nievera's (Martin's son) got some of the best feedback.
Inside the Bacchus factory, we met Japanese co-owner Mr. Suguru, who took us through four stations: wood selection and cutting; sanding; painting and buffing; and electronics installation and tuning. Yep, about 40 or so Filipinos were hard at work cutting guitar shapes out of thick slabs of wood and hand-lathing them to remove knotty edges; stacks of half-completed necks (with the Bacchus logo) were awaiting fret installation; in one area, a woman was applying dark varnish to a mango wood body ("The mango guitars are really exotic and striking, I think that's one thing the NAMM people liked," says RJ Jr.). There's a lot of finishing going on here, and it's a meticulous process. They take their time with each step because the Japanese market is very exacting. While RJ's other factories around the country may sell 5,000 acoustics and electrics per month, here, they settle for completing around 100 pieces. (Bacchus, a division of Deviser Co. Japan, has quite a rep among those who prize handmade guitars in the Land of the Rising Sun.)
We start picking up beautiful models from the rack, almost finished. A blonde SG-cut model catches my eye. "Filipinos are crafty, but they can lack precision," says Migs. "Imagine if you were to train talented Filipinos to use precise standards and methods. This is what would come out."
Forty-thousand pesos for a guitar a self-respecting Japanese player could love?
Maybe not too much.
In which Sir 'Pepe' Smith describes seeing a double rainbow
The tricky part was getting back home during rush hour. More jamming ensued on the bus, the beer ran out, and we stopped at a roadside quick stop for people to smoke, get snacks. Behind the bus, a rainbow lit up the clear sky, which I pointed out to Joey "Pepe" Smith. He shrugged and toked his cigarette, told me he once saw a "double rainbow" in Sagada, probably while filming the Pepe Diokno movie Above the Clouds. The Filipino rock icon raised his eyebrows while mentioning it. I had no doubts that Sir Pepe has seen… many things… in his day.
We landed back in Manila amid a slow trickle of traffic (after three-plus hours). It had been a full day of guitars, guitars, and more guitars. For Filipinos, playing music is probably a coping mechanism to deal with headaches and traffic, and the musicians gladly proceeded on to RJ Bistro for food, drinks, and the final jam of the night. Rock and roll around the clock. That's the RJ way.
* * *
Visit facebook.com/rjguitarcenter, Instagram @rjguitarcenter, or #rjrockbus2017 for more photos and video of the trip. Visit or follow me at @scottgarceau.