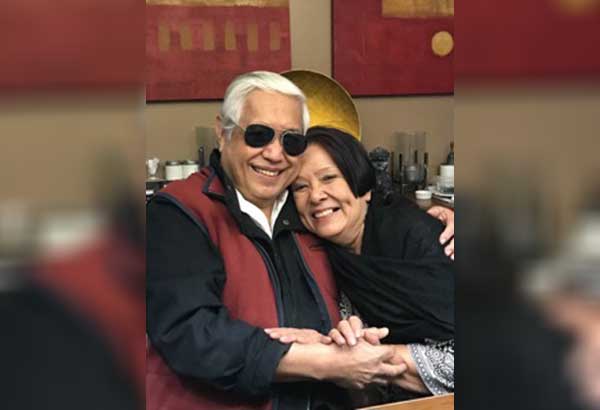 The author Barbara Gonzalez and lawyer Loy Ventura sing at The Happy Place in Bel Air on Wednesday, Oct. 25.
This October it will be on the fourth Wednesday of the month — the Oct. 25. That's when I will have my next singing show at the Happy Garden Café on #56
Jupiter Street, Bel-Air, Makati at 6 p.m. and all of you are invited, particularly . . . I hate the word seniors. . . those who still love to laugh out loud, sing as if no one is listening, dance like nobody's watching and be grateful for all the years and all the memories. This will be my third show there.
The first show had 98 people watching. We had to turn away others because we were scared that they would not fit in the restaurant. The second show had 117 people. Miraculously it was possible. I don't know how many people we will have this time. We never know until the day itself. But please come and sing with us. Our pianist, Edwynn Castillo can play almost any song unless it was popular before 1940. Edwynn, after all, is in his late 40s only. He can play by ear, change key, follow your rhythm, read notes, he can do almost anything. He is a wonderful pianist. He is there because during our time, the romantic era when wonderful love songs were written, the karaoke had not yet been invented.
Please come and bring your friends who like to sing. You pay a gate fee of P300, order dinner and wine, if you want. The Happy Garden Café has a fair selection of red or white wine or you can order cocktails. I just had a ginger mojito and loved it. Please make reservations so you are sure to have a table. You can call Happy Garden Café directly. Their landline is 824-5440. Their cell phone is 0927-684-4724. Their e-mail is hgc.sunshineplace@bizugroupe.com. I assure you we will have fun.
I like to sing only old songs. Please, if you think I am a great singer disabuse yourself immediately. I have been taking lessons for over a year now but still don't sing very well. But just as I like to write from the heart, I also like to sing from the heart. All of my life I live from my heart. I will only pause for a while when my hearts stops beating but if I haunt you, I will also haunt you from my heart. Promise.
Remember the picture that I hope is showing now? It first was published last February to announce the opening of our show at Punta Bar. Truth is that was taken when for the first time in my life I had seven shots of tequila and was quite intoxicated so I had to put my head on somebody's shoulder and someone took the picture, posted it on his Facebook with a phrase that referred to me as his "current flame," which was not true. I was just a recklessly drunk woman but many of my friends thought the man in the picture was my boyfriend or Significant Other or romantic partner. No, the man was Loy Ventura with whom I had discussed my idea of setting up a sing-along place for seniors. He encouraged me to sing publicly and helped set up the place.
You probably also remember that in the beginning the show was put up by Loy and his Harem, this bevy of women who surrounded him. Then I was the latest addition to that crowd. In the end all manner of weird things happened. The show ended and I dropped out of the Harem. One day I might write about why but not now.
Loy is a retired lawyer who loves to sing. He has a beautiful voice, is a wonderful singer. In late May he entered the hospital because he had a small stroke. That was when we had to stop the show. After that I didn't see him anymore. Then one day many months later we ran into each other and quickly became friends again. I invited him to sing with me in my last show and he agreed.
At this next show we will sing more songs more or less together. So if you come and watch I can guarantee you one not-so-good singer who sings with her heart — that will be me — and another excellent singer who is still learning to sing not just with his mellifluous voice but also with his heart. Don't worry, over time I will bloom into a better singer and Loy will sing from his heart.
But that's not the point of the show. We want to encourage people with memories and favorite romantic songs to come and sing with us. That's part of the formula for aging gracefully together — to laugh out loud, to sing even if out of tune, to dance even if awkwardly and to be grateful that we are all still alive.
* * *
Please text your comments to 0998-991-2287.