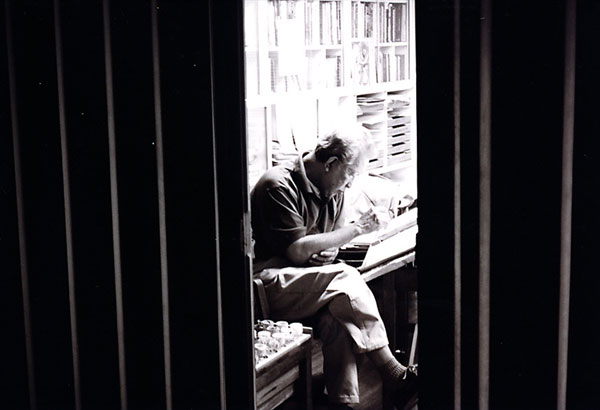 The grand old man of visual arts, Mauro Malang Santos (Jan. 20, 1928-June 10, 2017)
Malang: An Intimate Portrait
Wearing a simple white shirt (sometimes in reverse, since the tag irritates his skin) and a belted pair of shorts, his back curving slightly, his forehead punctuated by dashes of thick silver eyebrows, Malang in photographs is a study in devoted attention, the slim brush between his fluent fingers conjuring his iconic figures in explosively colorful palette that have become some of the country's most canonical.
When news of his death broke on the morning of June 10, tributes immediately poured in and, in the age of social media, became viral. From broadsheets to online news portals to social media, praise for his body of work was routine and expected. After all, Malang, aside from Arturo Luz, was the grand old man of Philippine visual arts, a pivotal figure who shaped its landscape in the second half of the 20th century.
But just like any great artist, Malang (born Mauro Malang Santos on Jan. 20, 1928 in Santa Cruz, Manila) was a man of many contradictions. He was reticent with his affections but vocal with his opinions; a man who enjoyed the camaraderie of the arts community but also gained a few enemies along the way; who openly criticized the selection process of the National Artist Award but wouldn't mind if it was bestowed upon him — an honor that eluded him until his death.
To his family — composed of his four children Steve, Simon, Sarah and Soler and their respective spouses Liza, Gloria, Jimmy and Mona; his grandchildren and great grandchildren — he was simply, "Tatay." In a eulogy, Sharon Ruiz Alvarez, the eldest apo, said: "Gusto kong magpasalamat kay Tatay for setting the bar high, not for being a great artist but because he was a great grandfather to me; a great father, a great husband."
"We actually live in a compound, so Tatay wanted us to be together, the whole family," said Mark, one of the grandsons and Sharon's brother. "I would say, yung first family, kaming magpipinsan. Sobrang close namin because of that. Nakikita ko si Tatay, sobrang vina-value niya yung family. Di ako alam kung yun yung reason kung bakit si Tatay loved painting about family, but nakikita ko na yung value ng family, sobrang important sa kanya."
Sharon mentioned that Malang was "so generous you don't have to say anything. If he knows na may kailangan ka, ibibigay niya kahit hindi mo hingiin. In the case of my family, my father had a stroke when I was third year high school. I know for a fact that Tatay put me and my siblings through school."
At home, Malang didn't allow the mantle of being one of the most respected artists to rest heavily on his shoulders. "Ang tingin niya sa sarili niya hindi siya sikat," said Soler, Malang's youngest child. "Hindi niya feel yung stature…Yung iba siguro akala mayabang siya…Napaka-simpleng tao ni Tatay. Ayaw niyang kumain sa fancy restaurants, gusto niya pagkakain sa labas, three M's: masarap, mura, at marami."
Soler, who followed in the footsteps of his father just like the eldest, Steve, recalls how, during the height of brownouts in the '90s, Malang would bring them to the nearby McDonald's to cool their heels as they waited for electricity to return. It was in these daily trips that Soler, who was at that time raising his own family, became even more close to his father, who had earlier entrusted to him the management of West Gallery, which continues to be one of the more established art spaces in the country.
For someone who didn't have formal training in an academy, Malang did exceptionally well. One can say he redefined the idea of artistic "success" in his own terms. After a stint of one semester at the UP College of Fine Arts, and earlier, arts training under Teodoro Buenaventura of the so-called Amorsolo School, Malang joined the Manila Chronicle at the tender age of 19 as a cartoonist and illustrator. It was in the pages of the broadsheet that "Kosme the Cop, Retired" — the first-ever English-language daily comic strip — would come to life. Soon, he would marry Mary San Pedro and start his own family.
"Sinasabi ko nga, diyan ako grumaduate sa Chronicle 'College' eh," Malang mentioned in an interview with a morning show. "Wala naman akong schooling, at diyan naman ako natuto…Unti-unti lang. It took me 20 years to reach itong kalagayan ko."
The idea to venture into the fine arts via painting came to him when he started documenting artist studios for This Week magazine. In one of those visits, H.R. Ocampo quipped, "Ba't di ka magpinta?" Malang then started making small works — tentative steps — and showed them to the master. Fluent in draughtsmanship, he learned how to color from Liborio Gatbonton, his art director, who would ask him to fill out the newspaper cartoons.
Malang's breakthrough came when Philippine Art Gallery featured his first solo show in 1962. The exhibition consisted of small renditions of barong-barong (shanties) in gouache, which he had accomplished during his breaks with the Chronicle. Two years after, Malang became a full-time artist and never looked back.
Inevitably, Malang's newspaper practice informed his art. Not classically trained in the representation of the human body, Malang's basis of figuration was cartooning. "For me, what is unique is that his art emerged 'slowly' from graphic design, comic strips, cartooning and illustration," said Cid Reyes, one of the country's esteemed art critics. "Coming from that source and coming up with (something) very painterly, that's what I enjoyed most in his work."
Others were dubious about this source, if not outright dismissive. One influential art critic mentioned that whether you are rich, middle class, or poor, if you want to give a gift to someone, give a Malang. "It's a very loaded compliment or insult," said Reyes.
But something about Malang's figures — mostly of round-faced women in local dresses and balancing something on their heads against a background of joyous, lyrical colors — caught the attention of the public. Collectors clamored for his paintings. No house, during these times, would be complete without a Malang.
Prolific and assured of a sustained success, Malang, however, could not keep his observations about the art world to himself. "Sobrang opinionated niya," described Soler. Each time Malang would start pounding on his typewriter, Soler knew that his father was firing up an article, ready to dispatch it to his editor friends. One time, Malang was up in arms against an artist-dealer who sold Amorsolos, which Malang claimed were forgeries. "Hindi siya natatakot sa mga ganun."
When the Saturday Group had internal squabbles, Malang was there to mediate or intervene. "Malaki po ang utang na loob ko kay Sir Malang dahil isa siya sa mga nag-endorse sa akin na maging presidente ng Saturday Group," said the artist Buds Convocar. "Nagkaroon po kasi ng kaunting problema na kailangang palitan yung presidente."
"He was irreverent, he was outspoken," said Reyes. "In the real world, those (qualities) are counted against you."
Possibly the most controversial of his responses was his issue with the selection process of the National Artist. He was particularly incensed when the artist himself had to provide documentation for his possible nomination. In 2005, when the committee was vacillating between choosing Malang and BenCab, they chose the latter, who was the darling of the art world. Malang, "who had stepped on some toes and who was quite vocal about the National Artist Award," mentioned Reyes, didn't make the cut.
"Kung walang halong pulitika ang National Artist, matagal na po naging National Artist si Sir Malang," said Convocar. "He truly deserves that accolade… Kahit na sinong tanungin mo, ang alam nila National Artist si Sir Malang, dahil na-reach na niya yung status na yun."
"Kung nakilala lang ang totoong pagkatao ni Kuya," said Emilio Sarreng, Malang's trusted employee who was treated almost like a son, "siguro, National Artist na siya ngayon. Marami siyang natulungan eh. Para sa akin, para sa mga kasamahan ko, para sa mga empleyado, siya yung pinagaling na pintor. Siya yung National Artist para sa amin."
"Hindi ako National Artist ha," Malang would sometimes say with his characteristic self-deprecating humor. "National Book Store artist ako."
In 2002, Malang suffered the loss of his wife, Mary, but managed to spring back. What eventually tempered and cooled the coals of his fire was illness. In the late 2006, Malang's demeanor began to change. "Tumahimik bigla," Soler recalled. "'Ano kayang problema nito?' Pina-checkup namin kay Dr. (Joven) Cuanang." The diagnosis was Alzheimer's. Malang was to paint, mainly in pastel, for another two years before totally giving up the art that he had nurtured — and that had nurtured him and his family in return — for almost half a century. "Yung last 10 years yung pinaka-grieving period ko kasi start na ng Alzheimer's."
"When Tatay passed away nung Saturday, we hardly cried because we felt Tatay needed to rest because he was so tired," said Sharon. "And he did live a full life — 89 years. Pinahiram siya sa amin, sa maraming tao, ni Lord nang ganoon katagal."
For Soler, the designated protector of Malang's legacy who will soon embark on a book project about his father's life's work, the most important lesson that Malang imparted to him was his attitude towards work. "Talagang sobrang sipag. Dun ako nabilib eh… Hindi para mabenta. Talagang gusto niya. Gawa lang siya ng gawa."
Orphaned now by the hand that made them, these works constitute the enduring gestures of Malang who translated the exuberant and optimistic qualities of Filipino life into shapes and colors that almost always bring a smile to those who see them. "He has entered immortality," Reyes said. "All the human foibles and egos, it's the art that will outlive them, will transcend them, as it does."