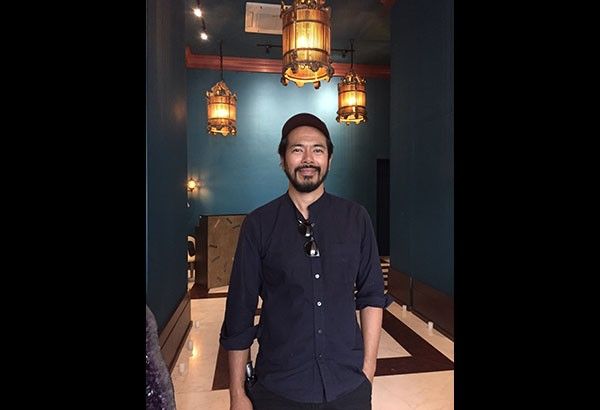 Jake, rattle and roll: Jake Macapagal is a Filipino actor with one foot in Manila, another in the second season of HBO Asia's supernatural Halfworlds, premiering tonight.
The demonic side of Jake Macapagal
You knew him first, maybe, as the struggling provinciano, coming to Manila's urban jungle to find work in Sundance Award-winning Metro Manila. Now he's entering another urban jungle, this one filled with mythical Asian creatures, joining the cast for HBO Asia's second season of Halfworlds. Filipino actor Jake Macapagal doesn't come across as the dark type, but the character he plays — a Filipino-Spanish maligno who has wrestled his way into becoming ruler of the show's Citadel — is certainly colorful.
Set in Bangkok for its second season, Halfworlds Season 2 continues to track an underground society of demons occupying the hidden pockets of Southeast Asia, seeking power through an ancient artifact called The Kris.
Moving from Indonesia's demonic demits to Thailand's peesaj, the show explores Asian folklore in a modern setting of urban decay, populated by a multi-ethnic cast that now includes its first Filipino — Macapagal, playing Kaprey, a cigar-smoking underworld kingpin. Mixing graphic novel, horror and manga influences, Halfworlds is HBO Asia's first locally-produced series. Will a third season shift focus to Manila's aswangs and manananggals? Only time — and ratings — will tell.
We spoke with Macapagal about the show and the experience of making Metro Manila at a BGC eatery called Green Pastures — about as far from Halfworlds' urban decay as you could get.
PHILIPPINE STAR: On Halfworlds, does your character speak Tagalog?
JAKE MACAPAGAL: No, I didn't speak Tagalog, I spoke the way I speak, in English. But here's the thing: there are Thai characters who speak Thai, some who speak Mandarin, but we are all spiritual characters, so we are all supposed to understand each other. (Laughs)
Thank God for subtitles! What's the key to your character, Kaprey?
Anyone who's broken is interesting to watch. The show's set in Bangkok now, a group of teenagers are trying to find out if there are spiritual beings. And I play a fugitive — I left the Philippines and become imprisoned, and I escape and become a kingpin. Since he's a fugitive, there's a history there: Kaprey became competitive with Barata (Arifin Putra), a character from Season 1.
Why do you think fantasy/horror plays so well for Asian audiences?
Well, first, horror movies make money. Producers understand this. For Bangkok, there are also younger characters, they learned that from Season 1, the demographic skews younger.
How'd you get the call from HBO?
I think Metro Manila put me on the radar, and maybe Erika North (HBO Asia head of programming and production) had me on her radar. She rang me, I asked her about her accent — she's half-Pinay. She said she'd love it if I could join them. I said are you kidding? I've been waiting for something like this! I believe in their vision — they want to give voices to Asian stories, Asia's always the last to have a voice in the global market.
How much mileage did you get from Metro Manila, which won the Audience Award at Sundance 2013 and got you a British Independent Film Awards nod as "Outstanding Newcomer"?
I'll be very honest, it was the first time for me — getting such attention from Sundance and BIFA, and then getting an agent in Los Angeles through ICM Partners. My imagination was bigger than what it is: I was reading for things like Mission Impossible: 5 and Ant-Man, and I was like, wow! I was getting so excited about it, but I didn't realize there was so much work to be done — you know, the priorities are given to union (Screen Actors Guild) actors. As an Asian client, my agent will push me forward, but if they're looking for a particular Asian with a neutral kind of accent — I mean, they're ready for Javier Bardem, or Gael Garcia Bernal with a Spanish accent, but how about a Filipino with a thick accent?
What does it take for a Filipino actor to get noticed in Hollywood?
A lot of it's perseverance, talent's a plus, and accent-reduction classes will help, they will require that in readings — unless it's specifically a Fil-Am or Filipino character. The conversation is happening, to have more of those Asian roles, but while you're dreaming of that Hollywood dream, you accept things, you take other jobs, you don't wait around.
You also did Kid Kalafu (about a young Manny Pacquiao) and Aswang here. What other projects do you have going on now?
I'm excited to be working on Erik Matti's On the Job streaming series, from Globe Studios.
Have you stayed in touch with Metro Manila director Sean Ellis?
I'm quite close to Sean. They named their first child "Manila," so I know Manila will always be special to him. Directing Metro Manila, Sean wasn't judging my choices, he gave me the confidence to explore the role. When I'd do my lines in Filipino, and he didn't understand the language, he was more intent on capturing what was in my eyes, the emotion. He had a lot of trust in me, which gave me confidence. I wanted to make sure the character had depth, like a thinking man. You don't want to marginalize the character.
If there's a Season 3 of Halfworlds, will the locale shift to the Philippines?
(Laughs) I can't speak to that officially, but I have a feeling. The interest in doing a season in the Philippines is big. If there's a third season — I don't know if it will happen, but there were feelers — if this season goes well, there might be a season set here. Hopefully. We'll see.
* * *
Halfworlds Season 2 premieres on HBO tonight, 9 p.m.