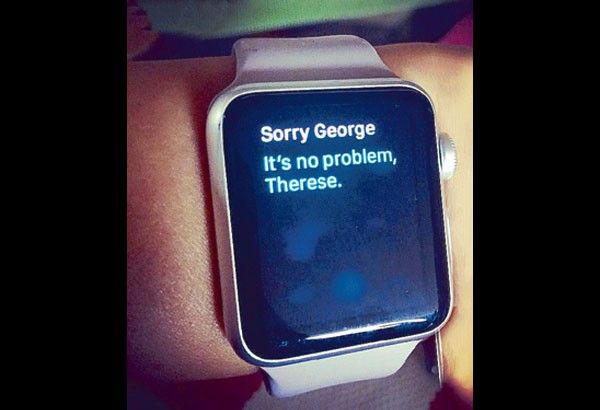 My wife's Siri started up when it heard her talking about George Michael's passing. (Spooky!)
Something eerie about Siri
True story: My wife's Siri accidentally triggered on her Apple Watch while we were discussing the passing of George Michael on Christmas day. Somebody (on Facebook, naturally) had made a somewhat tasteless crack about it being the Wham! singer's "Last Christmas," and my wife shared the joke — then immediately thought better of it and apologized to the now-beyond-the-mortal-realm Michael. "Sorry about that, George," she muttered heavenward.
That's when Siri piped up.
"No need to apologize, Therese."
Eerie, Siri. Are you actually channeling the afterlife? Is Siri a portal for pop star séances? And does Steve Jobs know about this?
My wife tried taking a picture of her Apple Watch, but the photo of the Siri exchange wouldn't come out.
She tried the experiment a few more times before I asked her to stop; this Siri medium routine was starting to creep me out.
Okay. Christmastime is actually a good opportunity to explore mysteries and paranormal phenomena — we are talking about a day that celebrates God coming to earth in human form, after all — but this little Dec. 26 tale was just plain weird.
We all wonder what happens when we pass on, transit to the next dimension and so forth. And since Siri was giving unsolicited messages from beyond, I decided to look further into the matter: to see how much Siri actually knew about the cosmos.
I started with the fact that it's been an unfortunate year for iconic pop stars, with George Michael joining a pantheon that in 2016 also included David Bowie and Prince. (We could make cracks about Michael managing to slip in under the 2016 banner, just barely managing to join the ranks of the "cool" rock stars who passed, but I won't. Siri may never forgive me.)
Instead, I asked Siri what David Bowie was up to these days.
"Siri, what's David Bowie doing right now?" I asked my iPhone.
After some cogitation, Siri came back with "Here's what I found," followed by a Wikipedia entry clearly stating that Bowie passed away early in January 2016. Rather than reassuring words from the great eternal, I got the Internet. Suddenly, it seemed Siri was no longer channeling the beyond. It was just giving me pat "look it up" answers.
Undeterred, I asked, "Siri, what happens when we die?"
This yielded even more Internet opinion, offering up Huffington Post articles on the very same topic. I was starting to doubt Siri's Magic 8 Ball powers.
I decided to get philosophical. "If a tree falls in the woods and nobody's around to hear it fall, does it make a sound?"
This one seemed to confound Siri, which simply cleared its throat and responded, "I'm not sure I understand."
"Who made you?" was my next query, hoping to tap into uncharted self-awareness waters.
Siri had the answer in a jiffy, though: "I was designed by Apple Laboratories in Cupertino, California." It sounded smug.
Sometimes Siri's answers are cryptic, or tongue in cheek. I asked, "Siri, when will the world end?" and it answered: "Whenever they start building that intergalactic bypass."
Ask Siri to name its favorite movie, and it will say Blade Runner (calling it "a very realistic and sensitive depiction of intelligent assistants."). So Siri is a bit warped.
My daughter tried a little math: "Siri, what is zero divided by zero?"
Siri knew math, though. "Imagine that you have zero cookies and split them evenly among zero friends. How many cookies does each person get? See, it doesn't make any sense. And Cookie Monster is sad that there are no cookies. And you are sad that you have no friends."
In other words, according to Siri, "0 divided by 0 = indeterminate."
I decided to swing back to musical matters. My sister-in-law asked the musical question, "How do you mend a broken heart?", hoping to channel the late Robin Gibb of the Bee Gees. Siri didn't take the bait, though.
I thought up a metaphysical poser that I hoped would either stump Siri, invoke its sense of humor, or bring George Michael back online.
"Siri, is it true that guilty feet have got no rhythm?"
Siri thought about this for a long time.
Finally Siri answered: "Interesting question, Scott."
Siri likes to keep you guessing.
* * *
(Postscript: A few days after writing this, we all heard that Carrie Fisher had passed away. I tried my phone's spiritual connection one more time: "Siri, can you say hello to Carrie Fisher?"
Siri was coy this time. "I couldn't find Carrie Fisher in your contacts. To whom should I send it?")