The unedited Erwin Romulo
Erwin Romulo has left the building. For his last issue of Esquire Philippines, of which he is the founding editor in chief, Erwin Romulo asked to be interviewed in place of his final editor's note. Here now, with his permission, is the extended interview.
PHILIPPINE STAR: How long have you been in the industry?
ERWIN ROMULO: Almost 20 years in publishing. I got in The Philippine STAR in 1996. I was 20, if I'm not mistaken. I think they hired me because of my name, but good thing I had talent. Not everyone did. (Laughs)
Did you always want to be a writer?
At 14, I knew I was gonna be a writer. I've always wanted to be a writer. It's kinda corny but my influences were George Orwell and all these people who wrote journalism. I like the rock writers a lot, like Greil Marcus. I just thought that rock 'n' roll was a good way of tackling so many things, while still in the prism of music. I always wanted to be under lifestyle rather than the hard news. I always thought that I could do a lot more away from the frame of just reporting the news. If you look at my career now, it's one foot in publishing, one foot in music. It's the same sensibility. I was always restless and I never wanted to put myself in a box so I tried all kinds of journalism. When I read Nick Joaquin's dictum, "There are no bakya topics, only bakya writers," I took that to heart. I wrote about everything.
What did you write early on in your career?
I did a day in a life of a security guard for Young STAR. I went with the security guard in our village during his tour of duty, went home with him, and stayed the whole day until he went back to work. And I just chronicled it. Just by watching people, you can really, really learn a lot. I learned empathy. I think writing should be about empathy. That's why I always try to shy away from the first person. I also started young, so I thought that because I was young, people had more interesting stories than I did. I didn't live much life — I lived in a gated community, with a pretty much well-off family.
You're from a well-off family, a particularly well-known family at that. Can you talk more about them?
My father taught me how to read when I was four. And my father never censored anything I read or said. So I was very lucky to have a father like him because he really, really pushed that I think for myself. Years before I read Christopher Hitchens say it, that's how my father taught me: that it doesn't matter what you think, it matters how you think.
My father was the guy who said that you have to give it your all, all the time. It's corny stuff but the thing is, you saw him do it. He walked the walk. He took the long road and walked.
And my dad also inherited a name. Maybe that's the greatest lesson I learned from my father, that if you're born with a name, you have to make something out of it. He was living under the name of Carlos P. Romulo. But he struggled hard to add value to that name rather than just rely on it. If you have this name to go by and it opens doors, better make sure that you can stay in long after the name is gone, long after the door has been closed. It doesn't stay open forever.
How about your friends? Who's your best friend?
Alexis Tioseco. Alexis taught me how to be grateful. He had such a pure love for cinema and he asked for nothing in return. But he demanded a lot from everyone. He demanded a lot because he gave a lot, but he was always grateful for whatever he got. He always said there was much to repay. He taught me to be grateful, that we can experience these things, that we can look at these things, that we can enjoy them, and that we're living in a time we're living in now. 'Cause I wanted to live in a life in the past. I was a victim of nostalgia. I always thought that it was a better time. Ever since I was young, I read a lot of the classics and everything.
Alexis made me grateful to be alive in the present. His death taught me a lot of things. That you can't choose your end so you better make the most of whatever you've got until it's gone. The biggest heartbreak of my life was when Alexis died, not even the end of my marriage.
You just mentioned it so I have to ask: how do you feel about society's obsession with nostalgia?
It's corny. It's a U2 lyric: "If you glorify the past, the future dries up." I think that's true. There's a romance about the past. I used to have a painful nostalgia for things that were before my time, but now I realize that at least it gave me a bit more perspective of what's happening in the present. So I'm not too hopeful about the future but I still try. It gave me a sense of history, which is sorely lacking in a lot of people these days.
Is appreciating history different from nostalgia?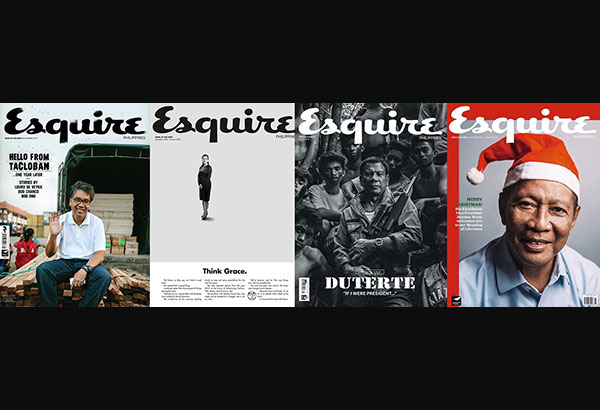 Esquire Philippines puts on the cover the presidentiables Mar Roxas, Grace Poe, Rody Duterte and Jojo Binay: "They can say a lot of things about Esquire. They can say we failed a lot of times, but they can't say we weren't fearless. We always had balls," says Esquire Philippines founding editor Erwin Romulo.
Yes, because nostalgia is basically… it's not real. It's really an imagined past. Nostalgia is the remembrance of things that never happened, that never were. And history is the sense of how things really were. If you can look at it, the younger generation or a lot of the people who are voting for Bongbong Marcos next year — they suffer from nostalgia of something that never occurred. History is the one where people actually knew what martial law was. The greatest thing was, I worked in The Philippine Free Press. I joined it in its 100th year. But at the time I joined the Free Press, it was really done and dead. There was not much to do but read the archives. So I read almost every issue the Free Press had in its archives. Oh my God, what a history lesson. And writing lesson. It's the same headlines, even same names, recurring all throughout Philippine history and Philippine politics.
What did you like about The Philippine Free Press so much?
They were the best damn editorial staff ever assembled for a Philippine publication. They were smart, fearless, opinionated, and they weren't scared to show it. They didn't aim for the lowest common denominator.
Let's talk about Esquire. How was it when it began?
Well, to be honest, I think Esquire Philippines only really began with December 2013, when we did the Tacloban issue. We already had another cover in the can, but this monumental thing happened, and we had to bear witness. That was the role of Esquire US in the '60s, and I had just read a book about how the Esquire EIC at that time, Harold Hayes, had led it in the '60s by being the magazine that took record of what was happening and I tried to follow suit. I think, with that issue, we seized the moment by the balls.
After that issue, Esquire was brave enough to follow where the zeitgeist had been going. And in the end it actually predicted where the zeitgeist was going to be. But you only do it if you're fearless. And alam mo, they can say a lot of things about Esquire. They can say we failed a lot of times, but they can't say we weren't fearless. We always had balls.
What do you think was the most successful thing you did in Esquire?
My definition of success for Esquire, in particular, isn't everyone's great success. Everyone would point to the usual — Eraserheads — which I thought was a success, but I thought it was more successful to put Erwin Castillo on the cover the next month, because I thought, this was something no one else would do. And we did it brilliantly. And we didn't sacrifice our principles or what we thought our readers should read. That was a great success to me.
So what's the secret to being a good editor?
You have to risk everything. I always risk everything as much as I can. I was never too cautious. We're not earning money anyway. You'll never get rich in publishing. So what's the point in not having fun? The only time you're gonna have fun is when you risk. I don't understand how magazines who think that they've — I don't know — they get so many likes and shares and whatever because they put a hot celebrity on the cover… I think that's a problem. If you put a celebrity on the cover but you say nothing, what's celebrity? If you have a chance to work with a celebrity, you have to say something more profound. Something other than just mere "Look at me, I'm a celebrity." If you can get people or even the celebrity to engage more, then that's better. There always has to be a turn of the screw.
I like subversion. Irony is my best friend. Although a lot of people have told me Filipinos don't get irony, they only get slapstick. But still, why would I have to dumb myself down? Or condescend to my readers if I know that a significant number of them get it? Criticism is better than no reaction at all. We're meant to provoke.
What's the worst thing an editor or a magazine can do?
Not try. I also think there's no more excuse to be ignorant, given that there's so many resources for you to find out. There are so many avenues for you to be better. To be just stupid… well. I encounter stupid all the time. I work with them.
Would you say you're an intense boss?
Why shouldn't I be? We're doing magazines, we're doing publishing. We're so lucky. We're doing things we love. Why shouldn't you be intense about it? And who said being intense can't be fun?
I would only demand as much from myself. I would never ask anyone to do something I would never do myself. The weird thing is I do a lot more than most people. I would go to absurd lengths to get something done.
I'm always so self-critical, that's why criticisms by people don't affect me because no one can criticize me harsher than I criticize myself. And I think I told this to a group of students the other month: I fear praise more than criticism. It's dangerous, because once people tell you you're great, you're excellent, that can really get into your head and stay there. And then you become less hungry and less driven, and that makes you soft. That I'm scared of. Criticism makes me more thorny, and palaban. But if people say you're the greatest thing, that can really get into your head and f**k it up.
What pisses you off most as an editor?
I was a writer myself, I was a freelancer for several years. You have to put so much into it, so when somebody just gives you a piece of sh*t, you say, "What's wrong? Do I look like a toilet to you?" I find it so obscene for anyone to submit substandard work. Somebody once said, "Writing is easy. You just stare at the page until your forehead bleeds." So if you do anything less than that, it's not good for me.
Let's talk about politics. What's so interesting about it?
Politics affects everyone. What makes politics so interesting is how small-minded big politicians are. And politics, really… you think it's so big but it's populated by small people. Politics isn't really that interesting, it's the people in it. It's extremely interesting to see what politics does to a person. How much a person changes when they get into politics, how much they've changed, the way they speak, it's all so interesting.
I know one thing — a politician's wife is the worst job in the world. They have all the money in the world and they don't have to do anything, yet it seems like they're simply terribly unhappy.
Okay, you've started talking about women. What's the one thing you want to know about them?
Why do they fall for assholes? I really don't understand.
Since we're on the subject, can I ask how did you survive the end of your marriage?
Work. That's how I survived the end of marriage. I went to work the next day. I kept on working. I found something that I still loved doing, and that's what pulled me out.
With you leaving Esquire, what's next for you?
I never think about the future, it comes soon enough. Before I even begin to form an opinion, I know it's going to happen. Before I even form anything that's gonna resemble what it might be, things are just gonna change beneath my feet and happen.
Are you afraid of what's coming up in 2016?
I think it's more of a curiosity of how things will turn out. I believe in entropy more than hope. It's more interesting to me. I think history is cyclical. I don't think it's a narrative that goes from one end to the other. So I'm just interested in what cycle we are now. And what kind of variations are gonna happen.
Last question: How are you saying goodbye to Esquire?
I never say goodbye. I just disappear.
* * *
The December 2015-January 2016 issue of Esquire Philippines is now available in all major bookstores and newsstands.