LIST: 7 Labor Day heroes that inspire
MANILA, Philippines — When people talk about profession, "doctor, lawyer, chef, and teacher" are usually those that come to mind.
In honor of Labor Day, check out the following ordinary individuals who have accomplished extraordinary feats in roads less traveled.
Filipina world champion bartender
Last March, the Philippines' own Jholan Peñafiel became the second Filipina to win at the TGIFridays World Bartender Championship in Dallas, Texas.
The bartender from TGIFridays Greenbelt poured, mixed and "flaired" her way to the Asia-Pacific Championship held last year, earning her the right to represent the region in the international competition. World-class techniques, audience engagement, outstanding technical knowledge of bar elements enabled her to win in the male-dominated contest.
The Philippines, so far, has three World Bartender Championship winners. Besides Jholan, Rizza Umlas became the youngest and the first female to win the Barchamps at the House of Blues in Dallas, Texas in 2015. A male bartender, Eric "El Terrible" Martinez, also brought home the world title in 2006.
In the following videos, Jholan shares her journey to the crown.
Marawi athlete shares story of resilience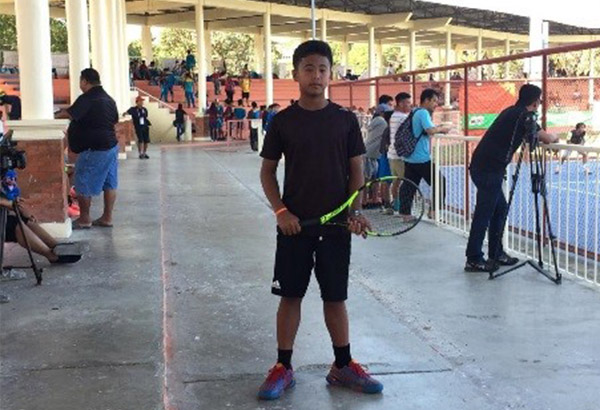 Prince Najeeb Langitao from Marawi. ABS-CBN/Released
Young Filipino athletes from all over the country recently bested each other in the Palarong Pambansa held in Vigan, including tennis player Prince Najeeb Langitao from Marawi.
Get to know Prince as he shares his inspiring journey to pursue his love of the game amid the turmoil in his hometown this May 3 on "Sports U" on ABS-CBN.
Host Dyan Castillejo also revisits limbless swimmer Jhonalyn Hernando, who was previously featured in the program and in ABS-CBN's "Ayos Ka Kid" features. Jhonalyn tells her experience in making it again to the freestyle and backstroke special events of the Palaro.
Single mom spiral pole dancer wins 'Pilipinas Got Talent'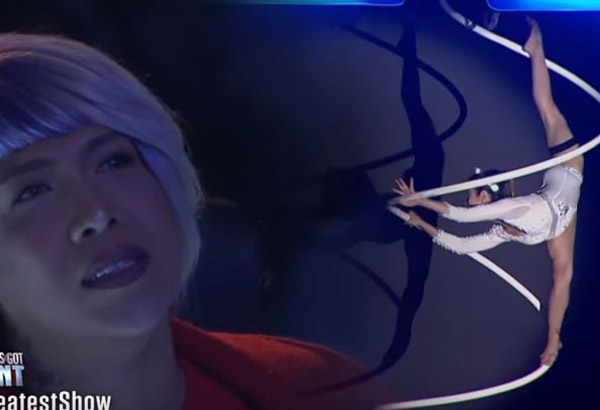 Vice Ganda (left) mesmerized by the talent of Kristel De Catalina. ABS-CBN/Released
A 32-year old spiral pole dancer and single mom wins as the sixth grand winner of ABS-CBN's hit world-class talent search "Pilipinas Got Talent."
Kristel De Catalina of Antipolo wowed judges as she gracefully danced on a rotating spiral pole suspended in midair.
"You are a very powerful performer. You were so good that you were able to heal me. It's not just a dance for me, I think it's full of symbolisms. I saw your story there as a mother. You've struggled all the way to the top just for your son," judge Vice Ganda told Kristel.
"You talent, your act, your performance, your message, your inspiration for me deserves…" Vice continued before finally pressing the Golden Buzzer.
Kristel got the highest combined votes from the public and judges Angel Locsin, Robin Padilla, and Vice Ganda and bested other finalists like Nocturnal Dance Company, Orville Tonido, Xtreme Dancers, Bardilleranz, DWC Aeon Flex, Joven Olvido, Julius and Rhea, Jonacris Bandillo, and Cebeco II Blue Knights.
After five weeks of intense elimination in the semi-finals, Kristel advanced into the last and final stage of the competition and won P2 million pesos and a luxurious vacation package.
Kristel was very elated with the unexpected turnout of her first audition on national television.
"I can't believe it because this is the first time I joined a competition on national TV. Normally people are not aware that I join or win international competitions. Through PGT, more Pinoys now know what I can do," said Kristel.
Filipino 26-year-old IT company owner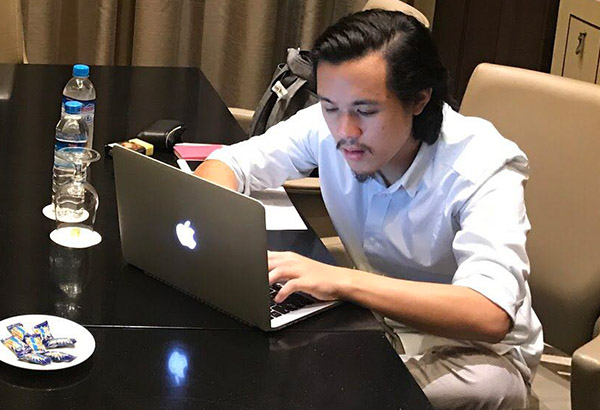 Louie De Leon, 26-year-old serial entrepreneur.
Creative wunderkind Louie De Leon recently expanded his burgeoning portfolio of startups with Tomato Soup, a concerted foray into the nascent industry of content marketing.
The 26-year-old founder and serial entrepreneur is largely credited for establishing now widely used millennial-centric methodologies in creative advertising, and has thrown the proverbial hat into the ring of an otherwise unknown field.
De Leon opined, "Me, Rafa (co-founder Rafa Rodrigo of Black Sheep and The Nines fame) and a couple of friends were having beers in Singapore and I asked them that if they were to restart their entrepreneurial careers today, what they would do? The answers were so far from what we were currently doing, but I told them I wanted to produce content. That eventually morphed into a business model where, in its purest form, we conjure up content ideas for people and publish them online."
Working within the confines of the creative industry necessitates the constant need for change and innovation, and the emergence of digital communications and social media as a ubiquitous aspect of everyday life has led people to constantly find new ways to publish and consume content online. "What really pushed us to really get into it was the number of brands realizing the inherent value of this behavior, and we're essentially here to capitalize on this phenomenon and help them optimally reach their audiences," added Rodrigo.
With the number of online subscriptions to video streaming services growing daily and overall social media consumption hitting record levels, the country is in the midst of a digital transformation. Online influencers have been continually emerging out of the woodwork, creating a redefined ecosystem that impacts next-generation marketing communications at a fundamental level. Trailblazing startups such as Tomato Soup seek to fill in the missing pieces within this rapidly evolving landscape, changing the game just as it is being played.
Indie actor gets international Best Actress nomination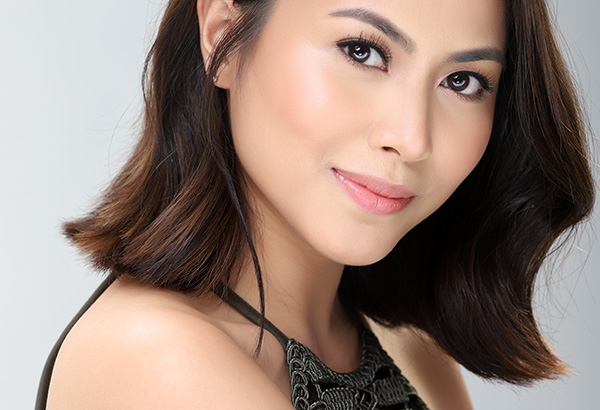 Anna Luna. ABS-CBN/Released
Award-winning independent actress and 2018 Star Magic Circle Anna Luna has once earned another stripe for her stellar performance in "Maestra" from the 2018 Philadelphia Independent Film Awards [PIFA].
Anna's affecting portrayal of Licensure Exam for Teachers topnotcher Iah Seraspi in the Lem Lorca independent film got her a Best Actress nomination at the award-giving body.
"Na-shock siyempre. Tina-try talaga nilang iikot ang movie kung saan may mga festivals," Anna revealed.
She added, "Hindi ko naman siya iniisip na sobra pero siyempre Masaya po dahil napansin ulit ang mga Pinoy."
The nomination is Anna's second nod for the film, which debuted in 2017 at the Cinemalaya Film Festival. Her first recognition came last year at the 2017 Five Continents International Film Festival in Venezuela, where she brought pride to the country by bringing home the Best Lead Actress trophy.
Prior to that, Anna has already bagged a Best Supporting Actress award at the 2015 ASEAN International Film Festival and Awards (AIFFA) in Malaysia for her film "Bendor."
While she is yet to be certain if she would be flying to the US for the PIFA awards night in May 20, Anna is very happy that her other colleagues have also earned their own recognition. Apart from being nominated under the Best Actress category, "Maestra" is also competing at the Best Foreign Film category. Her director and co-star Gloria Sevilla are also both vying under the Best Director and Best Supporting actor categories, respectively.
The drama follows the story of three struggling teachers whose dedication pushed them to continue with their pursuit in educating more people.
"Feeling ko ang makikita dito ay kung paano magpursige ang isang tao talaga na walang kahit anong balakid ang makakapigil sa'yo, dahil kung ano man ang gusto mong gawin sa buhay magagawamo," she said about why she thinks their film has been continuously making waves in the international scene.
Anna will be competing against actresses Keniesha Robinson, Margherita Mannino and Catalina Lavalle for the Best Actress trophy in PIFA.
According to the award-giving body's website, PIFA, which started in 2015, "was created to recognize the wealth of talent the Independent filmmaker has to offer."
After years of making a name in the indie scene, Anna recently ventured into the mainstream realm. She is currently part of the Kapamilya Gold soap "Hanggang Saan" and she is also gearing up for the final theater run of her hit show "Changing Partners" at the PETA Theater next month.
One-armed surfer makes waves in Baler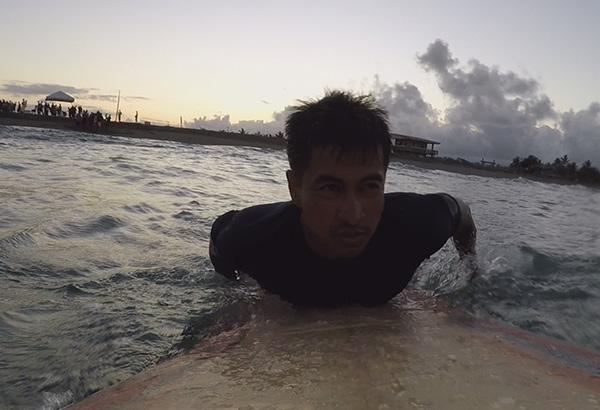 RK Bagatsing (top) recently portrayed the famous one-armed surfer from Baler, Harry Marzan, in "MMK." ABS-CBN/Released
Before viewers can watch him again in the upcoming series "Precious Hearts Romances presents Araw Gabi," RK Bagatsing guest starred for the first time in "MMK" last April 21 and gave life to the story of the famous one-armed surfer from Baler, Harry Marzan.
As an only child, Harry lived a comfortable life and got the love and attention from his parents even if his father worked abroad. But all of this changed when his mother Sylvia needed to fly to join his father, who was diagnosed with lymphoma.
Things even got worse when Nestor suddenly came home without Sylvia and later on passed away because of his illness. But instead of getting mad at his mother, Harry focused on his studies and found love in surfing with the help of his Lola Soleng and Lola Pedro.
Nonetheless, another huge mishap struck his life when he was involved in a car accident that caused the amputation of one of his arms.
Despite these, Harry overcame his ordeal and even used it to push him to continue his love for surfing.
Video game voice actress shares secret to success
American actress and producer Jen Cohn, voice of Pharah in hit video game "Overwatch," recently visited Manila and shared tips for those who want to become successful in her field.
Cohn has handled about 19 roles as an actress. Her works include "Star Wars: The Old Republic," "World of Warcraft," and "Red Dead Redemption," to name a few.
WATCH: Jen Cohn on being a video game voice actress
Related video: 'Overwatch' voice actress Anjali Bhimani on how the game changed her life
— Videos by Erwin Cagadas