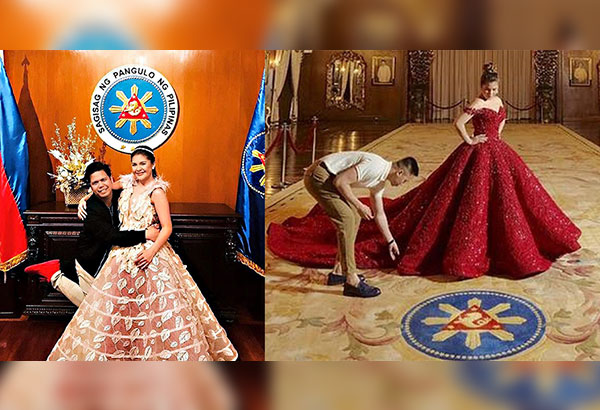 Instagram images from her stylists show presidential granddaughter Isabelle Duterte posing with make-up artist Frankie Bacierto (left) and wearing a red gown during a pre-debut pictorial at Malacañang last Thursday.
Isabelle Duterte tells critics to focus on issues, Twitter users take on challenge
MANILA, Philippines — Some Twitter users named the slain teenagers in the government's war on drugs after presidential granddaughter Isabelle Duterte tweeted critics to "focus on more alerting issues" and not a 17-year-old girl.
Over the weekend, Isabelle, the 17-year-old granddaughter of President Rodrigo Duterte drew flak for her pre-debut pictorial at Malacañang. She is the daughter of the president's eldest son, Paolo Duterte.
Netizens lamented how Isabelle used the palace for a lavish shoot with the presidential seal as a backdrop.
READ: Debut photo shoot at Palace goes viral
Addressing critics, Isabelle tweeted that she hopes to be spared from "hateful" comments.
"I hope you do something useful with the freedom you are given, other than making hateful comments and carry so much unnecessary weight on your shoulders. I hope you will find the maturity to focus on more alerting issues and not on a 17 year old girl, Try to be useful," Isabelle's tweet read.
This comment of Isabelle prompted some netizens to remember other 17-year-old victims killed in the conduct of his grandfather's narcotics crackdown. Some netizens listed down names of those killed in the drug war including Senior High School student Kian delos Santos.
Netizens also described Isabelle's pre-debut shoot as "Imeldific" and likened her red gown as a symbolism to the bloody drug war.
The shoot also gave birth to a Facebook page called "Malacañang Events and Catering Services" after Isabelle said she requested to have a photoshoot at the Malacañan Palace. She claimed anyone could also book the Palace, the country's seat of power, for a shoot and tour for free.
READ: Isabelle Duterte's Palace photoshoot gives birth to hilarious internet meme
Some critics raised security risks to the president. Others expressed concern over her photos showing the presidential seal.
Executive Order No. 310 of 2004 states that the coat-of-arms, seal, and flag of the President of the Philippines or the Vice President of the Philippines shall be exclusively used to represent the President of the Philippines or the Vice President of the Philippines, respectively.
They will be 17 yrs old forever, not given a chance in life.

Albert Lalin Samson
Erika 'Angel' Fernandez
Maynard Allan Manalo
Emmanuel Lorica
Mark Nathaniel Dumon
Hideyoshi Kawata
Johnver Valdez
Darwin Hamoy
Rolan Iligan
Raphael Jocas Catalan
Dave Gallingue
Jun Cuison pic.twitter.com/Ggt2NYNf0U

— Dan Santos (@DanSantos8) December 16, 2017
Grandiose, Ostentatious, Pompous

Extrajudicial, Brutal, Inhumane pic.twitter.com/ameYzfX4Lx

— Dan Santos (@DanSantos8) December 16, 2017
Who wants to organize a get-together in Malacañan? For baptisms, birthdays, and photoshoots, we now have a contact person. #PalaceParty pic.twitter.com/6aX2m2MGtF

— MarcoALVSardillo III (@MarcoSardillo) December 15, 2017
Isabelle's Twitter account was set to private after her tweets on the photoshoot trended online.
RELATED: Isabelle Duterte's Palace photoshoot gives birth to hilarious internet meme