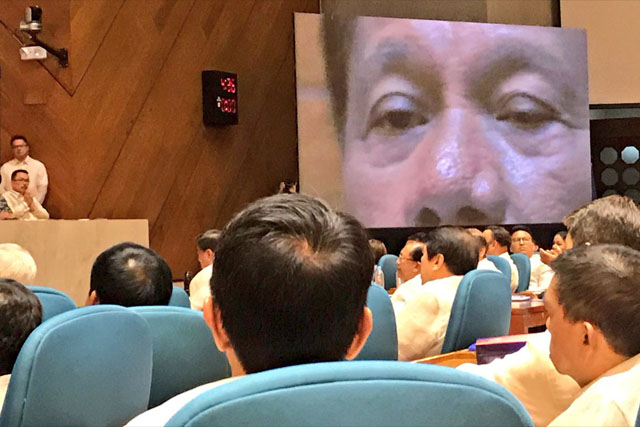 Netizens noticed his extremely zoomed angles into the president's face and eyes as well as the continued panning. Ruffy Biazon / Twitter
Netizens poke fun at Brillante's 'zoomed in' SONA angles
MANILA, Philippines — Award-winning director Brillante Mendoza earned mixed reactions from netizens anew in his second time to direct the official broadcast of President Rodrigo Duterte's State of the Nation Address.
Netizens have noticed his extreme zoomed shots of the president's face and eyes as well as the continued panning. Due to this, Mendoza received criticisms and praises during this year's SONA.
Some netizens even poked fun at Mendoza's zoomed in angles and posted photos mimicking one of his most shared shots of Duterte's nose. Some also said Mendoza's angles were a form of distracting the audience.
Others also cited that Mendoza used Fibonacci's Ratio or the rule of thirds in his video compositions.
This SONA's new camera angle. #sona2017 pic.twitter.com/WLMphJLjLG

— Ruffy Biazon (@ruffybiazon) July 24, 2017
Here are some tweets regarding Mendoza's controversial angles for SONA.
Evolution of #SONAs sa direksyun ni BRILLANTE MENDOZA...

disclaimer: katuwaan lang wag seryosohin #SONA2017 pic.twitter.com/Pu9QQCU1F7

— EjRegado (@itsmeejr) July 24, 2017
Ito talaga purpose ng SONA PORE SHOT ni Brillante Mendoza, guys! #SONA2017 pic.twitter.com/Id74NEkaSQ

— (@kabudelz) July 24, 2017
Brillante Mendoza is sometimes a derma checking out how large your pores are.

— ai`van (@theaivancalonia) July 24, 2017
BRILLANTE MENDOZA PAKI EXPLAIN DIS SHOT pic.twitter.com/z6BDHBwiqr

— Dorothy Camille (@hidors) July 24, 2017
What's good Brillante Mendoza? #SONA2017 pic.twitter.com/k3MIy910ew

— JACQUES (@jacjimeno) July 24, 2017
Brillante Mendoza said no more artsy shots. Well, he's going for weird and uncomfortable to watch shots now. #SONA2017

— Che. (@chegeronimo) July 24, 2017
The almost continuous panning camera and framing shots distract me from the actual SONA. Magraradyo na lang ako

— Kyle Lauren (@njytolentino) July 24, 2017
During Duterte's first SONA, Mendoza also earned mixed reactions as some netizens found his worm's eyeview shots unnecessary. Some appreciated his style of showing the president's superiority and authority.
Mendoza has been internationally acclaimed after winning the Best Director Award at the 2009 Cannes Film Festival for his film "Kinatay." He also joined various international film festivals for his films "Serbis," "Lola," "Thy Womb," and "Ma' Rosa," among others.