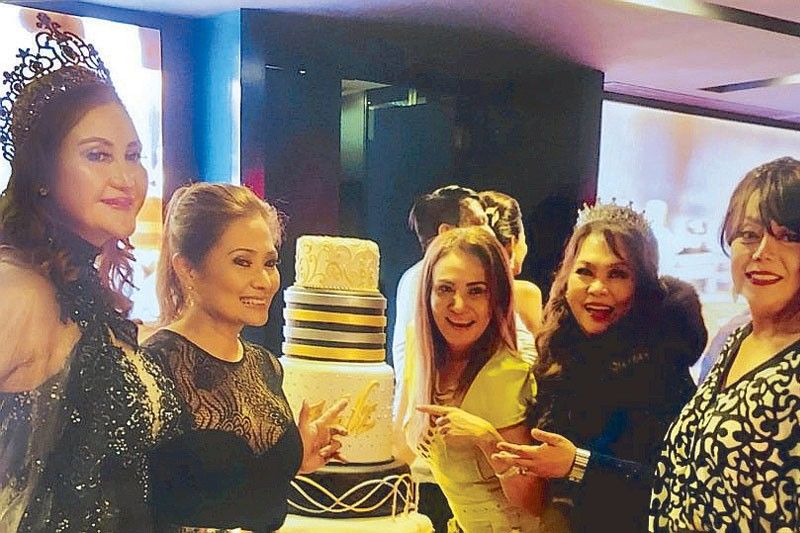 Celebrators St. Peter Life Plan Inc. chairman Dr. Mildred Vitangcol, Dr. Melanie Omar, Prescy Yulo Roulette-Esmilla
OH YES, IT'S JOHNNY!
-
Johnny Litton
(The Philippine Star) - December 21, 2019 - 12:00am
The lovely and jovial Inner Wheel Club of Central Ortigas (IWC-CO) president and CIE British Schools founder, president and CEO Prof. Nelia Cruz Sarcol and her friends — Gyn-gyn Quiazon, St. Peter Life Plan Inc. chairman Dr. Mildred Vitangcol, Dr. Melanie Omar, Prescy Yulo and Roulette Esmilla — celebrated their birthday at Tsay Cheng Restaurant in Cebu Grand Convention Center. It was an evening of laughter paired with delectable food and fine wine among the guests and birthday celebrators, who looked regal in their stunning ensembles and tiaras. One of the evening's highlights was the huge royal cake of Teacher Nelia, which was given as a gift by her son, Fidel. It was truly an unforgettable celebration a joyous and well-lived life.
Belo is a woman of influence
The Philippines' medical aesthetic pioneer and doctor to the stars Belo Medical Group CEO and founder Dr. Vicki Belo was nominated in the Beauty Category of the 2019 Influencer Awards Monaco (IAM). With a strong following on social media and well-engaged posts about her state-of-the-art beauty procedures and treatments, Dr. Vicki is the first and only Filipina to be nominated by this award-giving body. The well-attended ceremony was also graced by the presence of Monégasque royalty, princesses Carolina and Chiara de Bourbon. "It has always been my dream to elevate the Philippines in my realm of influence," Dr. Vicki said. "This is one step towards achieving that dream."
Family Fun at Henann
There's no better place to spend the holidays than at premier resorts Henann Regency Resort & Spa and Henann Crystal Sands Resort in Boracay. Managed by Henann Group of Resorts and led by chairman Dr. Henry Chusuey, president Alfonso Chusuey and vice president for marketing Karl Chusuey, these premium resort escapes boast of a pristine, tropical paradise feel and luxurious rooms, convention centers, luxury spas, massive swimming pools and a wide range of dining outlets. Families, businessmen, celebrities and other VIPs flocked to these luxuriant getaways for a vacation they will never forget. For inquiries and reservations, call the Manila office at 8230-3000 to 03 or visit www.henann.com.