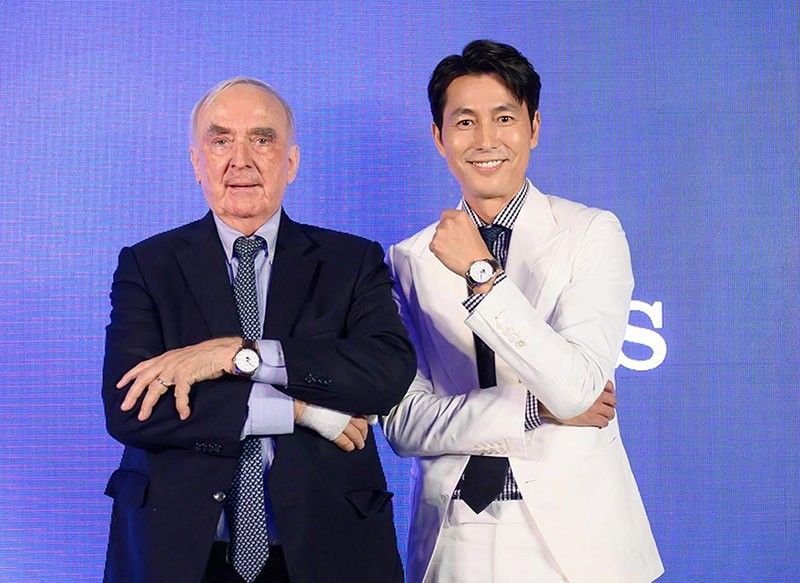 Walter von Ka?nel, Longines president, and Jung Woo-Sung, Longines Ambassador of Elegance
Eyeing the Master Moonphase under the Taipei moon
TAIPEI, Taiwan — Longines Ambassador of Elegance and veteran South Korean actor Jung Woo-Sung (Steel Rain and The Good, the Bad, the Weird) wanted to be Clint Eastwood when he was young. While Walter von Känel, a former Swiss army colonel and Longines president since 1988, strides into the Le Meridien dinner for the press sporting a leather jacket and a bandaged hand (a bizarre barbecue skewer incident, we are informed).
We are here in Taipei for the launch of the Longines Master collection and are about to meet these two astig (I couldn't find a more exact adjective in English) yet elegantly dressed dudes.
The Swiss watch brand's Master models are characterized by a moon-phase indicator (at 6 o'clock), a new caliber developed exclusively for the brand, as well as a refined aesthetic, thus strengthening one of its emblematic line created in 2005. It has been described as "the best representation of Longines watchmaking expertise" and has enjoyed an undeniable level of success since the very start.
"This year, with the new models of the Longines Master collection, we clearly reaffirm our commitment to traditional watchmaking," explains Walter von Känel.
The brand is known for its elegant sports philosophy (sponsoring equestrian, motor racing, cycling, archery and the Commonwealth Games), Von Känel says they are now focusing on an "excellent ratio of price and quality."
He stresses, "We decided to focus on our price segment, and now we are No. 1. We stick to that crazy prize point consistently, continuously. You know why? To drive our competition nuts (laughs)."
You can only measure your popularity in terms of figures, according to Von Känel. "(With the Master collection,) the figures are in my favor because 33 percent of it forms my business. It covers two ladies sizes, five gents sizes, and almost all mechanical (features) possible — at a very good price. You have to do this with consistency. You cannot change your polices every day. And the brands that do that, (they expose themselves to a) potential disaster."
Von Känel talks about the pieces in the Master collection — from triple calendars to moonphases, from annual calendars to chronographs.
We notice the three handsome iterations to the moonphase pieces: a silver "barleycorn" dial with painted numerals, a black "barleycorn" dial with painted Roman numerals, or a sunburst blue dial with applied indices, in either a 42mm or 40mm case size, on leather or a bracelet. Staying true to the brand's core values, the new Master Moonphase models pay homage to traditional design and showcase Longines's ever-present commitment to elegance — evocative of a rich tradition, but still forward-thinking.
Jung Woo-Sung raves about the watches. "I don't think you could see them as accessories to show off their value. I think it's about how Longines presents its brand's sophisticated techniques." He adds that not only are these watches sophisticated and elegant, there is also "a sense of youngness."
"The Longines Master collection is the perfect watch for me," says Jung. Its classical elegance and timeless aesthetics completely match with my style. I particularly like the new face of the dial with its sleek moon phase display."
* * *
Longines is exclusively distributed by The Lucerne Group, and is available at Longines SM Mega Fashion Hall and at Lucerne stores.