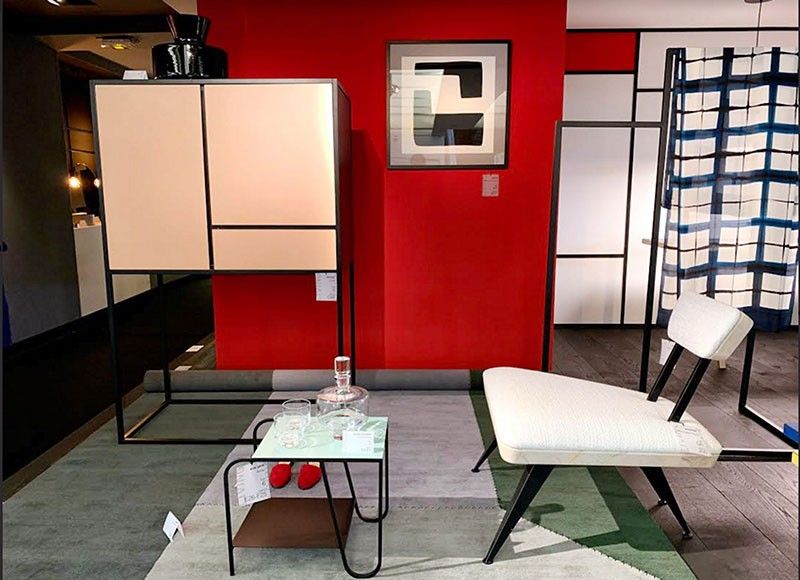 Measured geometry and saturated flat colors in a Modern Living interior. Poetic functionalism characterizes the furniture and accessories like the "Butterfly" chair by Romuald Fleury, Mini Bar by TLab, side table by Serax and glassware by LSA. Photos by Ricky Toledo
It's art living at Maison & Objet Paris
Live under artistic influence!" declares François Bernard, trend analyst at Maison & Objet Paris, the premier trade fair for the decoration, design and lifestyle sector showcasing the latest creations of 3,137 brands from 69 different countries with 863 exhibitors for the first time ever.
With the reputation and magnitude of this fair, expectations are always high, keeping Bernard and the other members of M&O's trend laboratory always tuned in to the zeitgeist all year. From their research and explorations, the latest trends come to life through the subtle, inspiring and diverse selection of new products.
"There is a desire to experiment in newer, more distinctive and emerging creative directions," observes Bernard. This is because mass market decoration is becoming dulled by repetition while the mid-range/high-end markets are distancing themselves and gravitating towards a more artistic product offering.
Influences travel through time and space and cultivate the singular and unique: Animist, sculptural art, naturalness, Western modern art from the first half of the 20th century. "The colorful lines of geometric abstraction carve out and recompose forms but the apparent disorder of nature still, and always, intrigues and excites our curiosity," says Bernard. He cites Rationalism and Expressionism as two pathways to dynamic creativity that enable experiences and meaning. "Regeneration is in the air."
Art Living highlights the importance of these artistic influences as a way of creating elegance and uniqueness by exploring three aspects of the trend: Modern Living, inspired by 20th century functionalism and the colors of Mondrian and Malevich; Sculptural Living, influenced by animist art; and Soft Living, suffused with Japanese spirituality.
Modern Living
With its poetic functionalist perspective, Modern Living speaks of measured geometry and vibrant colors. Inspired by the birth of the Modern Movements, the early 20th-century and abstract thinking as well as notable recent exhibitions on the birth of abstraction, Malevich's Suprematism, Mondrian and Cubism. The great artists, architects, painters, musicians, sculptors and creators of abstraction are all celebrated here.
Key to this trend are bold and saturated flat colors with geometry mastered by orthogonal lines. Corollary with the 100th anniversary of the Bauhaus, furniture and objects play a contemporary variation of a functionalist aesthetic that does away with the "baroque" clichés of our time.
Sculptural Living
Feel the artistic tension generated by the juxtaposition of order and chaos in Sculptural Living. Refusing the look of mass production, handmade pieces are sculpted, shaped, unique and different — from sideboards with doors in bas-relief to artisanal throws with ultra-thick fringe.
Both sculptural and functional, their singular silhouettes transform the maison's spaces into private galleries. Some influences are historical and recall the sculptural abstraction of the 20th c. from the likes of Brancusi, Barbara Hepworth and Henry Moore while others reveal an extreme taste for worked materials with artistic elegance and a mastery of both technique and craftsmanship.
Soft Living
Spiritual in essence, Soft Living looks to a holistic, naturalistic and technological future by combining gentle colors, natural materials, a certain concept of comfort, and high-tech objects with rounded shapes. "It's a follow-up to Scandinavian style with a Japanese spirit," says Bernard. It's the relaxing atmosphere of light wood furniture, simple lines and visible joints, translating the current desire for "honest" furniture, both sophisticated and sustainable. The influence of Japanese domestic art is combined with our constant desire for the natural. 1950s vintage design is slowly on the way out to make way for '60s and '70s designers and craftsmen such as Pierre Chapo.
More than a material living space, the maison is becoming a more spiritual, light-filled and uncluttered space. "It's more a second skin than a box," according to Bernard. As a counterbalance to the angular rigor of living spaces, soothing colors and plant motifs go hand in hand with roundness in seating and other objects.
* * *
Follow the authors on Instagram @rickytchitov; Twitter @RickyToledo23; and Facebook - Ricky Toledo Chito Vijandre.