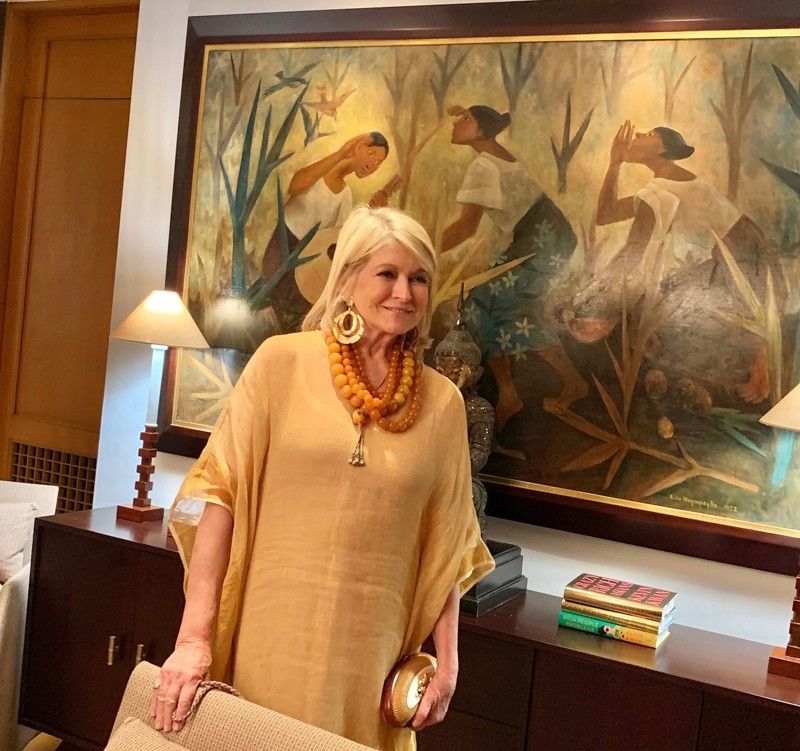 In front of a painting by Anita Magsaysay-Ho at the residence of Doris Magsaysay Ho, who hosted the dinner: Martha Stewart says she collects old Moroccan brass trays that she finds at antique shows and garage sales. "I have them polished so they look like burnished gold, and use them as coffee tables. They look so beautiful because they bring light to a room." She's also been collecting French copper pots ever since she got married. "Nobody wants to polish copper, so you can get great bargains. They look so amazingly beautiful in the kitchen and they're still the best way to cook."
Photos by Millet Mananquil
Martha Stewart's 'Coulda, Woulda, Shoulda'
'I want to be remembered as a teacher who gave trusted information,' Martha says. 'I don't think about legacy as much as, did I live a good life?'
Homemaking artiste Martha Stewart said that one chapter of her upcoming autobiography is titled "Coulda, Woulda, Shoulda." Here we break down what that means in her life:
Martha coulda been a rap star, with the nickname "America's Cool Weed Grandma." She already has a cooking show with rapper Snoop Dogg, her homie in real life. On Martha and Snoop's Potluck Dinner Party, the emphasis is on the "pot," and the two cook up stoner-friendly recipes like the "best brownie recipe" Martha is about to launch to the world.
"What we're working on is not pot itself, but the oil extract, CBD, that comes from the plant. It's a different thing," she clarifies. "We're working on finding solutions for pet ailments, cosmetics, skincare that has cannabis properties, and food. You're going to be probably seeing in the last quarter of this year the best brownie mix you have ever tasted… with CBD in it." Fo' shizzle.
Martha woulda been a great student. The domestic goddess says she inspires herself every single day by trying to learn something new: "I look at lots of magazines and it could be a picture, it might be something I'm reading, like The Overstory (a series of stories about trees and their influence on people and places), how Nobu cuts a piece of fish for sushi, how somebody prepares a lechon — delicious baby pig — I'm always learning from other people."
Martha shoulda been a quality-control tester. The multimedia empire builder says one of the secrets to her success is making things in the best possible way and of the highest quality, with an appealing appearance. "You don't want anything that's ugly." For example, they were designing teacups and Martha found she couldn't put her finger in the handle. She sent it back to the drawing board so her designer could make a handle that was useful. "Utility is very important, as is price," she says. "I've gone mid-range so that more people can have it. If they can't afford the high, high-end like Limoges, they don't have to because they have Martha."
Martha coulda been a sex symbol. She modeled for Chanel in her younger days and confessed to an American talk-show host that, though she never watches porn, she has had a one-night stand and sexted someone. (The divorcee admits to liking really smart guys who are entrepreneurial, speak their minds and have nice teeth.) Martha might also have been part of a threesome! (insert "shocked" emoticon)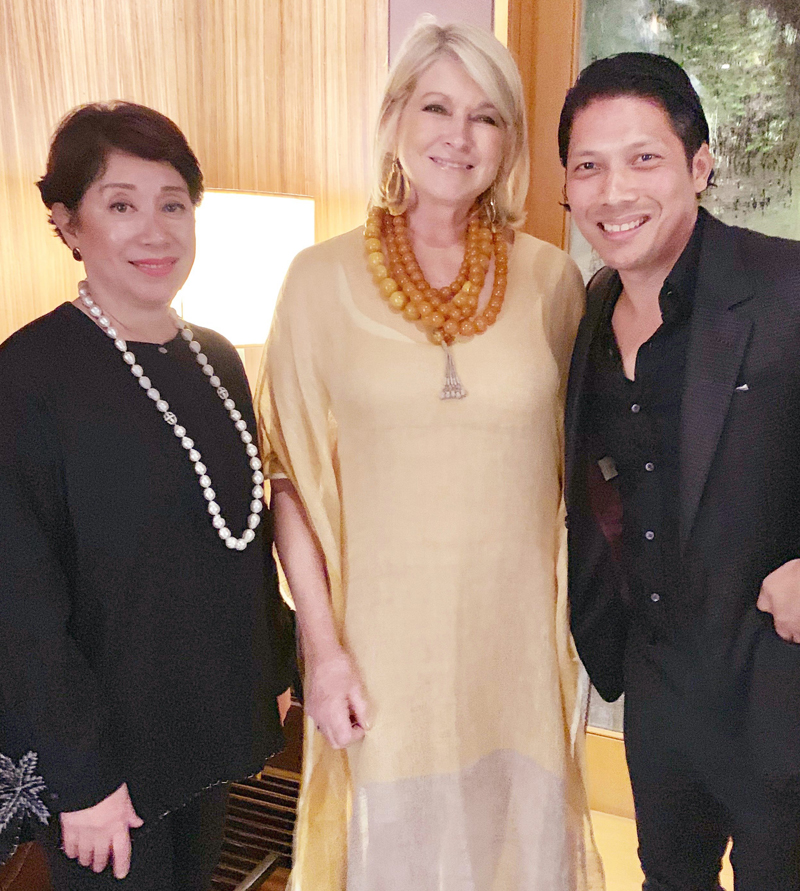 Domestic goddess: Stewart describes herself as "younger than I am, fun and hardworking. I always eat well, exercise well, and dress well." With Doris Magsaysay Ho and Robbie Antonio.
How does she look so good for 78? "I always eat well, exercise well, and dress well," she says. "And my makeup artist Daisy Schwartzberg is really great. You can't get too sloppy. Don't wear your dirty apron to the grocery store. Comb your hair."
Martha woulda made a great PR person. "I'm good at promotion and public relations, and PR and marketing are essential and less expensive than advertising," she tips. "I'm proud of doing almost $2 billion in sales with Kmart without advertising one word. Embrace all opportunities to promote your brand, and get a really good PR person to help you."
Martha shoulda been a business-school professor. America's first self-made female billionaire teaches that the Five Ds are essential to success: desire, dedication, determination, discipline, and definition. "Not death and dismemberment," Martha laughs.
Stewart hired a "like-minded, very bright" woman to run her company and mastermind her IPO. Together they came up with a business plan that was so groundbreaking Harvard Business School featured it. "It had the sun at the center, and that was content. Around it were different circles: TV, merchandising, internet, and now it's omni-social media and keeps enlarging as new ideas emerge."
She says perseverance is very important in building a business that lasts — believing in what you are creating. "Aside from being a neat freak, I'm a perfectionist — that's the real one — in what I learn and teach."
Martha coulda been an architect. Architecture was her first love, but instead she became a stockbroker because her father-in-law worked in the stock exchange and taught her how to invest. "I learned all about American business, what made a good American company, and did a lot of selling," she says, "but I really wanted to start my own company."
So she went to Westport, Connecticut, with her husband and young child in tow, and began a catering business. "Who knew how hard that was!" she exclaims. "It was building a restaurant every single day and knocking it down every night and cooking all that delicious food. But because it was original, creative and an expression of me, it became very successful. It also ended up being my first book."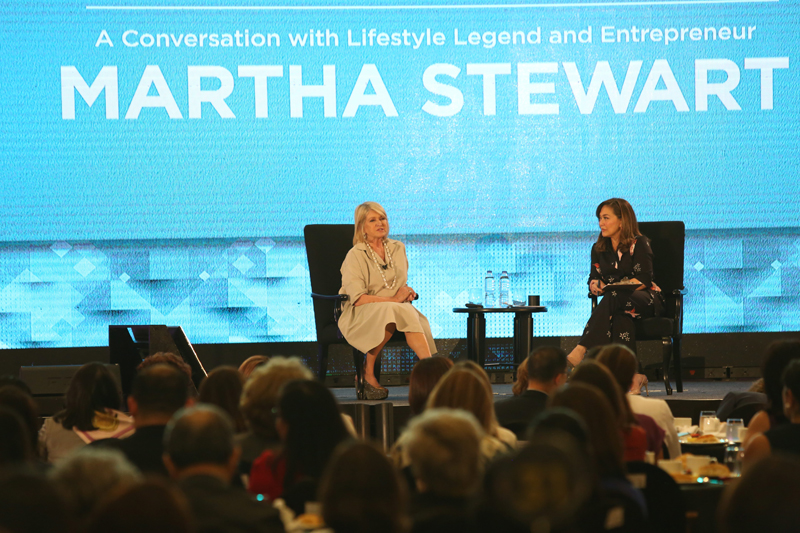 Karen Davila interviews Stewart at ANC's Leadership Series, where the lifestyle legend said she keeps four dogs, three cats and three canaries as pets: "They don't see eye to eye, but one's protected by a cage." Photo by Jesse Bustos
Martha woulda made her great escape, in hindsight. In 1990 Stewart partnered with Time Inc. for her magazine Martha Stewart Living, and the juggernaut became profitable in three years, selling three million copies a month (circulation later grew to nine million). "If I'd been really smart I would have sold all my stock that day and gone to Tahiti," she muses now. "Instead I just continued to work like crazy and come up with more and more ideas."
Martha shoulda leave a great legacy. Her autobiography will be close to her 100th book! "I want to be remembered as a teacher who gave trusted information," Stewart says. "Legacy — I really don't think about that as much as, have I lived a good life? I wrote a book a couple of years ago about 'living a life is good, but living a good, long life is better.'"
Nowadays she works closely with a geriatric community of doctors to help people live longer. She's also interested in land conservation, the protection of endangered places in the US, as well as the environment and the demise of endangered species.
As to who will succeed her as the head of Martha Stewart Living Omnimedia (which Sequential Brands Group acquired for $353 million in 2015), Stewart surmises it might be her only child, daughter Alexis, or Alexis' eight-year-old daughter Jude.
"There's a big long table in Maine where we eat, and I always sit at the head of the table. I came down one morning and guess who's sitting at the head of the table?"
Jude to Martha: "I like this seat."
Martha to us: "Jude will take over. She already has a seat."
* * *
Follow the author on Instagram and Facebook @theresejamoragarceau.