When Emong and Plet walked into the house for the first time, light was streaming in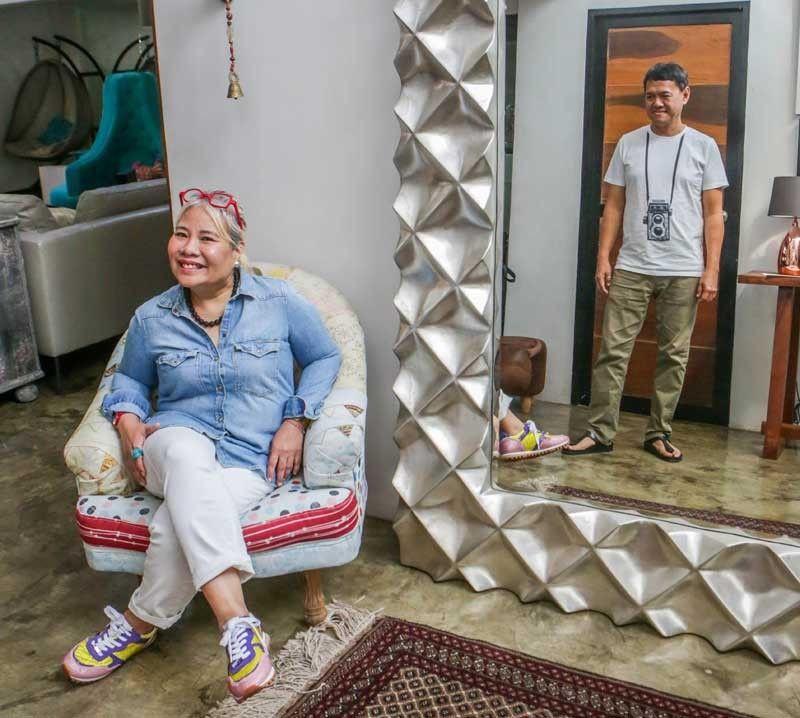 MANILA, Philippines — Elmer Borlongan and Plet Bolipata talk to The STAR about how the day ends and begins in their house in the city.
What is the first thing you do upon waking up?
EMONG: Make breakfast for Plet.
PLET: He always does. Always, always. The first thing I do is kiss Emong. But he's a morning person and he gets up ahead of me, so I text him to ask where he is.
What is your favorite spot in your home and why?
PLET: The walk-in closet. I put my nicest, comfiest sofa from Zambales inside there. It's my getaway place. Emong loves music and he has a turntable in the library and in the bedroom. Sometimes I crave for silence — so this is my own private space. But at night, it turns into our home theater for Netflix binge-watching. Emong sets up the folding projector screen and speakers. And sometimes we bring out the wine and chips.
EMONG: The listening room. That's where my Clash, Rolling Stones and Motorhead LPs are. Nandoon din 'yung mga graphic novels ko such as Watchmen, Akira, Swamp Thing, works by Dave McKean, and Charles Burns' Black Hole. Nakita ko siya sa National Book Store Olongapo. On sale pa. Kakaiba yung story kasi tungkol sa mutants (laughs).
How do you describe your home?
PLET: Modern and restrained. This home in the city taught me restraint in terms of putting the pieces together. I always had to check myself if I was going overboard, unlike the home in the farm that's very eclectic and flows without rhyme or reason. In this one, each piece I put in was very well thought-out — you might say, curatorial. I was also inspired by the home of Diego Rivera and Frida Kahlo in Mexico. At this point in our lives, I am thinking of legacy. Maybe someday, (we'll have) a small museum of Emong's works on paper only as well as our small, very early personal paintings that tell the story of our artistic growth and progress — but on a small scale.
EMONG: Simple, but not Zen. Even in the use of materials such as wood and concrete, which has been painted white. The flooring is made of cement with a coat of varnish. Very easy to clean and maintain.
Your homemaking style?
PLET: I love, love, love plates and home decor. My style is off-the-beaten path and very personal, like my paintings. I am very playful and am drawn to putting together usually a visual feast for the senses.
Which pieces of furniture or home accents have sentimental value to you and why?
PLET: Emong's drawings are my personal favorite. I just love being surrounded by his genius. I am, after all, his biggest fan and supporter. A huge part of the collection was done in my presence and I am grateful for that — for the time we both had to watch each other grow and develop as artists.
EMONG: The display cabinet with capiz. Matagal nang nasa art center ni Coke Bolipata 'yan. Matagal nag ring ina-eye ni Plet. Na-feature siya sa Tropical Houses na book. This dining table also (holds a lot of memories), since we used it for signing my books during the launch.
What books are on your night table (current reads)?
PLET: We've just come back from traveling so my book is still in my luggage, The Picture of Dorian Gray. I love classics. My last book that I'd encourage everyone to read and I thoroughly enjoyed every minute reading was Frankenstein. I even convinced Emong to read it.
EMONG: Type talaga ni Plet 'yung classics. Nasa night table ko 'yung bagong book ni Haruki Murakami titled Killing Commendatore about a portrait painter in Tokyo. Favorite ko siya, eh. First kong nabasa 'yung Kafka on the Shore. Napagtiyagaan ko rin 'yung 1Q84, bigat nun.
Any interior designer/architect you follow or like?
EMONG: For me, it's Tadao Ando.
PLET: No one in particular, but I like those who can transform spaces from their own imagination and are inspired by nature. I like watching shows and reading books about renovations, style, great architecture, and beautiful homes. I like the back stories — what they were thinking, their interior motivations and their inspiration.
In case of fire, what is the first thing you will save?
PLET: Funny you should bring that up because back in the farm, summer fires are the norm. So I told our little community that if fire strikes and looks like it's getting out of control, the paintings in our studios and home are the first things to be saved. I'll take care of this little pouch that holds our passports. I can lose everything except our works and our US visas.
EMONG: Bukod kay Plet (laughs)? Passport din, as well as early paintings kagaya nitong "Aling Grasing." Irreplaceable, eh.
What is the last thing you do before going to bed?
EMONG: Listen to jazz records. I have a vinyl setup in the bedroom as well. I play Sonny Rollins, Hank Mobley, Lee Morgan, etc... Maliban lang kay Eric Dolphy, masyadong avant-garde. Nung minsang sinalang ko 'yung "Out to Lunch" na album, sabi ni Plet, "Sino ba 'yan?" (laughs).
PLET: Drink my cholesterol medication and kiss Emong good night. It begins and ends with Emong.