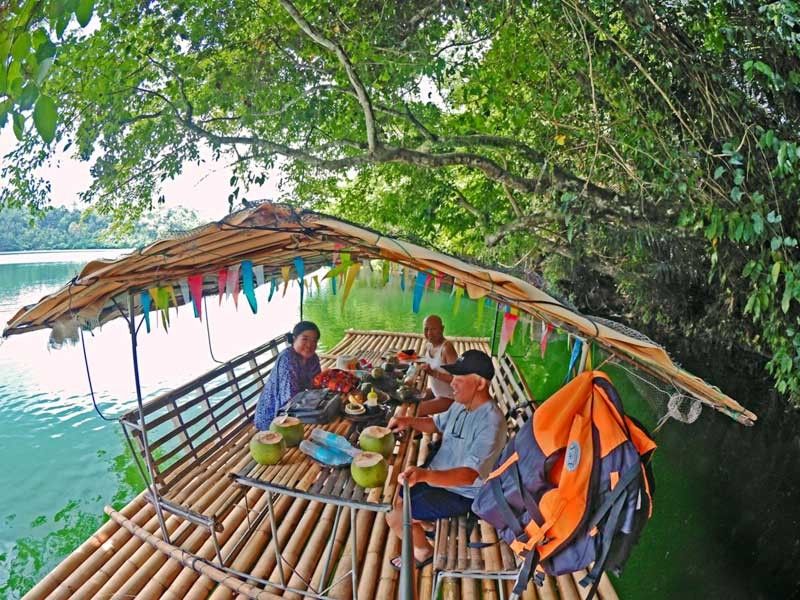 Lunch at Lake Pandin is a floating feast.
The sense of community around traditions like this in our small towns is as palpable as the smell of yellow-stained provincial bread from the corner store. It's a vibe that's lost in our modern-day world of master-planned townships, co-sharing enclaves, and chill lifestyle centers.
This week, we continue our tour of seven Laguna towns, which started last week with picturesque Pila, as well as the still idyllic Nagcarlan, Liliw, and Majayjay at the foot of Mount Banahaw. The pilgrimage continued with Calauan town, San Pablo City and back to Bay town, where my wife Twink and two of our friends were based at Cheche Lazaro's bed and breakfast Lotuspod.
Our foursome started the second round of visits with a recreational detour to nearby Pandin Lake, one of San Pablo City's famous seven lakes. It took us just half an hour's drive from Bay to reach the lake. We parked at one of a number of private parking lots for visitors to the popular attraction, and hiked a short distance up to the lip of the lake.
Pandin is reportedly the most pristine of the city's seven lakes. A large buffer area around it and its adjoining twin Yambo ensures that nothing pollutes these two. We arrived early and took a balsa to the far side of the lake for a bit of swimming and brunch.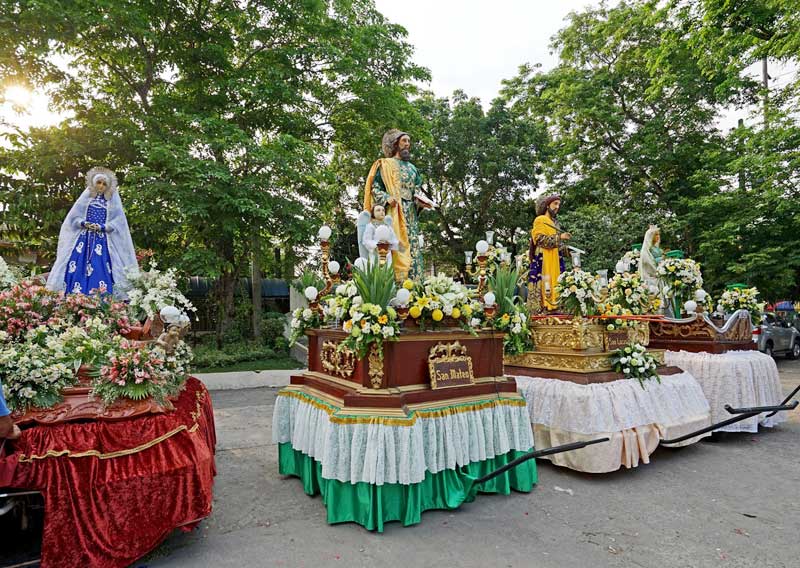 The Avengers can't compare when the Saints Assemble.
Our dip in lake water was refreshing and our brunch sumptuous, being a menu of shrimp and fish freshly caught from the lake, along with pork that was also from a local farm. Everything was fine until the midday rush of tourists started to approach. One group started blaring loud party music from a ghetto blaster they carried, compromising the experience for everyone else. There ought to be a law. Nevertheless, I would still recommend a visit, just come early.
A few minutes from Pandin/Yambo is San Pablo city proper with its iconic Sampaloc Lake and San Pablo Cathedral. I had visited the lake and featured it and its art deco city museum two years ago. This visit I focused on the church, of course, which is the city's main landmark and terminus of its Rizal Avenue.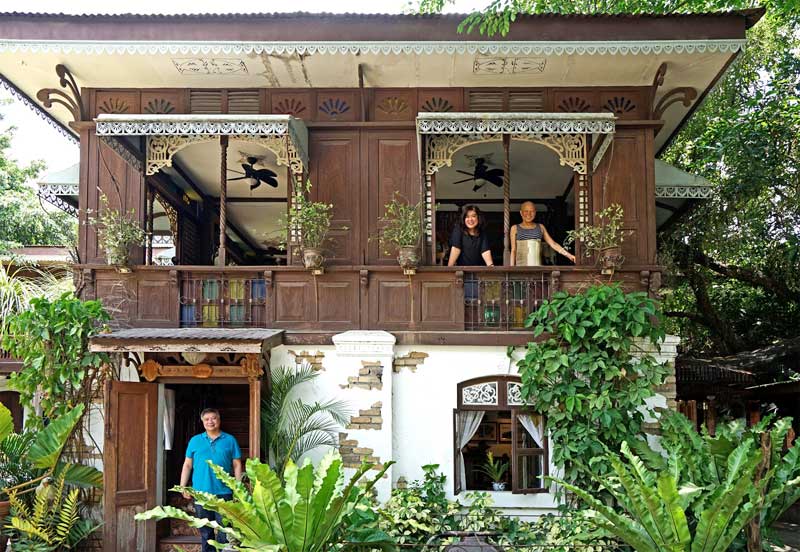 Sulyap Gallery Cafe and Restaurant serves local and provincial fare in an Instagrammable setting.
The Cathedral Parish of Saint Paul the First Hermit was completed in 1721 and repaired, enlarged and extended in the 19th and early 20th centuries. The cathedral was recently repaired and conserved, with work done by the Escuela Taller de Filipinas Fundacion Inc. (ETFFI).
From San Pablo it was a short drive back to Bay, via Calauan and our sixth church. Calauan is another small town and is known today for its pineapple crop. Its Pineapple Festival is celebrated every May 15. Make sure to get some freshly harvested fruit if you're in the area.
Calauan's San Isidro Labrado Parish Church was completed in 1860, and is a fairly small structure now being compromised by increasing urbanization and overbuilding in its compound. A large town plaza fronts the church, anchored by — what else? — a large pineapple monument. I wonder if anyone makes pineapple upside down cake here?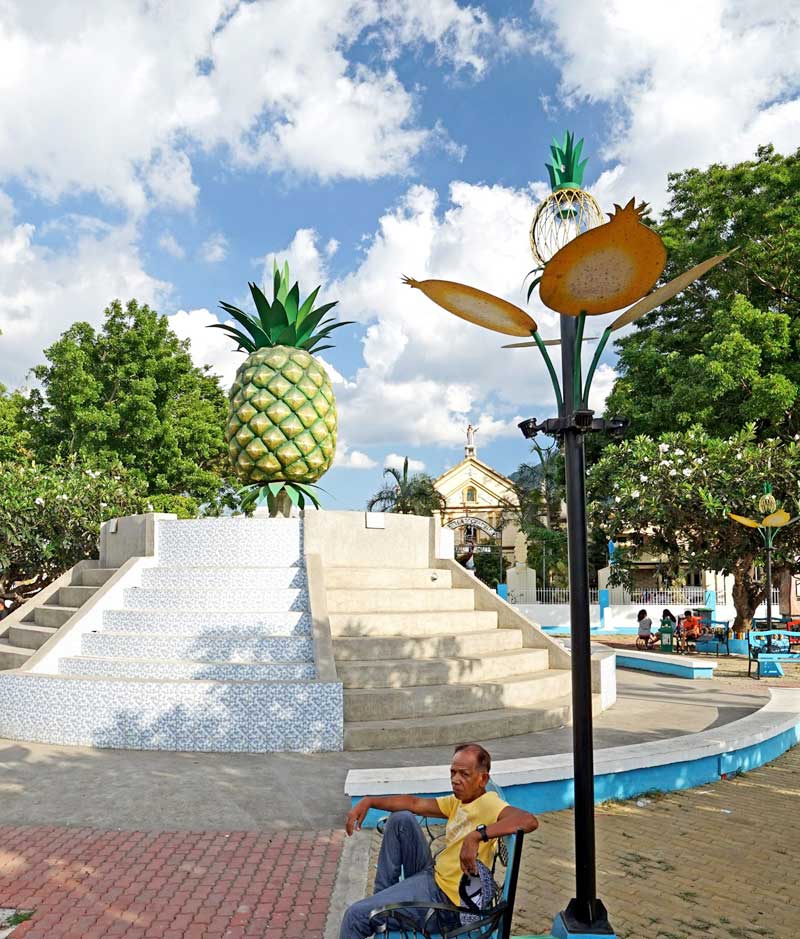 Calauan's plaza features a pineapple monument instead of any local heroes.
Finally we got to our seventh and last church in our visita, right in Bay (pronounced bah-eh), and a stone's throw from the Lotuspod Bed & Breakfast we were staying in.
Bay is one of the oldest towns in the province and was its original capital. It was the main destination and takeoff point of merchants and travellers to and from Manila. Until the American period, the main mode of transportation south to Laguna and Batangas was by boat up the Pasig River and through the large inland lake that the Spanish named after its lake port town — Bay (or Bae, as it was spelled before).
Regular passengers included a Calamba native, Dr. Jose Rizal. He and others would have noted that the open space at the Bay port was laid out like a mini Luneta, complete with gas lamps and gazebo.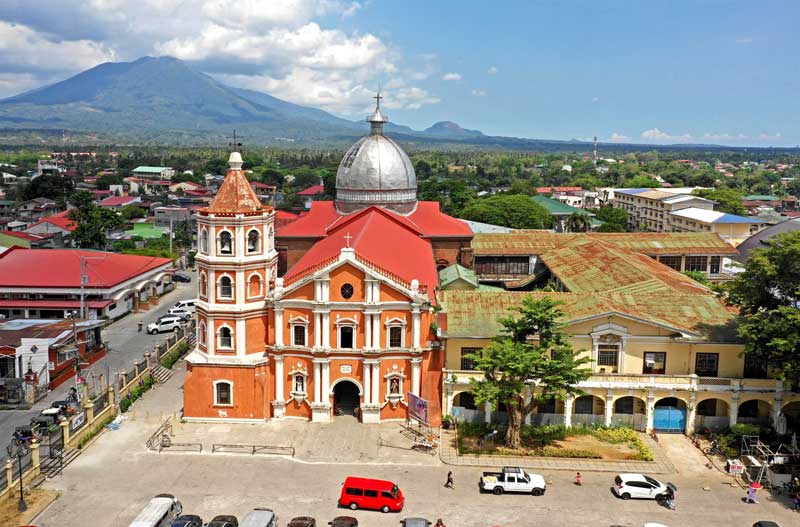 San Pedro Cathedral was recently renovated by Escuella Taller de Filipinas.
The church of Bay is Augustinian, the only one in the province run by this order. It sits beside the town hall, itself sited along the San Nicolas River that leads to the lake. The St. Agustin church of Bay was, like most Laguna churches, the product of several building and rebuilding efforts. It was last rebuilt after damage it suffered in Word War II.
We arrived at the church as the Holy Week carrozas arrived to assemble in the church's plaza. The crowd thickened proportionately to the number of statues.
The sense of community around traditions like this in our small towns is as palpable as the smell of yellow-stained provincial bread from the corner store. It's a vibe that's lost in our modern day world of master-planned townships, co-sharing enclaves, and chill lifestyle centers.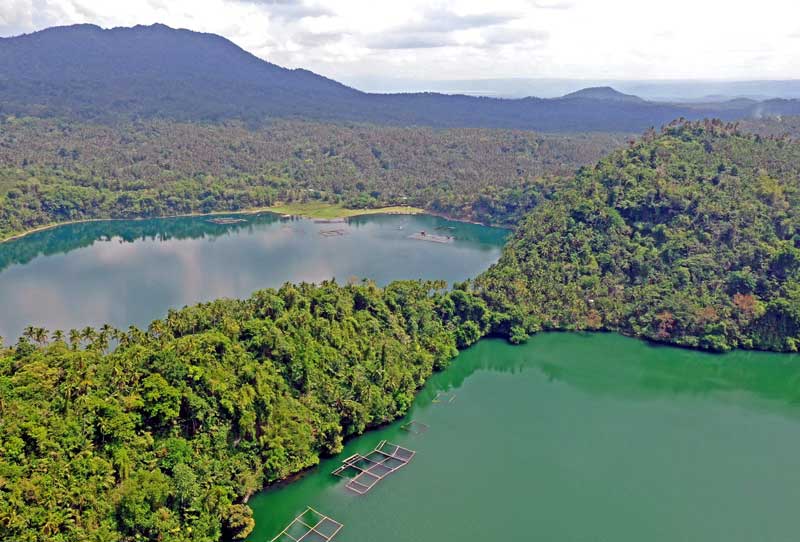 Lakes Pandin and Yambo are two of the most pristine of San Pablo's Seven Lakes.
Having completed our Visita Laguna and Iglesia, we stayed one last night at Lotuspod. The next day we motored back to San Pablo for a pre-Easter brunch at Sulyap Gallery Café and Restaurant. Twink had heard great reviews of the place and we had a hankering for more local fare.
Sulyap did not let us down. Try their pinayti, a traditional dish of San Pablo City featuring small shrimp from Lake Palakpakin, tulingan pasta or flaked tulingan meat in olive oil & black olives, kuwalong puso ng saging, an original recipe of San Pablo, which is grilled pork belly atop finely chopped banana heart cooked in fire brick stove.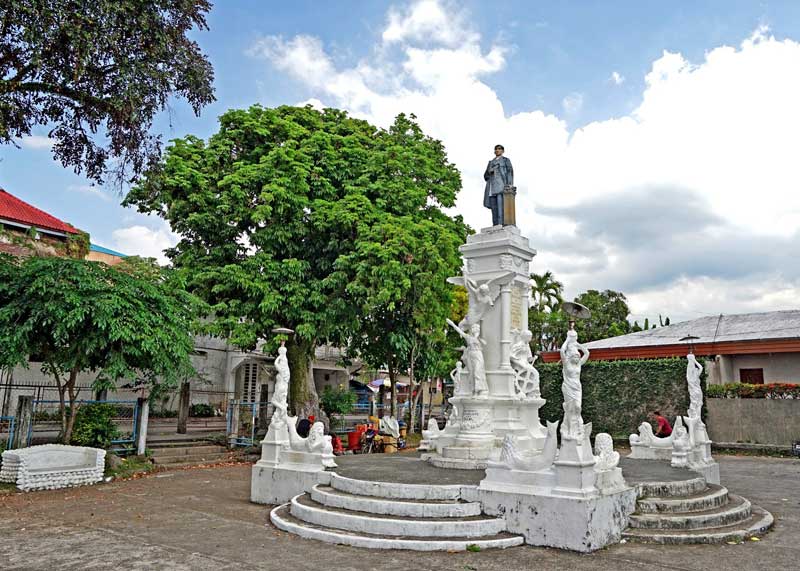 Laguna towns have some of the most elegant Rizal statues in the country.
We ended our Visita Laguna with a renewed interest in the historic province and the fascinating towns around its lakes and highlands. Next year we look forward to visit other towns in Laguna, with maybe a few in neighboring Rizal and Quezon provinces.
* * *
Feedback is welcome. Please email the writer at paulo.alcazaren@gmail.com.