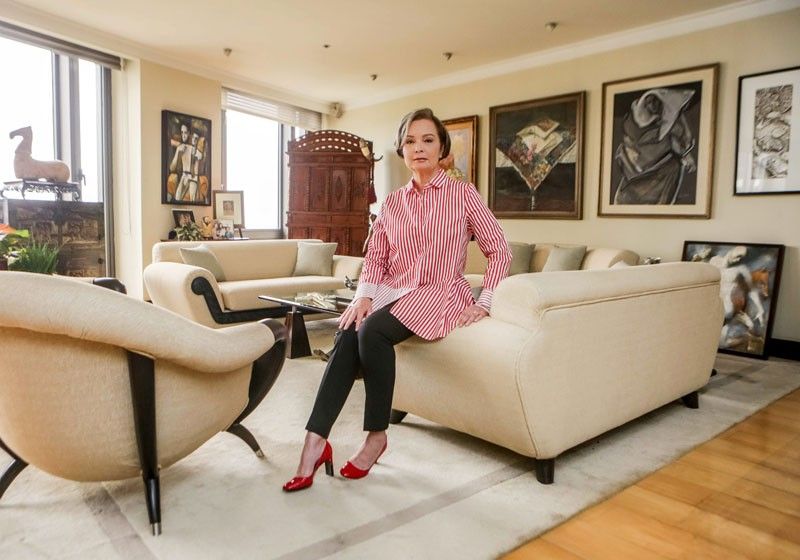 Margie Moran-Floirendo puts together in her living room some of her favorite artworks by Emmanuel Garibay, Fernando Amorsolo, Romulo Galicano, BenCab and Araceli Dans. A Bohol cabinet (center)serves as storage, while a Chinese cabinet which she bought when she was 20, goes with a Han Dynasty piece. She wears a Carolina Herrera top.
Photos by Geremy Pintolo
The fearless universe of Margie Moran
I enjoyed going around Mindanao, training women to negotiate for peace, meeting the MILF head. I was never afraid.
During the Miss Universe 1973 pageant, finalist Margarita Roxas Moran was asked: "If you had one million dollars, what would you do with it?"
"I will buy a house and lot, because that's the most expensive thing I can't afford," Margie replied.
That was the simple, down-to-earth answer of the 19-year-old colegiala. And then she was crowned Miss Universe.
That was 45 years ago, and Margie has since lived in many houses in Makati and Davao with her husband and daughters. Her present home, a condominium unit she got at its pre-selling stage, is obviously one she really likes because upon seeing its location, "I paid the reservation fee right away with my own money. And my husband paid the balance."
The condo was bought 18 years ago. Her husband, Davao business scion Tonyboy Floirendo, never lived in this current home. They have been living separate lives even if they are not divorced, "but we are friends. Our daughters (Gabrielle Antoinette and Monica Danielle, who is married to Keenan Ugarte), and granddaughters (Cosima Margarita and Adriana Ines) see him regularly."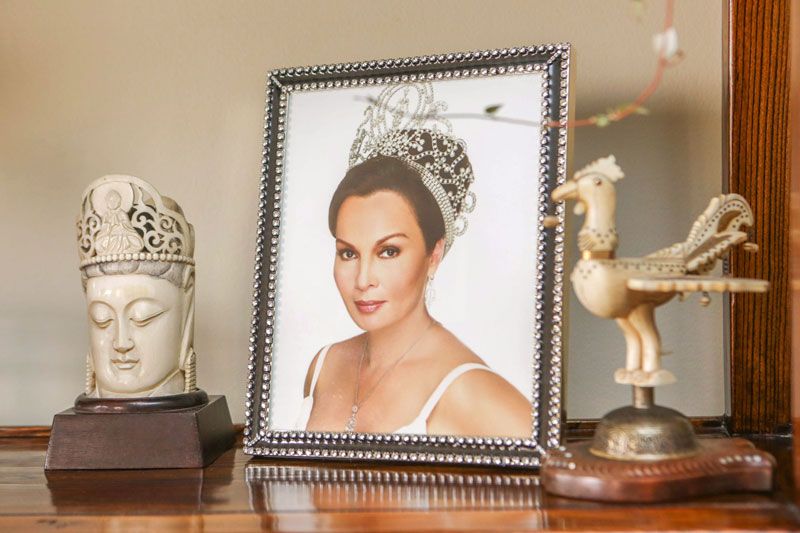 Artifacts from Vietnam and Marawi mix with her Miss Universe portrait when she was 19.
Tonyboy and Margie met in New York where she had to live for one year during her reign as Miss Universe, at the St. Regis Hotel. "I met him through his father, Antonio Floirendo Sr., and Mrs. Imelda Marcos who were in New York that time, and Tonyboy was studying at Boston University."
Was it love at first sight?
"Yes, it was love at first sight. Or first bite," Margie laughs as she recalls her Big Apple years. "I liked him right away. He would visit me in New York, and I would also visit him in Boston. After my reign, we got married in 1975 and I continued my disrupted college studies in Maryknoll."
She may have been a trophy wife, but Margie was never a full-time housewife. ''I was always working after college, first at J Romero advertising during which I was always bringing home work."
Then she set up her own company, producing events and shows. She also ran a travel agency and managed the Pearl Farm Beach Resort. Her husband, a three-termer congressman in Davao, allowed her to bloom. "I enjoyed campaigning and going to barangays. I had a TV show (Margie on Mindanao) for seven years , during which I produced documentaries on the conflict in Mindanao, not only for TV but also for use in schools, and as part of the peace process then.''
In the midst of this turmoil, Margie was able to finish her masters in Managing Rural Development at the University of London through long-distance learning. "I was always carrying books while traveling."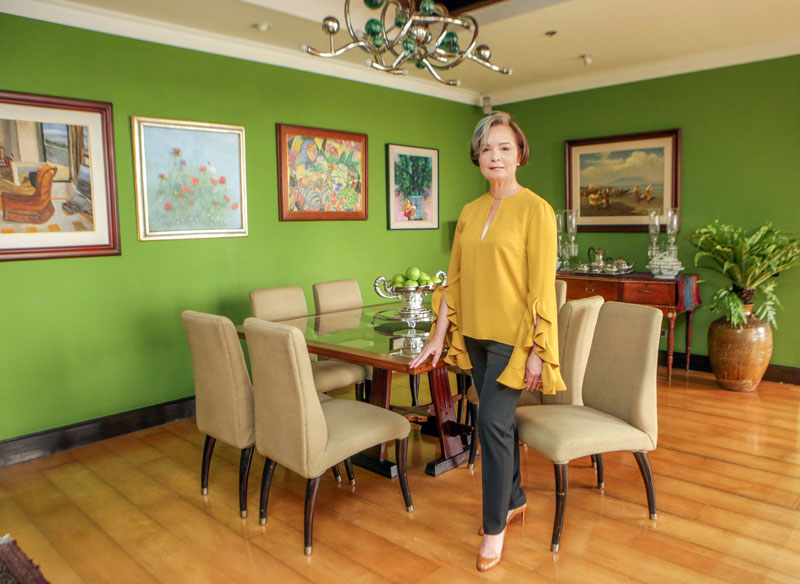 In the dining room are paintings by Federico Aguilar Alcuaz, Betsy Westendorp, Norma Belleza, Malang Santos and Fernando Amorsolo. The modern chandelier is by Ramon Orlina. On the table is a fruit tray from her grandmother Nieves Moran.
After serving as president of Ballet Philippines for nine years, Margie is now chairman of the board of the Cultural Center of the Philippines.
She certainly still has that Miss Universe poise and grace even if her days are hectic with work as a dedicated cultural leader.
Tonyboy is now running for reelection as a congressman. Margie is still close to her in-laws and she regularly visits Davao, her home for 20 years. Any chance for the couple to reunite?
"You never know," Margie shrugs her shoulders while laughing."As they say, never say never."
On that note, we talk about the current loves of her life and the passion that brings life to her present home.
Philippine STAR: During your years as a politician's wife in Davao, did you get a chance to interact with Duterte?
Margie Moran-Floirendo: Oh yes, a lot. When President Duterte was Davao mayor he was always in T-shirt and jeans. The APEC was going to Davao then, and I remember telling him: "Mr. Mayor, you cannot dress that way!"
And guess what! He showed up in a barong Tagalog — but with jeans! He's such a fun person to be with. He is a joker, and you really have to get used to his jokes.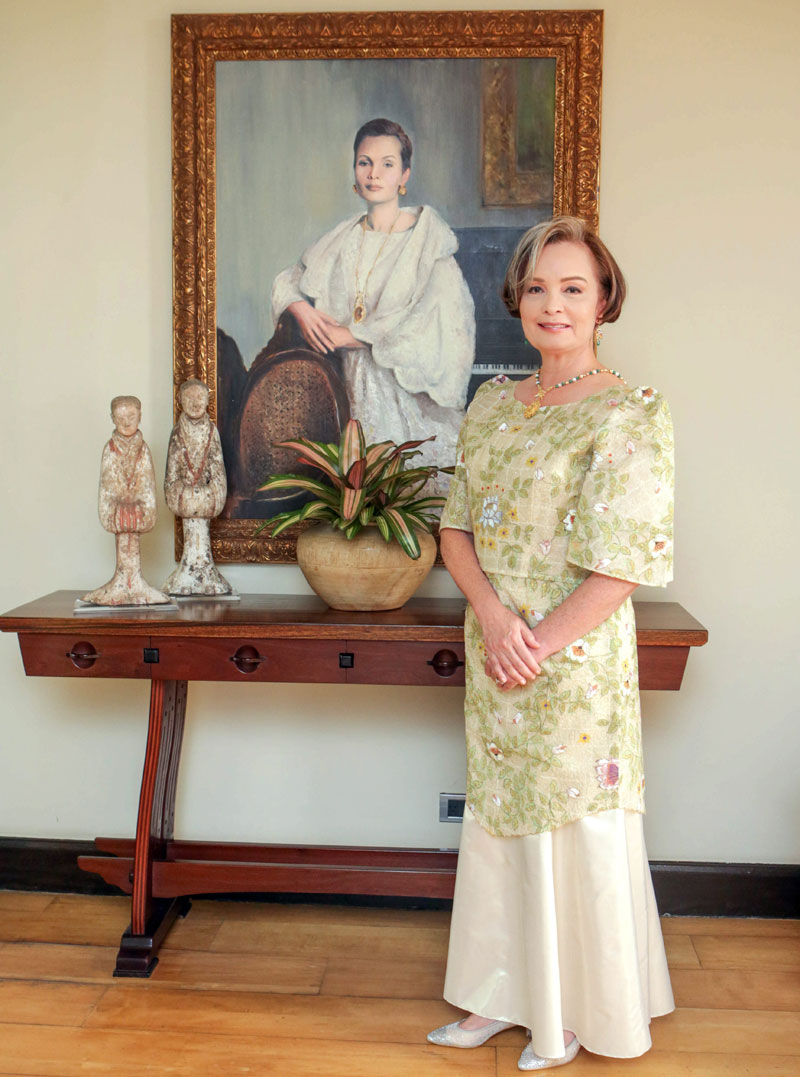 Margie Moran-Floirendo matches her portrait by Dante Silverio with her Patis Tesoro gown.
What made your years in Davao most memorable?
I was one of the founders of the Mindanao Commission on Women, training women to negotiate for peace. We set up Mothers for Peace and I had the chance to meet Hashim Salamat, the head of the MILF. He allowed me to go to the Liguasan Marsh, a no-man's-land where only the MILF were allowed to go.
Was there ever a point when your life could have been in peril?
It could have been, but I was never afraid. I enjoyed going around Mindanao — in Maguindanao, Sultan Kudarat, Cotabato — where I spearheaded the building of 1,000 houses through Habitat for Humanity. I was given a title by the Muslims as Honorary Princess.
So you are quite fearless.
Yes, and I am also adventurous. I love going to places where people don't normally go. I used to rappel down the bridge in Bukidnon when I was in my 40s. And climb 13 waterfalls in Compostela Valley in Mindanao. And we rappeled down a 150-foot waterfall with professional mountaineers who climbed Mt. Everest. I also went mountain climbing for three days to reach the peak of Mt. Apo.
I also climbed Mt. Sinai last year with friends. Now we're going to Morocco, my second time, and we will sleep in a tent in the Sahara Desert.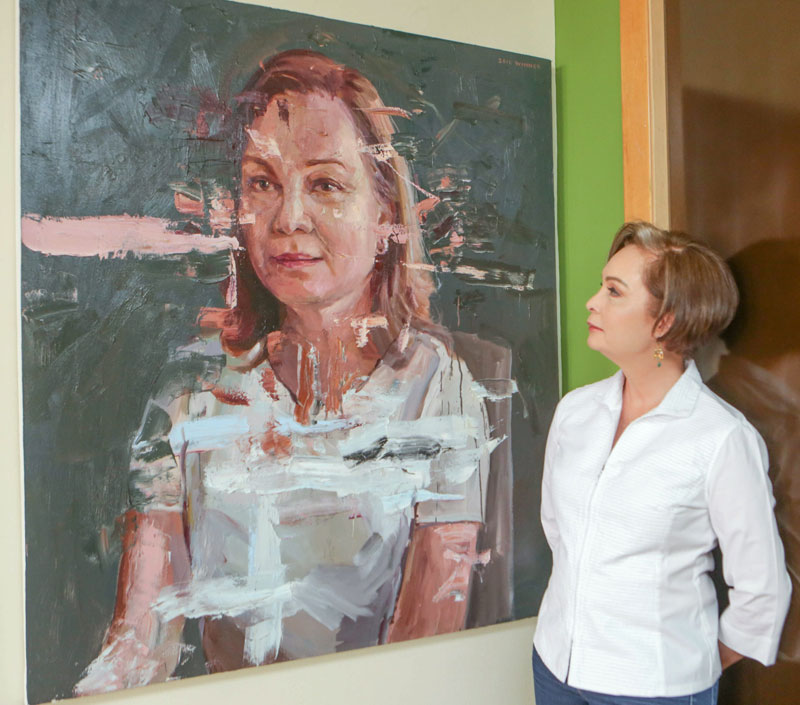 A pensive Margie beside her portrait by Winner Jumalon.
You obviously love traveling and taking on difficult challenges.
Yes, while we can still walk.I enjoyed a recent cruise to the Arctic region, seeing the Northern Lights for three days in Norway, and reaching Svalbard, the northernmost part of Norway, then to Greenland for the fantastic, biggest national park in the world where only nine ships are allowed to enter yearly. In fact I told Ben (Chan) about this and he will take the same trip this year. My next target is Antarctica. And I want to explore more places in South Africa.
Looking back at my Miss Universe reign, and after watching Narcos on Netflix, I realized that we went to the exact territories of the drug lords, when we went there to crown Miss Colombia. No wonder security was so tight.
You also love ballet?
Yes, I still dance ballet as my exercise, I join a Ballet Philippines class regularly where we also do stretching. I served as president of Ballet Philippines for nine years. The dancers were like my babies. Every time a dancer left for green pastures, it was like losing a child.
I have so much respect for artists from different fields, they are very intelligent and talented people.
As CCP chairman, what's your dream for the CCP?
We want to renovate the CCP, but first we have to build another theater — an Art Center that will house 40 studios for all the arts. We are developing the CCP area — there are 58 hectares still to be developed — and for this we have a Public-Private Partnership for which we are doing feasibility studies so that areas can be bidded out to developers. These joint ventures can help sustain our CCP projects.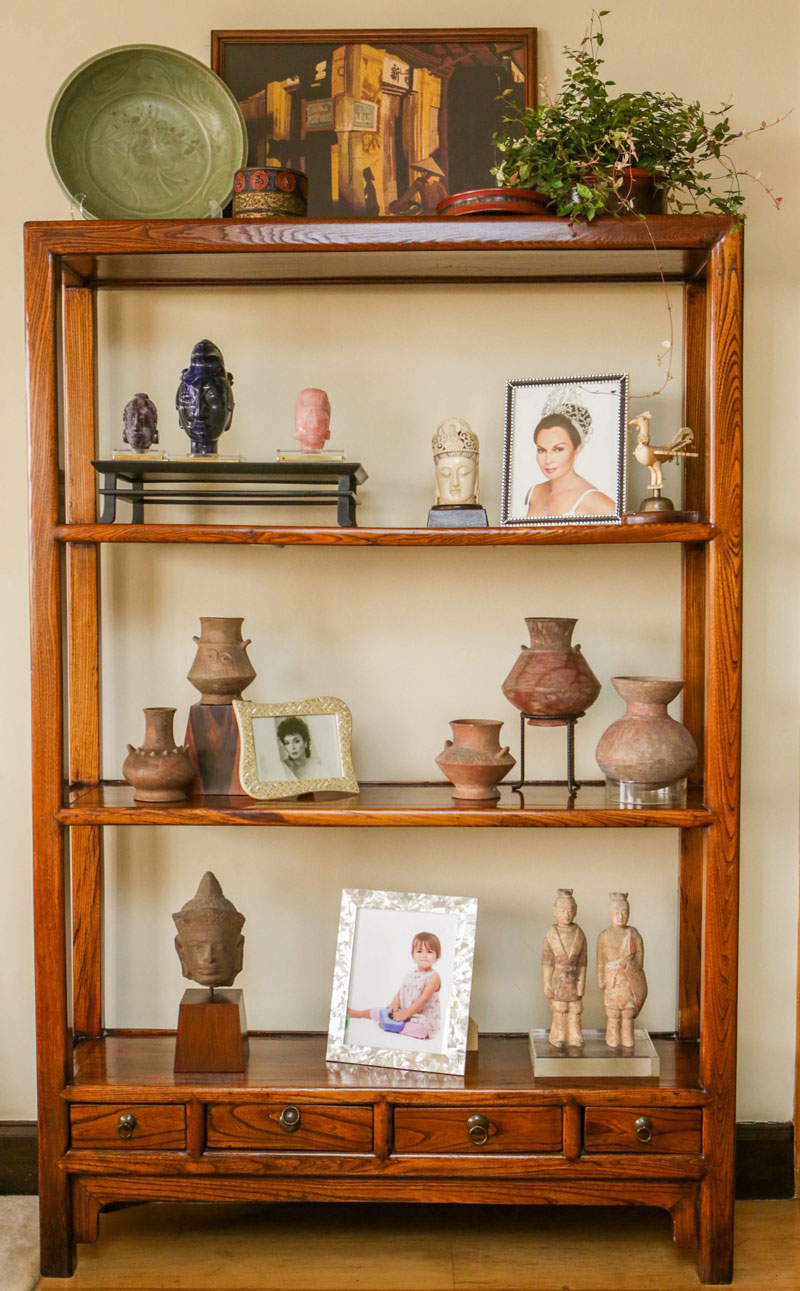 A display cabinet brings back memories of Asian and Philippine travels.
Let's talk about art, which you obviously love and which makes your home so interesting.
I started collecting art when I was 21. My first purchase was a P15,000 Ang Kiukok pastel which I bought, on installment, from Nikki Coseteng when she was running her Galerie Dominique.
I had the chance perhaps to own a Salvador Dali, as we were friends in New York when I was Miss Universe and he took many photos of me. Sayang.
What is the first thing you do upon waking up?
I do my four-part Kriya rhythmic breathing exercises that de-stress and clear my mind to prepare me to face my day. That is followed by my reading of the Bible verse of the day and then I read three to five chapters of the Bible followed by my morning prayers. This takes about 45 minutes.
What is your favorite spot in your home and why?
My den is my favorite place because this is where I work, correspond, keep my files and memorabilia, write payments and dump my stuff.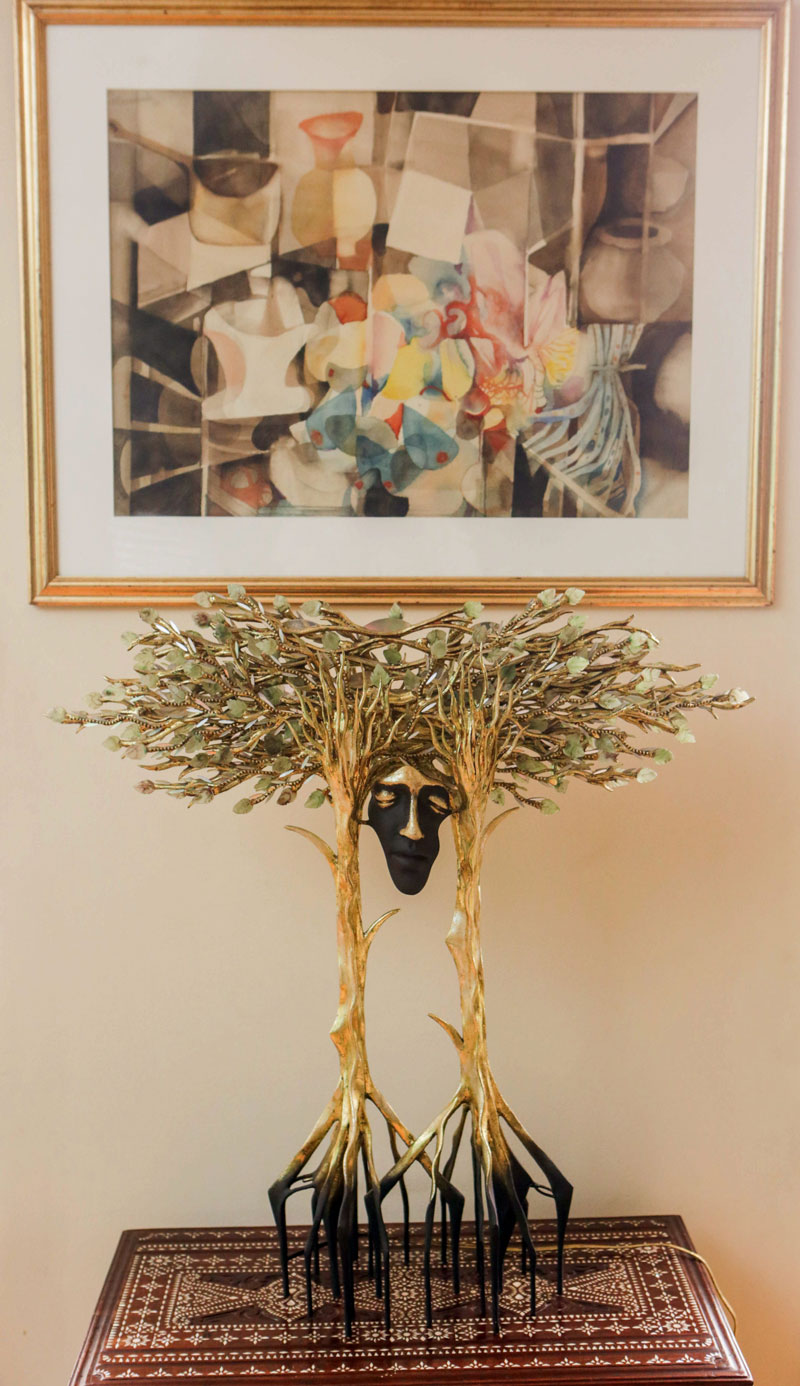 A Vicente Manansala artwork is paired with a Gabby Barredo sculpture.
How do you describe your home? Your homemaking style?
My home is contemporary in style with a touch of orientalia. I have a small art collection in my two homes and I own whatever my walls or floor can accommodate. I have portraits from different age levels but that's because the artists gifted me with their work. I used to enjoy cooking but when I turned 60 five years ago, I decided to retire from cooking and buy cooked food, eat out, order home- delivered food or have lunch or dinner with my daughters who are good cooks. This way, I don't need to worry what to cook for the next meal.
Which pieces of furniture or home accents have a sentimental value to you and why?
I have no attachments to my things but I value my silver because they are gifts from my paternal grandmother and from my mother in law.
What books are on your night table?
I read magazines and articles related to the work I do and now I'm reading a book on The Unknown Story of Mao.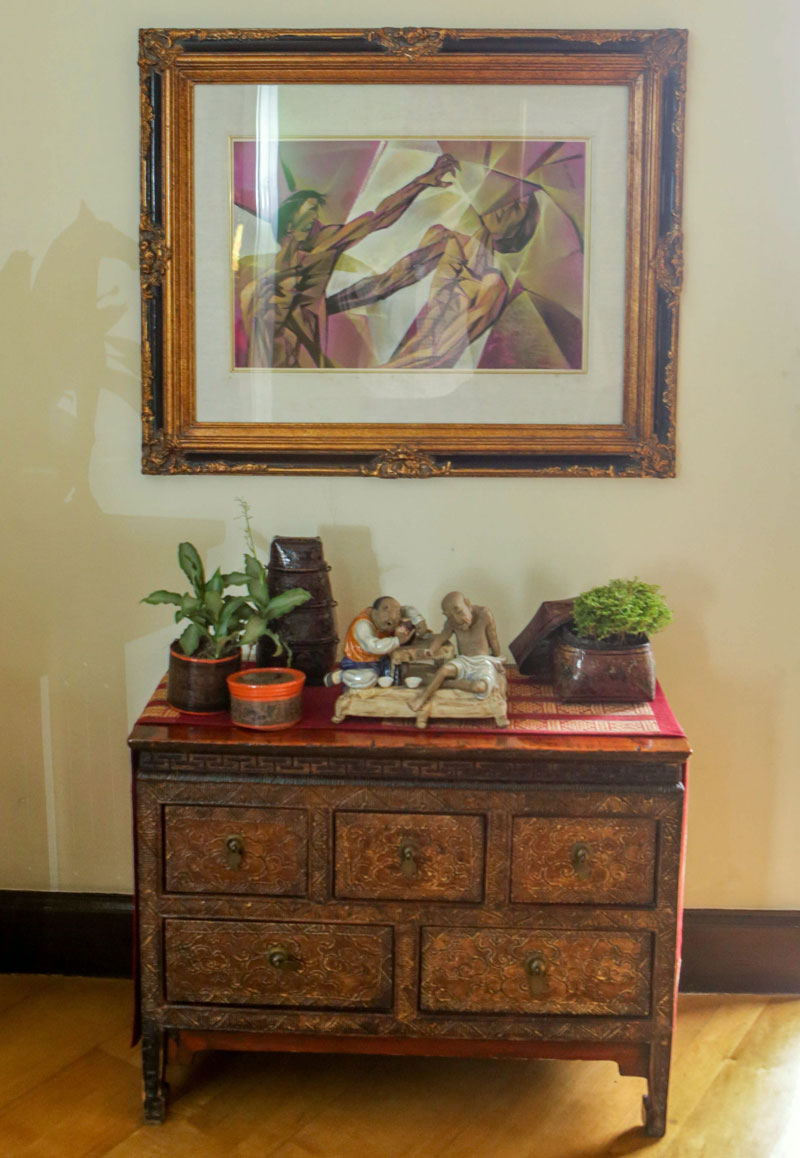 A vintage Cesar Legaspi hangs above a cabinet of Oriental artifacts.
Any interior designer or architect you follow or like?
I follow Ramon Antonio who has impeccable taste and Ponce Veridiano who did my garden in Davao and styles my home.
In case of fire, what is the first thing you will save?
I never thought of that. I live on the 27th floor and I can't carry anything heavy so I will just run down the fire escape and save myself.
What is the last thing you do before going to bed?
Watch CNN.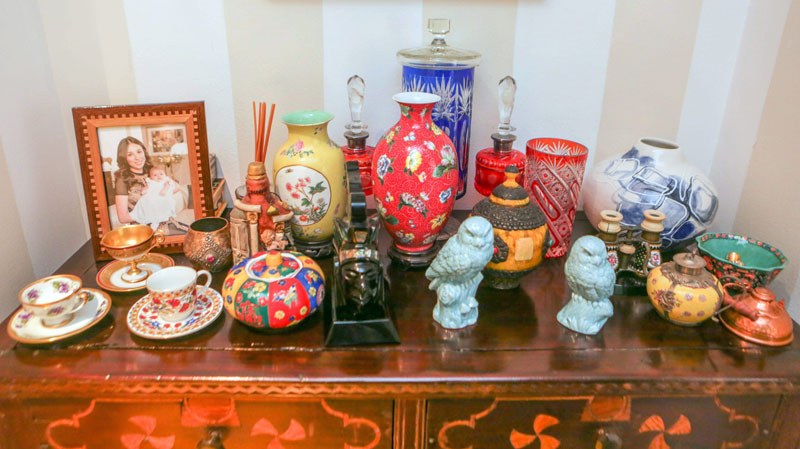 Antique glassware from Buenos Aires, old bone China vases from Hong Kong, demitasse cups and saucers are used by Margie as table accessories when she hosts dinners.
* * *
Follow the author on Instagram and Facebook@milletmartinezmananquil. Email her at mmmananquil@philstarmedia.com.